Expert Focus: Presenting evidence for a stronger economic future at Equitable Growth's 2021 policy conference

Equitable Growth is committed to building a community of scholars working to understand how inequality affects broadly shared growth and stability. To that end, we have created the monthly series, "Expert Focus." This series highlights scholars in the Equitable Growth network and beyond who are at the frontier of social science research. We encourage you to learn more about both the researchers featured below and our broader network of experts.
The United States currently has a unique opportunity to enact structural changes that will have long-lasting and wide-ranging effects for workers and their families. Next week, Equitable Growth will host its biennial policy conference, virtually gathering experts from the academic, policymaking, and advocacy communities to discuss ways to capitalize on this moment and ensure strong and stable economic growth for all. Participants and speakers will discuss and debate the most pressing challenges facing the U.S. economy and society, from containing the spread of the coronavirus to mitigating the effects of climate change and addressing the roots and effects of structural and institutional racism.
The event, "Equitable Growth 2021: Evidence for a Stronger Economic Future," will take place on September 20 and 21, featuring concurring sessions on a range of topics, among them Big Tech and competition, social infrastructure and policy, debt and consumer spending, and structural economic reforms. There will also be several fireside chats, opening remarks from our new President and CEO Michelle Holder, and a keynote address by U.S. Secretary of Labor Marty Walsh. This month's installment of Expert Focus showcases the remarkable diversity and breadth of experience of just some of the many confirmed speakers and panelists at our conference next week. Many other featured speakers—including Michelle Holder, Carlos Fernando Avenancio-León, Lisa Cook, Dania V. Francis, and Hilary Hoynes—have been highlighted in previous Expert Focus entries.
To learn more about this year's policy conference and see who else will be participating, visit the event page on our website, and click here to register to attend.
Olivier Blanchard
MIT; Peterson Institute for International Economics
Olivier Blanchard is Robert Solow professor emeritus at the Massachusetts Institute of Technology and Fred Bergsten senior fellow at the Peterson Institute for International Economics. He is a macroeconomist and has worked on a wide range of issues, including the role of monetary and fiscal policy, the nature of the labor market and the determinants of unemployment, and forces behind the global financial crisis. Blanchard has recently focused on the economic implications of the coronavirus and major future economic challenges, including climate change, inequality, and demographic change. In 2020, he contributed a column to Equitable Growth's website on how policymakers can use fiscal policy to fight COVID-19 and counteract the coronavirus recession. At "Equitable Growth 2021," Blanchard will participate in a session on envisioning a new economic future in the United States and designing structural reforms to achieve that vision.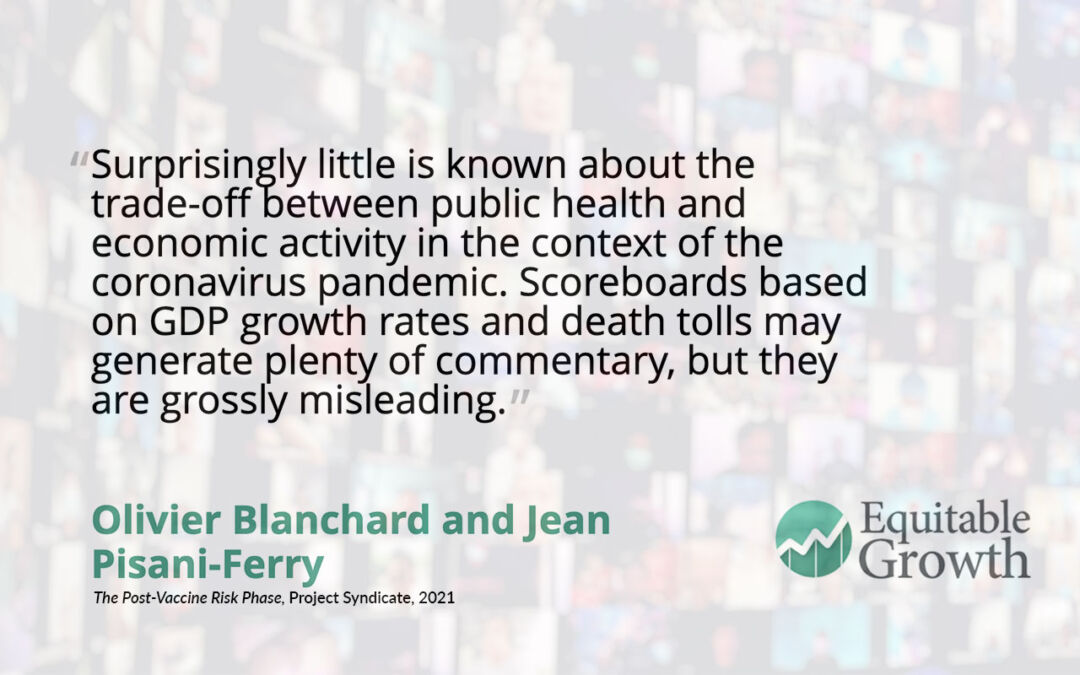 Kristen Broady
Dillard University (on leave); The Brookings Institution
Kristen Broady is a fellow at The Brookings Institution's Metropolitan Policy Program. She is a professor of financial economics on leave at Dillard University in New Orleans, where she was formerly the dean of the college of business. Her areas of research include mortgage foreclosure risk, labor and automation, and racial health disparities. At Brookings she often writes about how Black workers are navigating the economy and the labor force in the United States and, since the onset of the coronavirus pandemic, has focused on why Black Americans have experienced worse outcomes, particularly related to unemployment, education, and coronavirus relief programs. At "Equitable Growth 2021," Broady will participate in a session on boosting aggregate demand and managing consumer debt burdens in the aftermath of the coronavirus recession.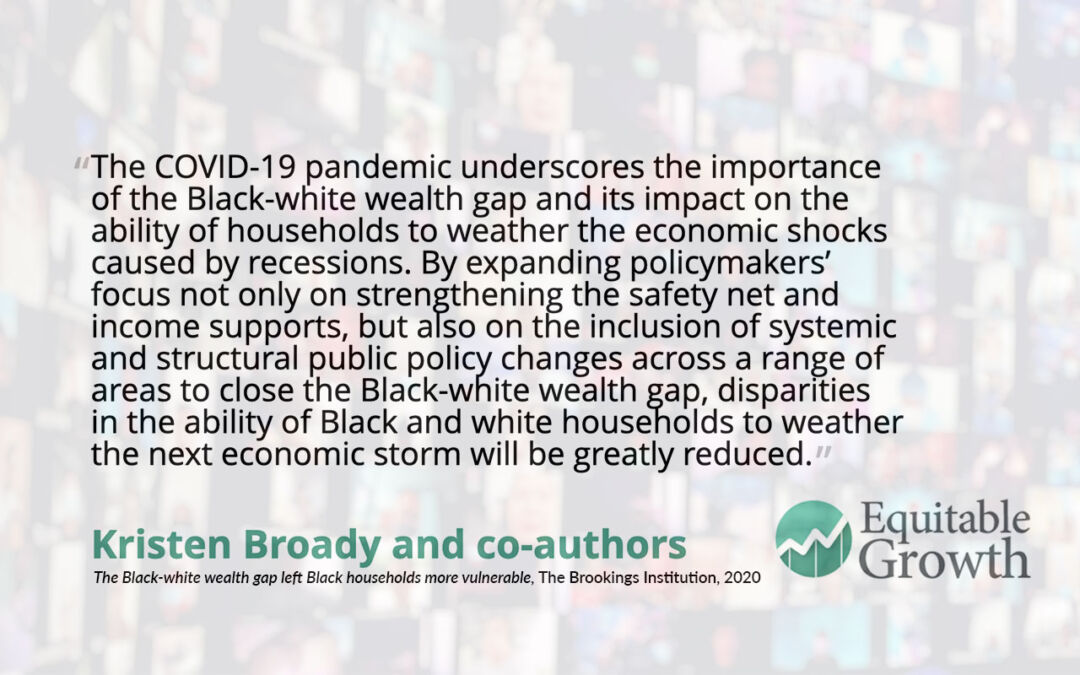 J.W. Mason
John Jay College, City University of New York; Roosevelt Institute
J.W. Mason is an associate professor of economics at John Jay College, City University of New York. His scholarly work centers on macroeconomic policy, finance, and debt. Mason is also a fellow at the Roosevelt Institute and an economist with the Macroeconomic Analysis and Progressive Thought team, where he focuses on public spending and government debt, finance and monetary policy, and the importance of strong demand and full employment. His work seeks to expand the conversation around public management of the economy, pushing for more ambitious targets for macroeconomic policy and a wider set of tools to achieve those goals. In 2015, Mason received an Equitable Growth grant to examine how household debt affects the macroeconomy and has implications for monetary policy, and he has co-authored two working papers for our Working Paper series. At "Equitable Growth 2021," Mason will participate in a session on boosting aggregate demand and managing consumer debt burdens in the aftermath of the coronavirus recession.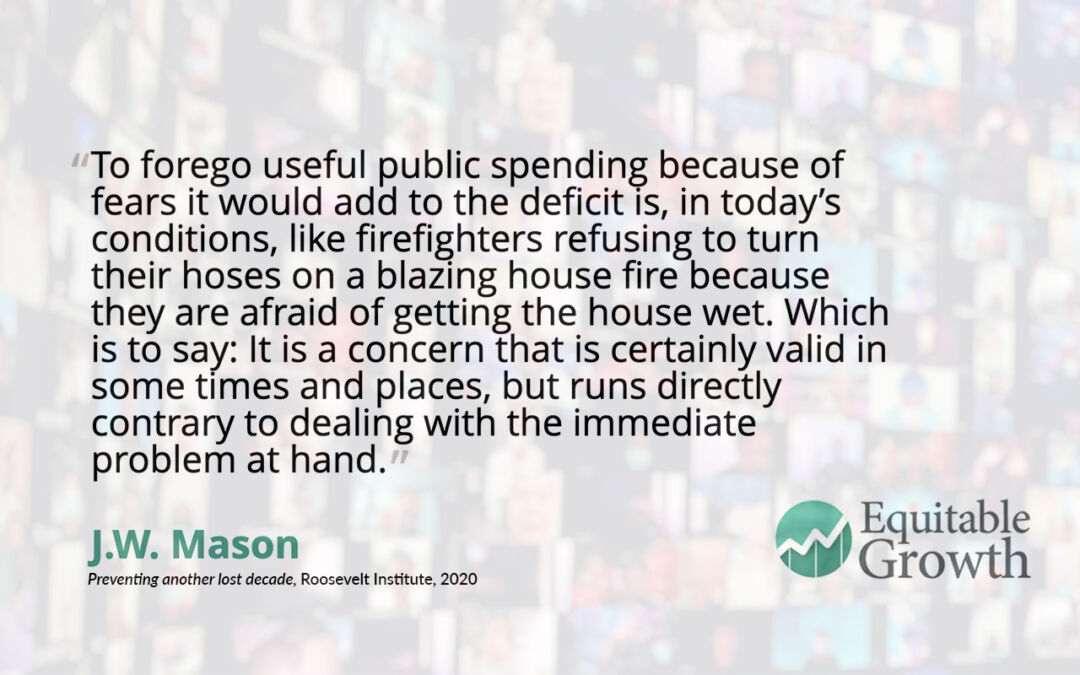 Atif Mian
Princeton University
Atif Mian is John H. Laporte, Jr. Class of 1967 professor of economics, public policy, and finance at Princeton University and director of the Julis-Rabinowitz Center for Public Policy and Finance at the Princeton School of Public and International Affairs. Mian's work studies the connections between finance and the macroeconomy. His 2014 book with Amir Sufi, House of Debt, explores how debt precipitated the Great Recession of 2007–2009. Mian is a member of Equitable Growth's Steering Committee, guiding the organization's efforts to study economic inequality, and in 2015, received an Equitable Growth grant, with Sufi, to expand their research on household debt as it relates to employment imbalances. He has written for Equitable Growth's website, most recently on the macroeconomic consequences of rising inequality in the United States. At "Equitable Growth 2021," Mian will participate in a session on boosting aggregate demand and managing consumer debt burdens in the aftermath of the coronavirus recession.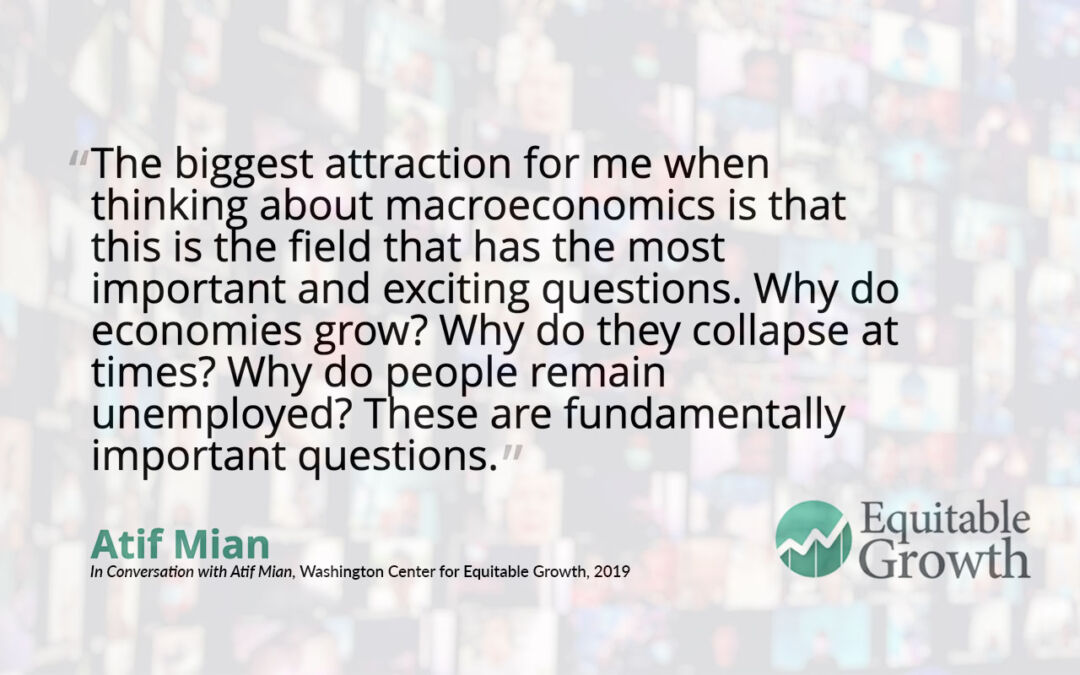 Fiona Scott Morton
Yale University
Fiona M. Scott Morton is the Theodore Nierenberg professor of economics at the Yale University School of Management. Her area of academic research is industrial organization, with a focus on empirical studies of competition in areas such as pricing, entry, and product differentiation. From 2011 to 2012, Scott Morton served as the deputy assistant attorney general for economics at the Antitrust Division of the U.S. Department of Justice, where she helped enforce the nation's antitrust laws. Scott Morton is a leading expert on antitrust and market competition, and has written extensively on the topic for Equitable Growth, including co-authoring a 2020 report with proposals for how the Biden administration could improve antitrust enforcement in the United States. She also received an Equitable Growth grant in 2018 to investigate the impact of antitrust enforcement on competition and innovation. At "Equitable Growth 2021," Scott Morton will participate in a session on rebalancing Big Tech's grip on the economy in order to boost innovation and spur competition.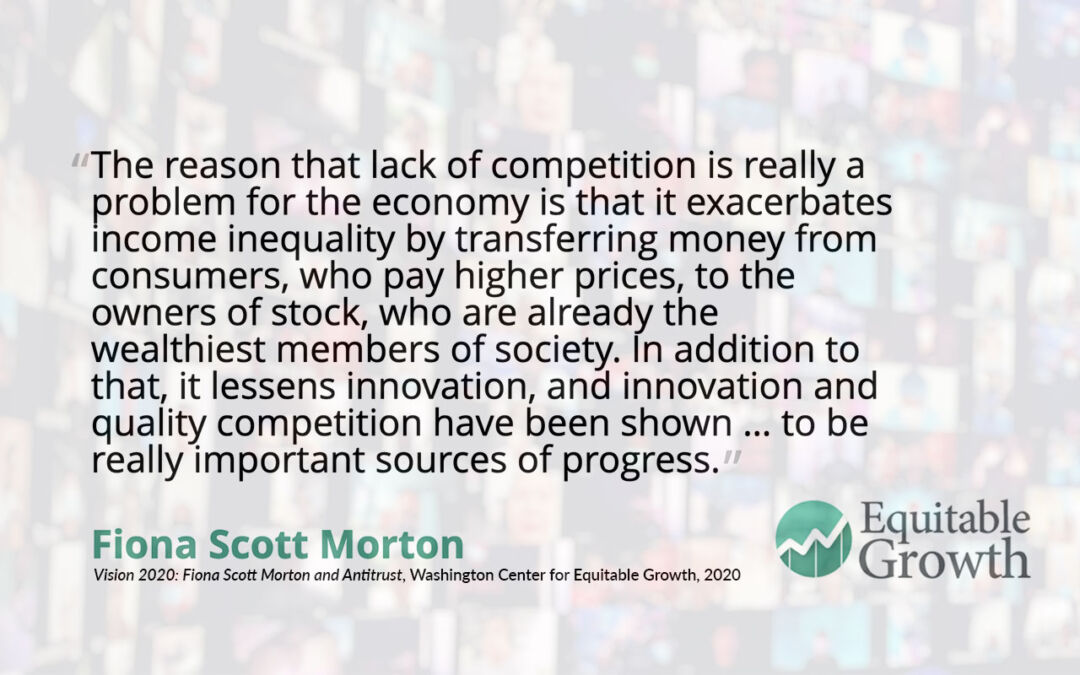 William E. Spriggs
Howard University; AFL-CIO
Bill Spriggs is a professor in, and former chair of, the Department of Economics at Howard University. He also currently serves as chief economist to the AFL-CIO, the largest federation of unions in the United States, chairing the Economic Policy Working Group for the Trade Union Advisory Committee to the Organisation for Economic Co-operation and Development. His policy focus is on securing better pay and benefits for workers, and he has extensive experience in economic policy development, having previously served as assistant secretary for the Office of Policy at the U.S. Department of Labor from 2009 to 2012 under President Barack Obama. He frequently discusses the root causes and impacts of the Black-White employment divide in the U.S labor market, as well as how unions ameliorate wage disparities and stagnation and how government investment spurs economic growth. At "Equitable Growth 2021," Spriggs will participate in a session on expanding U.S. social infrastructure to support workers and increase theirlabor force participation and productivity.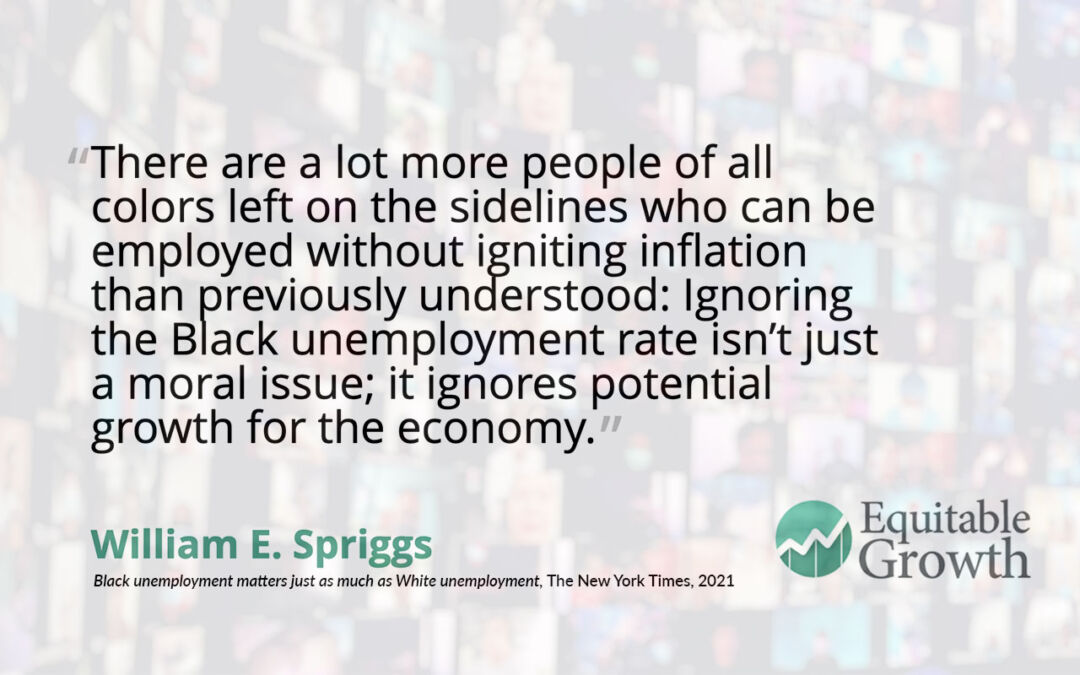 Equitable Growth is building a network of experts across disciplines and at various stages in their career who can exchange ideas and ensure that research on inequality and broadly shared growth is relevant, accessible, and informative to both the policymaking process and future research agendas. Explore the ways you can connect with our network or take advantage of the support we offer here.