Expert Focus: Leading Black scholars on U.S. economic inequality and growth

Equitable Growth is committed to building a community of scholars working to understand whether and how inequality affects broadly shared growth and stability. To that end, we have created the monthly series, "Expert Focus." This series will highlight scholars in the Equitable Growth network and beyond who are at the frontier of social science research. We encourage you to learn more about both the researchers featured below and our broader network of experts.
Understanding the historic and persistent role that structural racism plays in driving wealth and income inequality, particularly for Black Americans, is central to addressing the health and stability of the U.S. economy. In this installment of "Expert Focus," we highlight Black scholars whose cutting-edge research draws on the respective roles of history, power, and institutions in shaping economic behavior and trends. Though by no means an exhaustive list, the scholars highlighted here have influenced our understanding of the roots of racial inequities facing Black Americans and how to address those inequities through policy and research initiatives.
Ultimately, it is the collective responsibility of Equitable Growth and other policy and research organizations to actively confront our own biases and practices that reinforce anti-Blackness, as well as commit to addressing racism in economic and social institutions.
William A. Darity, Jr.
Duke University
William A. Darity, Jr., a member of the Washington Center for Equitable Growth's Research Advisory Board, is the Samuel DuBois Cook professor of public policy, African and African American studies, and economics, and the founder and director of the Samuel DuBois Cook Center on Social Equity at Duke University. Darity is the founder of stratification economics, an approach to economics that focuses on economic disparities between persons, groups, and regions, and the structure of social hierarchy. In an interview with Equitable Growth, he discusses the importance of stratification economics in understanding U.S. economic growth and inequality. He has been a leading figure on changing the way economics discusses poverty and inequality, as well as the current policy debate on reparations for Black descendants of enslaved Americans. He recently published From Here to Equality, co-authored with Kirsten Mullen, which focuses on reparations and the inequalities borne from systemic racism. In addition, his recent work on the relationship between incarceration and credit scores helps connect structural racism in law enforcement to Black wealth accumulation.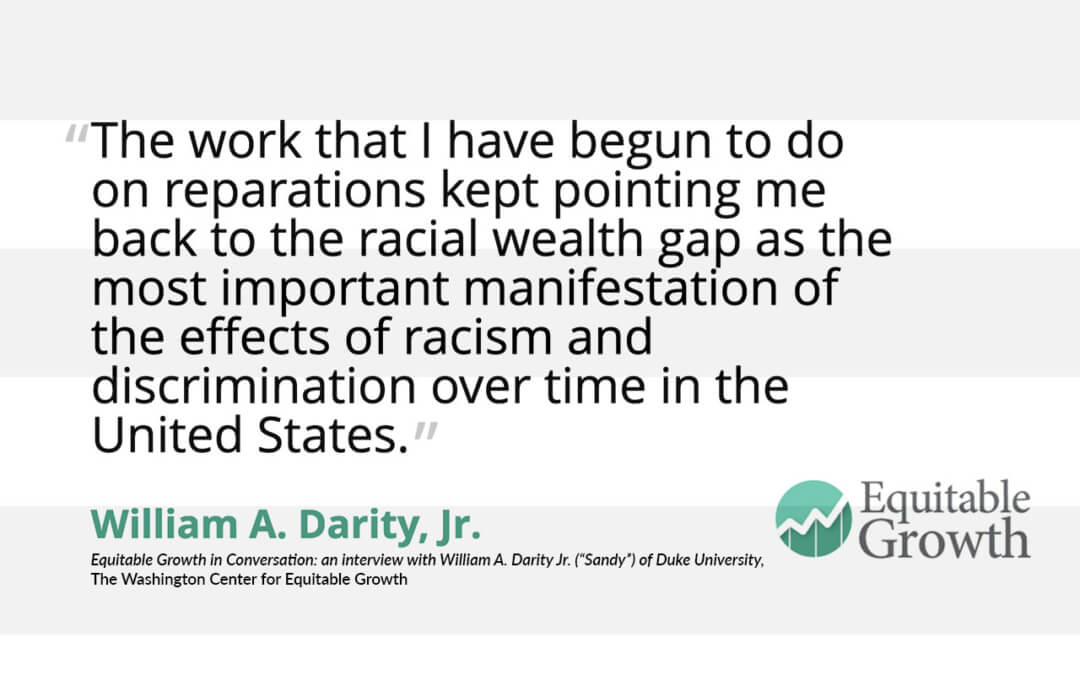 Dania V. Francis
University of Massachusetts Boston
Dania V. Francis, an assistant professor of economics at the University of Massachusetts Boston, studies racial and socioeconomic disparities in education, wealth accumulation, and labor markets. In an essay for Vision 2020: Evidence for a stronger economy, Francis tackles the critical issue of how to design and carry out a reparations program in the United States that would help close the racial wealth divide and address discrimination, which she also touched on during Equitable Growth's Vision 2020 conference last fall. Additionally, in a recent article with Anna Gifty Opoku-Agyeman, who is also featured below, Francis highlights the racial inequalities within the economics profession itself and outlines much-needed initial steps to address anti-Black racism.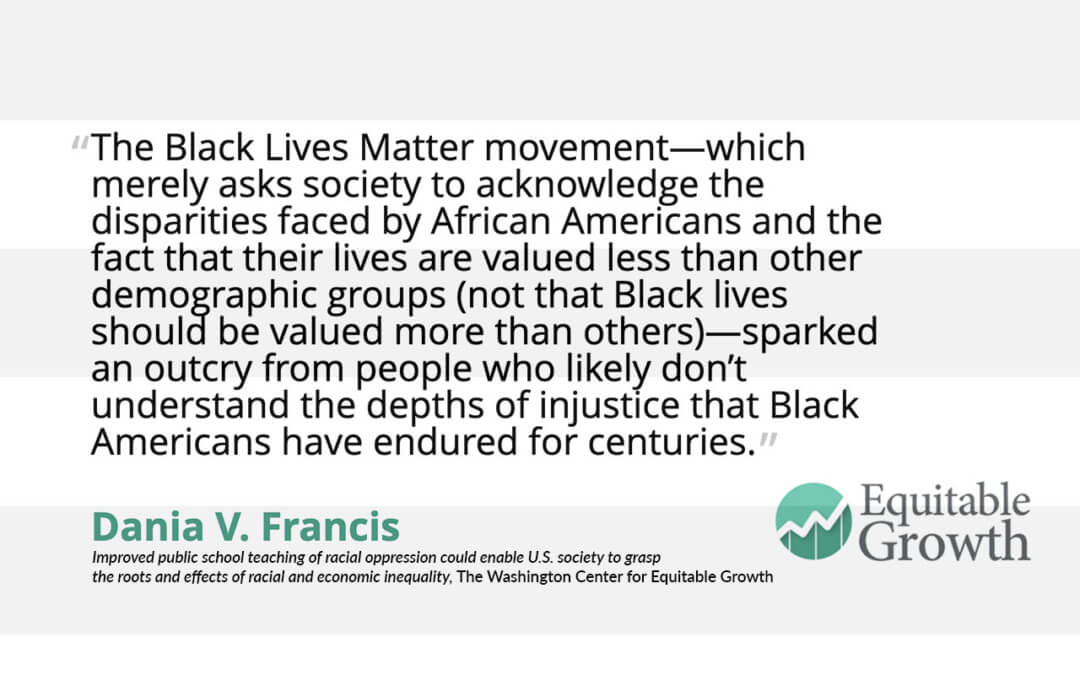 Trevon D. Logan
The Ohio State University
Trevon D. Logan is the Hazel C. Youngberg Trustees distinguished professor of economics at The Ohio State University, a research associate at the National Bureau of Economic Research, and an Equitable Growth grantee. He specializes in economic history, economic demography, and applied microeconomics. His research in economic history concerns the development of measures of living standards that can be used to directly asses the question of how human well-being has changed over time. In his Vision 2020 essay, co-written with Equitable Growth grantee Bradley Hardy, Logan examines the historic links among intergenerational economic mobility, race, and the Black-White divide in income and wealth. They highlight recent research showing that school segregation, disinvestment from public goods, and divergent levels of investment in education since the 1950s have combined to create a nexus of low mobility for Black Americans. These and other policy decisions that persist today in terms of housing, education, and health continue to disadvantage Black Americans and limit the potential for overall U.S. economic growth.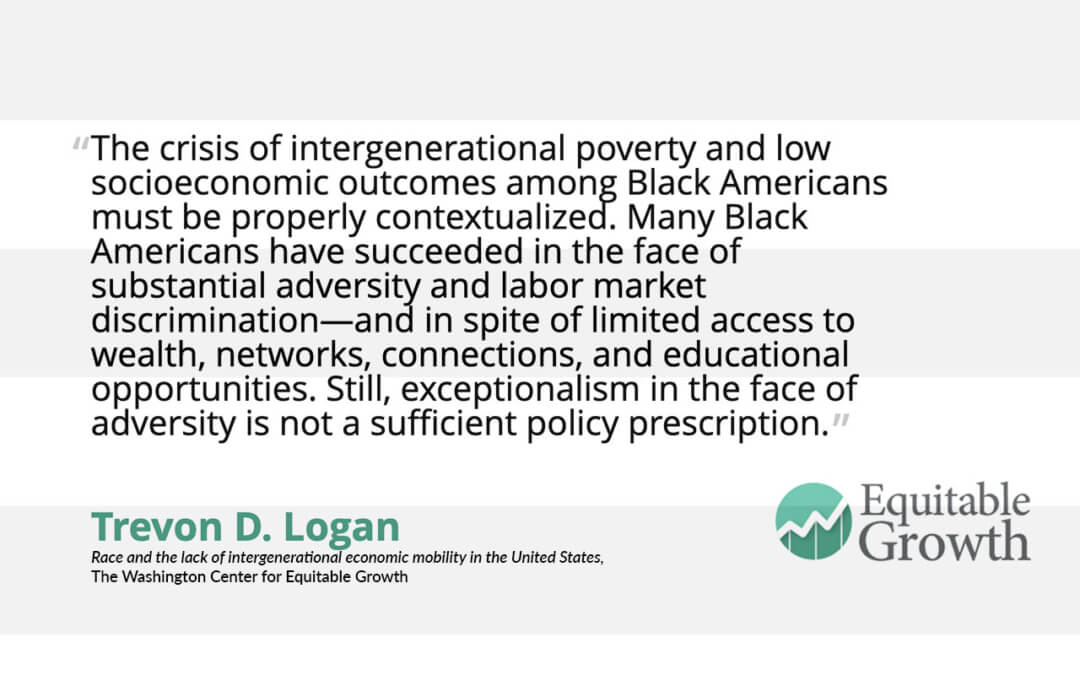 Anna Gifty Opoku-Agyeman and Fanta Traore
The Sadie Collective
The team at the Sadie Collective organized its second annual conference in February 2020, named in honor of Dr. Sadie Tanner Mossell Alexander, the first African American to receive a Ph.D. in economics and the second Black woman to receive a doctoral degree in the United States. Fueling this effort is a new generation of Black women pursuing doctorates and careers in economics, finance, data science, and public policy. As the share of Black women awarded doctorates in economics is declining, groups such as the Sadie Collective—co-founded by Opoku-Agyeman and Traore, a senior research assistant at the Federal Reserve Board—provide crucial support to help Black women thrive in fields where they are woefully underrepresented and where they can sometimes feel out of place. This year's conference featured conversations with Equitable Growth Steering Committee member Janet Yellen and Research Advisory Board member Lisa Cook. Recently, the Sadie Collective Community authored a powerful open letter to economic and policy institutions in the face of #BlackLivesMatter protests across the country. Also, listen to Opoku-Agyeman and Traore describe the Sadie Collective and their experience as Black women in economics here.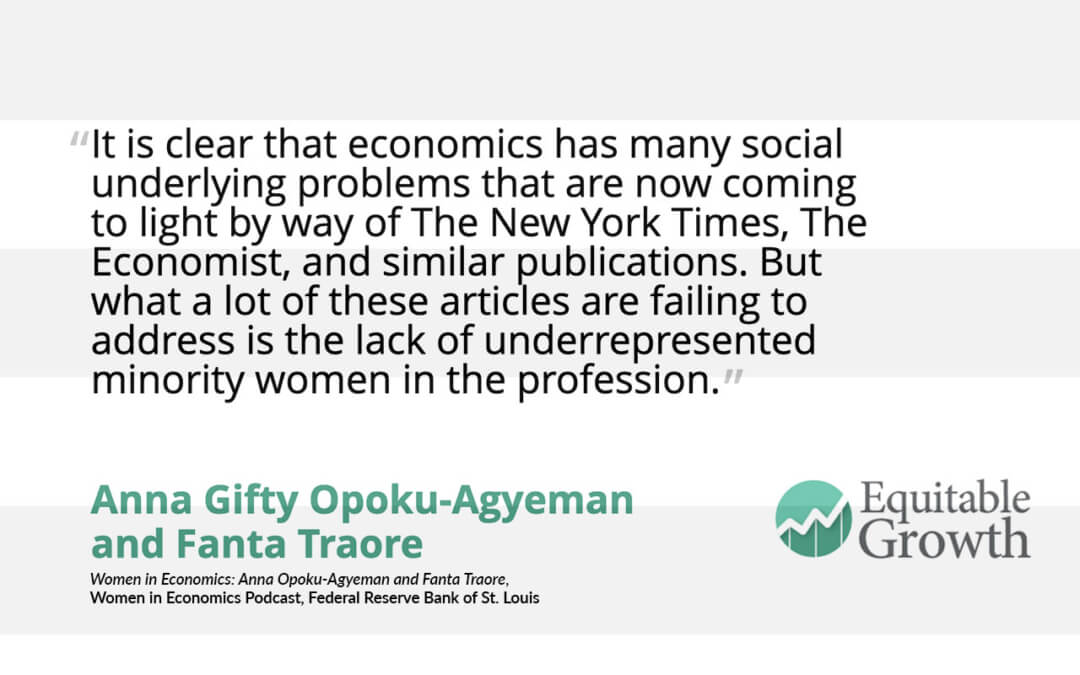 Jhacova Williams
Economic Policy Institute
Jhacova Williams is an economist for the Economic Policy Institute's Program on Race, Ethnicity, and the Economy. At PREE, she explores the role of structural racism in shaping racial economic disparities in labor markets, housing, criminal justice, higher education, voting, and other areas that have a direct impact on economic outcomes. Prior to joining EPI, Williams served as an assistant professor at Clemson University. Williams' research focuses on southern culture and the extent to which historical events have impacted the political behavior and economic outcomes of southern Black Americans. Her recent working paper, which examines the negative relationship between Confederate symbols and local labor market conditions for Black people, is helping to improve how we identify and measure the specific impacts of racism through research.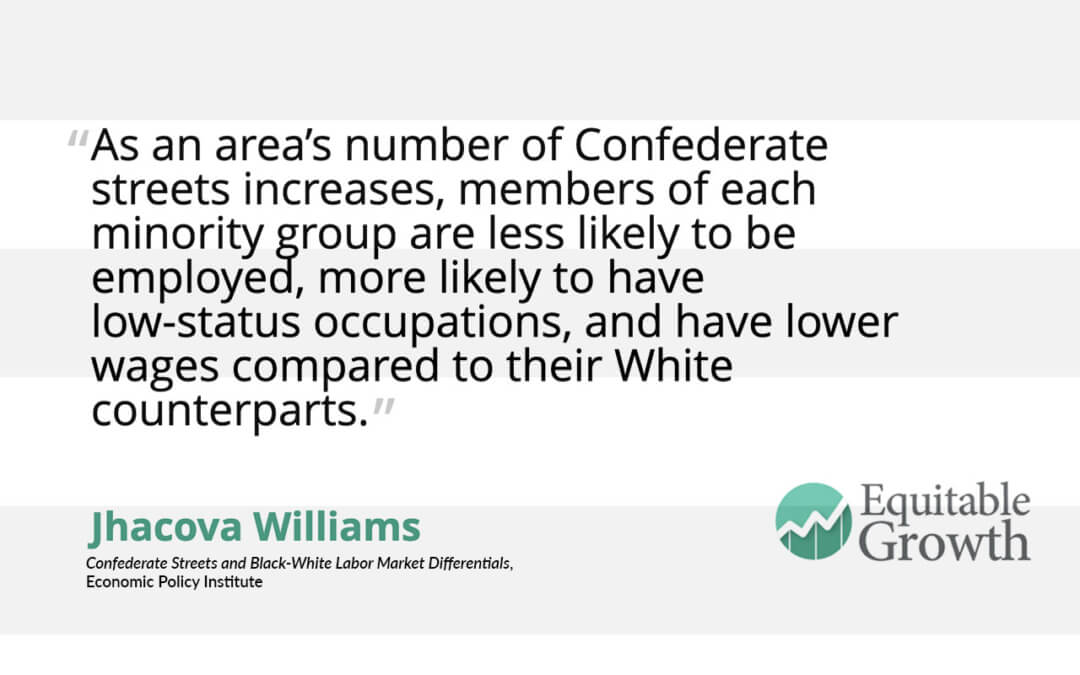 Equitable Growth is building a network of experts across disciplines and at various stages in their career who can exchange ideas and ensure that research on inequality and broadly shared growth is relevant, accessible, and informative to both the policymaking process and future research agendas. Explore the ways you can connect with our network or take advantage of the support we offer here.