About Us
The Washington Center for Equitable Growth is a non-profit research and grantmaking organization dedicated to advancing evidence-backed ideas and policies that promote strong, stable, and broad-based economic growth. Our fundamental questions have been whether and how economic inequality—in all its forms—affects economic growth and stability, and what policymakers can do about it.
We work to build a strong bridge between academics and policymakers to ensure that research on equitable growth and inequality is relevant, accessible, and informative to the policymaking process. And we have the support and counsel of a steering committee that comprises leading scholars and former government officials. Members have included Melody Barnes, Alan Blinder, Raj Chetty, Janet Currie, Jason Furman, John Podesta, Emmanuel Saez, and Robert Solow.
Since our founding in 2013, we have funded the work of more than 150 scholars and built a broader network through our working papers series, events, and convenings. By supporting research and bringing these scholars together to exchange ideas, we have learned a great deal and advanced a broad range of evidence-based policy approaches to addressing economic inequality and delivering broad-based economic growth to communities and families.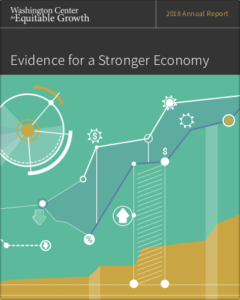 Our 2018 Annual Report, "Evidence for a Stronger Economy," chronicles a banner year for Equitable Growth. The report provides concise snapshots of innovative and successful initiatives spanning our key issue areas of measuring growth, family economic security, inequality and mobility, taxes and macroeconomics, market structure and competition, and raising wages. A special thanks to all of our donors, partners, and grantees for making 2018 a transformational fifth year for the organization. Download a pdf of the report here.
What we have learned
Strong economic growth was broadly shared in the United States through much of the mid-20th century, though significant disparities across demographic groups remained. But in recent decades, income and wealth inequality have been rising and mobility declining. Indeed, the gap between the wealthy and the rest of society is wider than it has been in nearly a century. And significant disparities across demographic groups persist.
We also have learned more about the ways that growing inequality affects our economy and our society—reducing stable demand for goods and services and creating macroeconomic instability, obstructing access to education, stunting individual development, limiting entrepreneurialism, and undermining the inclusiveness and responsiveness of political and economic institutions. In addition, we've learned that there is a wide range of potential solutions that can help reduce economic inequality and support economic growth, in areas ranging from labor standards, social insurance, and taxation to business competition, wages, and innovation.
Equitable Growth is committed to identifying additional avenues for exploration through our annual grantmaking request for research proposals and to continuing to build a bridge between academics and policymakers to help address inequality and achieve broad-based economic growth.