Expert Focus: Equity and Well-Being During the Coronavirus Recession

The underlying problem of economic inequality in the United States will only prolong and deepen the coronavirus recession. Disparities by income, race, ethnicity, and gender render any response to a deep recession and eventual recovery all the more difficult. As the twin public health and economic crises continue to unfold, it's critical to examine our policy responses with an eye toward equity in order to protect the most vulnerable workers and communities.
Our monthly series "Expert Focus" highlights scholars in the Equitable Growth network and beyond who are leading important conversations in social science research. In this installment, we explore the work of scholars contributing to our understanding of how this crisis is affecting individuals and families working on the front lines of the coronavirus pandemic across the U.S. economy. In addition, see our coronavirus recession page for updated analysis and resources from experts in our network.
Elizabeth Oltmans Ananat and Anna Gassman-Pines
Columbia University; Duke University
The coronavirus pandemic and resulting economic downturn highlight the absence of critical social supports—from paid leave to predictable schedules to health and safety protections on the job—that should be available to all workers. Anna Gassman-Pines, the WLF Bass Connections Associate Professor of Public Policy at Duke's Sanford School of Public Policy, and Elizabeth Ananat, the Mallya Chair in Women and Economics at Barnard College, Columbia University, both of whom are also Equitable Growth grantees, have produced research that helps to understand the various ways economic shocks affect family well-being and intergenerational poverty and inequality.
In their recent survey of hourly service workers, they asked about the impact school and business closures were having on working families. They found that the coronavirus recession led to drastic reductions in work hours and to job losses as well as mental health deterioration. Meanwhile, policy support in the form of Unemployment Insurance relief has yet to reach many eligible households. Their work, which was featured in The Economist, underscores the pressing need for public policy to both alleviate current suffering and ensure that rescue efforts equitably meet the needs of working families in the long run.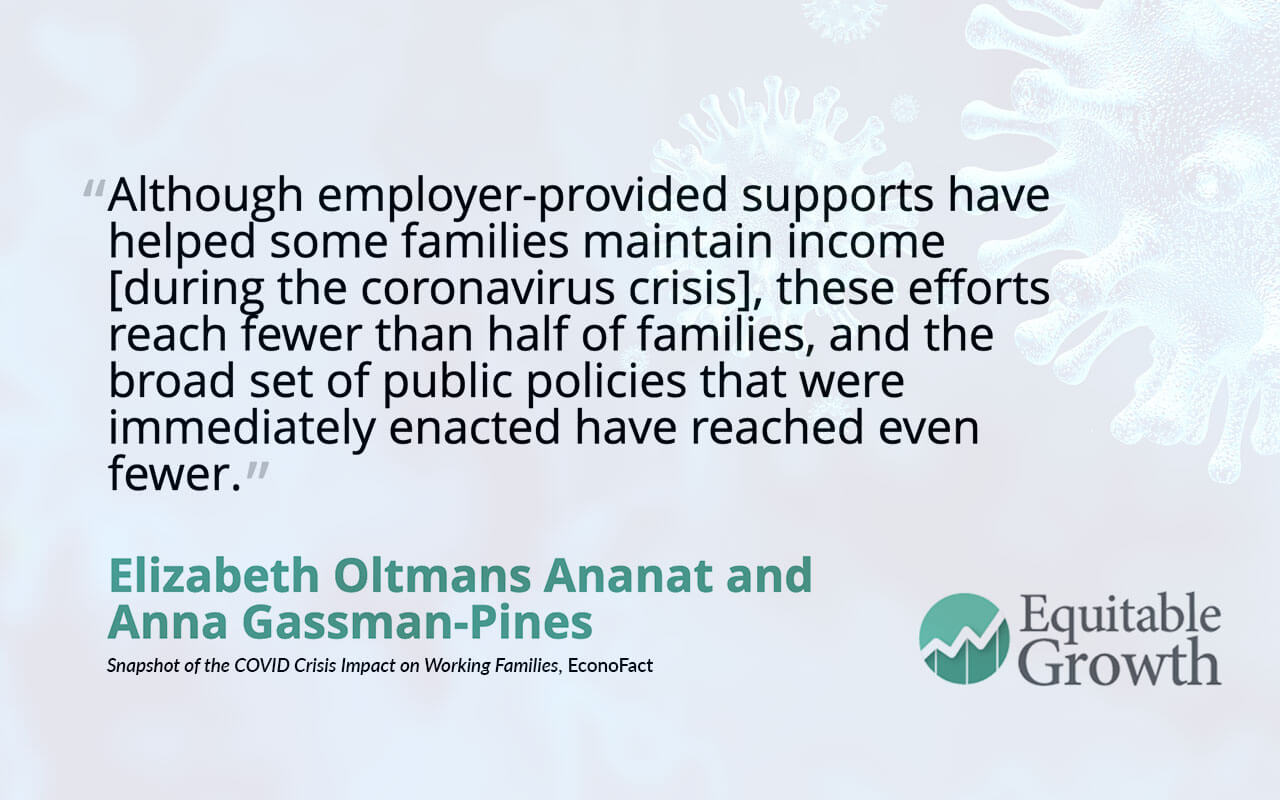 Manasi Deshpande
University of Chicago
The coronavirus pandemic laid bare the underlying structural fragilities of the U.S. economy and the limits of the existing public health infrastructure to protect workers. Manasi Deshpande, an assistant professor of economics at the University of Chicago and an Equitable Growth grantee, has been researching the interactions between social safety net programs and the financial well-being and families.
In this working paper, Deshpande and her co-authors look at the effects of disability programs on financial outcomes in the United States. Her research is contributing important evidence to understand how programs such as Social Security Disability Insurance and Supplemental Security Income substantially help to alleviate financial distress of recipients as well provide spillover benefits to nonrecipients. Fully appreciating the varied needs of vulnerable workers and their families can help ensure access to vital programs when needed most.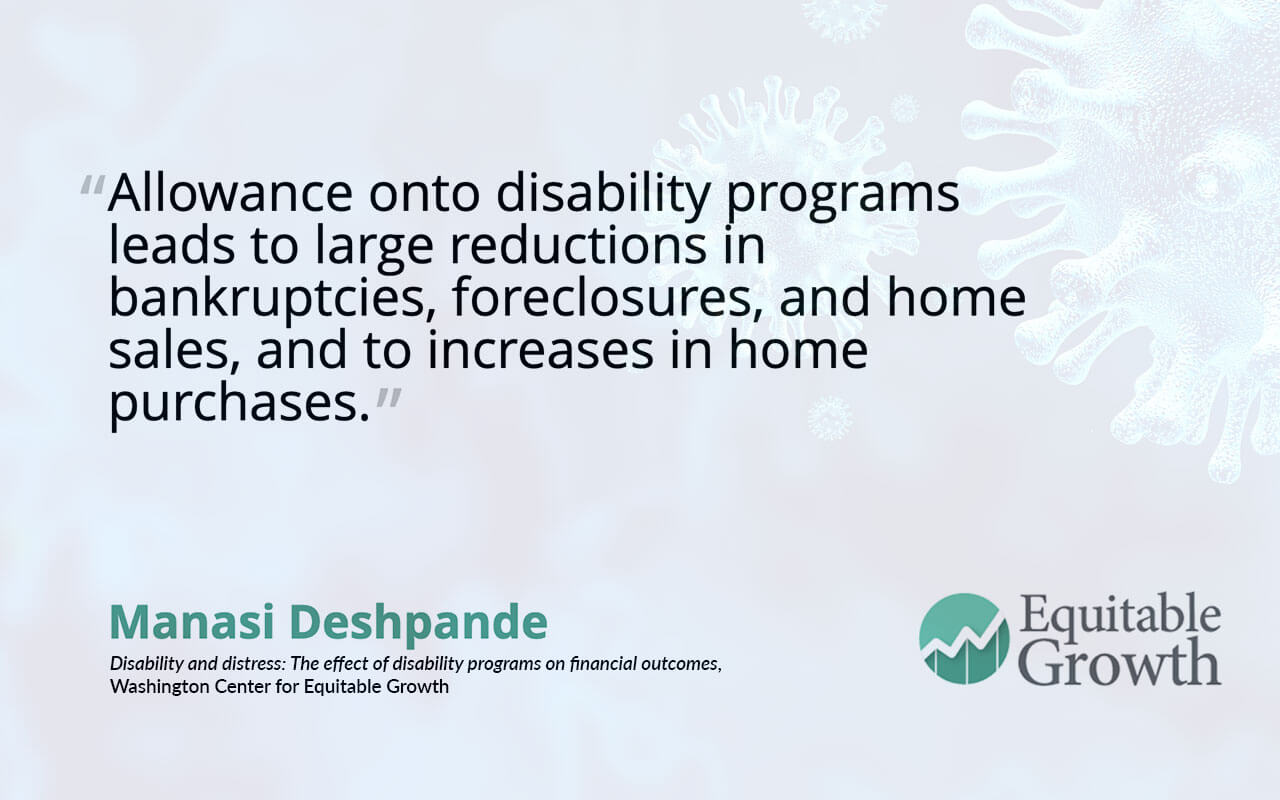 Nancy Folbre
University of Massachusetts, Amherst
Paid and unpaid care work undoubtedly play an immensely valuable role helping both families and the U.S. economy overall weather the coronavirus pandemic and the sharp economic downturn it triggered. Nancy Folbre, Professor Emerita of Economics at the University of Massachusetts Amherst, is a leading scholar on rethinking economic measurement to value care provision and public expenditure to support working families.
Folbre co-authored a working paper with Equitable Growth grantee Kristin Smith to examine the source of earnings inequality in care industries (health, education, and social services) that are disproportionately comprised of women, in particular women of color. Her blog, Care Talk, presents important questions on measuring the economic contributions of the care sector, and highlights ideas needed to build more efficient systems of care and better protect the most vulnerable and undervalued workers.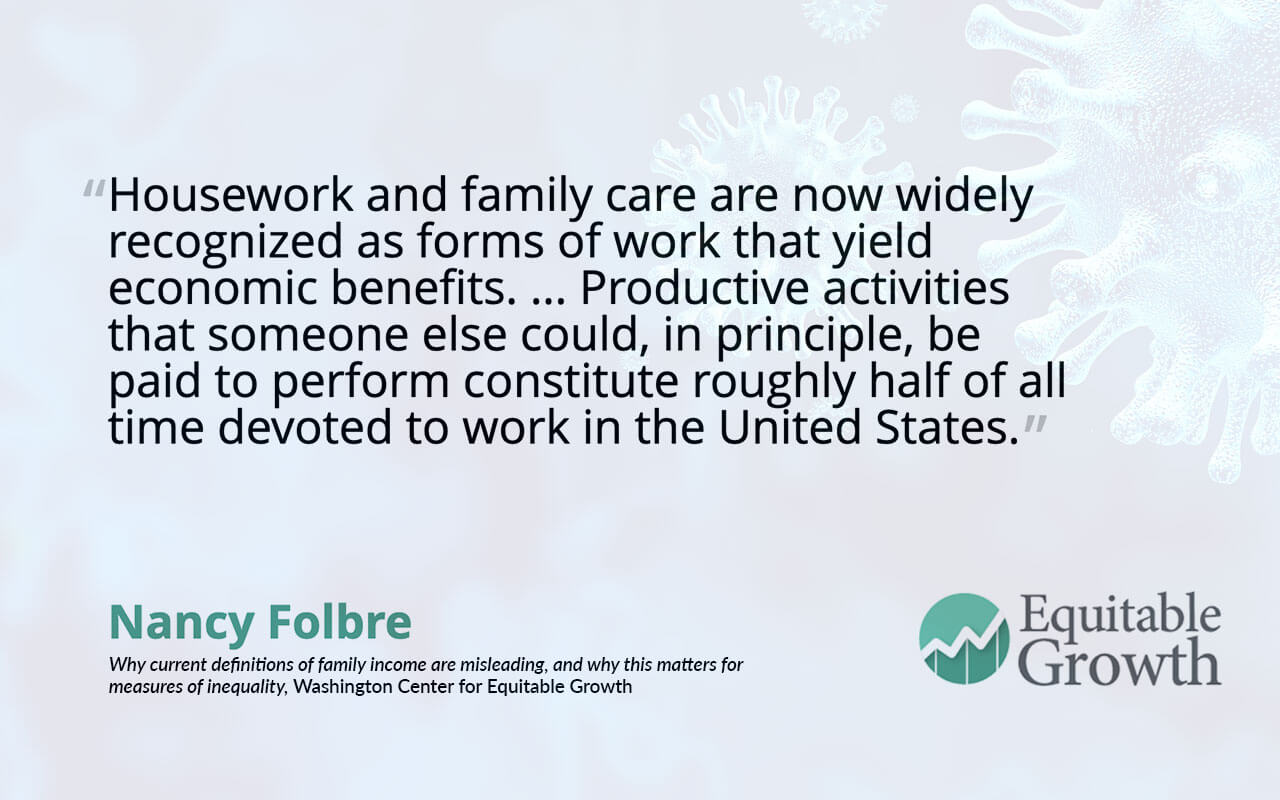 Michelle Holder
John Jay College of Criminal Justice, City University of New York
Previous evidence shows that workers of color are one of the most harmed groups of workers during economic downturns. Michelle Holder, an assistant professor of economics at John Jay College of Criminal Justice, City University of New York, has written extensively on the disproportionate impact of the current crisis on black women—impacts that are rooted in long-running and persistent disparities. Already, black women are crowded into low-wage occupations and firms with the highest rates of layoffs during recessions.
In her recent report, she shows how the long-term lack of economic security and pay discrimination for black women exacerbates hardships brought upon by the coronavirus recession, such as reductions in work hours, job losses, and exposure to the coronavirus while on the job. Putting workers first means recognizing the historic and persistent role of workplace and government discrimination that reinforce gender and race disparities among workers and their families.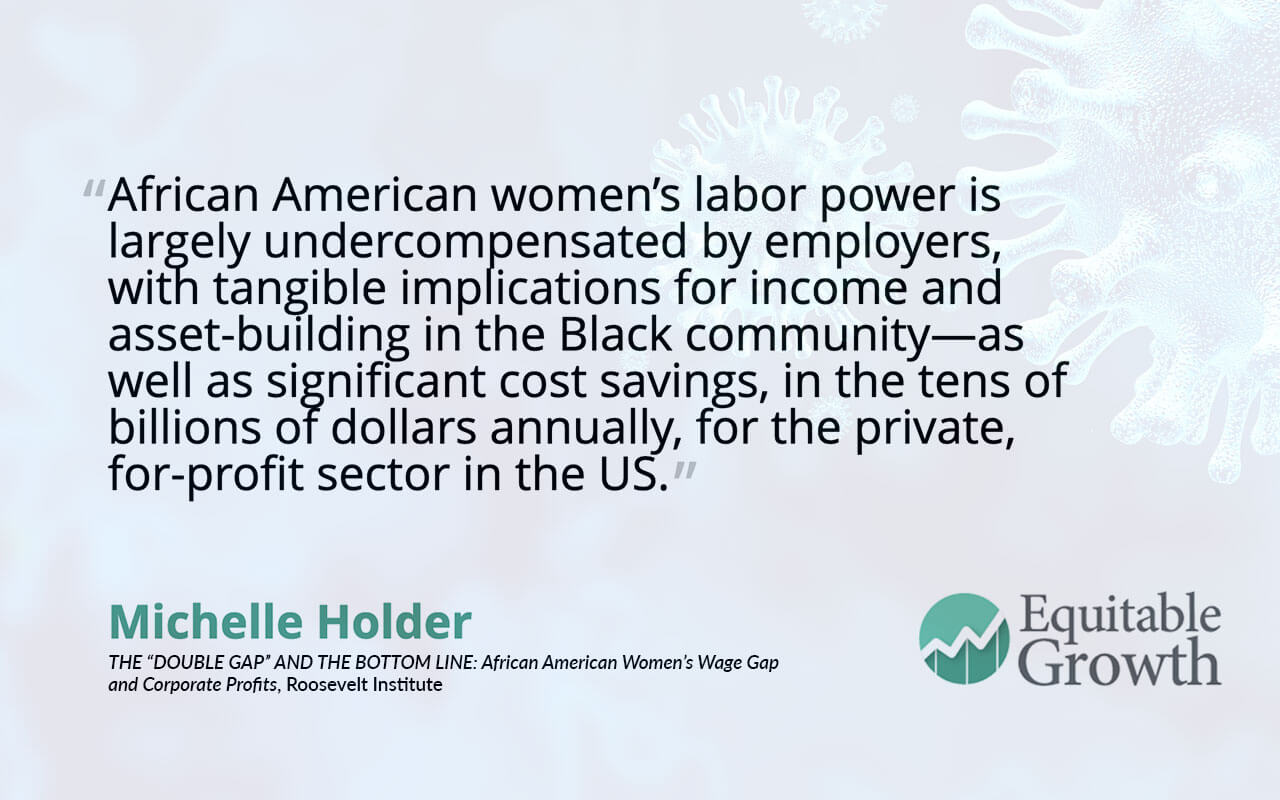 Kyle K. Moore
U.S. Congress Joint Economic Committee
The coronavirus pandemic brings into focus longstanding racial disparities in health and economic security made worse during this emergency. Kyle Moore, currently a senior policy analyst at the U.S. Congress Joint Economic Committee, has explored the links between racial disparities in health and economic inequality in the United States.
A former Dissertation Scholar at Equitable Growth, his interdisciplinary, historically contextualized research is timely for informing policy decisions that not only address the immediate resource needs of vulnerable communities but also redress the broader forces undermining access to the economic and social resources that ensure well-being for families across all races.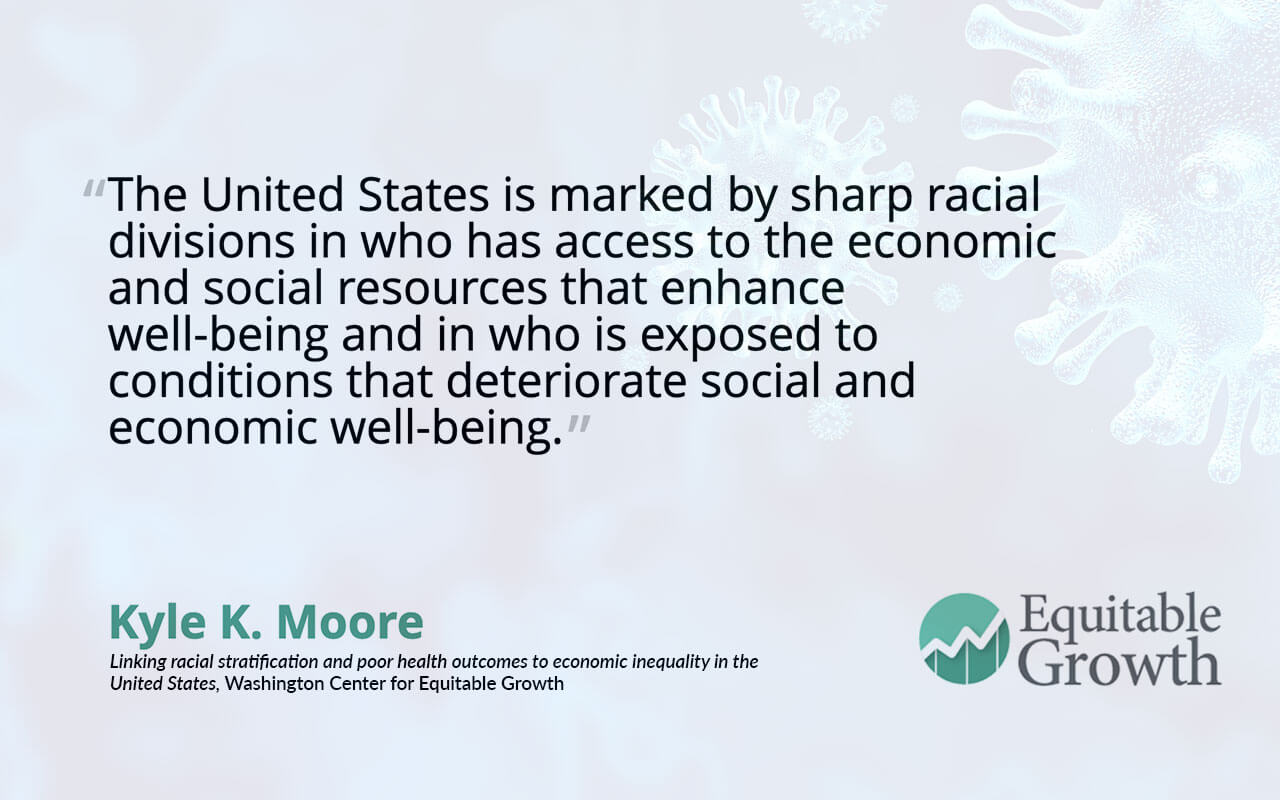 Equitable Growth is building a network of experts across disciplines and at various stages in their career who can exchange ideas and ensure that research on inequality and broadly shared growth is relevant, accessible, and informative to both the policymaking process and future research agendas. Explore the ways you can connect with our network or take advantage of the support we offer here.