How the coronavirus pandemic is harming family well-being for U.S. low-wage workers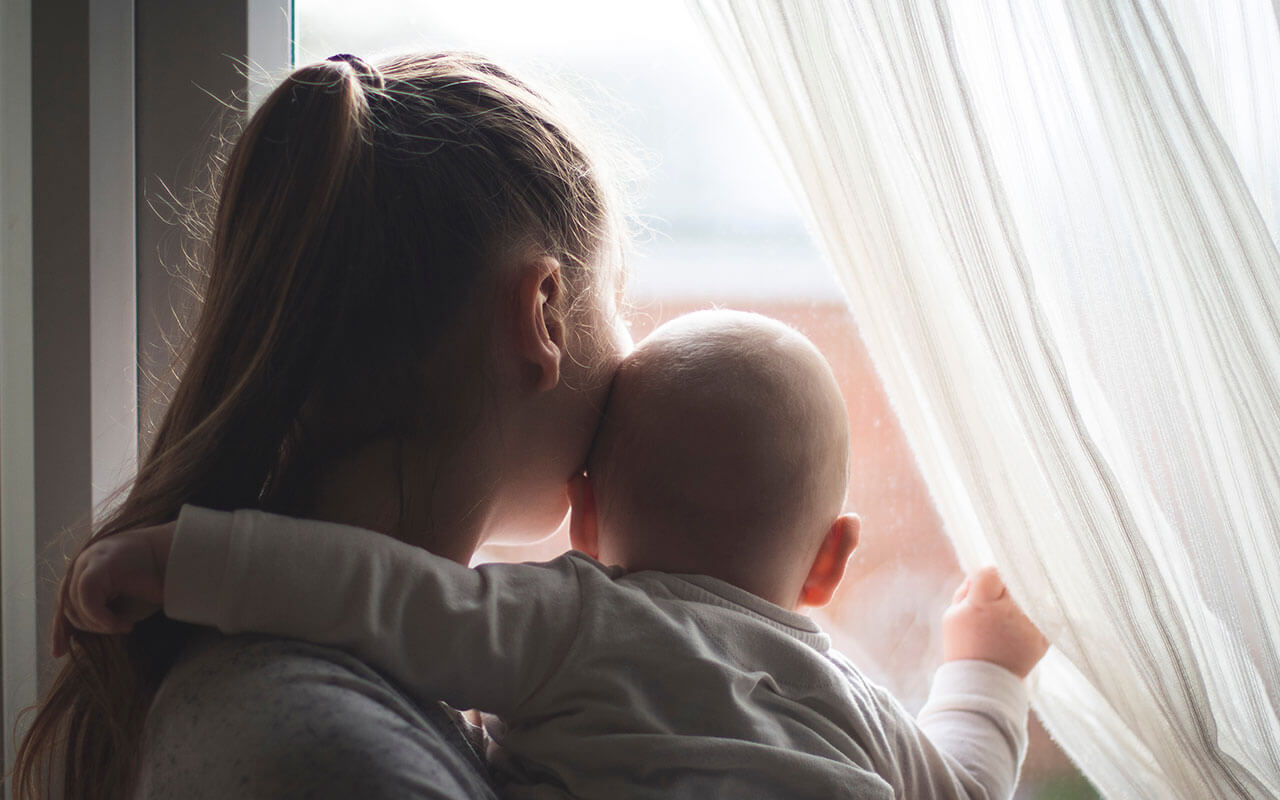 As the effects of the new coronavirus sweep through the U.S. economy, low-wage workers are hit first and hardest. Today, economist Liz Ananat at Barnard College and psychologist Anna Gassman-Pines at Duke University released new analyses drawing from daily diary surveys conducted in a typical large U.S. city between February 20 and March 24. Each day, they surveyed 690 retail, food, and hospitality workers with young children and they also conducted a one-time survey on the impact of the new coronavirus with a subsample of 405 respondents. Their results show how the public health crisis is unfolding and how policy has not yet softened its economic and psychological blow.
Their findings are presented below in 10 charts that track the experiences of these workers and their families just prior to, and immediately following, the onset of the coronavirus crisis in their city during March 2020. The study was conducted before the most recent stimulus package—which greatly expands Unemployment Insurance—was passed. But the findings imply that if policymakers do not act quickly to facilitate benefit access for low-wage workers, even these newest supports may not reach the people who need them most.
The coronavirus recession's impact on low-wage workers in a large U.S. city in 10 charts
March was the first month in which the economic shocks from the coronavirus pandemic reverberated to the city under study. During this month, more than two-thirds of the workers surveyed found themselves working less, with more than 40 percent experiencing layoffs. (See Figure 1.)
Figure 1

As work hours dwindled, parents slept poorly. They reported feeling fretful, angry, irritable, anxious, or depressed all day long. Their children increasingly demonstrated uncooperative behavior. (See Figure 2.)
Figure 2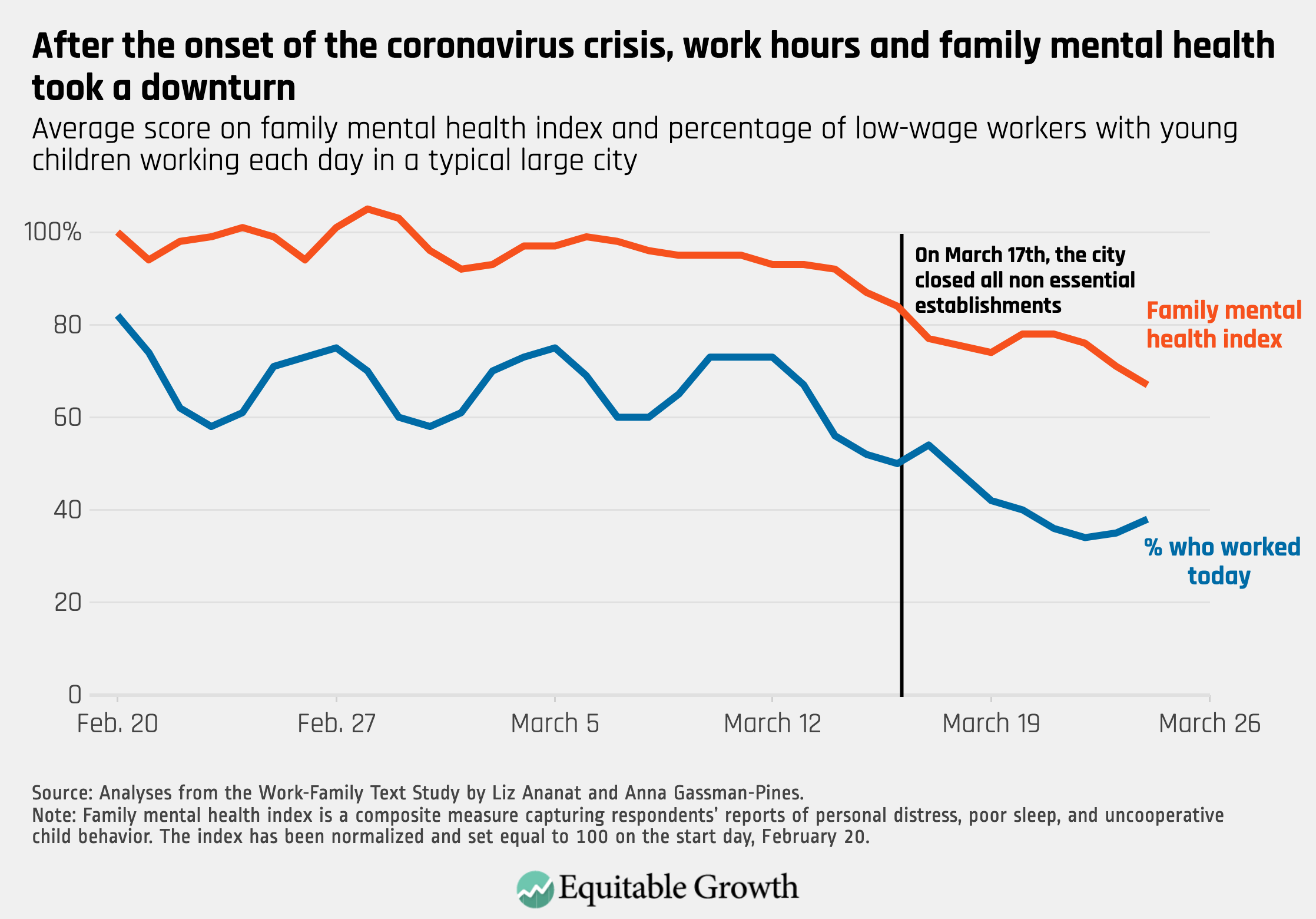 The experience of parents and their children is deeply intertwined. As parents' moods suffered, they reported that their young sons and daughters demonstrated uncooperative behavior, which, for children, is a harbinger of deeper psychological distress. (See Figure 3.)
Figure 3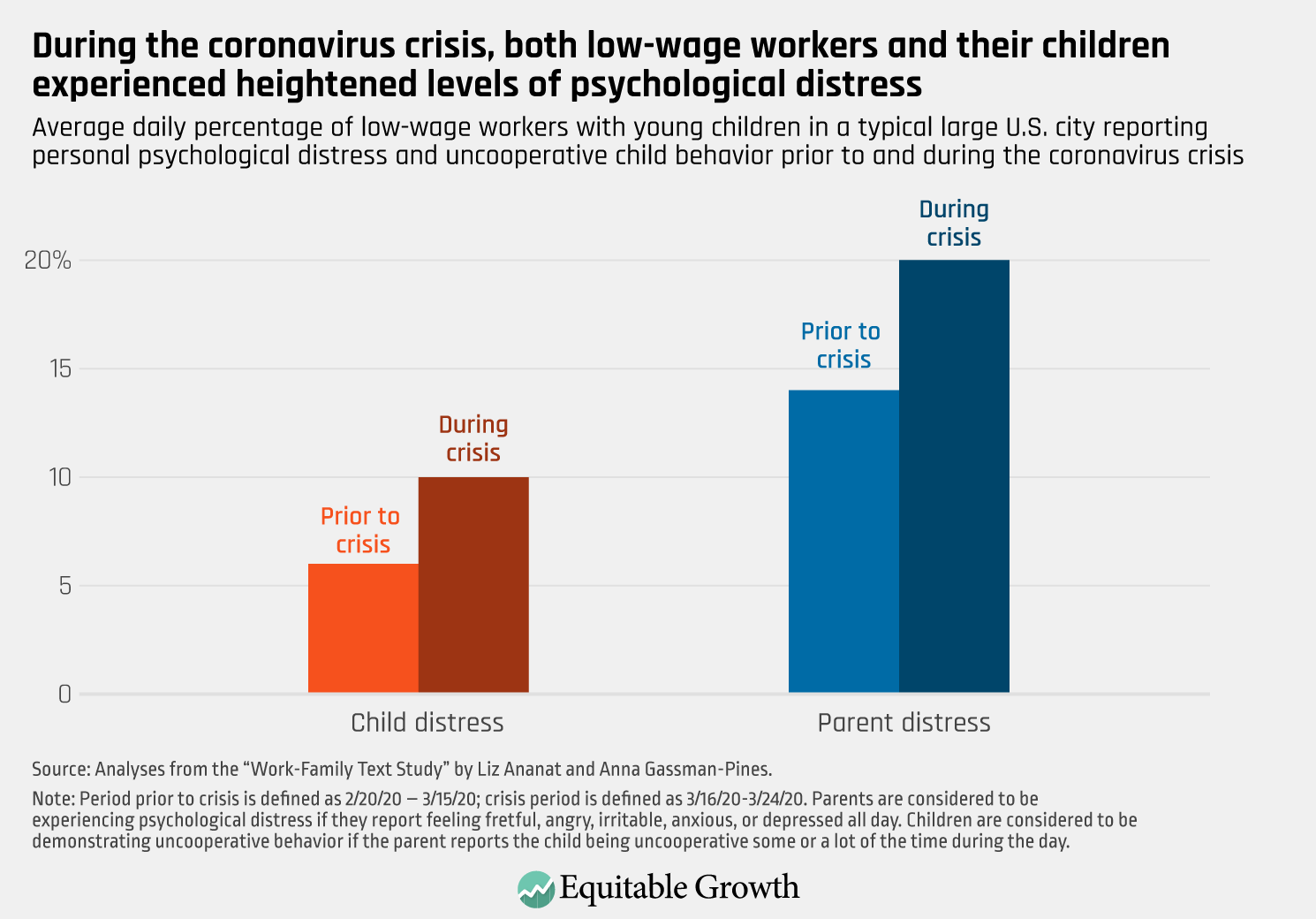 Decreases in work hours are accompanied by falls in income. Nearly two-thirds of respondents reported that their income fell following the onset of the coronavirus crisis. One-third reported severe income declines. These workers' incomes were now less than half of what they had been in normal times. (See Figure 4.)
Figure 4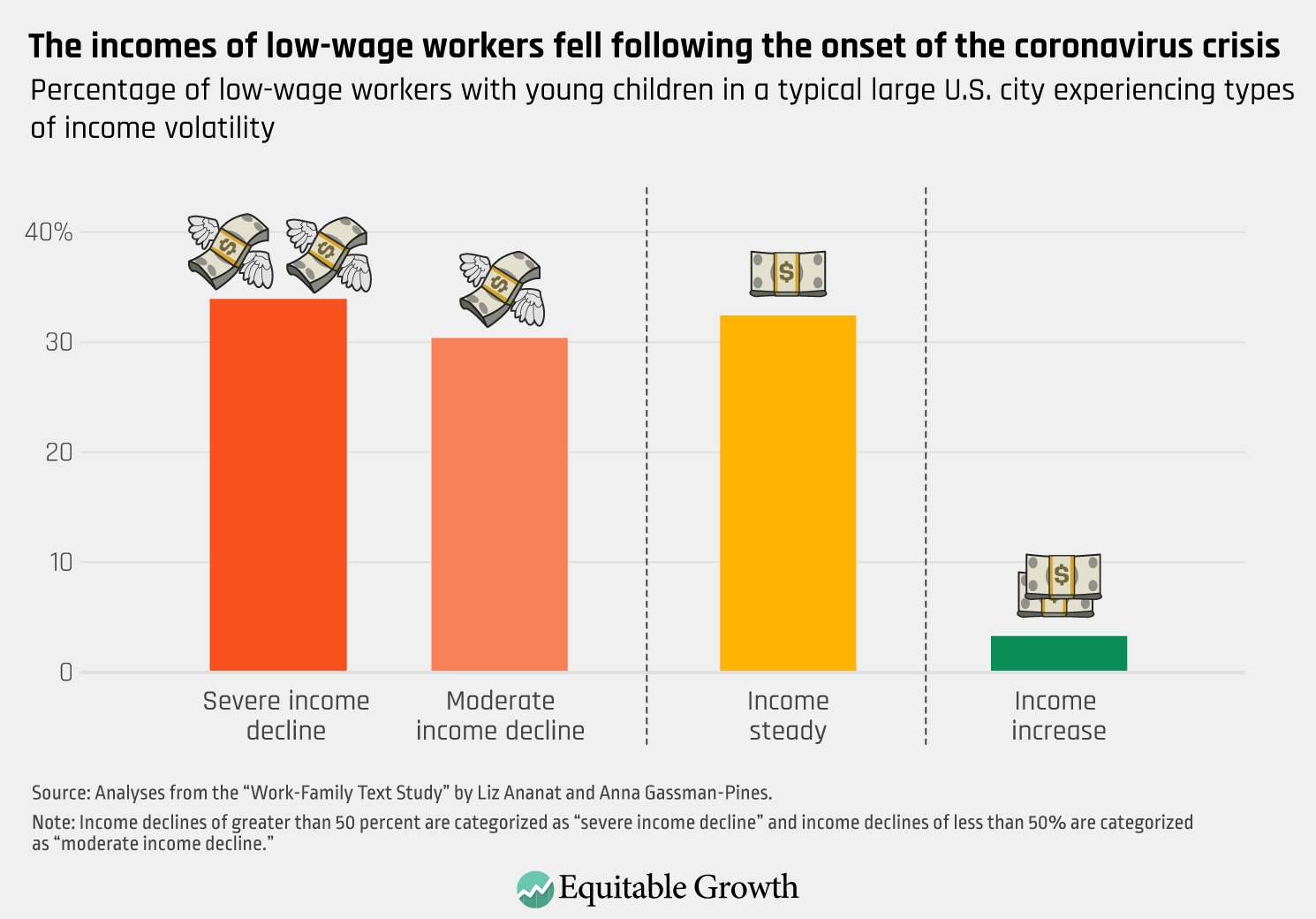 Policymakers anticipated this economic hardship, and they acted. They made emergency childcare available for people in essential occupations, Unemployment Insurance available to people who were laid off or experienced reductions in hours, provided free meal pick-up for all minor children (many of whom lost access to free or reduced-price meals in schools), and distance learning for school-aged children whose classrooms were shuttered. All low-wage workers with young children were eligible for at least some of these supports. (See Figure 4.)
Figure 5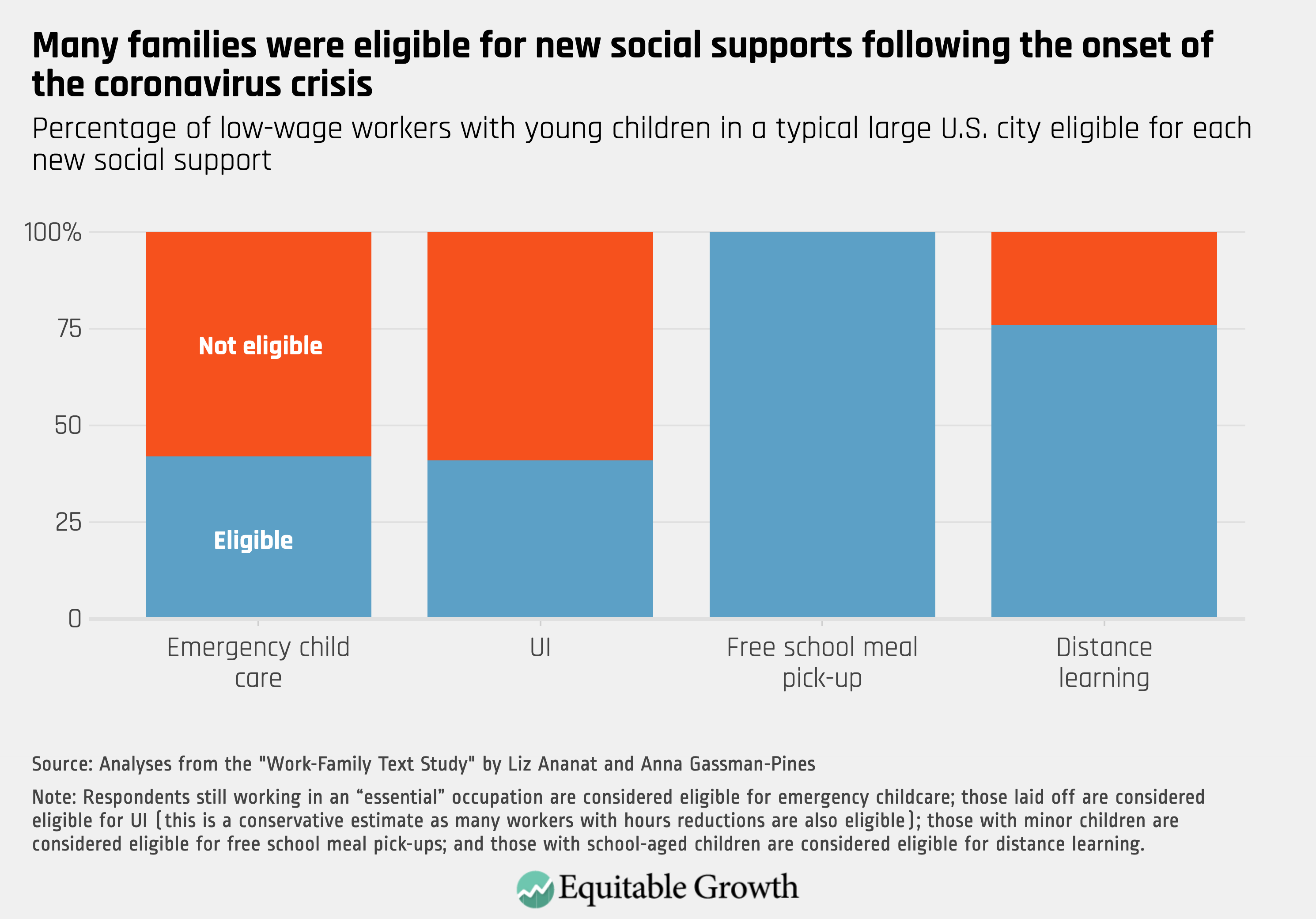 Yet, despite the initial action taken by policymakers, few families accessed these supports. Only 3 percent of the respondents who continued to work in jobs deemed "essential" received emergency childcare. And only 4 percent of those who were laid-off received unemployment benefits. While all sample members were eligible to pick up free grab-and-go meals at schools, just 1 in 10 received them, and only half of respondents with school-aged children were engaged in distance learning. (See Figure 6.)
Figure 6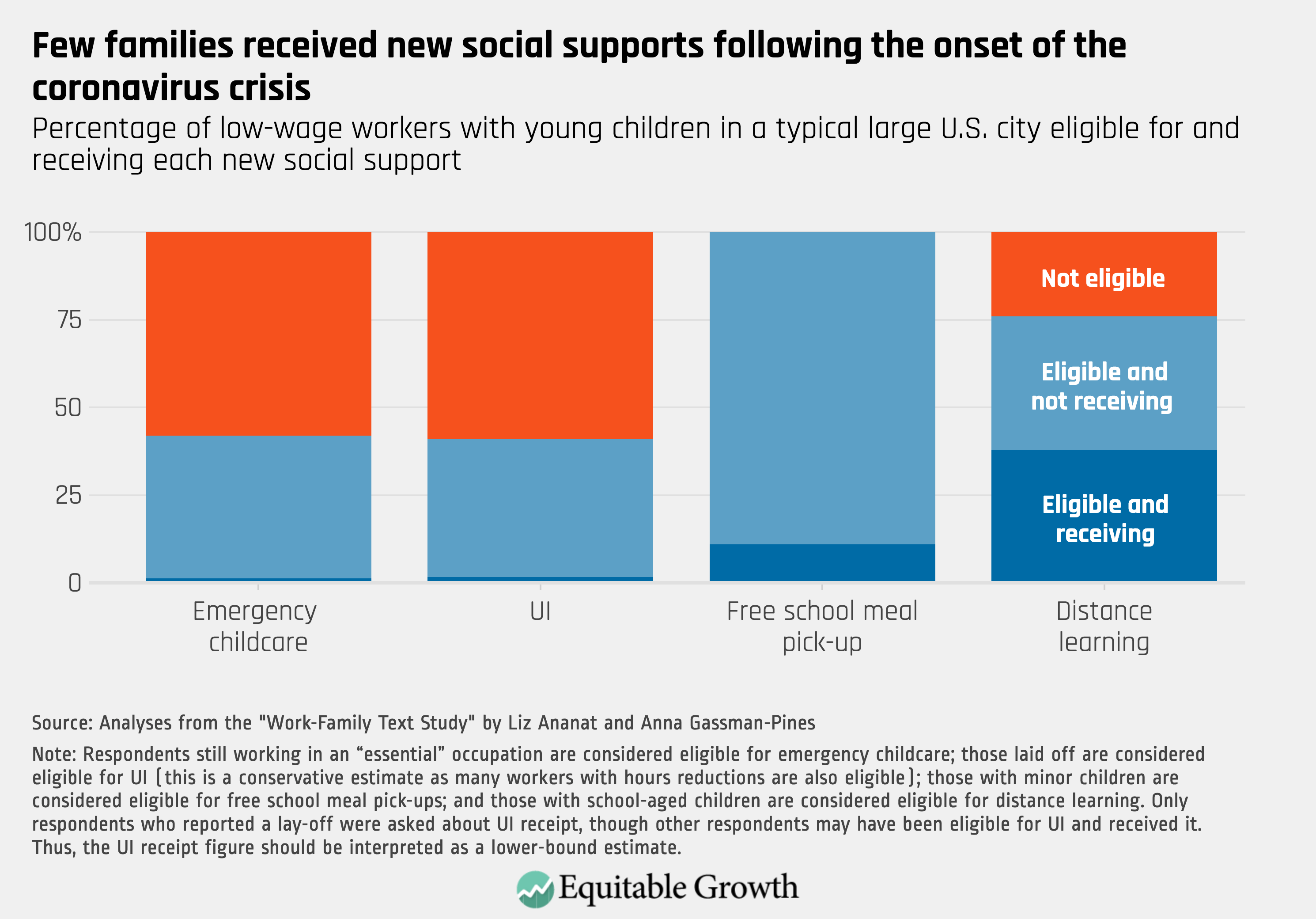 Indeed, more than half of these low-wage workers did not receive any of the services for which their families were eligible. (See Figure 7.)
Figure 7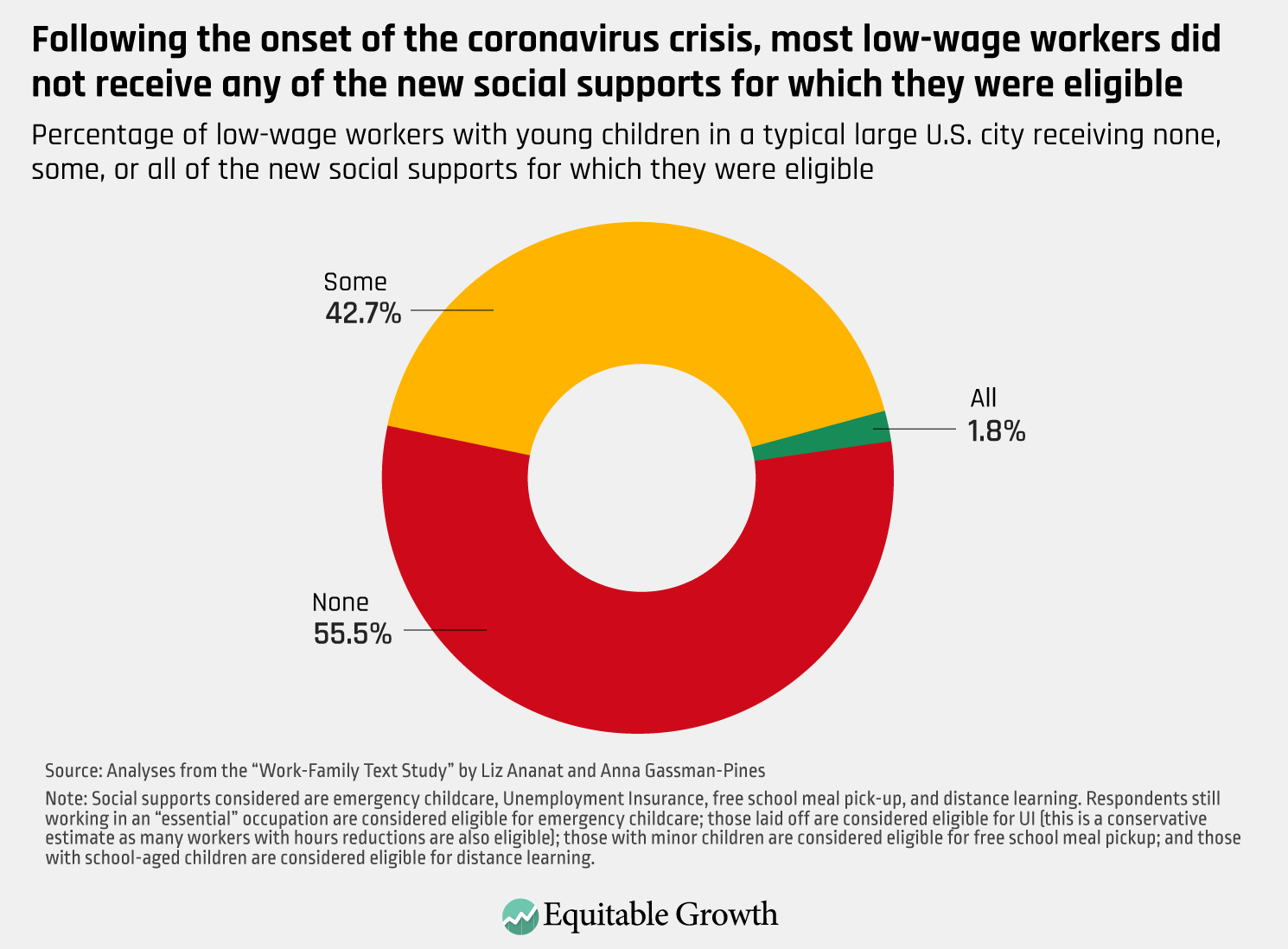 Though the public safety net did not reach low-wage workers and their families in these first weeks of the crisis, those workers who received compensation from their employers for their reduced hours experienced less income volatility than their counterparts who had to rely on the public safety net alone. (See Figure 8.)
Figure 8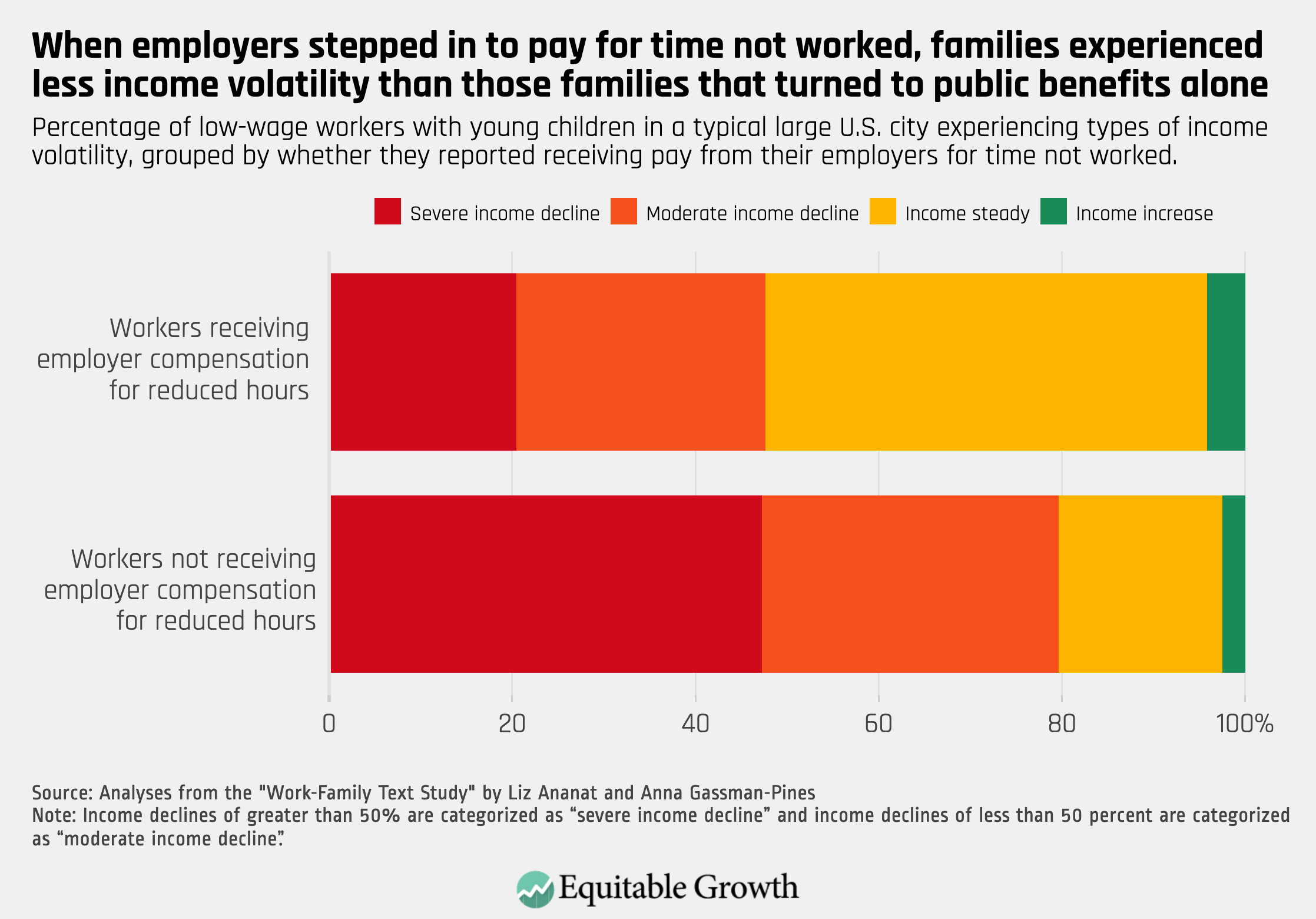 Taking stock of these serious financial challenges facing families, the research team asked respondents, "If the crisis continues, for how many months do you think you will be able to pay for groceries?" Of those respondents who were able to provide a guess, nearly 1 in 10 predicted running out of money for groceries during the week of the survey, and half predicted not being able to pay for groceries sometime before the end of May. (See Figure 9.)
Figure 9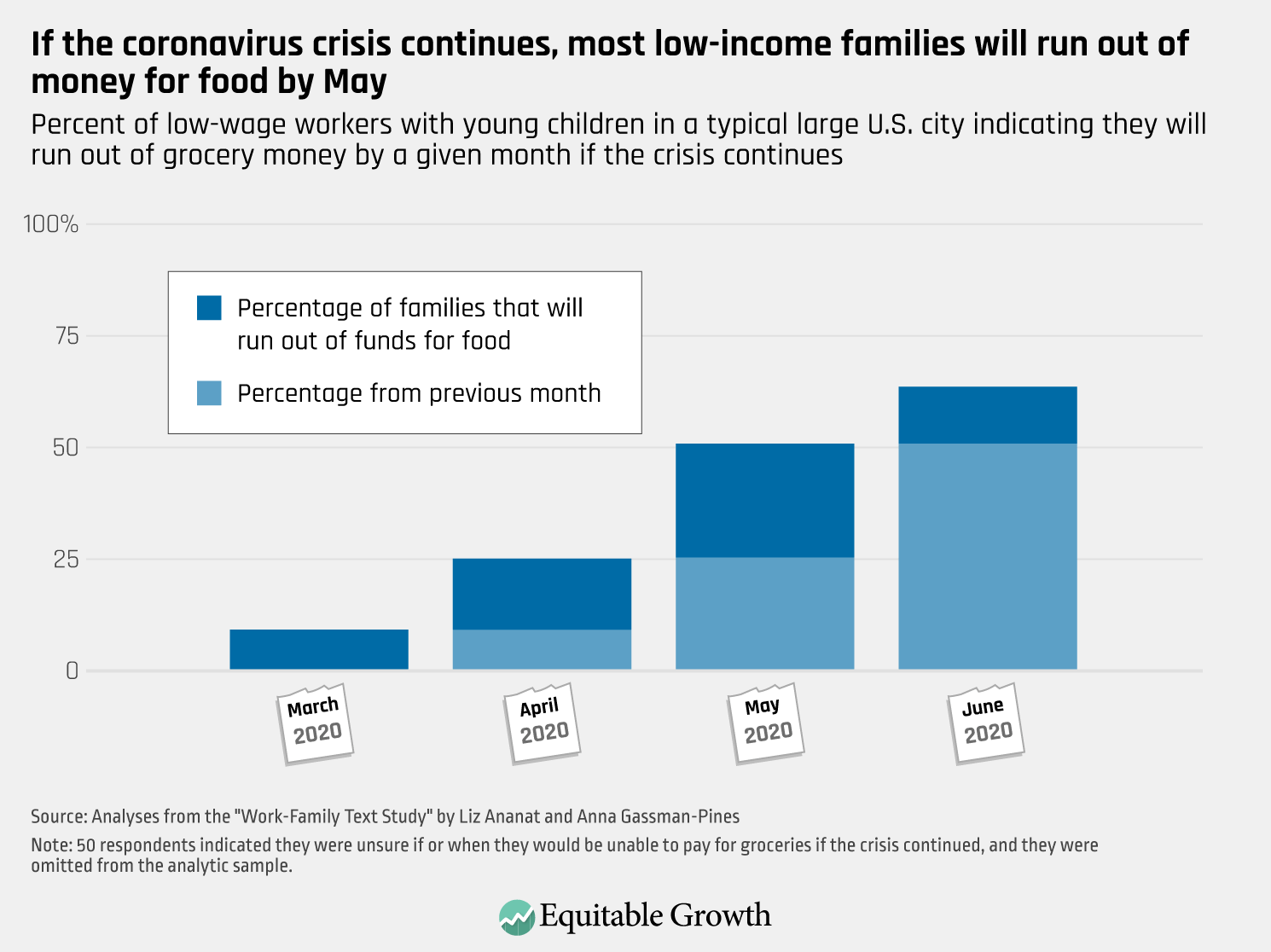 Similarly, the low-wage workers who were surveyed predict that if the crisis continues, they'll be unable to pay for housing. Nearly 1 in 5 predict running out of rent money during the survey week, and three-quarters predict running out sometime before the end of June. (See Figure 10.)
Figure 10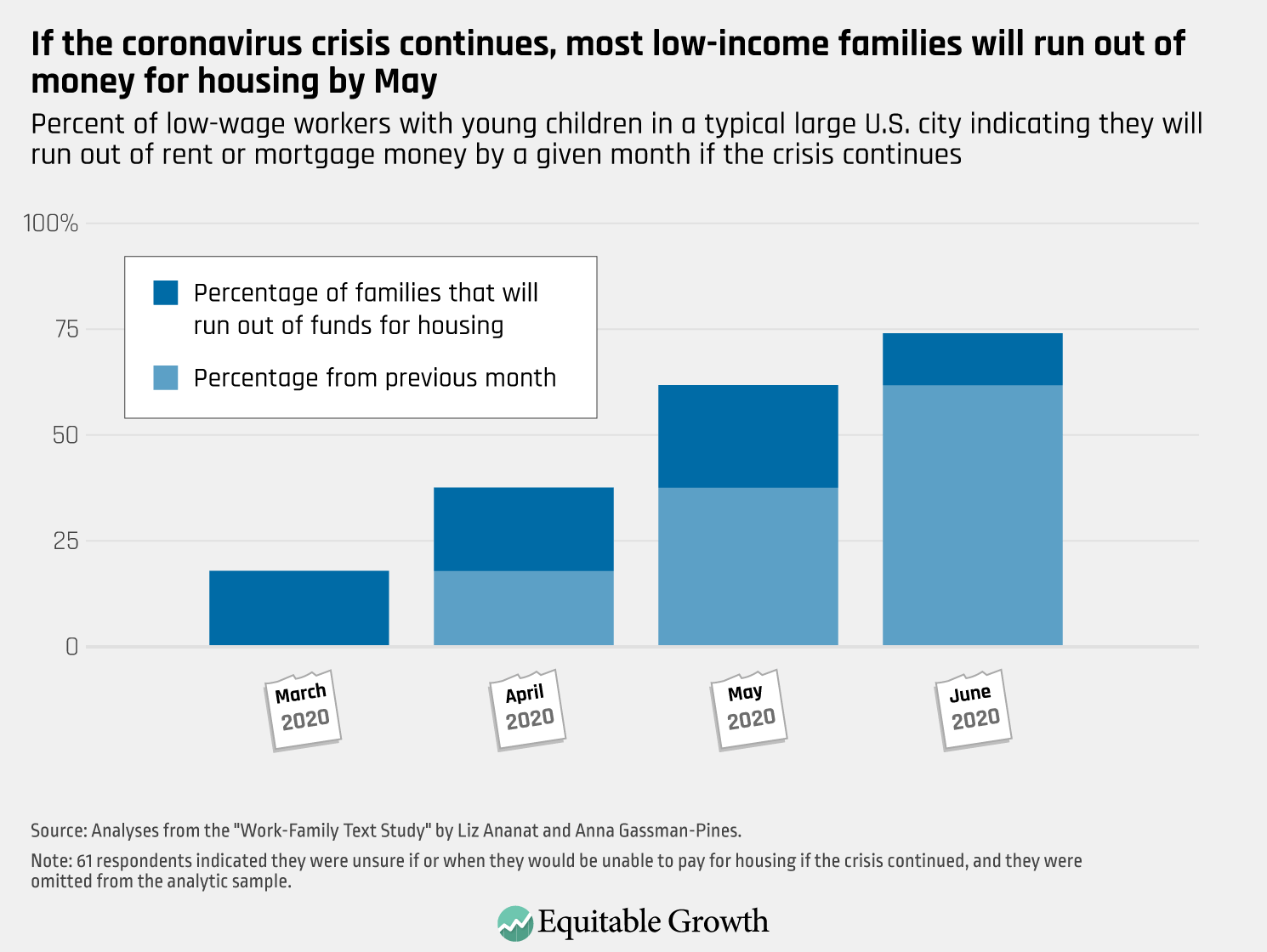 Conclusion
For all kinds of people across the world, the shock of the coronavirus crisis has been devastating. But low-wage workers in the United States were in a fragile place even before the crisis began: Economic inequality left them and their families ill-equipped to cope with a sudden financial or health shock well before the pandemic's onset.
And the coronavirus crisis is harming more than the pocketbooks of low-income families; it is also affecting the psychological well-being of parents and their children. These psychological effects are likely the result of both economic hardship and anxiety about the coronavirus itself—and perhaps even a reaction to respondents or their family members contracting the virus.
Over the past several weeks, policymakers have recognized that low-income families are suffering and have stepped up to provide supports to these families, but the supports won't be effective at ameliorating the distress of families—or stabilizing the economy—if workers don't access them.