Congress fights back, and it's absolutely necessary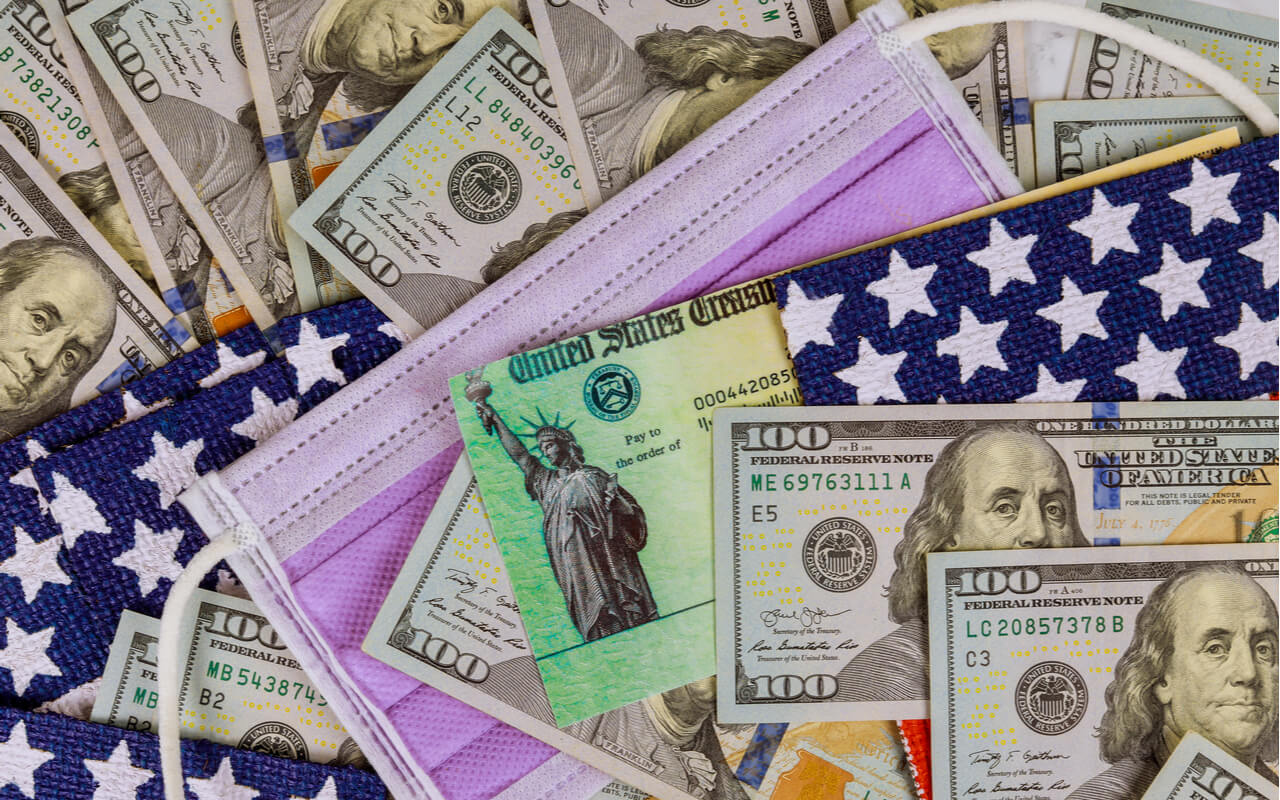 (This piece was updated on April 1, 2020 to reflect the IRS guidance on the economic impact payments related to the coronavirus recession.)
The coronavirus is killing people at a breathtaking pace—more than 1,000 and counting in the United States and thousands more around the world. Dr. Anthony Fauci and an army of public health experts tell us that we must shut down public life to fight this virus and save lives. Local officials from coast to coast, including Gov. Andrew Cuomo of New York, Mayor Muriel Bowser of Washington, D.C., and Gov. Gavin Newson of California have shuttered nonessential businesses and are asking people to stay at home to contain the virus.
The fight against the coronavirus and our economic recovery come with a price. Last week, more than 3 million people applied for support from Unemployment Insurance, and that number understates the number of workers who lost their jobs or had their hours cut. (See Figure 1.)
Figure 1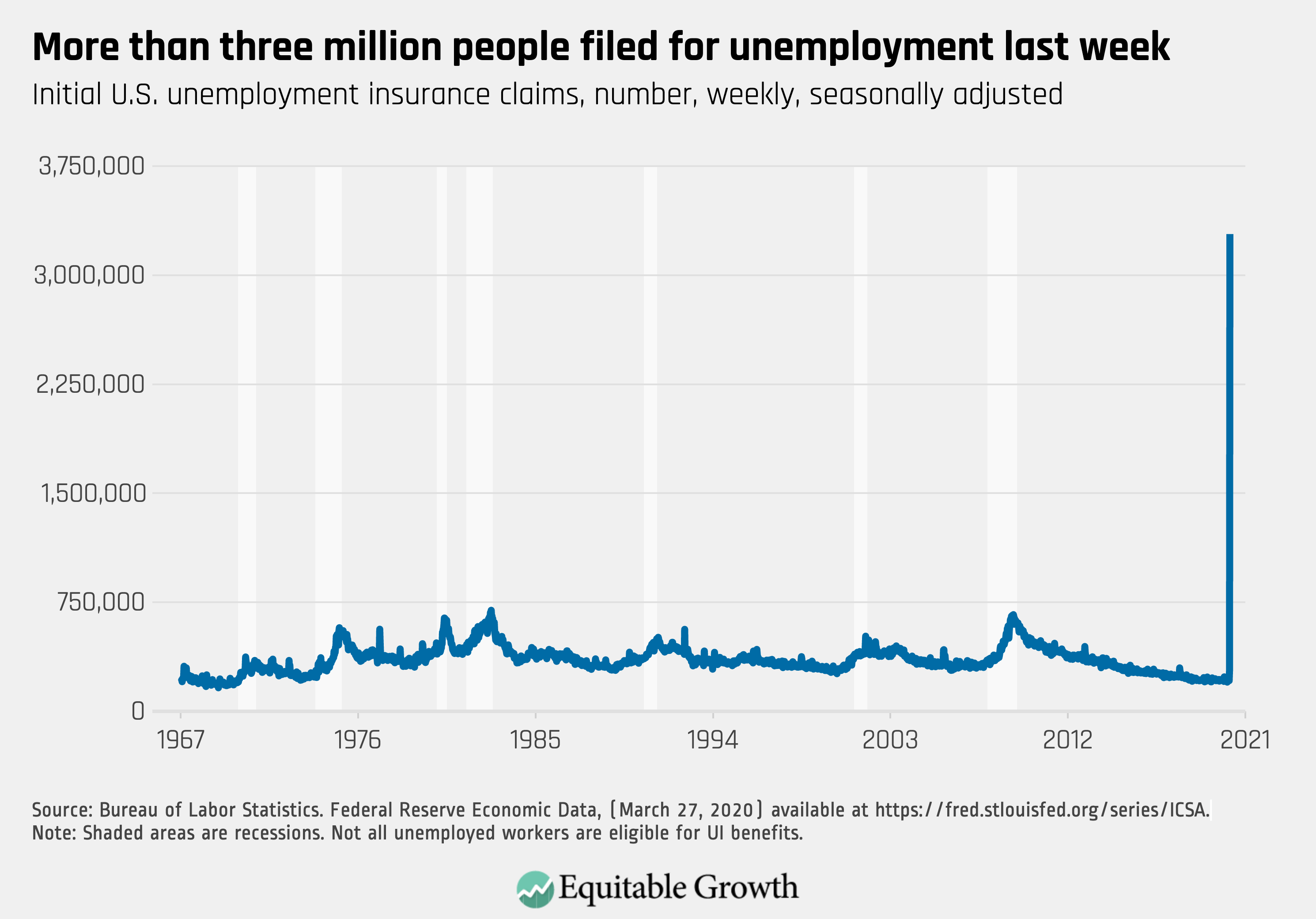 More than ever, millions of families are trying to figure out how to pay the bills and feed their children. Thankfully, Congress is fighting back hard. In the early hours of Thursday, the U.S. Senate unanimously passed a $2.2 trillion package to support the economy. Hundreds of billions of dollars will go to states to fight the health crisis, to Unemployment Insurance programs to support those who lose their jobs, to struggling employers big and small, and directly to many women, men, and children that the government can reach. Congress is acting on all fronts and sending big dollars to families, businesses, and states.
This support for the U.S. economy is urgently needed. In addition to workers being laid off, businesses and families are not going to be able to pay their rent at the end of this month. After a decade of economic expansion, finally the people long on the sidelines were coming back to work. It is always the case that the last in—workers or businesses—are the first out. The lost expansion is a tragedy, second only to the lost lives from a coronavirus currently without a cure.
The package passed by the Senate and the House of Representatives and was signed by President Donald Trump on Friday. The package is broad-ranging and has many necessary facets. One key piece will focus on getting money directly to many people—referred to as "recovery rebates" in the legislation. In the next month or two, many people will receive $1,200 from the government. Families will receive another $500 per child. Not everyone will receive money, and some will wait longer than others. Even so, the government is sending money to hundreds of millions of people.
The recovery rebates will total nearly $300 billion. That amount represents 2 percent of consumer spending in 2019 and twice the total dollars of the stimulus payments in 2008 during the Great Recession of 2007–2009. Most importantly, 8 in 10 people in the United States will likely receive a full or partial recovery rebate.
Why spend so much sending money directly to people, even those who still have their health and their jobs? We do not know who will be hit hard by the coronavirus. Many expect the unemployment rate to rise to more than 20 percent by this summer. That level would rival that of the Great Depression. Everyone single person in the country would likely either lose a paycheck or know someone who has.
The reality for many decades has been that the United States is never ready for a recession. Almost one-quarter of households do not have $400 on hand. Small businesses operate with thin margins. And states face balanced budget requirements. None of these groups can make ends meet when income, sales, and tax revenues plummet—especially not when expenses for medical care and care for family members jump.
What do we know right now about the money going to people? When will they get their rebates? Will it show up in their bank accounts before their next rent payment? Sadly, no one knows—neither the former officials who oversaw the 2008 stimulus payments nor the current staff at the Internal Revenue Service. On March 30, 2020 the IRS provided more information on the rebates, which you can find here. One thing we know from past experience is that public servants in the government will do whatever they can to get the money out as quickly as possible. No one wants to see a child go without food or a senior unable to pay for a prescription.
Here is what we know from the legislation—working its way to the president's desk—on the recovery rebates:
Payments will be $1,200 per adult or $2,400 for couples filing an IRS return.
For families, there will be an additional amount equal to $500 per child largely under age 17.
Adults with incomes higher than $75,000 or couples with incomes more than $150,000 are eligible for a reduced or no payment.
The legislation directs the federal government to send the rebates as rapidly as possible. To do so, they will use the most recent payment information on hand at the IRS. People who have not filed their taxes this year but did file last year should receive a payment based on that information.
Individuals who receive benefits from Social Security (for retirement, survivor benefits, and disability benefits) and Railroad Retirement Insurance will receive rebates. Other non-filers who receive benefits from the federal government may also be eligible.
It takes the IRS time—weeks not days—to create a file of everyone's payment information and their rebate amount. Once that happens, those who used direct deposit will get their money within days. Limits exist in how many paper checks can go out in one week, but the money will come.
In total, families will receive nearly $300 billion, three times stimulus payments in 2008.
No government support put together in an emergency will be perfect. Sadly, it is those people who are most in need who are the hardest to reach. Who will not get a recovery rebate? Too many. First, anyone who does not have a Social Security number, which includes undocumented immigrants paying taxes. Such families are in the path of the coronavirus and deserve the support too—if for no other reason than for public health reasons. In addition, dependents who are adult children, disabled, or elderly parents will not. They need money too.
Will the recovery rebates be enough? Will the rest of the $2 trillion package be enough? That will be determined by the length of the public health crisis, but the answer is probably "no." By every indication, we are in a recession that will be at least twice as deep and incredibly faster in its severity than the Great Recession. The only apt comparison is the Great Depression. Is it time to throw in the towel and turn on the TV for the duration? No. Congress, the Federal Reserve, and the American people are not done fighting.
We can do better. We need to make policies to deal with recessions automatically. Congress has sent money to people many times in recessions. It should not have taken weeks to get us to a plan we often use. People could already have money in their pockets if the systems were a go three weeks ago. We cannot change the past, but we can prepare for the future. Direct payments to people can and should be automatic. Congress should commit, before a recession, to start many other policies, especially support for the unemployed, as soon as a sign of distress is clear.
This recession will be very severe and the recovery difficult. We need policymakers who will stay the course until we are back on our feet, and then prepare for the next recession so that we can start the next recovery sooner. We will get back on our feet. But we must also be ready to do so next time more swiftly and more surely than today.