Expert Focus: Diversifying the economics profession

Equitable Growth is committed to building a community of scholars working to understand how inequality affects broadly shared growth and stability. To that end, we have created the monthly series, "Expert Focus." This series highlights scholars in the Equitable Growth network and beyond who are at the frontier of social science research. We encourage you to learn more about both the researchers featured below and our broader network of experts.
This Black History Month, we are highlighting Black scholars who are leading critical work to cultivate more inclusive pathways in economics and diversifying the economics profession. The underrepresentation of Black students among economics Ph.D. recipients and Black economists in both faculty and federal policymaking are longstanding issues for the economics discipline and profession. Organizations that steadfastly work to cultivate racial and ethnic diversity in the economics profession include the National Economics Association, founded in 1969 as the Caucus of Black Economists and of which several of the scholars highlighted in this issue are former presidents, and the Sadie Collective, founded in 2018 as the first and only organization that uniquely addresses the pathway and pipeline problems for Black women in economics and public policy.
Other programs that are indispensable to increasing and sustaining diversity in academia include the Diversity Initiative for Tenure in Economics, founded in 2008, which provides research and professional development mentorship for early career faculty, and the American Economic Association Summer Training and Scholarship Program, which has accounted for nearly 20 percent of all economics Ph.D. degrees awarded to people from historically underrepresented and disadvantaged groups. Equitable Growth is committed to supporting these ongoing efforts and recognizes the critical importance of the perspectives of Black, Indigenous, and other people of color in understanding how inequality, in all its forms, affects economic growth and stability.
Lisa Cook
Michigan State University
Lisa Cook is a professor of economics and international relations at Michigan State University and former senior economist at the Council of Economic Advisers. Her research interests include economic growth and development, financial institutions and markets, innovation, and economic history. Cook is on the executive committee of the American Economic Association, as well as part of the new equity, diversity, and professional conduct committee for the AEA, which recently conducted a climate survey of the economics profession that reported dismal findings but also provided a baseline point for improvement. Cook is a member of Equitable Growth's Steering Committee and received an Equitable Growth grant in 2018 to examine the role of gender and racial disparities on U.S. innovation, which links discrimination and systemic racism to creative losses and lower economic returns in the U.S. economy.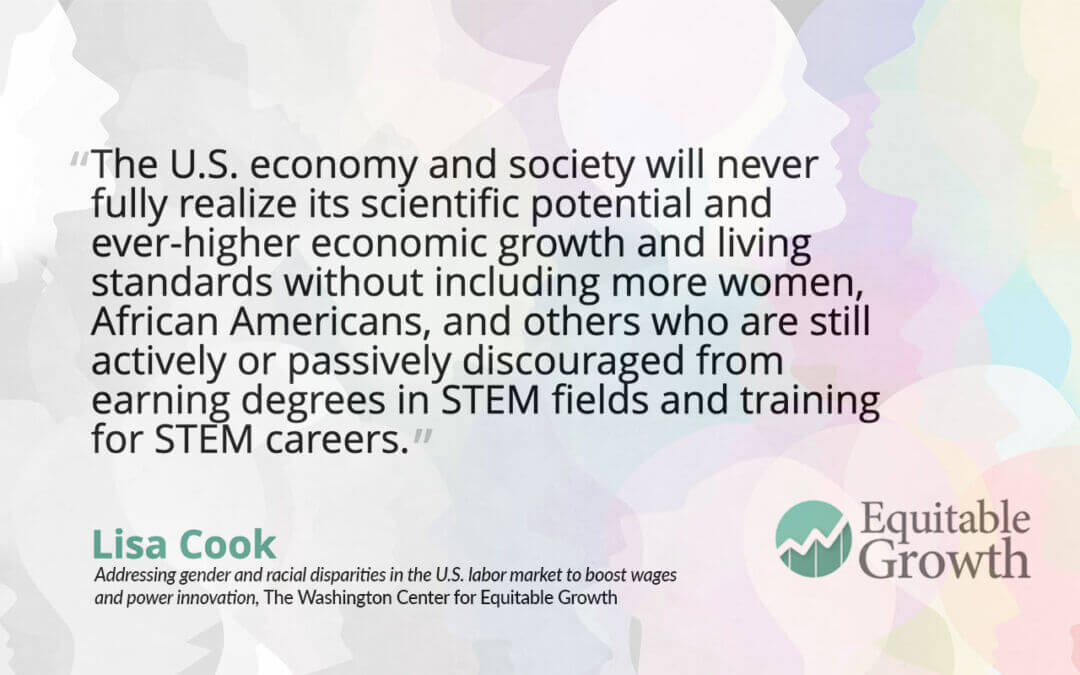 Rhonda Vonshay Sharpe
Women's Institute for Science, Equity, and Race
Rhonda Vonshay Sharpe is an economist and the founder and president of the Women's Institute for Science, Equity, and Race. She is a leading advocate for the disaggregation of data by race, ethnicity, and gender, and the characteristics that influence outcomes to be the standard for all research. She has written extensively on the professional experiences of Black scholars, including on continued challenges of academic diversity efforts and their long-term consequences for the production of economics knowledge to inform public policies to address racial inequality. With William A. Darity, Jr. at Duke University, she co-founded the Diversity Initiative for Tenure in Economics in 2008, and is currently the associate director of the American Economic Association Summer Training and Scholarship Program. She is also the co-editor of the Review of Black Political Economy, a journal on policy prescriptions to address racial, ethnic, and gender economic inequality. Through a partnership between AEASP and WISER, Sharpe is launching the Inclusive Peer Onsite Distance , or IPOD, mentoring program in support of undergraduate, post-baccalaureate, and master's-level students.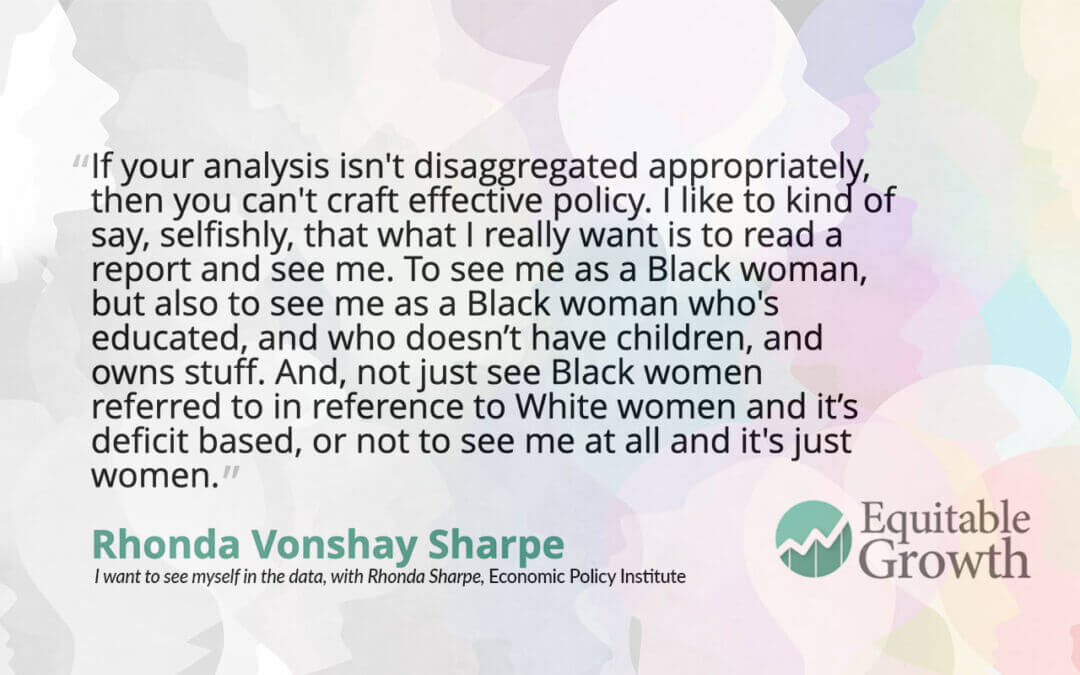 Gary A. Hoover
Tulane University
Gary A. Hoover is professor of economics and the executive director of the Murphy Institute, a political economy research center at Tulane University. His research specialties are in policy analysis of income distribution and poverty, public finance, and the ethics of economics. Hoover is the founder and editor in chief of the Journal of Economics, Race, and Policy, launched in 2017 to address how local and global issues around race, ethnicity, and gender overlap and possible policy solutions to address economic disparities. Additionally, he is a co-chair of the American Economic Association Committee on the Status of Minority Groups in the Economics Profession, which monitors the racial and ethnic diversity of the economics profession.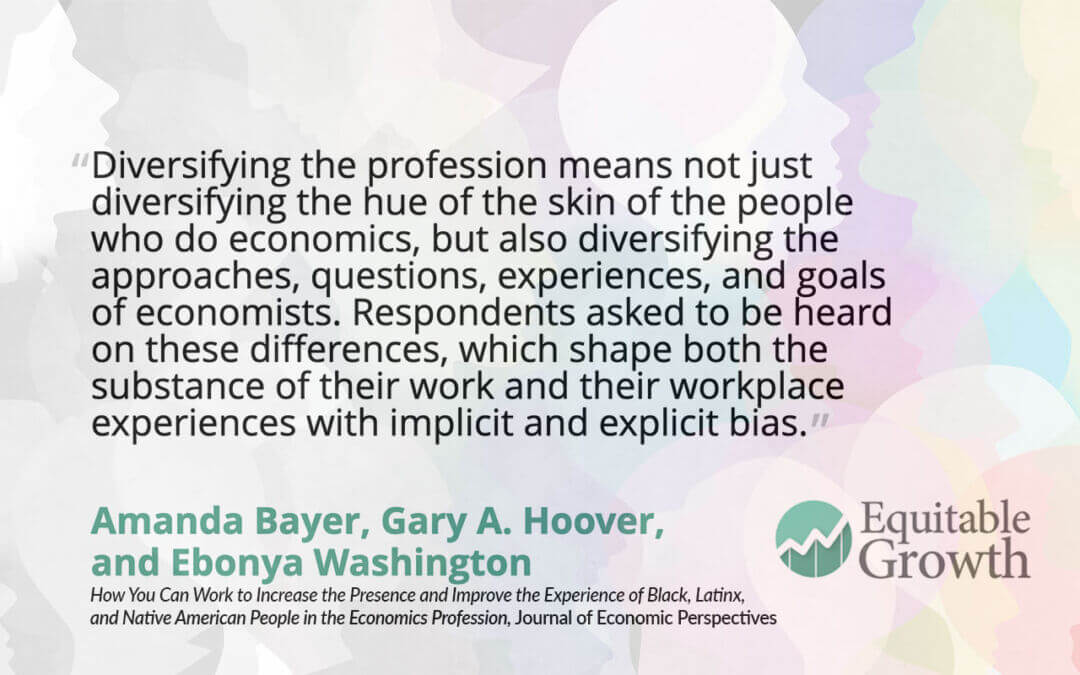 Omari Holmes Swinton
Howard University
Omari Swinton is associate professor of economics and chair of the Economics Department at Howard University. His research interests include labor economics, the economics of education, and industrial organization, with an extensive focus on the academic labor market for Black scholars. In a paper with Equitable Growth grantee Rodney Andrews, Swinton examines harmful misinformation and cultural myths concerning the academic performance of Black students and access to higher education, finding a lack of empirical evidence that Black students' attitudes toward education are a major contributor to racial divides in educational performance, and provides evidence that race-neutral alternatives to affirmative action policies are both less effective and less efficient in producing racially diverse cohorts. He is both an alumnus and the current director of the American Economic Association Summer Training and Scholarship Program, which will be hosted, for the first time at a historically Black college and university, at Howard University in summer 2021.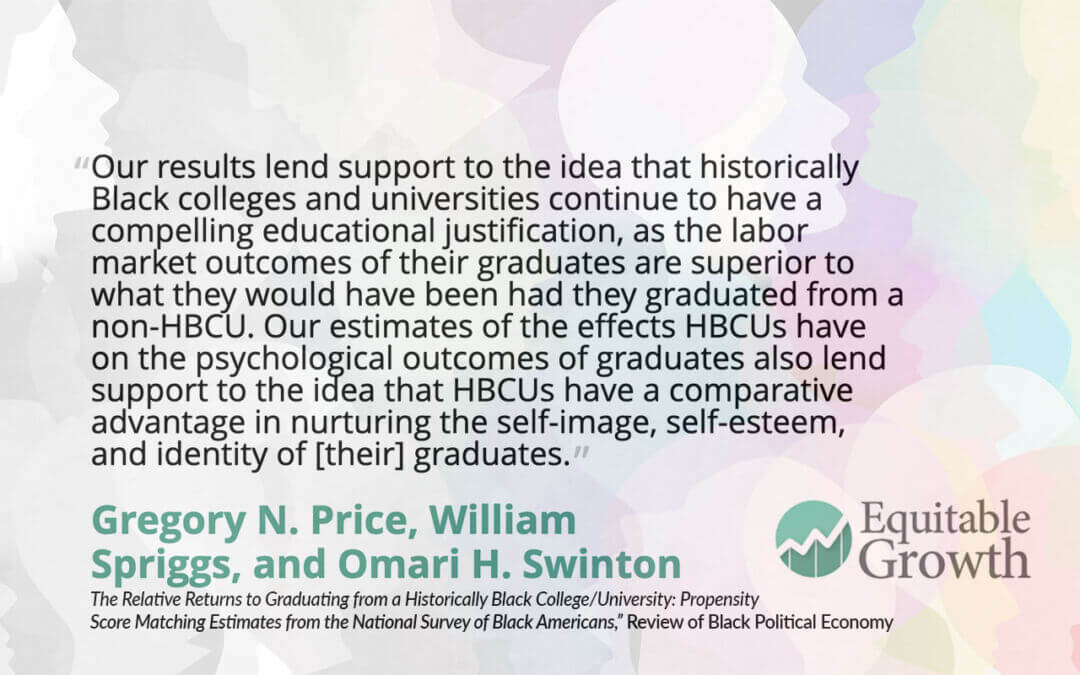 Ebonya L. Washington
Yale University
Ebonya L. Washington is Samuel C. Park Jr. professor of economics at Yale University. Her research focuses on public finance and political economy, including the interplay of race, gender and political representation, the consequences of political participation, and the processes through which low-income Americans meet their financial needs. She is also a co-chair on the Committee on the Status of Minority Groups in the Economics Profession, which recently launched an annual program to award seed grants for economics departments to start programs aimed at diversity and inclusion.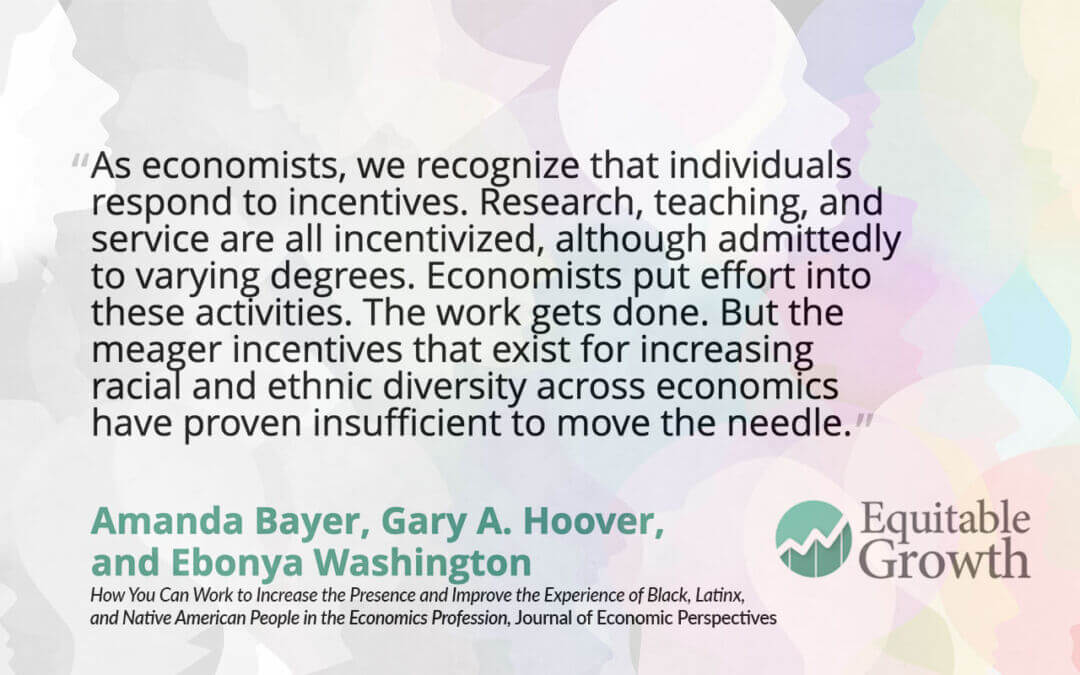 Equitable Growth is building a network of experts across disciplines and at various stages in their career who can exchange ideas and ensure that research on inequality and broadly shared growth is relevant, accessible, and informative to both the policymaking process and future research agendas. Explore the ways you can connect with our network or take advantage of the support we offer here.