Expert Focus: Advancing the frontier of economic data creation and measurement

Equitable Growth is committed to building a community of scholars working to understand how inequality affects broadly shared growth and stability. To that end, we have created the monthly series, "Expert Focus." This series highlights scholars in the Equitable Growth network and beyond who are at the frontier of social science research. We encourage you to learn more about both the researchers featured below and our broader network of experts.
One of our missions since Equitable Growth was founded in 2013 is to make evidence-backed policy the norm in the United States, centering innovative research from academics across disciplines to inform policy decision-making. It goes without saying that economic data is central to this work—which is why Equitable Growth is excited to continue seeding and supporting academic research that advances our understanding of economic measurement in 2022.
This month's installment of Expert Focus highlights exemplary economic data collection, creation, and linking projects that cut across Equitable Growth's issue areas, from fighting poverty and inequality to enforcing U.S. antitrust laws, and from addressing the racial wealth divide to bolstering the macroeconomy. These projects make economic data more accessible for both researchers and policymakers, provide for cross-sector analyses, and can inform policy that will foster strong, stable, and broad-based economic growth for all.
The scholars profiled below are all Equitable Growth grantees from diverse backgrounds, various disciplines, and at all stages of their careers. Learn more about Equitable Growth's funding opportunities via our annual grants program.
Martha Bailey
University of California, Los Angeles
Martha Bailey is a professor of economics at the University of California, Los Angeles and a faculty research associate at the National Bureau of Economic Research. Her research focuses on labor economics, demography, and health in the United States. Her recent studies examine the short- and long-term effects of anti-poverty programs, as well as the implications of contraception on women's career and childbearing decisions and outcomes. Bailey leads UCLA's Longitudinal, Intergenerational Family Electronic Micro-database, or LIFE-M database, which combines four generations of U.S. individuals' vital records—such as birth, marriage, and death certificates—with their U.S. Census Bureau data. LIFE-M achieves an unprecedented level of historical record data linkage, which Bailey has co-authored studies about in recent years.
Bailey received two Equitable Growth grants, including one in 2020 (with Paul Mohnen at the University of Michigan and Shariq Mohammed at Northwestern University) focused on measuring intergenerational mobility in the United States. This project is a massive undertaking to produce a set of economic data on mobility going back to 1900, extending the scope of previous studies that typically use data from the mid-20th century. It also uses Social Security Numerical Identification files, which are more detailed than census records, allowing for more and better-quality data linkages, including the ability to study geographic, racial, and gender mobility disparities.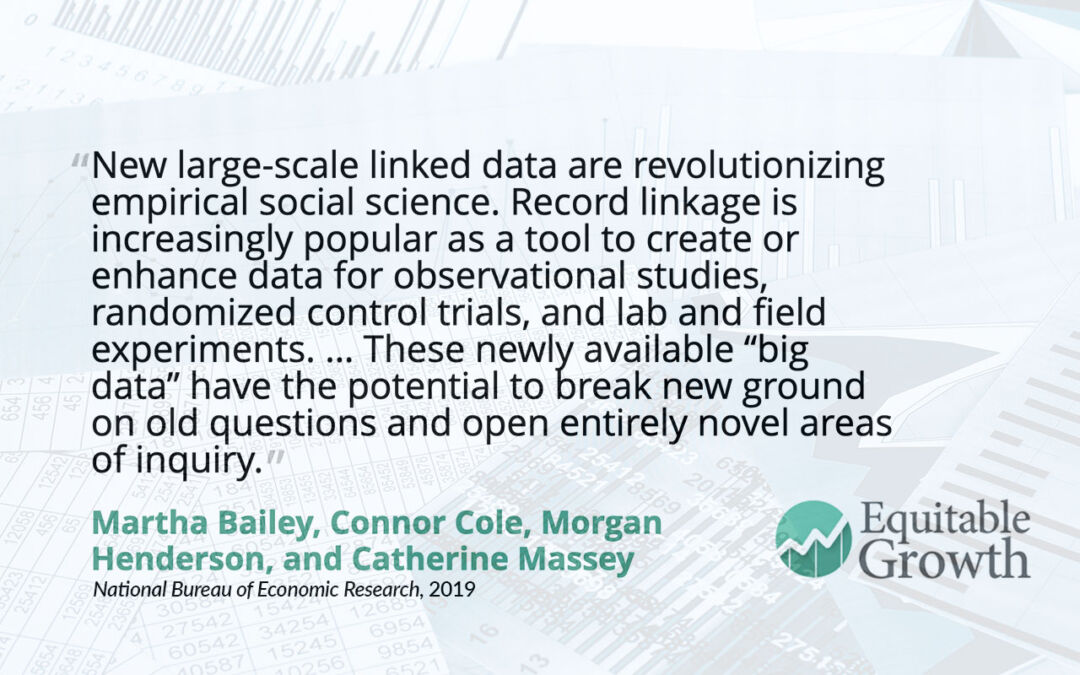 Simcha Barkai
Boston College
Simcha Barkai is an assistant professor of finance at Boston College, where he studies the competition between firms in the United States and implications for the macroeconomy. He also studies the decline in the labor share of income since the 1980s. Barkai is a junior fellow at the George J. Stigler Center for the Study of the Economy and the State at the University of Chicago, a research institute dedicated to promoting the power of markets to enhance people's well-being.
Barkai—alongside co-authors Tania Babina at Columbia University, Jessica Jeffers at the University of Chicago's Booth School of Business, Ezra Karger at the Federal Reserve Bank of Chicago, and Ekaterina Volkova at the University of Melbourne—is currently compiling a comprehensive database of U.S. antitrust enforcement actions against firms and individuals in the United States between 1890 and 2017. The data will then be linked to industry-level economic outcomes and restricted firm-level tax records. This project—for which Barkai and Karger received an Equitable Growth grant in 2019—will advance the existing knowledge base on the effects of antitrust enforcement on economic output and outcomes.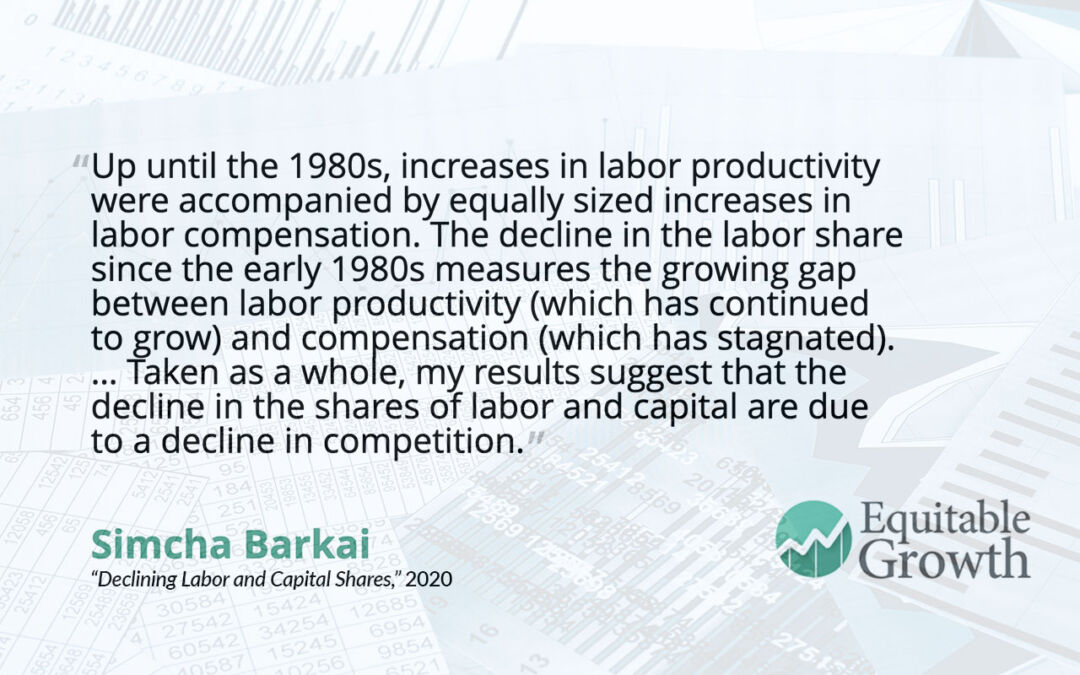 Jamein Cunningham
Cornell University
Jamein Cunningham is an assistant professor in the Department of Policy Analysis and Management and the Department of Economics at Cornell University. His research interests center on four broad themes: the intersectionality of institutional discrimination, access to social justice, crime and criminal justice, and race and economic inequality. Cunningham is a co-creator, alongside Rob Gillizeau at the University of Victoria, of the Racial Uprisings Lab, which is working to create a database of all racialized uprisings in the United States since 1991, with a particular emphasis on the Black Lives Matter movement.
Cunningham recently co-authored a working paper and accompanying column with Robynn Cox at the University of Southern California and Alberto Ortega at Indiana University that examine the link between affirmative action litigation, the racial composition of U.S. police forces, and police killings of civilians. He also received an Equitable Growth grant in 2020, alongside Jose Joaquín Lopez at the University of Memphis, to study the connection between civil rights enforcement and socioeconomic outcomes of communities of color. This innovative project will track enforcement at the court level and link it to individual and household-level data on labor market outcomes and intergenerational mobility, and then create a comprehensive dataset to determine how presidential judicial appointees have influenced civil rights enforcement over time.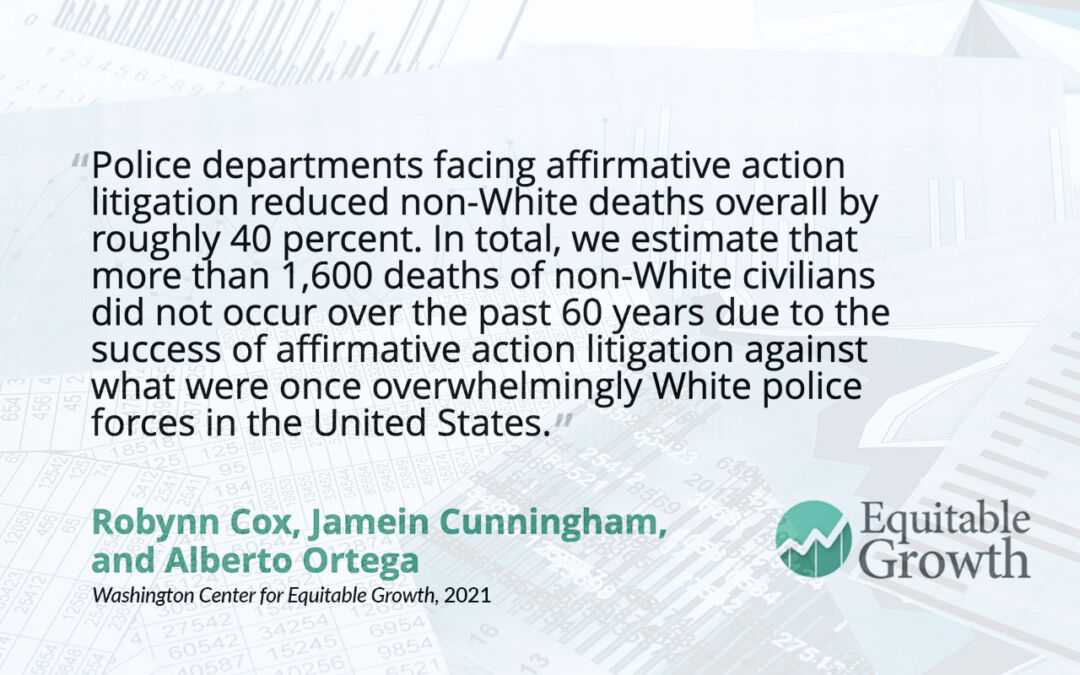 David Johnson
University of Michigan, Ann Arbor
David Johnson is a research professor at the University of Michigan, Ann Arbor. He is also the director of the Panel Study of Income Dynamics, the longest-running household panel survey in the United States and a cornerstone of data infrastructure for social science research, having been used in more than 6,800 peer-reviewed publications and by at least nine federal agencies. Johnson is a member of Equitable Growth's Research Advisory Board and previously worked for several years in the federal statistical system. His research focuses on the measurement of inequality and mobility, poverty measurement, and the effect of tax rebates, among others.
In 2014, he and his co-authors—Equitable Growth's Jonathan Fisher, Timothy Smeeding at the University of Wisconsin-Madison, and Jeffrey Thompson at the Federal Reserve Bank of Boston—were awarded an Equitable Growth grant to study how income and wealth inequality affect consumption and saving in the United States. One of the resulting working papers from this grant, "Inequality in 3D: Income, consumption, and wealth," produced a groundbreaking method for researchers investigating and modeling inequality by using economic data on well-being along three conjoint dimensions—inequality, consumption, and wealth—for the same U.S. households. Their findings show that looking at economic data on inequality through just one of these dimensions understates the level and growth of economic inequality.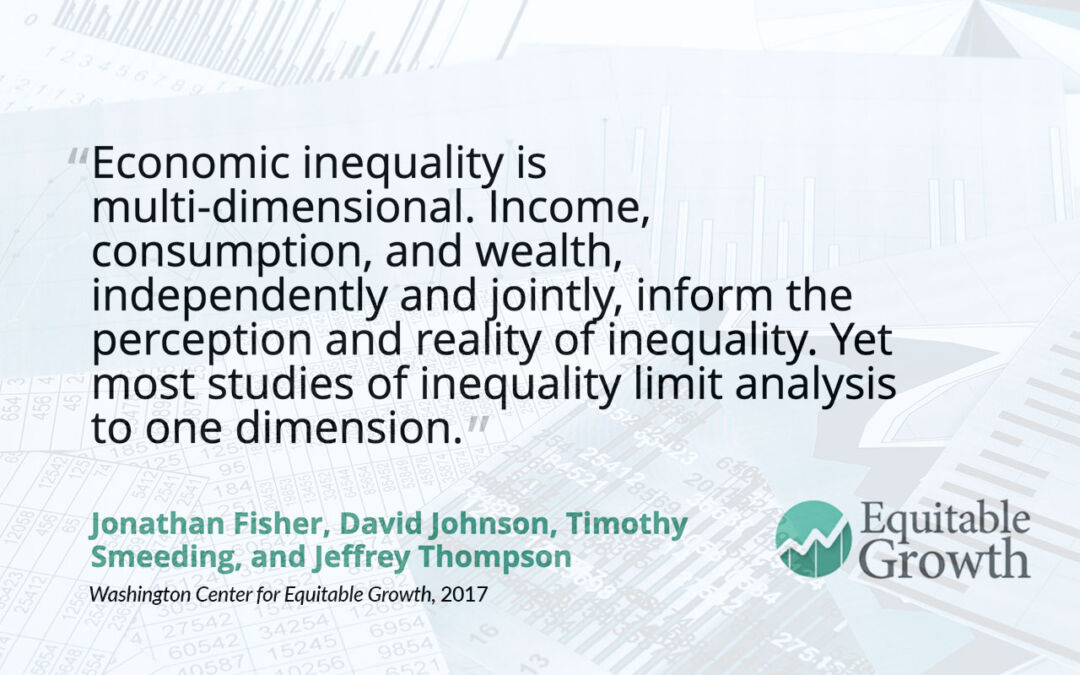 Jacob Robbins
University of Illinois at Chicago
Jacob Robbins is an assistant professor of economics at the University of Illinois at Chicago, where he specializes in inequality and macroeconomics. His research uses theory and data to better understand key economic trends in the United States. Since the start of the coronavirus pandemic, for instance, he has written about both the importance of a bold economic response to avoid an economic depression and has studied the impact of COVID-19 lockdown policies on retail spending. Robbins was a Dissertation Scholar at Equitable Growth from 2017–2018 and has received two Equitable Growth grants to study various aspects of consumption and inequality in the United States—including one in 2020 to develop a novel dataset that measures individual holdings of public equities and fixed-income assets using IRS data in order to track U.S. wealth inequality.
Most recently, in 2021, Robbins was awarded funding, along with Loujaina Abdelwahed of The Cooper Union, to examine U.S. economic insecurity amid the coronavirus recession using real-time data on the impact of the pandemic on consumer spending inequality. Robbins and Abdelwahed will release their aggregate data publicly at the state and county levels along with quarterly reports, providing other researchers and policymakers with a valuable new data source.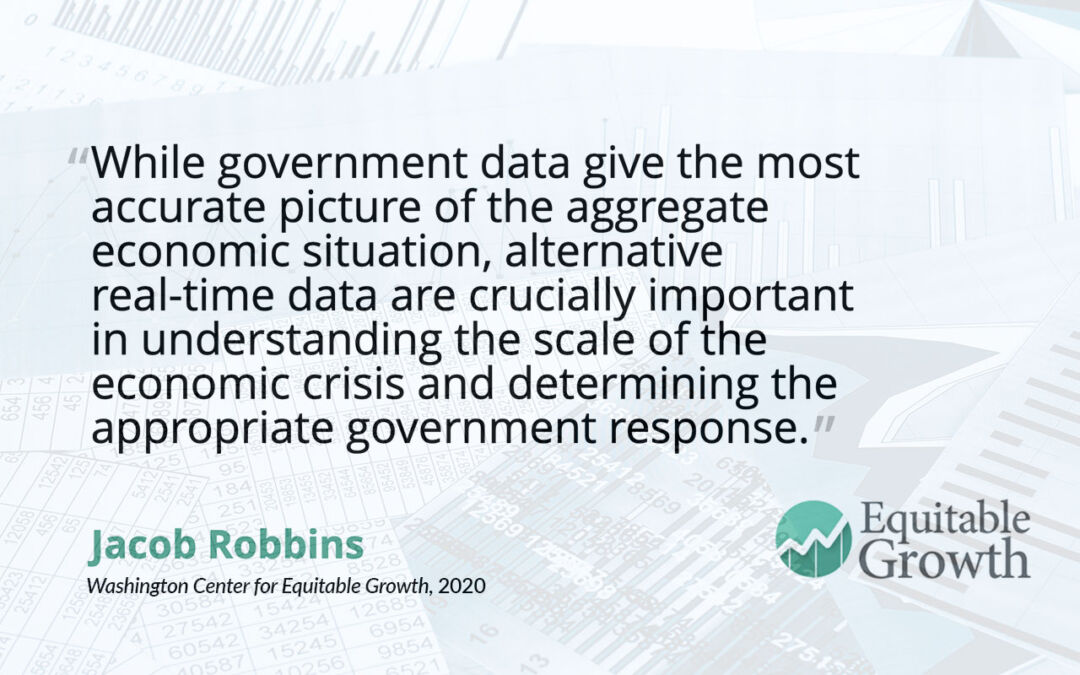 Jennifer Romich
University of Washington
Jennifer Romich is a professor in the School of Social Work at the University of Washington and the director of the West Coast Poverty Center. Her research centers on family economic stability and well-being, particularly among low-income workers and families, household budgets, and household interactions with public policy. Some of her recent projects include an investigation of the income of families involved with the child welfare system and mixed-method evaluations of the Seattle Paid Safe and Sick Time Ordinance and $15 minimum wage.
In 2019, she and her co-authors—UW colleagues Scott Allard, Heather Hill, and Mark Long—were awarded an Equitable Growth grant to support their work developing the Washington Merged Longitudinal Administrative dataset, which links demographic information to employment records and public program administrative data, such as state Unemployment Insurance records. The dataset, which contains information on more than 10 million individuals dating back to 2000, will be used to measure the impact of minimum wage laws on earnings inequality. Its innovative methodology is replicable for other scholars looking to analyze a range of policy interventions on household income and program participation.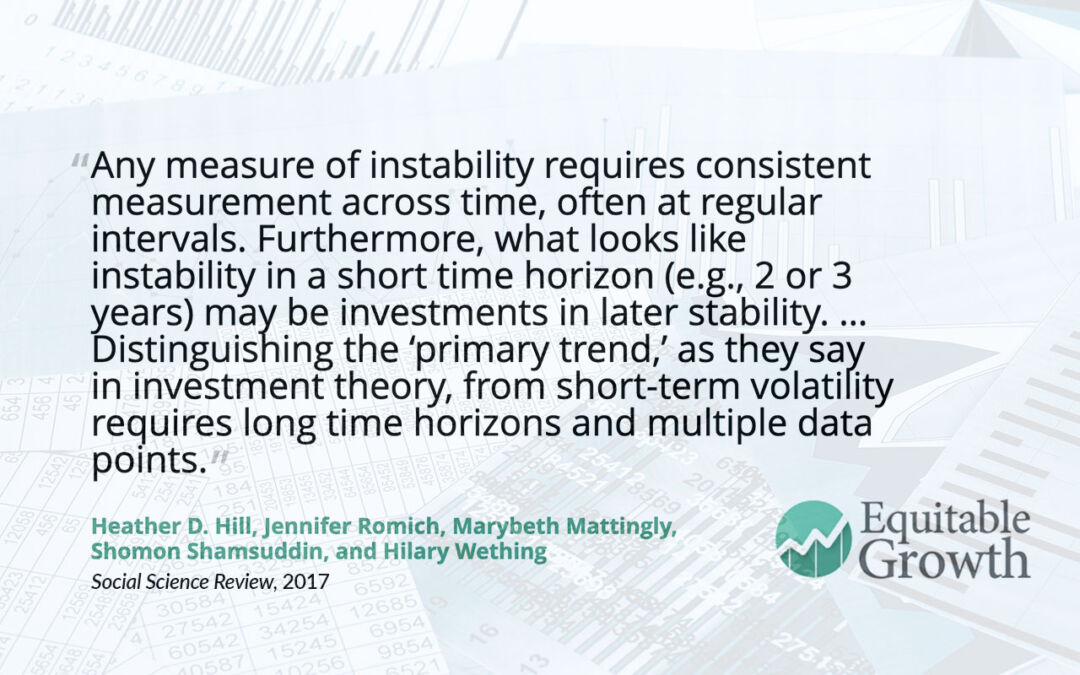 Equitable Growth is building a network of experts across disciplines and at various stages in their career who can exchange ideas and ensure that research on inequality and broadly shared growth is relevant, accessible, and informative to both the policymaking process and future research agendas. Explore the ways you can connect with our network or take advantage of the support we offer here.