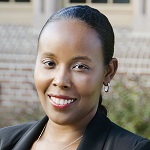 Robynn Cox
Assistant Professor
University of California, Riverside
Robynn Cox is an assistant professor in the School of Public Policy at the University of California, Riverside. Her research interests include the fields of economics of crime, health economics, and labor economics, and are primarily focused on understanding the social and economic consequences of mass incarceration. Prior to her appointment at UC Riverside, she was an assistant professor at the University of Southern California School of Social Work, an assistant professor at Spelman College, and a postdoctoral associate in the Department of Economics at Duke University. She earned her M.A. and Ph.D. in economics from Georgia State University, where she was awarded the Andrew Young Fellowship. She completed her undergraduate studies at Duke University, where she obtained a dual A.B. in economics and Spanish and Latin American studies.
To see Cox discuss some of her research, click here.
Robynn Cox's Working Papers
See working papers authored or coauthored by this expert.
View Working Papers