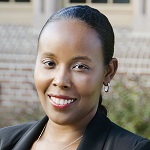 Robynn Cox
Assistant Professor
University of Southern California
Dr. Robynn Cox is an assistant professor at the University of Southern California School of Social Work. Her research interests include the fields of economics of crime, health economics, and labor economics, and are primarily focused on understanding the social and economic consequences of mass incarceration. Dr. Cox was a 2014-2015 RCMAR Scholar at the Schaeffer Center, where her research explored the impact of incarceration on health outcomes over the life course. Most recently, she received a Russell Sage Foundation Presidential Authority Award to investigate the relationship between perceptions of criminality, race, trust, and employment outcomes. Dr. Cox's research has also been funded by the University of Kentucky's Center for Poverty Research through the Research Program on Childhood Hunger and the Young Investigator Development Grant. Her work has been published in various academic and policy outlets such as the Southern Economic Journal (forthcoming) and the Economic Policy Institute; she has also presented her research at numerous professional conferences. Dr. Cox has been featured on both locally and nationally syndicated radio programs such as NPR, and in 2011, she was invited by Secretary of Labor Hilda Solis to take part in a roundtable conversation with Attorney General Eric Holder and the late Equal Employment Opportunity Commission Chairwoman Jacqueline Berrien on workforce development and employment strategies of the formerly incarcerated.
Prior to her appointment at the USC School of Social Work, Dr. Cox was an assistant professor at Spelman College and a postdoctoral associate in the department of economics at Duke University. She earned her master of arts degree and Ph.D. in economics from Georgia State University, where she was awarded the Andrew Young Fellowship. Dr. Cox completed her undergraduate studies at Duke University, where she obtained a dual A.B. in economics and Spanish and Latin American studies.
Robynn Cox's Working Papers
See working papers authored or coauthored by this expert.
View Working Papers