What recent data-driven research can tell policymakers about Black Women's Equal Pay Day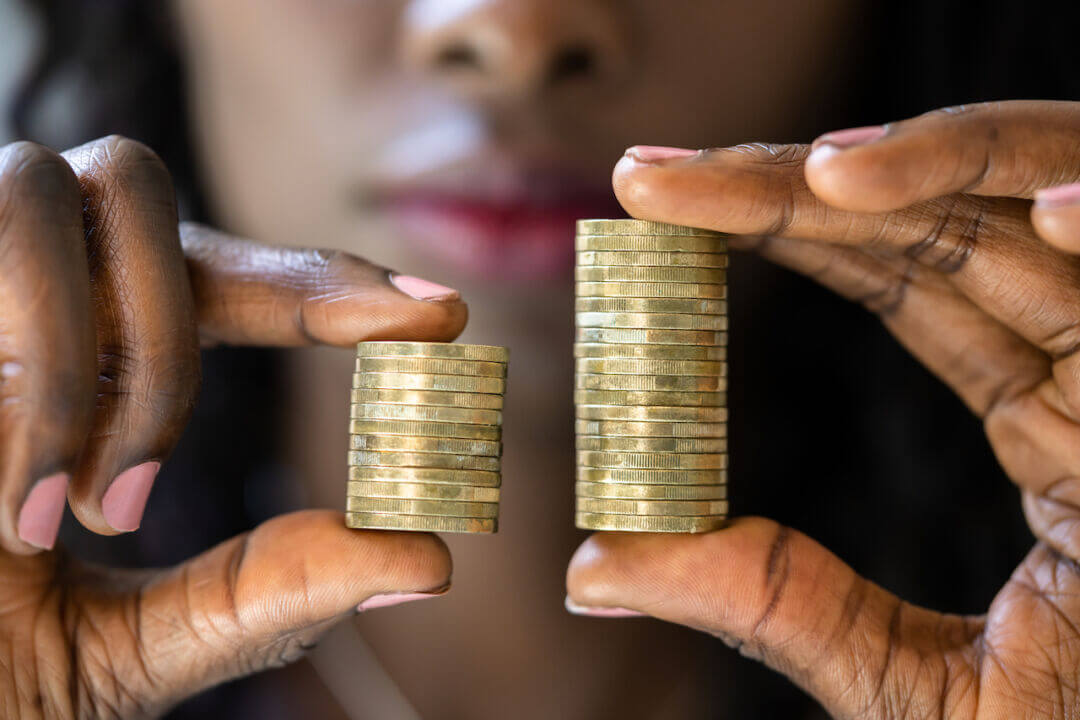 Tomorrow is Black Women's Equal Pay Day. This day recognizes that Black women in the United States have to work from the start of January 2020 through August 2, 2021 to earn as much as White men earned in 2020 alone. This fundamental fault line in the U.S. labor market is due to centuries of structural racism—the skeins of which remain glaringly evident today.
In this column, we look at what recent data-driven research tells policymakers and the U.S. public about this persistent income inequality. The scholars behind this body of research include Michelle Holder, the incoming president and CEO of the Washington Center for Equitable Growth, several other leading women economists such as associate professor of economics at Bucknell University Nina Banks, and Equitable Growth Research Advisory Board member William Darity, Jr., as well as Equitable Growth grantee Darrick Hamilton.
Michelle Holder, Janelle Jones, and Thomas Masterson, "The Early Impact of Covid-19 on Job Losses among Black Women in the United States" (2021)
Research by Michelle Holder, along with Janelle Jones, the chief economist at the U.S. Department of Labor, and Thomas Masterson, research scholar and director of applied micromodeling at the Levy Institute of Bard College, explores how the COVID-19 pandemic affected Black women's employment. The authors propose that Black women disproportionately lost jobs at the onset of the pandemic due to their strong attachment to the U.S. workforce, their overrepresentation in industries that were hit hard during the early months of the health and economic crises, and their overrepresentation in low-wage jobs such as the cashier occupation. Holder, Jones, and Masterson then put forward a pandemic-recovery policy agenda, which includes providing direct cash assistance and income support programs such as expanded Supplemental Nutrition Assistance Program and increased Unemployment Insurance benefits.    
Michelle Holder, "The "Double Gap" and the Bottom Line: African American Women's Wage Gap and Corporate Profits" (2020)
Further research by Michelle Holder finds that Black women face at least two reinforcing wage divides, one on the basis of race and another one on the basis of gender. What Holder has termed the "double gap" also captures how the racial and gender wage gaps faced by Black women undervalue their economic contribution and translate into cost savings for the private, for-profit sector. Using three quantitative methodologies, Holder estimates that in 2017, Black women involuntarily forfeited about $50 billion in wages.
Michelle Holder, "Introduction to Articles on Black Women and Work: A Review of Black Political Economy Special Issue" (2013)
Black women have made important progress in the U.S. labor market, yet they still face barriers that hurt their economic outcomes. In this article, Michelle Holder reviews academic literature about Black women and work, including research on the racial wage divides Black women face in the nursing profession, the differentials in income and earnings volatility Black women experience vis-à-vis White women, and the role of affirmative action and equal opportunity laws on labor market disparities.  
Nina Banks, "Black Women in the United States and Unpaid Collective Work: Theorizing the Community as a Site of Production" (2020)
Associate professor of economics at Bucknell University Nina Banks argues that collective work such as community activism is disproportionately done by Black women and other marginalized women, whose communities are more likely to lack access to public and private resources and services. Banks develops a framework that centers Black women's experiences at the center of analysis, highlighting how, despite its social and economic value, the unpaid collective work Black women do to care for others in their communities has been historically overlooked and unaccounted for.
Marlene Kim, "Race and Gender Differences in the Earnings of Black Workers" (2009)
Marlene Kim at the University of Massachusetts Boston demonstrates that Black men make 12 percent less and Black women 27 percent less than White men with similar human capital characteristics such as level of educational attainment and potential work experience. Further, Kim finds that Black women not only seem to face an earnings penalty because of their race and an additional earnings penalty because of their gender, but they also experience an additional penalty because of the interaction of their race and gender.
Marlene Kim, "Has the Race Penalty for Black Women Disappeared in the United States?" (2002) 
In another paper, Marlene Kim finds that because of their race, Black women earn 7 percent less than otherwise-similar White women. Kim finds that even though an important chunk of this penalty can be attributed to occupational segregation—Black women's overrepresentation in lower-paying jobs—they earn less than their White counterparts even when they work in the same occupation.
Mark Paul, Khaing Zaw, Darrick Hamilton, and William Darity Jr., "Returns in the labor market: A nuanced view of the penalties at the intersection of race and gender" (2018)
Mark Paul of New College of Florida, Khaing Zaw of Duke University, Darrick Hamilton of the New School, and William Darity Jr. of Duke University also use an intersectional lens to examine the wage gaps faced by Black women. The team of economists finds that Black women do not experience a single gender or a single race penalty, but rather that the interplay of both socially salient identities affects their wages in a multiplicative way. They find that Black women receive 64 cents on the dollar, compared to White men, and that Black women face a penalty of about 20 cents on the dollar due to discrimination in the labor market.
Olga Alonso-Villar and Coral del Rio, "The Occupational Segregation of African American Women: Its Evolution from 1940 to 2010" (2016)
In this research, Olga Alonso-Villar and Coral del Rio Otero at the University of Vigo in Galicia, Spain track the evolution of the occupational segregation of Black women in the United States from 1940 to 2010. They find that occupational segregation—measured as the share of Black women who would need to switch jobs for their occupational distribution to match with the occupational distribution of all other workers in the U.S. workforce—fell sharply between 1940 and 1980, declined slightly between 1980 and 2000, and remained flat in the first decade of the 21st century. Particularly in the 1960s and 1970s, progress toward greater occupational integration was accompanied by important improvements in Black women's well-being.
Chandra Childers, "Digitization, Automation, and Older Black Women: Ensuring Equity in the Future of Work" (2019)
Chandra Childers, study director at the Institute for Women's Policy Research, analyzes the occupational distribution of Black women aged 40 and older. Childers finds that despite important progress in terms of educational attainment and a shift away from domestic and agricultural work and toward clerical and professional occupations since the 1940s, Black women continue to be concentrated in a narrow number of occupations, many of which pay low wages. Furthermore, many of the occupations in which older Black women are overrepresented are either low-quality jobs, in which workers tend to lack access to job security and employment benefits—such as the home health aides occupation—or jobs that have a high potential risk for automation or displacement due to other technologies—such as office clerks.