Weekend Reading "The Robots are Taking Over" Edition
This is a weekly post we publish on Fridays with links to articles that touch on economic inequality and growth. The first section is a round-up of what Equitable Growth published this week and the second is the work we're highlighting from elsewhere. We won't be the first to share these articles, but we hope by taking a look back at the whole week, we can put them in context.
Equitable Growth round-up
Equitable Growth Grantee Brian Callaci recently released research that compiles the history of franchising laws and finds that franchise contracts contribute to the decline in bargaining power of both franchisees and workers. Through vertical restraints, franchisors are able to set the working conditions and business models of their franchisee's establishments, thus creating a fissured workplace where workers are unable to climb a career ladder or seek protections within the workplace. Callaci summarized his two working papers here.
Equitable Growth's Executive Director Heather Boushey sat down with Harvard University economist and former U.S. Treasury and Federal Reserve Board official Karen Dynan to talk about the role of consumption patterns in economic inequality. They discussed Milton Friedman's Permanent Income Hypothesis and how it provides a basepoint for models surrounding consumption behavior. Dynan, an Equitable Growth Steering Committee member, highlighted research and data that shows that low-income households have a higher propensity to consume, therefore a low propensity to save, which leaves them vulnerable in economic crises.
Brad DeLong compiles his most recent worthy reads on equitable growth both from Equitable Growth and outside press and academics.
The U.S. Bureau of Labor Statistics earlier this week released the newest data from the Job Openings and Labor Turnover Survey covering the month of October. Kate Bahn and Austin Clemens put together four graphs utilizing JOLTS data.
The U.S. House of Representatives Committee on Education and the Workforce proposed a hearing to debate the consequences of a $15 minimum wage on workers and small businesses. Kate Bahn consolidated research surrounding the $15 minimum wage discussion that indicates an increase in the federal minimum wage will boost workers' well-being while avoiding detrimental effects on small businesses.
Links from around the web
Dylan Matthews shines light on a not-so-well-known anti-poverty bill called the American Family Act of 2017 that is similar to Europe's child-allowance policy, which provides all but the wealthiest households approximately $3,000 annually per child. The proposed U.S. policy would expand upon the child tax credit to support low-income families' access to high-quality child care and development. Matthews argues that research shows that child-allowance policies work abroad, thus the United States should look into adopting a similar program. [vox]
A recently-filed antitrust lawsuit in the United States against generic drug manufacturers over two drugs escalated into a major case of alleged price-fixing between 16 manufacturers and regarding 300 drugs. These manufacturing companies partook in anti-competitive agreements to drive up the prices of generic drugs, swap sensitive information about markets and prices, and discuss "fair-share" divisions of sales from over-priced drugs. U.S. antitrust investigators say that this "cartel's" actions have targeted consumers with or without insurance, because insurance plans often have high deductibles or limitations on prescription drug benefits. [wapo]
In looking at the investment patterns of the world's wealthiest 0.001 percent, The Economist reports that the wealthiest 0.001 percent manage their assets through the creation of "family offices"—personal investment firms that seek out global markets in the hunt for investment treasures. As billionaire-run family offices continue to grow, there are concerns that family offices can weaken the stability of financial markets, increase inequality by making the very-rich even richer, and give these billionaires the power and accessibility to exclusive information to control the markets. [economist]
Research by Massachusetts Institute of Technology economists Daron Acemoglu and Pascual Restrepo indicate a greater ratio of robots/automation to populations in the Midwest and parts of the South than in any other region of America. They find that one more unit of automation in a commuting zone reduces employment by six workers. These lost jobs are concentrated in blue-collar industries such as manufacturing. Their colleague at MIT, David Autor, explains that automation "reduces labor's share of value-added in the industries in which it originates" while devaluing skills, disrupting the political environment, and displacing workers. [nyt]
A new report by Vox's Dylan Scott details the argument that a Medicare-for-all system can complicate the healthcare coverage of 160 million Americans who currently receive insurance through their employers. Scott explains how 83 percent of respondents said that they consider their employer-sponsored insurance excellent or good, mainly because it covers a wide range of individuals and healthcare needs. Scott also examines evidence that shows single-payer health insurance programs prove to be more equitable and accessible to low-income individuals who don't have access to employment with adequate health insurance. [vox]
Friday Figure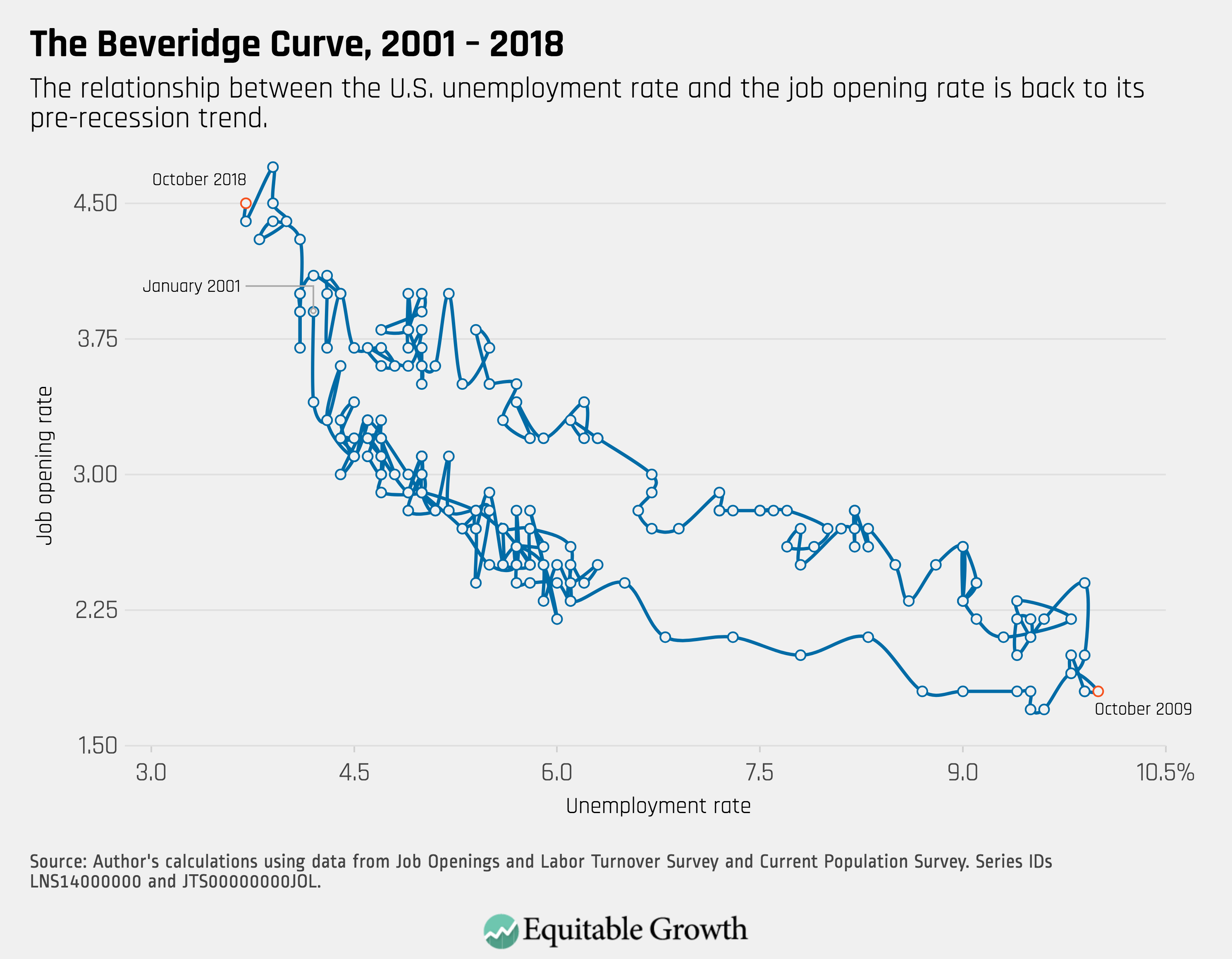 Figure is from Equitable Growth's, JOLTS Day Graphs: October 2018 Report Edition