Weekend reading: "Jobs Day" edition
This is a post we publish each Friday with links to articles that touch on economic inequality and growth. The first section is a round-up of what Equitable Growth published this week and the second is relevant and interesting articles we're highlighting from elsewhere. We won't be the first to share these articles, but we hope by taking a look back at the whole week, we can put them in context.
Equitable Growth round-up
In the lead-up to the 2020 presidential election, Equitable Growth is engaging in a number of activities to help focus the national debate on how to achieve strong, stable, and broad-based economic growth. Last month, we hosted a day-long policy conference in Washington, D.C., entitled "Vision 2020" that featured leading thinkers and activists addressing a broad range of important issues. We posted a column describing the themes that weaved through the various conversations and containing links to video excerpts. Equitable Growth also announced the forthcoming publication of a book containing 21 essays by an impressive list of authors, including some of the conference participants, exploring recent transformative shifts in economic thinking that demonstrate how inequality obstructs, subverts, and distorts broadly shared economic growth, as well as what can be done to fix it.
Raksha Kopparam reminds policymakers that there is a direct relationship between economic inequality and a significant decline in the intergenerational economic mobility that was once a hallmark of U.S. society. Restoring mobility should be a priority for policymakers, and measuring economic inequality can tell us where policies need to be focused. For too long, government has focused on Gross Domestic Product growth as the primary measure of economic success, without examining whether that growth is broadly shared. Kopparam points to Equitable Growth's GDP 2.0 initiative, which has helped convince the federal government not to track the growth of GDP only, but to track who benefits from that growth.
The U.S. Bureau of Labor Statistics today issued its monthly report on the U.S. labor market for November. The employment rate for prime-age workers held steady and the unemployment and underemployment rates continued their downward trend, but year-over-year wage growth, while slowly rising, remains tepid, given near-historic low levels of unemployment and a significant number of jobs added in November. Raksha Kopparam and Kate Bahn compiled five graphs on the report that show both rosy and not-so-rosy developments in the U.S. economy.
Equitable Growth posted a working paper by Will Dobbie of Harvard University and Jae Song of the Social Security Administration describing a field experiment designed to deepen understanding of how debt contributes to financial distress. Their findings about the impact of long-term debt "run counter to the widespread view that financial distress is largely the result of short-run constraints."
And be sure to check out Brad DeLong's worthy reads, which provide Brad's takes on content from Equitable Growth and elsewhere.
Links from around the web
Tim Wu in The New York Times writes about the struggles of local hardware stores competing with Amazon.com Inc., and asks the question: "Why is a less efficient, less personalized and more wasteful way of buying screws and plungers—ordering online—displacing the local hardware store?" Telling the story of the hardware store in his own New York City neighborhood, Wu says that both the illusion of greater convenience in online shopping and a significant rent increase "reflect the transformative consolidation and centralization of the American economy since the 1990s, which have made the economy less open to individual entrepreneurship."
This USA Today headline asks a question that Equitable Growth and many others have been asking for a long time: "America's parents want paid family leave and affordable child care. Why can't they get it?" Authors Alia E. Dastagir, Charisse Jones, Courtney Crowder, and Swapna Venugopal Ramaswamy talk to families across the country about the challenges they face and explore the political and ideological barriers standing in the way of national policy changes.
While we're on the subject of paid leave, The New York Times's Claire Cain Miller asks why men say they want paid leave but then don't use all of it. She cites reports by New America and the Boston College Center for Work and Family. The reasons seem to be a combination of financial considerations and the persistence of societal gender role expectations.
Matthew Boesler of Bloomberg reports that Neel Kashkari, the president of the Federal Reserve Bank of Minneapolis, who believes the Fed can do more to combat inequality, has recruited an ally to help advance his agenda of reducing inequality in the U.S. economy. He has hired Abigail Wozniak, former senior economist to the White House Council of Economic Advisers and also an Equitable Growth grantee, to serve as first head of the Minneapolis Fed's Opportunity and Inclusive Growth Institute.
Finally, policymakers and workers alike are well aware of how technological changes have been a key factor in diminishing job opportunities for factory workers, but there's another significant group of workers deeply affected by technological progress: administrative assistants. Heather Long of The Washington Post writes, "The United States has shed over 2.1 million administrative and office support jobs since 2000, Labor Department data show, eroding what for decades had been a reliable path to the middle class for women without college degrees."
Friday Figure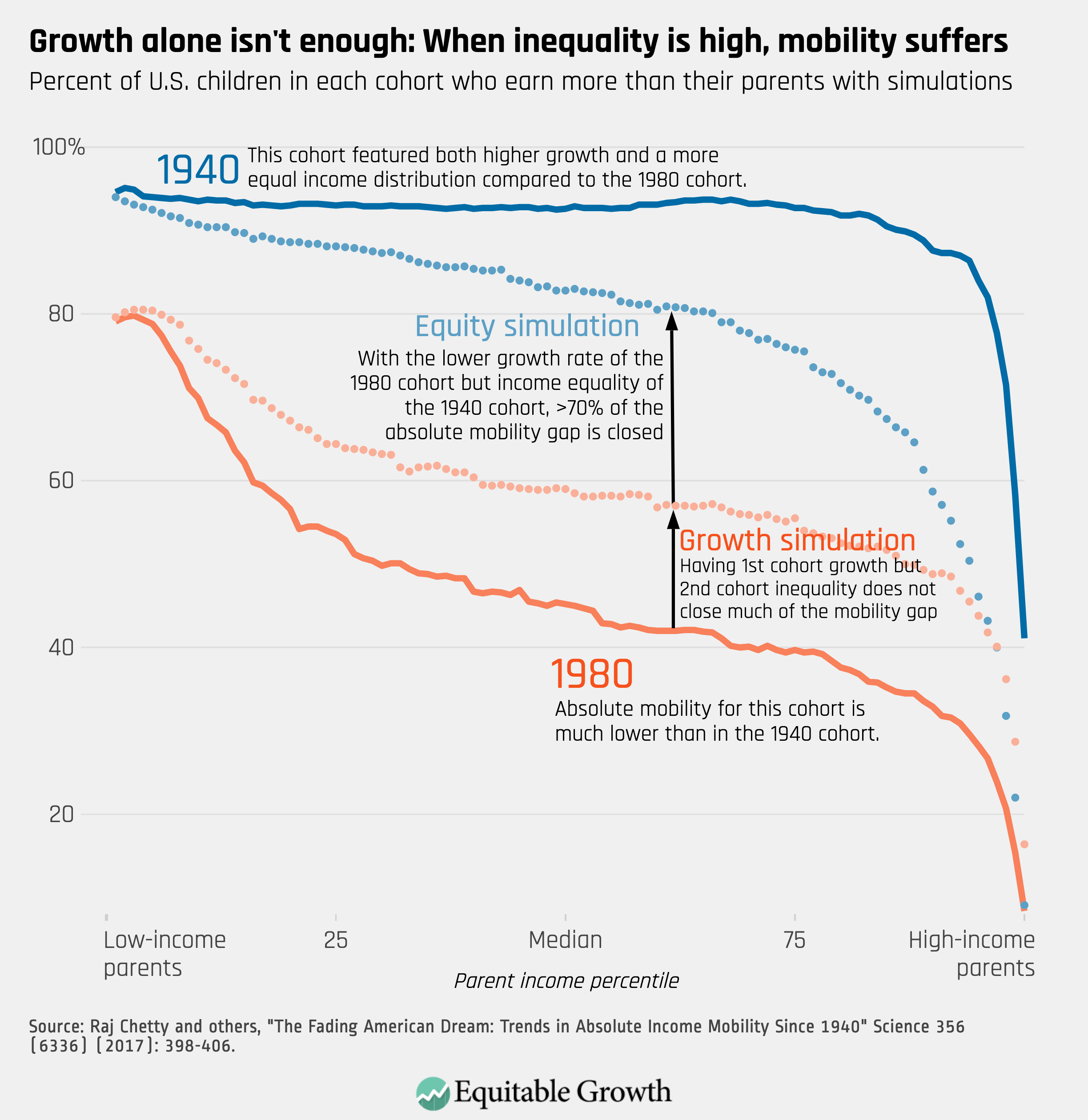 Figure is from Equitable Growth's "To fight falling U.S. intergenerational mobility, tackle economic inequality," by Raksha Kopparam.