Weekend reading: "Buy local" edition
This is a weekly post we publish on Fridays with links to articles that touch on economic inequality and growth. The first section is a round-up of what Equitable Growth published this week and the second is the work we're highlighting from elsewhere. We won't be the first to share these articles, but we hope by taking a look back at the whole week, we can put them in context.
Equitable Growth round-up
Equitable Growth Director of Competition Michael Kades published a piece on the antitrust issues raised by the "Big Four" technology companies (Amazon.com Inc., Apple Inc., Facebook.com Inc., and Alphabet Inc.'s Google unit) whose representatives testified on Capitol Hill this week. After pointing out the negative effects of market dominance by these firms on business investment, Kades argues that policymakers should focus on reducing barriers to entry in these internet markets.
In an addition to our working paper series, Stanford University economists Petra Persson and Maya Rossin-Slater investigate the effects of increased parental leave for fathers on health outcomes for mothers. They find that increased temporal flexibility for fathers reduces the risk of postpartum and mental health difficulties for mothers. The authors conclude that mothers thus often bear the burden for a lack of workplace flexibility.
Equitable Growth Research Assistant Raksha Kopparam wrote a piece this week to celebrate the U.S Women's National Team's victory in the World Cup and discuss their case for pay equity. Given that the women's team has a better record and produces more revenue than the men's team, Kopparam argues that their situation is similar to those of many other women whose work is devalued, and she offers some policy recommendations for closing these unjustified pay gaps.
Academic Programs Director Korin Davis announced the launch of our new working paper digest, a quarterly email summarizing key insight from papers in our working paper series. The four papers featured in the first edition cover topics ranging from the social safety net in rural areas to the effects of disability programs on financial distress.
In his weekly "Worthy Reads" column, University of California, Berkeley economist and Equitable Growth columnist Brad Delong highlighted recent research and writing in economics from Equitable Growth and other economists. This week, Brad redirects readers to economist Fiona Scott Morton's literature review for Equitable Growth on cutting-edge research in the economics of antitrust and competition, and he provides his take on recent debates on President Trump's nominations to the Federal Reserve Board.
Finally, in a working paper released yesterday, University of Chicago economists Thibaut Lamadon, Magne Mogstad, and Bradley Setzler empirically test the relationship between compensating differentials for workplace conditions and declining competition in U.S. labor markets. Using their data to propose a model of the labor market with two-sided heterogeneity, the authors offer some policy recommendations to achieve more efficient and equitable outcomes for workers.
Links from around the web
Nathaniel Meyersohn reports for CNN on recent local efforts to restrict the growth of Dollar General and Dollar Tree stores in communities across the country. In addition to boxing out locally owned small businesses, these stores are often clustered in low-income areas, thereby preventing the arrival of supermarkets that sell healthier and higher quality food products. [cnn]
Zach Shrivers interviews local retailers in West Virginia on Amazon.com Inc.'s Prime Day to see how they are dealing with competition from the massive online retailer. The small business owners emphasize that local communities suffer from Amazon's market dominance because this multinational corporation doesn't invest in communities to nearly the same extent as traditional small businesses. [wtap]
Claire Kelloway summarizes the findings of a recent report by the Institute for Local Self-Reliance on Walmart Inc.'s effects of the economics of food in the United States. In particular, Walmart leverages its dominant market position and its links with financial firms to force the closure of local retailers by selling stores in targeted communities at a loss. To make up for this, Walmart forces lower prices on farmers and other suppliers—often dependent on the retail giant for sales. [civil eats]
Todd Shields reports for Bloomberg on a recent win by small telephone service providers at the Federal Communications Commission. In May 2018, large telecom companies attempted to get the FCC to remove limits on what they can charge small carriers for accessing their networks. S0 far this year, however, the FCC has sided with the small carriers given the risk that large providers could hike prices to drive smaller competitors out of the market to the detriment of consumers. [bloomberg]
Friday figure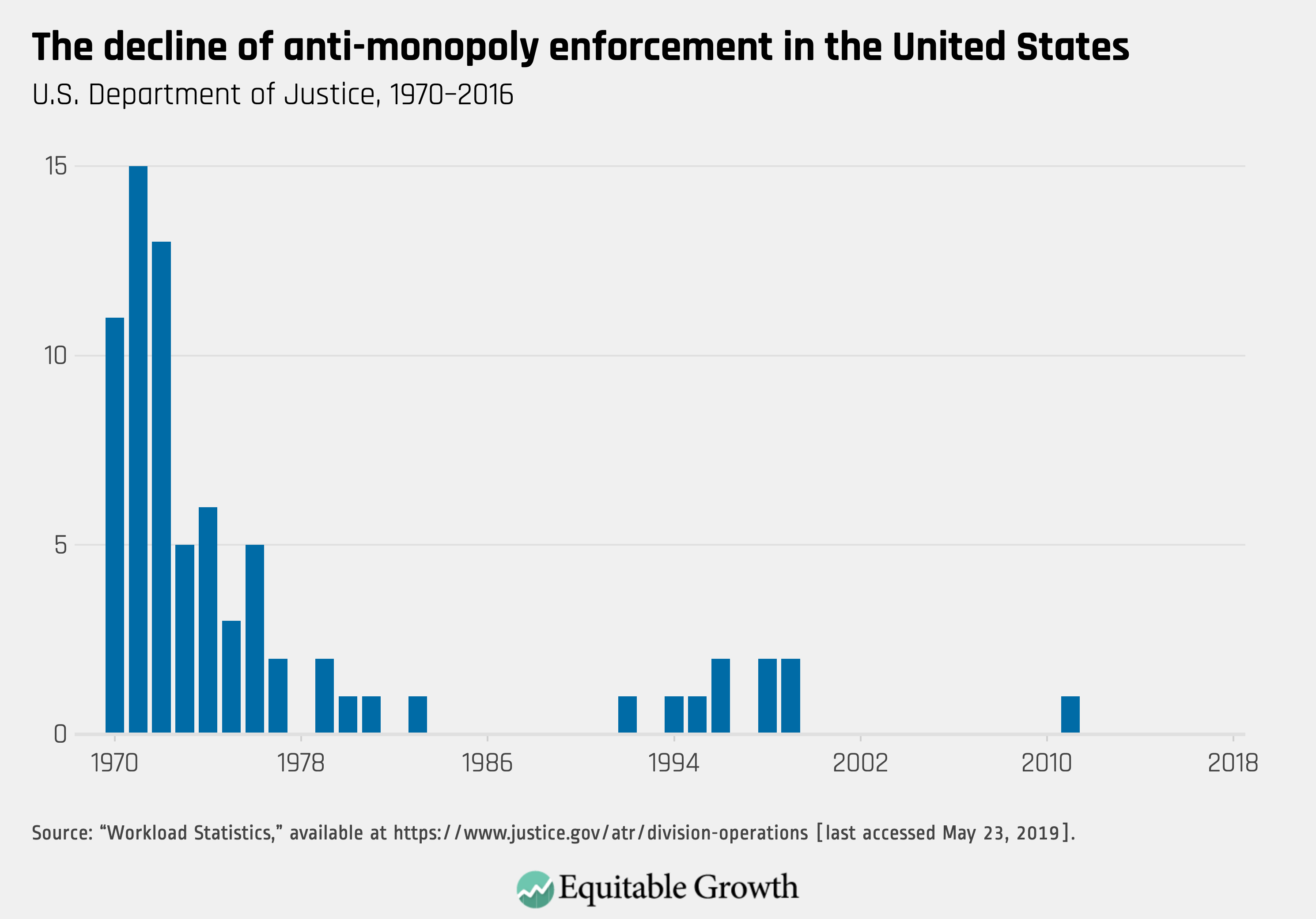 Figure is from Equitable Growth's "Modern U.S. antitrust theory and evidence amid rising concerns of market power and its effects" by Dr. Fiona Scott Morton.