Measuring what matters: Zeroing in on Latina women to address persistent low Hispanic homeownership rates in the United States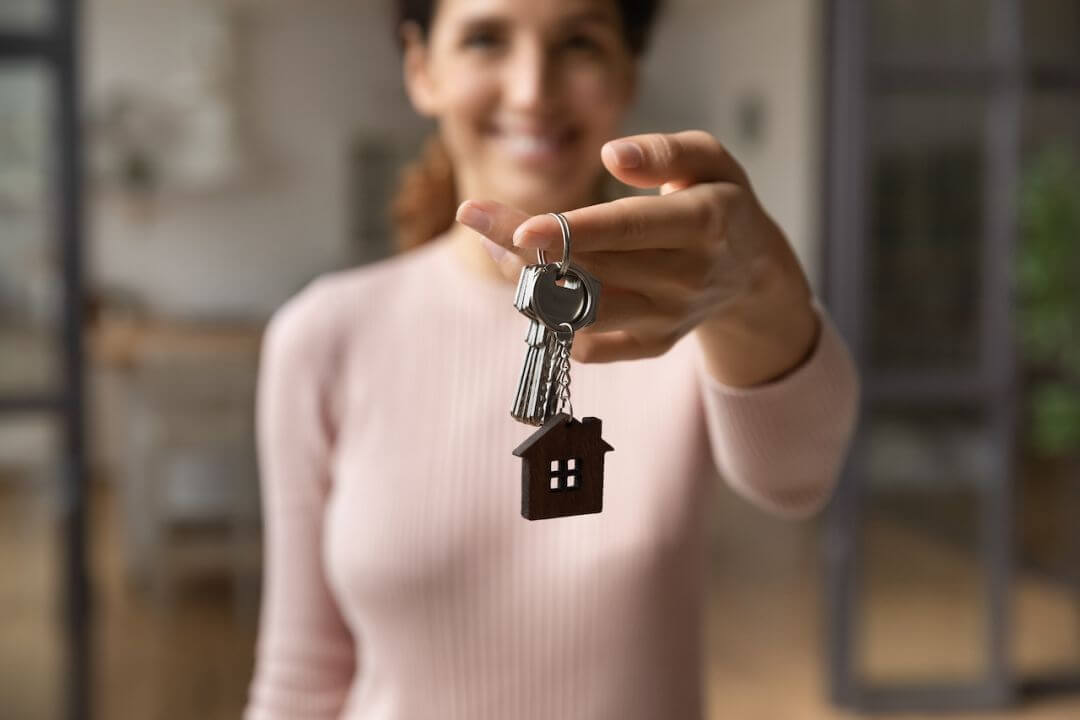 A new report released today by UnidosUS highlights one of the reasons for the wealth divide between Hispanic* households and other households in the United States: low homeownership rates among single Latina women, compared to single White women. The report's analysis also underscores some of the shortcomings in data collection and economic measurement of Latinx households more broadly, with the data often limited and sometimes misleading both about the broader Latinx population and specifically for Latina women.
Both the homeownership divide and the lack of measurable data are concerning. UnidosUS's report uses data from a number of government surveys and other sources to report on wealth held by Latina women living in the United States. But it also notes that the existing data are insufficient: "The limitations of the sample sizes and data collection methods in federal surveys restrict disaggregated or detailed analysis of important racial and ethnic inequities at the national level."
Adds Janet Murguía, president and CEO of UnidosUS: "If we don't have the right data, we can't address systemic inequities for Hispanic individuals and their families now and for future generations. Addressing this issue can help us build a stronger American society and a promise for economic, political, and social advancement for everyone."
These weaknesses in our ability to assess the economic circumstances of demographic subpopulations in the United States impede economic policymaking. And they are a key reason the Biden administration has called for an Equitable Data Working Group that will investigate these kinds of gaps.
Although Hispanics are the fastest growing segment of the U.S. population, this group tends to face structural and systemic barriers to accessing homeownership. The Latino population tends to be negatively affected by structural racism, low incomes, and few financial resources to draw on, including no retirement savings, low or no savings in general, and less access to banking and financial services. These barriers to homeownership mean that Hispanics are less able to tap significant home-buying subsidies worth tens of billions of dollars annually.
A 2020 Equitable Growth issue brief explains the stark differences in homeownership among White families and Black and Hispanic families. As a group, Black and Hispanic families have homeownership rates that are often more than 15 percentage points lower than White Americans of a similar age. As the UnidosUS report shows, the raw numbers are even worse: Hispanic household homeownership lags behind White households by more than 25 percentage points. (See Figure 1.)
Figure 1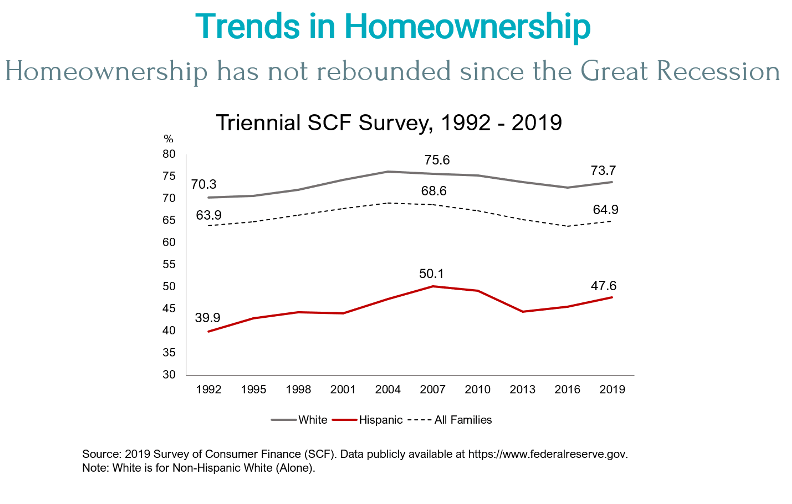 Homeownership, of course, is an important tool for intergenerational wealth transmission and upward mobility, so lower homeownership among Hispanic households has real consequences not just for this generation, but also for the next. UnidosUS's report in particular finds significant gaps between single Latina women and single White women, with the gap increasing at older ages. (See Figure 2.)
Figure 2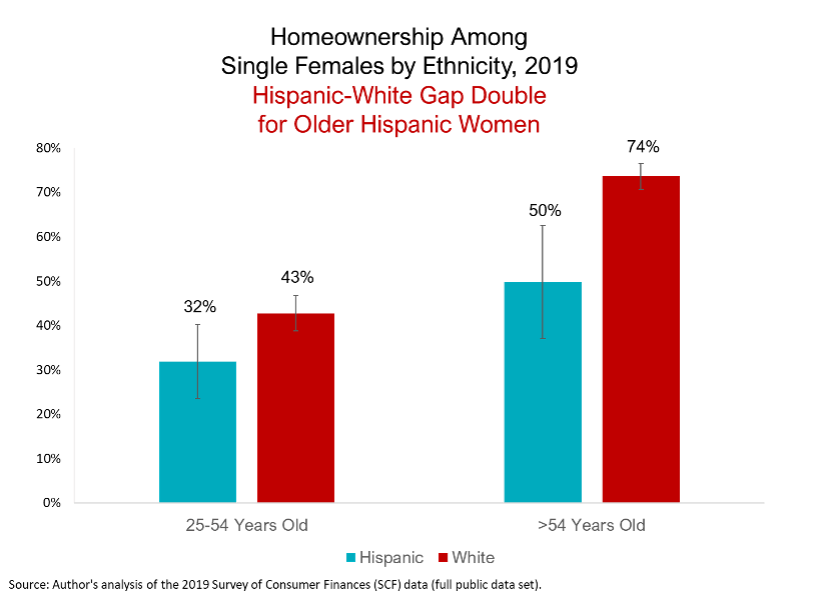 Latina women tend to have higher levels of educational attainment than Latino men. Yet their incomes, wages, and earnings are lower, and they face more severe consequences from economic crises such as the current coronavirus recession.
At the same time, federal surveys often have inadequate sample sizes to support precise estimation of economic data, which prevents policymakers from understanding gaps in economic outcomes. Survey instruments are sometimes insufficient as well. The Survey of Consumer Finances, a survey run by the Federal Reserve that is often used to study homeownership, generally does not record the ethnicity of female spouses, making it impossible to estimate homeownership for married Latina women, unless one assumes that all Latino men married to a woman have Latina spouses.
A 2020 Equitable Growth Expert Focus installment about the effects of economic inequalities on Latinx populations highlighted Duke University sociologist Eduardo Bonilla Silva, who, in the most recent edition of his book Racism without Racists, explains how race and racism can be broken down by the personal, collective, and structural dimensions of racism. Indeed, Latinx communities, like Black Americans and other communities of color, often endure rampant discrimination when looking to rent or buy a home.
During the run up to the 2008 housing crisis, Latino and Black mortgage borrowers faced a different kind of discrimination. They were peddled expensive subprime loans by mortgage lenders and banks, and many subsequently lost wealth as a result of these practices because these homeowners faced more foreclosures on their homes, further fueling structural racism in the housing market.
As UnidosUS previously examined, the result of systemic racism in the housing market is that Latino families face high housing costs, whether renting or buying. More than half of Latino households spend more than 30 percent of their income on housing, and many fear eviction.
Homeownership is not the only area where Hispanic families are disadvantaged. In 2020, the American Society of Hispanic Economics Outlook reported on the negative impact the coronavirus recession had on Latina women's labor market experiences in unemployment and labor force participation. Latinas share many of the labor force vulnerabilities of other marginal groups, such as Black women. When the labor market recovers, these groups are often left behind. And Latina women's pay remains the lowest among all race and gender combinations.
A 2018 report by Equitable Growth's Kate Bahn and Will McGrew finds that a significant part of this gap—more than half—may be attributable to discrimination based on race and gender. And the book La Crisis Boricua presents, in a chapter about gender, the fact that Puerto Rican women face lower pay and weaker labor force attachment, often because they have care responsibilities for family and children. These findings are briefly summarized in this Hunter College El Centro book presentation video.
To address the persistent and disproportionate negative effects of economic inequality on Latinos (U.S. born and immigrants) across generations, the federal government must disaggregate economic indicators and report on disparities that marginalized populations face. Reporting on economic growth that accounts for income is a start, but much more can be done to highlight the inequities faced by Latina women and other groups. Policymakers cannot address these inequities if they are invisible to policymakers and the public. Better data collection and reporting will help identify ways to advance strong, stable, and broad-based economic growth for all families in the United States.
*Equitable Growth uses the terms Hispanic and Latino depending on what the author or works cited has used, for consistency and alignment with the data collected.