Expert Focus: The economic impacts of access to abortion and contraception

Equitable Growth is committed to building a community of scholars working to understand how inequality affects broadly shared growth and stability. To that end, we have created the monthly series, "Expert Focus." This series highlights scholars in the Equitable Growth network and beyond who are at the frontier of social science research. We encourage you to learn more about both the researchers featured below and our broader network of experts.
With access to abortion in the United States increasingly restricted or banned, and access to contraception under threat in several states as well, research on the links between reproductive care and equity, economic stability, and overall health and well-being is more important than ever. Though reproductive health is often seen as outside the realm of economic research and policy, the reality is that access to these important healthcare and family planning options has vast economic and financial impacts on the lives of people who may become pregnant and their families.
An array of research already documents the links between bodily autonomy and economic opportunity, as well as the economic impacts of access to abortion and contraception. Studies find, for instance, that access to birth control pills were directly linked to women's increased labor force participation and reductions in the gender wage divide. Other research demonstrates that access to abortion improves financial outcomes and reduces the likelihood of a woman being in poverty for up to 4 years, as well as facilitates many labor market opportunities for women and boosts educational outcomes.
Furthermore, reproductive justice scholarship and activism has long acknowledged the important links between economic disparities and health inequality, as well as pioneered a framework for considering how reproductive health can be affected by other factors, including race, sexual orientation, immigration or disability status, and environmental conditions.
This month's installment of Expert Focus highlights scholars whose research establishes extensive evidence on the clear ties between access to reproductive healthcare and economic outcomes, as well as scholars who have made significant contributions to our understanding of how reproductive health inequities intersect with racial and gender inequality. After the U.S.  Supreme Court's decision on June 24 to overturn Roe v. Wade, and thus overturn the nationwide right to access an abortion, the implications for the physical and mental health of individuals who may become pregnant are now front and center across the United States, as are the widespread economic and financial ramifications for those people and their families.
The work the scholars featured in this Expert Focus and other scholars—including those featured in past installments of Expert Focus, such as Martha Bailey at University of California, Los Angeles and Adriana Kugler at Georgetown University—are doing to document those impacts should guide federal and state policymakers as they face the post-Roe era in the United States.
Jennifer Barber
Indiana University Bloomington
Jennifer Barber is a professor of sociology at Indiana University Bloomington and a senior scientist at the university's Kinsey Institute. Much of her recent work explores contraception use, pregnancy desires, and intimate partner violence, as well as the racial divides in access to birth control and attitudes about pregnancy. Barber also previously directed the Relationship Dynamics and Social Life project, which surveyed 18- and 19-year-old women each week over 2.5 years to track changes in their social lives, such as intimate relationships, sexual behavior, and contraception use.
One element of this project examines racial disparities. Black women, for instance, are 2.4 times more likely than White women to have an unplanned pregnancy, in part due to racial disparities in the U.S. poverty rate and access to contraception—and the underlying mechanisms driving those disparities. Barber is a collaborator with fellow Equitable Growth grantee Martha Bailey on the M-CARES project, which is exploring how subsidizing reproductive care affects women's decisions around contraceptive use.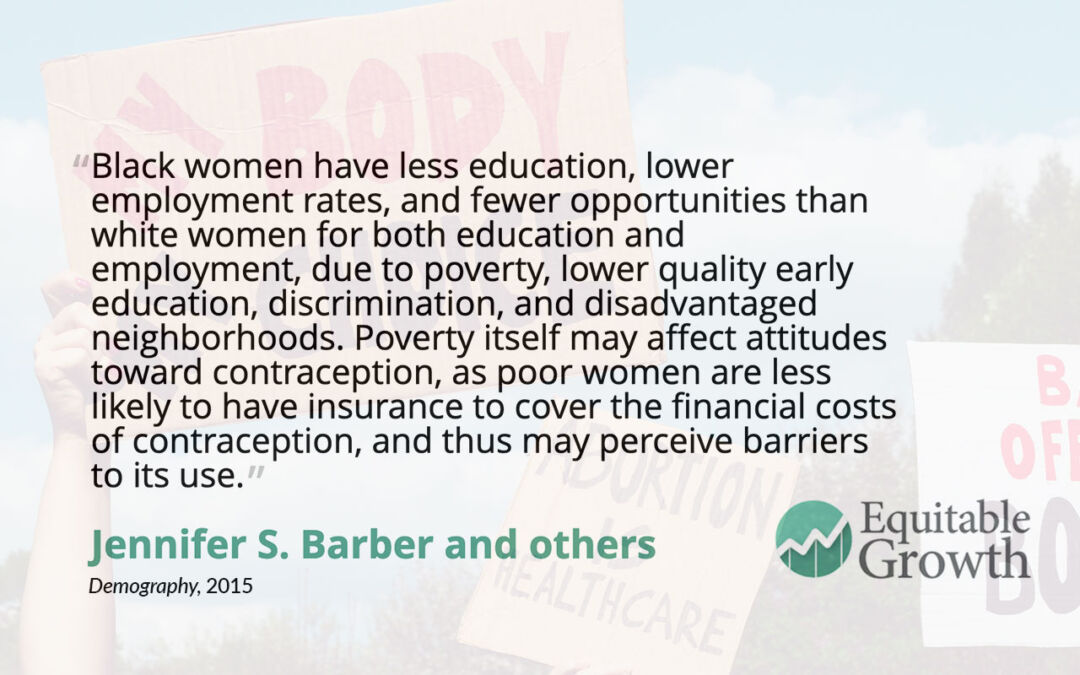 Zakiya Luna
Washington University in St. Louis
Zakiya T. Luna is a Dean's Distinguished Professorial Scholar in the Department of Sociology at Washington University in St. Louis. Her research focuses specifically on social movements and social change, health and inequality, and human rights and reproduction, with an emphasis on the effects of the intersecting inequalities within and across these areas, including gender and racial disparities. Luna is the author of Reproductive Rights as Human Rights: Women of Color and the Fight for Reproductive Justice, a look at how women of color—and SisterSong in particular, which is the largest national multiethnic reproductive justice advocacy organization—were central to making the reproductive justice movement what it is today and linking the cause of reproductive rights to issues of fair wages, safe housing, job security, and other economic rights. She has written extensively on reproductive justice, and is co-creator and former co-editor of the University of California Press book series Reproductive Justice: A New Vision for the Twenty-First Century, a collection of publications that explores the current reproductive justice landscape and serves as a resource for students and advocates.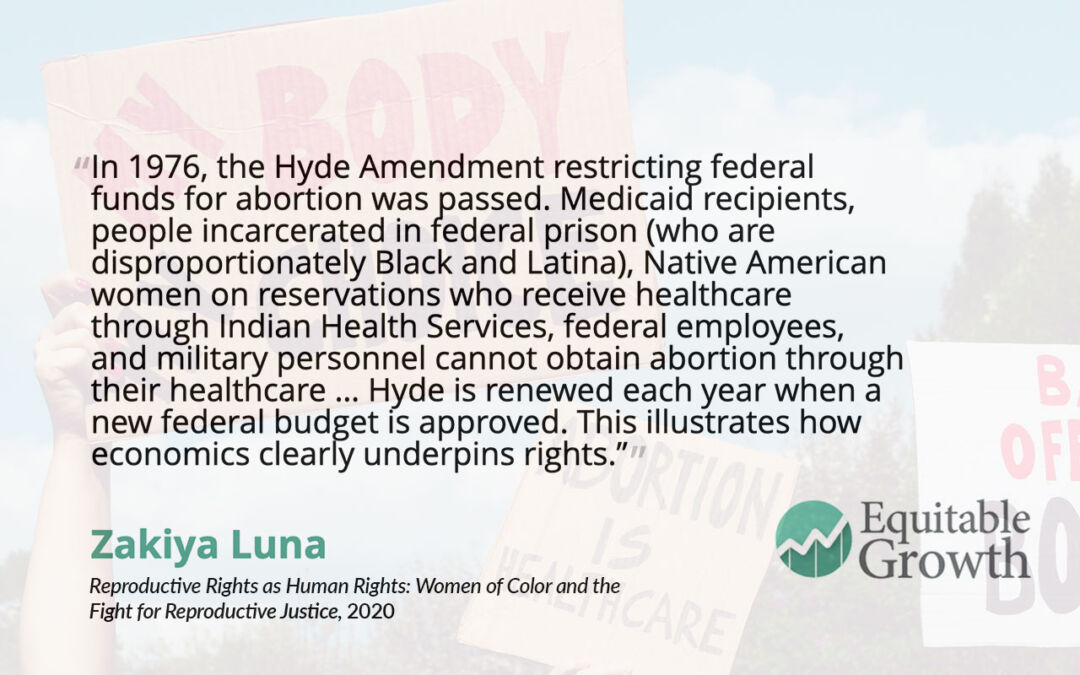 Caitlin Knowles Myers
Middlebury College
Caitlin Knowles Myers is the John G. McCullough professor of economics at Middlebury College. Myers' research examines issues related to gender, race, and the economy, and especially the effects of reproductive policies on people's professional lives and economic outcomes. Her current work focuses primarily on access to abortion care and the effects of abortion restrictions or burdensome processes, such as traveling to receive care or mandatory waiting periods, on the incidence of abortions.
She also writes extensively in the popular press, academic journals, and for research organizations on the growing body of research reinforcing the economic impacts of access to abortion care for women, what restricting that care would do to women, the U.S. labor force, and the overall economy in the United States, and what a post-Roe era could mean in terms of U.S. abortion access and incidence. Myers was the lead economist on an amicus brief sent to the Supreme Court in the Dobbs v. Jackson Women's Health Organization case, detailing the economic imperative of not overturning Roe and signed by more than 150 leading economists.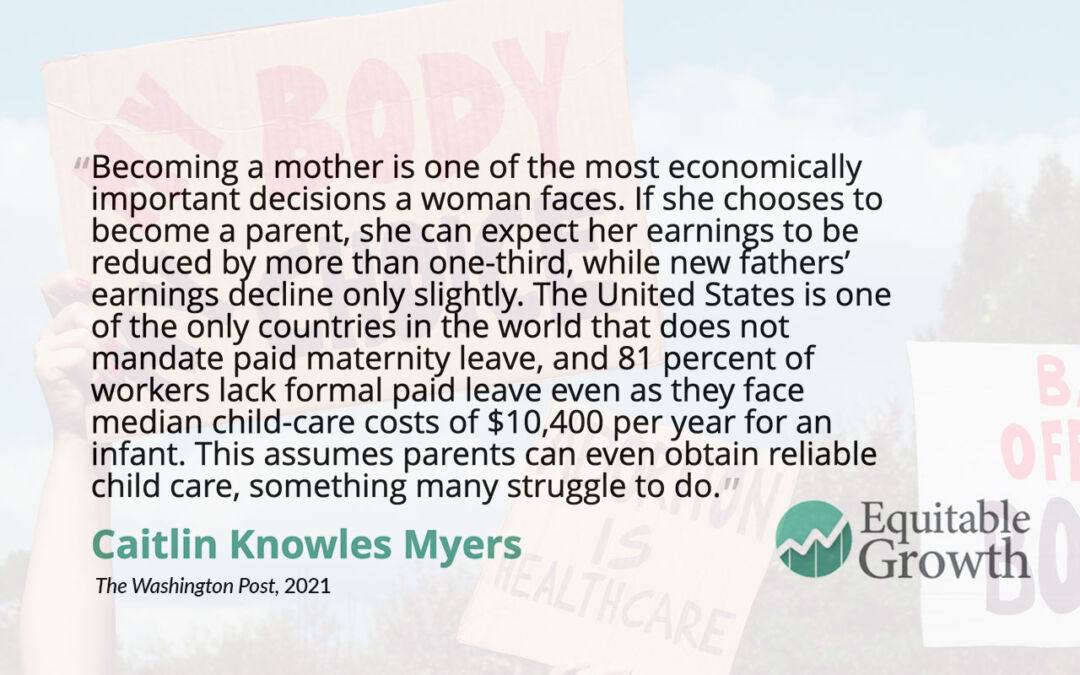 Mayra Pineda-Torres
Georgia Institute of Technology (incoming)
Mayra Pineda-Torres is an incoming assistant professor of economics at the Georgia Institute of Technology. Her research interests are centered on the intersection of health economics, labor economics, and gender economics, with a particular focus on topics related to women and teen well-being and the economic and health impacts of access to reproductive healthcare. Her works in progress include papers on access to abortion care and its effects on inter-partner violence and educational attainment. She also co-authored an article that looks into the effects of abortion mandatory waiting periods on abortion timing and abortion rates in Tennessee.
In addition, she has a working paper with Kelly Jones at American University on the impacts of exposure to TRAP laws during adolescence on teen birth rates and educational attainment. This paper finds that young Black women are particularly affected by TRAP laws. In states with such restrictions, teen births increase by 3 percent compared to states without these laws. The paper also finds that adolescent exposure to TRAP laws has downstream impacts on education for Black women, who are 2 to 6 percent less likely to start and complete college.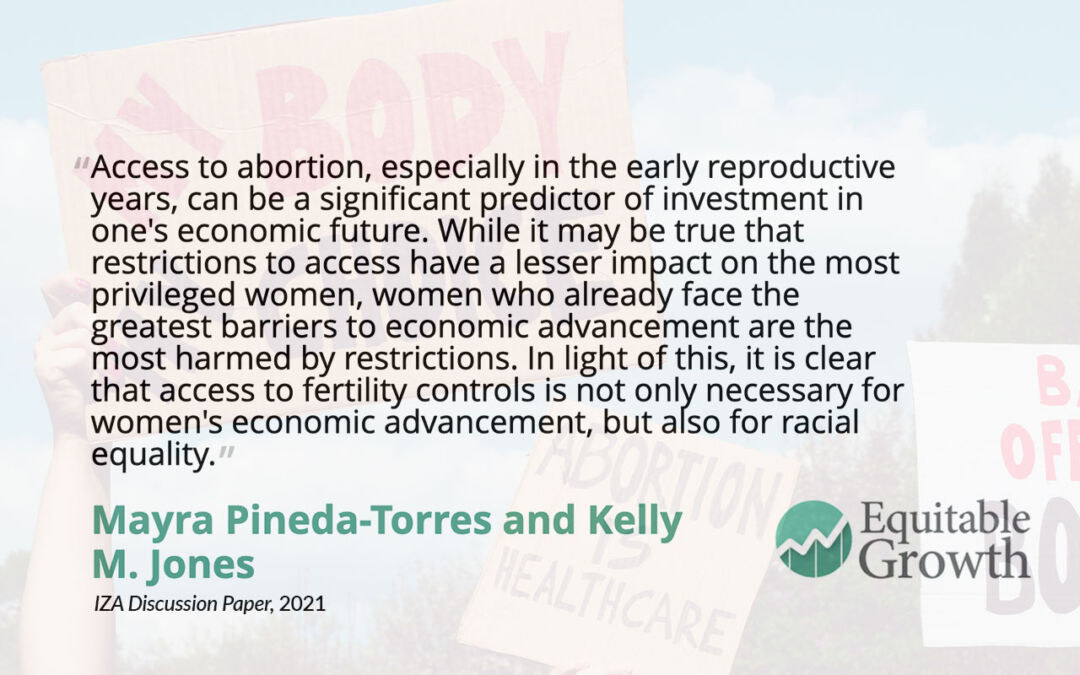 Loretta Ross
Smith College
Loretta J. Ross is an associate professor of the study of women and gender at Smith College. Her research interests lie in women's human rights, reproductive justice, and White supremacy. Ross' expertise lies in her background as a reproductive justice pioneer and her own personal experience with abortion and unintended pregnancy. She has co-authored three books on reproductive justice—a framework that she co-created with 11 other Black women working within and beyond the pro-choice movement in the 1990s that combines reproductive rights and social justice into one theory of change and centers the voices and experiences of women of color and other marginalized people.
In 1997, she co-founded SisterSong, a Southern-based, women of color-led national reproductive justice collective, to work together to improve institutional policies and systems that affect not just the reproductive health of marginalized communities but also their economic security and well-being. Ross is a sought-after thought leader who speaks often (including before congressional committees) about the impact of restricting access to abortion care on women, and especially women of color.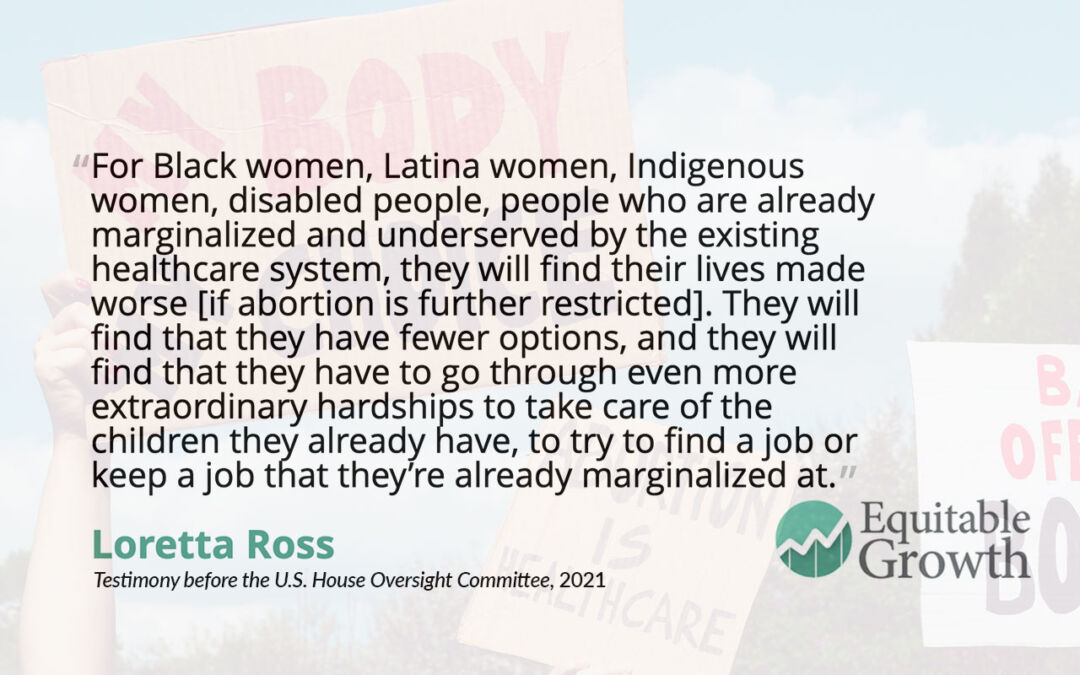 Equitable Growth is building a network of experts across disciplines and at various stages in their career who can exchange ideas and ensure that research on inequality and broadly shared growth is relevant, accessible, and informative to both the policymaking process and future research agendas. Explore the ways you can connect with our network or take advantage of the support we offer here.