Expert Focus: Feminist economists studying women's roles and contributions to the U.S. economy

Equitable Growth is committed to building a community of scholars working to understand how inequality affects broadly shared growth and stability. To that end, we have created the monthly series, "Expert Focus." This series highlights scholars in the Equitable Growth network and beyond who are at the frontier of social science research. We encourage you to learn more about both the researchers featured below and our broader network of experts.
Feminist economics is a field of study that pushes for a fuller exploration of economic life. Feminist economists call attention to the social constructions of traditional economics and argue that its models and methods are biased by an exclusive attention to masculine-associated topics, assumptions, and methods. As such, they tend to focus on issues that have long been overlooked or snubbed by the largely male-dominated field, such as unpaid care work, unequal power relations between women and men, and labor market outcomes for women of color.
The themes studied by feminist economics were often sidelined or viewed as fringe interests. In the early 1990s, however, a group of scholars founded the International Association for Feminist Economics, or IAFFE, and its related academic journal, Feminist Economics, now a renowned publication in its 29th year of print. The ideas, theories, and research questions that this important subset of economics examines are now more and more mainstream, especially in the aftermath of the coronavirus pandemic and the so-called She-cession.
As March is Women's History Month, this month's Expert Focus highlights six feminist economists studying women's roles and contributions to the U.S. economy, the differences in outcomes between men and women in the U.S. labor force, and a multitude of other feminist economics topics. The scholars featured here range in background and are in various stages of their careers, though many of them were part of the original generation of feminist economists who founded IAFFEand launched Feminist Economics. Other prominent feminist economists and pioneers of the field—including Nina Banks, Nancy Folbre, and our President and CEO Michelle Holder—have been featured in previous editions of Expert Focus.
Randy Albelda
University of Massachusetts Boston
Randy Albelda is a professor emerita at the University of Massachusetts Boston as well as a senior research fellow at the university's Center for Social Policy. Her research focuses on economic policies affecting low-income women and families. She has written extensively on poverty, wage inequality, and precarious work. Her book, Economics and Feminism, studies the history of feminism and economics, and examines why economics had been relatively impervious to feminism. She also recently contributed a chapter to The Routledge Handbook of Feminist Economics on the fragmented state of work-family policies in the United States and its impact on families and low-income women. In 2018, Albelda received an Equitable Growth grant to study the long-run effects of Temporary Disability Insurance on labor market outcomes, such as earnings stability and labor force participation.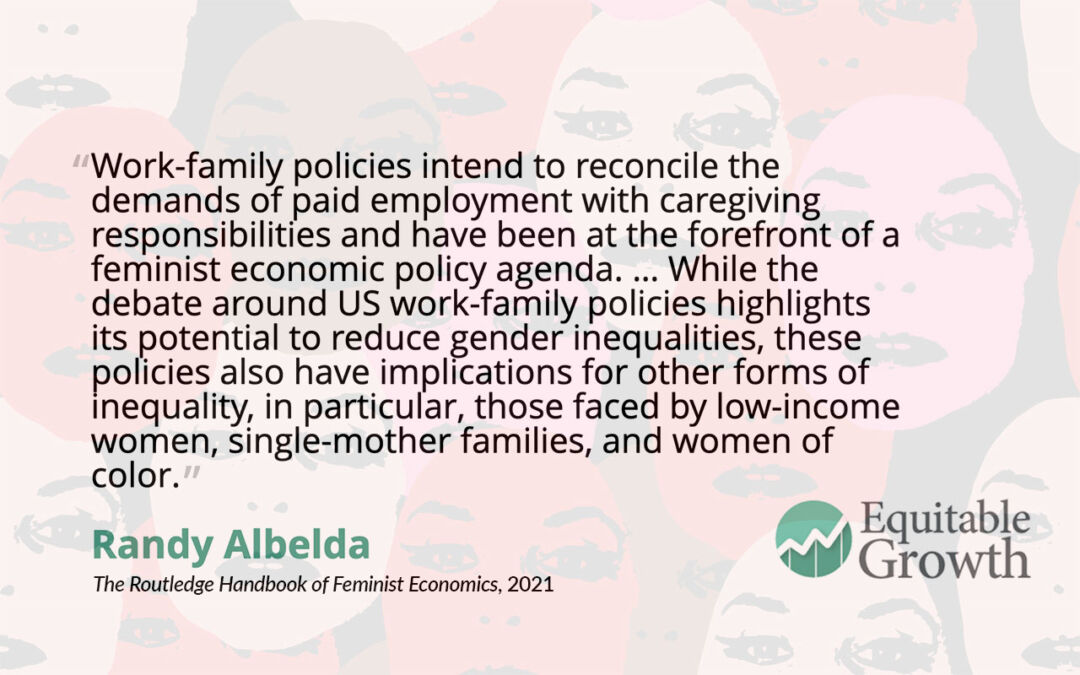 Radhika Balakrishnan
Rutgers University
Radhika Balakrishnan is a professor in the Department of Women's, Gender, and Sexuality Studies at Rutgers University. Her research focuses on gender and its relationship to development, the global economy, and human rights, in particular economic and social rights. Throughout her career, Balakrishnan has sought to change the lens through which macroeconomic policy is interpreted by applying international human rights norms to the assessment of the macroeconomy. She is the outgoing president and conference chair of the International Association for Feminist Economics, where she worked to connect economic policy and feminist activism, while continuing her longstanding work on human rights. Balakrishnan was also a commissioner for New York City's Commission for Gender Equity, which seeks to address inequity and discrimination along gender lines in the most populous city in the United States.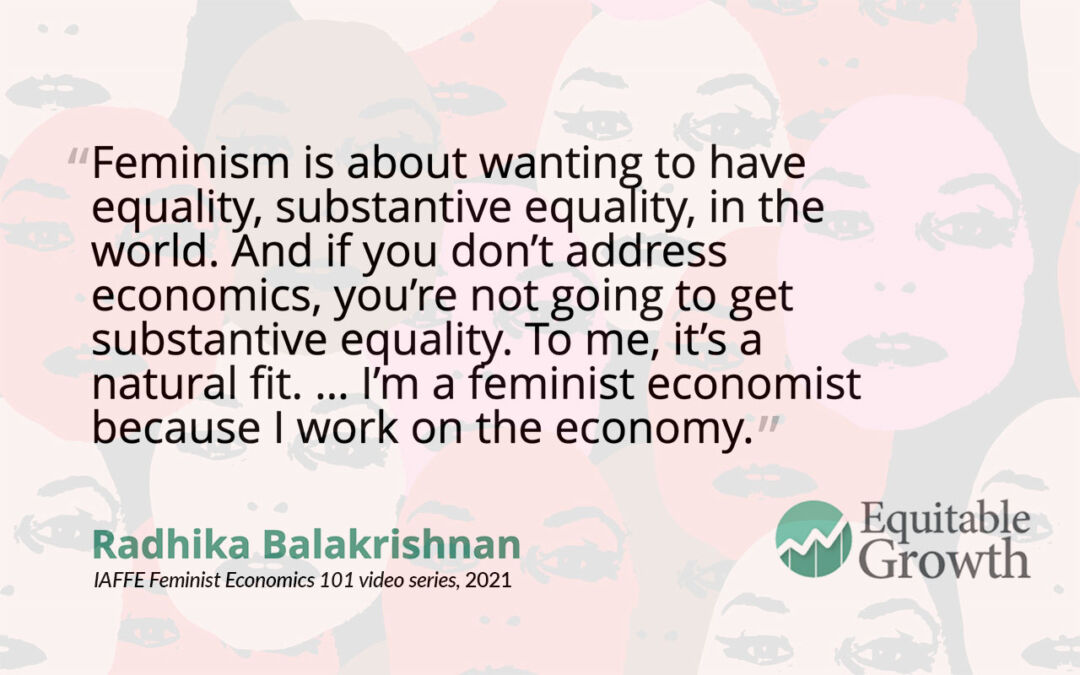 Joyce Jacobsen
Hobart and William Smith Colleges; Wesleyan University
Joyce P. Jacobsen is the president of Hobart and William Smith Colleges and an economics professor there as well as the Andrews professor of economics emerita at Wesleyan University. Her research focus lies in labor economics, particularly the economics of gender, sex segregation, migration, and the effects of labor force disruptions on women's earnings. Jacobsen has spent her career furthering the status of women in the economics profession—an achievement for which she received the 2021 Carolyn Shaw Bell Award, named after the first chair of the American Economic Association Committee on the Status of Women in the Economics Profession, or CSWEP. She has authored several textbooks, including The Economics of Gender and most recently, in 2020, Advanced Introduction to Feminist Economics. This textbook is the first of its kind to provide an overview of feminist economics and examine its relation to several economics subtopics, such as economic development, environmental economics, and international trade and finance.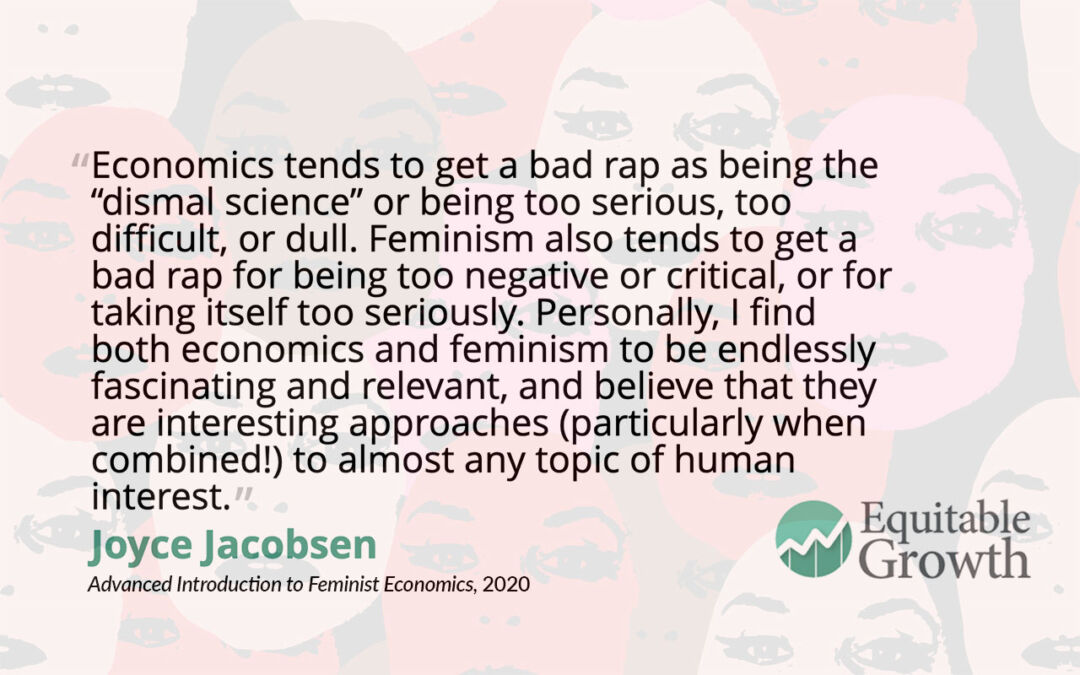 Julianne Malveaux
Cal State LA
Julianne Malveaux is the dean of the College of Ethnic Studies at Cal State LA, a college that focuses on interdisciplinary analysis of histories, cultures, and social experiences of people of color. She is also the president emerita of Bennett College, the country's oldest historically Black college for women located in Greensboro North Carolina. Malveaux has written extensively on Black Americans' impact on the U.S. economy and on issues related to gender and women in the workforce, intersectionality, and public policy. She is a frequent commentator in media outlets and podcasts on issues from the economy and the labor force to racial and gender pay discrimination and the wealth gap. Her columns and blog posts frequently touch on economic instability and inequality as it relates to Black women and communities of color in the United States.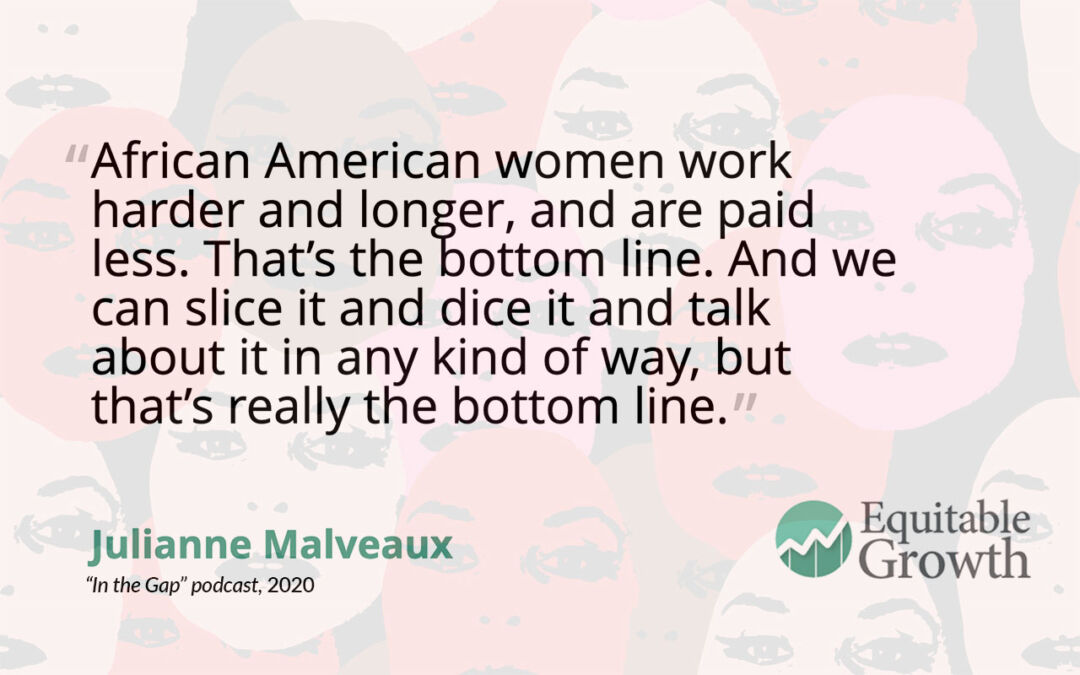 Katherine Moos
University of Massachusetts Amherst
Katherine Moos is an assistant professor of economics at the University of Massachusetts Amherst and an economist at the Political Economy Research Institute. Her research focus is feminist political economy and the welfare state, social reproduction, unpaid household labor and care work, and time-use and working-hours legislation. Many of Moos' recent publications utilize a feminist lens to examine various political and economic processes, from measuring the cost of social reproduction (which refers to the process of maintaining the labor force on a daily and intergenerational basis) to state regulation of the economy and labor market. In 2021, Moos published a study looking at U.S. fiscal policy in response to the coronavirus pandemic and recession from a feminist perspective, arguing that the federal aid did improve the livelihood of some groups but left others—including low-wage workers, women, and people of color—in vulnerable positions.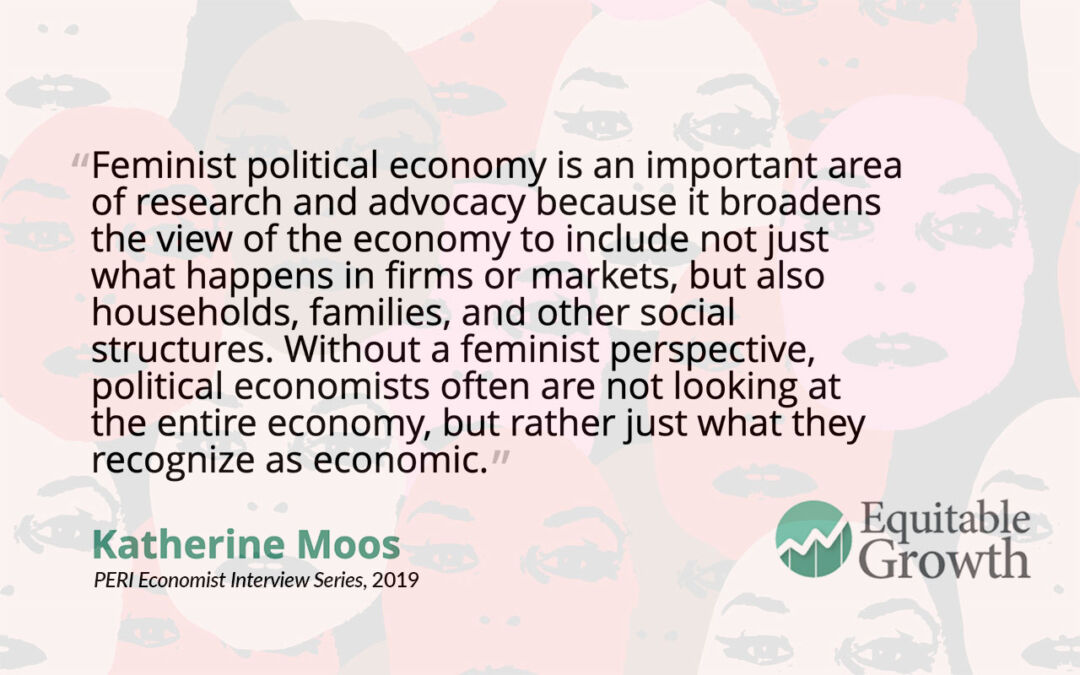 Diana Strassmann
Rice University
Diana Strassmann is the Carolyn and Fred McManis distinguished professor in the practice of humanities in Rice University's Center for Women, Gender, and Sexuality Studies. She is a leading scholar in feminist economics, a co-founder of the International Association for Feminist Economics and the founding editor of Feminist Economics. Her work bringing feminist perspectives into more mainstream thinking and her research on the economy and the labor force has changed the field of economics not only in terms of what is studied but also how it is studied and who studies it.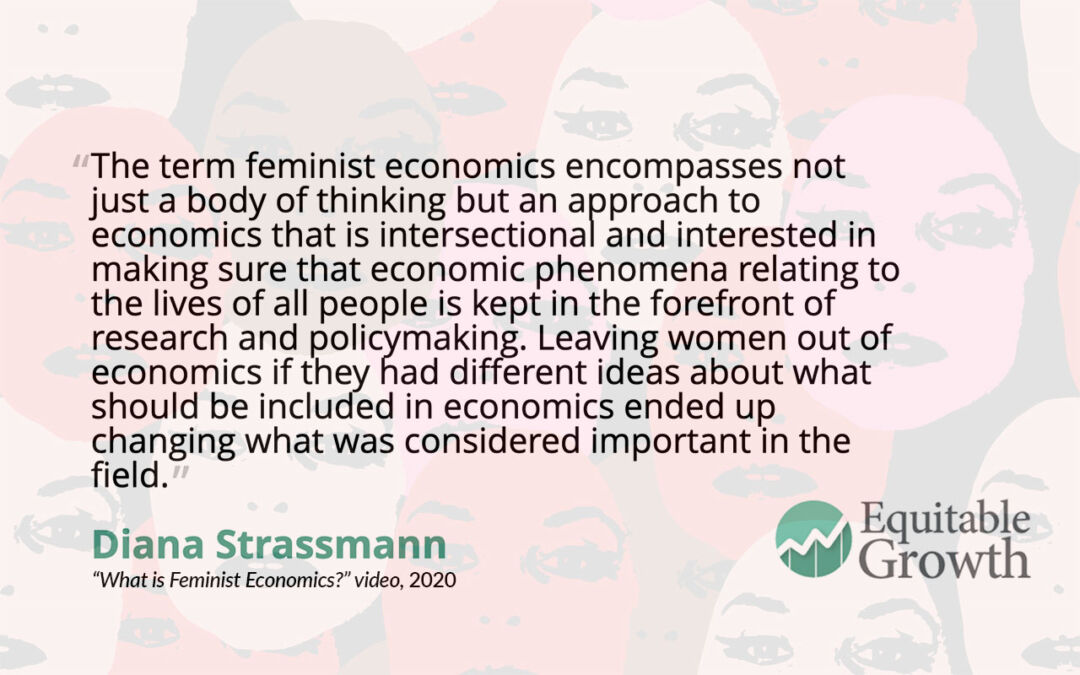 Equitable Growth is building a network of experts across disciplines and at various stages in their career who can exchange ideas and ensure that research on inequality and broadly shared growth is relevant, accessible, and informative to both the policymaking process and future research agendas. Explore the ways you can connect with our network or take advantage of the support we offer here.