Expert Focus: Supporting women's labor force participation to boost U.S. economic growth and recovery

Equitable Growth is committed to building a community of scholars working to understand how inequality affects broadly shared growth and stability. To that end, we have created the monthly series, "Expert Focus." This series highlights scholars in the Equitable Growth network and beyond who are at the frontier of social science research. We encourage you to learn more about both the researchers featured below and our broader network of experts.
This year's Women's History Month marks 1 year since many coronavirus lockdowns and stay-at-home policies were put in place across the United States. Amid the pandemic, women are experiencing higher rates of unemployment and are taking on more home responsibilities and heavier child care burdens than men. Working mothers also suffer from higher levels of stress and depressive symptoms as a result of the pandemic, particularly those facing income losses due to involuntary unemployment. The reality of the disproportionate impact of COVID-19 on women workers, and especially women workers of color, makes more glaring the gender disparities that were already rampant across the U.S. labor force prior to the coronavirus recession. Even though women are a critical driver of economic growth, U.S. women workers are paid less than their male counterparts, face motherhood penalties, are often pushed into low-wage jobs and industries, and bear the brunt of unpaid household labor.
This installment of Expert Focus highlights research and scholars examining women in the U.S. labor force and issues that inhibit their labor force participation, as well as those performing intersectional analyses and promoting ideas that target women in order to boost economic growth for all U.S. workers and their families. This research will be all the more important in the months and years to come, as policymakers navigate the recovery from the coronavirus recession—also known as the "shecession"—and women work to get back some of the hard-fought labor market gains that were lost over the past year.
Janet Currie
Princeton University
Janet Currie is the Henry Putnam professor of economics and public affairs at Princeton University, the co-director of Princeton's Center for Health and Well-Being, and a former member of the Washington Center for Equitable Growth's Steering Committee. Currie also co-directs the Program on Families and Children at the National Bureau of Economic Research. She is well-known for her work on child health and well-being, including research on the long-term positive effects of high-quality child care and early education and on the impact of prenatal healthcare on human capital development. She was an author of the National Academy of Science's "A Roadmap to Reducing Child Poverty," which shaped the design of the new child allowance included in the American Rescue Plan. Currie's research on early childhood programs, and particularly their impact on children from disadvantaged households, continues to improve economists' understanding of early childhood's impact on the broader economy and on health and economic outcomes in adulthood. These programs also often increase women's labor force participation, easing new parents' return to work after the birth or adoption of a child.
Claudia Goldin
Harvard University
Claudia Goldin is the Henry Lee professor of economics at Harvard University and the co-director of the National Bureau of Economic Research's Gender in the Economy Study Group. She is best known for her work on women's roles in the U.S. economy and their labor force participation, income inequality, and the gender pay gap. Goldin's research covering more than 100 years of economic history highlights how women have been major players in the U.S. economy since the late 1800s and how their participation in the labor force changed over the years in response to various societal trends and influences. Through her historical studies tracking women's evolving economic roles, she has shown how earnings differences by gender are not largely due to productivity or educational differences between men and women, but rather are a reflection of the high costs of workplace flexibility and work-family balance for working parents, particularly mothers. Her recently completed book, Career & Family: Women's Century-Long Journey toward Equity, will be published by Princeton University Press in fall 2021.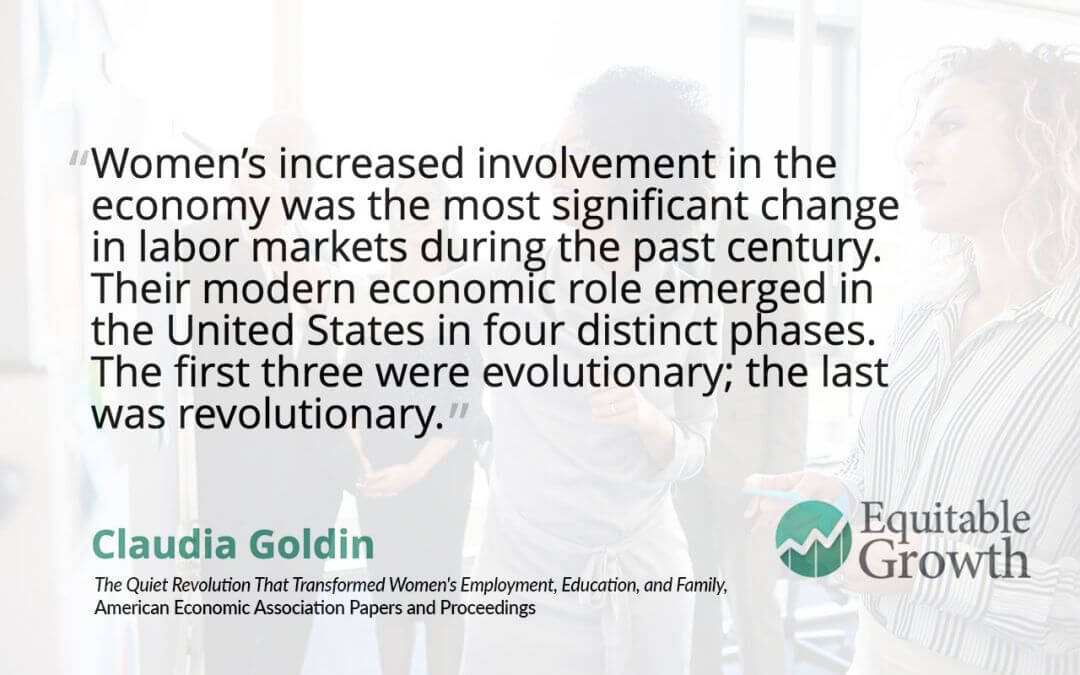 Janelle Jones
U.S. Department of Labor
Janelle Jones is the chief economist at the U.S. Department of Labor, the first Black woman to hold that position. She is a labor economist and well-known for her work on racial inequality, unemployment, unions, and intersectional structural barriers to economic and labor force participation. In 2020, along with Grace Western and Kendra Bozarth, Jones authored an issue brief advocating for policies that center Black women in U.S. policymaking and politics. This "Black Women Best" approach not only works to dismantle systematic racism and sexism that is built into U.S. institutions, but also boosts the economy more broadly and ensures widespread prosperity and growth. Prior to joining the Biden administration, she spent more than a decade researching racial disparities in the labor market. In 2015, Jones was awarded an Equitable Growth doctoral grant for her research into intergenerational wealth transfers and racial wealth divides.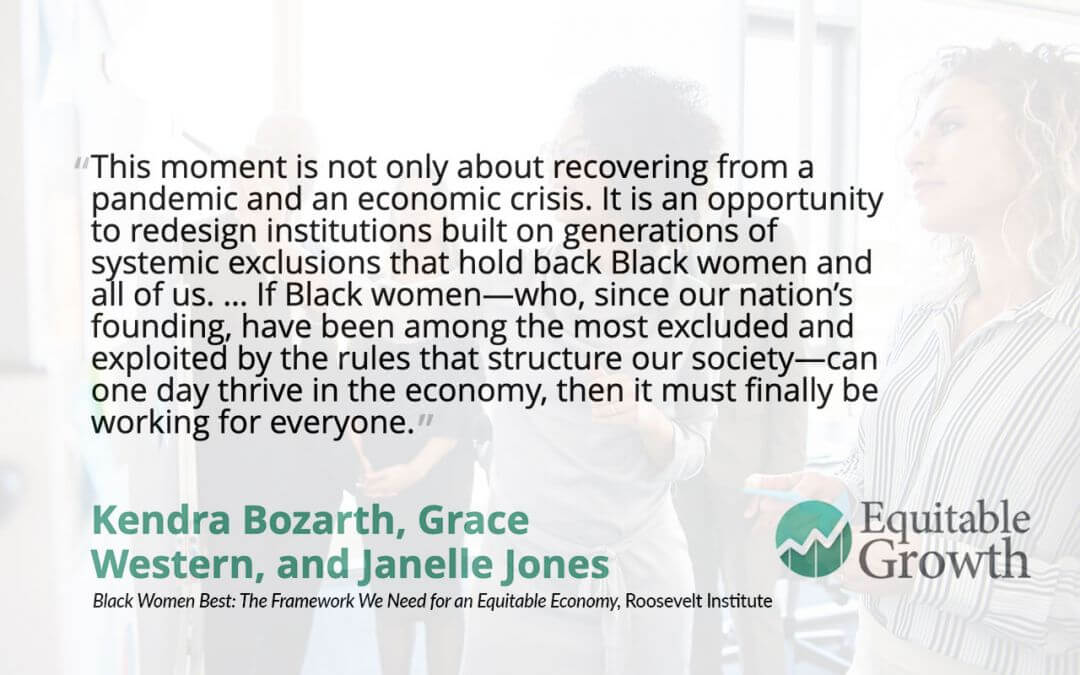 Kristen Harknett
University of California, San Francisco
Kristen Harknett is an associate professor of sociology at the University of California, San Francisco. Her research interests lie in schedule stability, worker health and well-being, and job quality. Together with sociologist Daniel Schneider, Harknett built what is now one of the largest sources of data on work scheduling, household economic security, and the health and well-being of hourly workers and their families, with reports from more than 84,000 workers around the country. This work reveals the health and well-being consequences of so-called precarious work—which typically includes jobs with low and/or stagnant wages and schedule instability and uncertainty—for workers and their families, from psychological distress to poor sleep quality and unhappiness. In 2015, Harknett and Schneider received an Equitable Growth grant to study the relationship between rising economic inequality and family insecurity.
Daniel Schneider
Harvard University
Daniel Schneider is a professor of public policy at Harvard University's Kennedy School of Government and co-director, with Kristen Harknett, of The Shift Project at Harvard, studying scheduling practices and worker well-being in the retail and service industry. Though his work with Harknett does not focus exclusively on women, these low-wage, highly unstable jobs tend to be filled by women and workers of color thanks, in part, to occupational segregation. Schneider and Harknett's work is particularly important today amid the coronavirus recession, when many low-wage occupations face increased health risks due to the pandemic. Schneider and Harknett—both vocal advocates for these workers during the coronavirus outbreak—are urging policymakers and employers to address various aspects of precarious work—from access to and awareness of paid family and medical leave and personal protective equipment to more predictable scheduling—in order to provide better conditions and protections for these front-line workers.
Linh Tô
Boston University
Linh Tô is an assistant professor of economics at Boston University. Her research focus is on labor, public, and behavioral economics, often using quasi-experimental methods and administrative datasets, as well as experimental methods, to understand labor market outcomes and decisions, with a focus on the economics of gender. In 2017, she was awarded an Equitable Growth doctoral grant for her research on the impact of childbirth and parental leave policies on job match quality and the gender wage gap. Tô's research on paid parental leave highlights the importance of paid leave for working mothers' labor force participation, leave-taking, and earnings differentials upon their return to work, as well as the design of paid leave programs, particularly considering the growing gender disparities in the workforce and in labor force participation amid the coronavirus recession.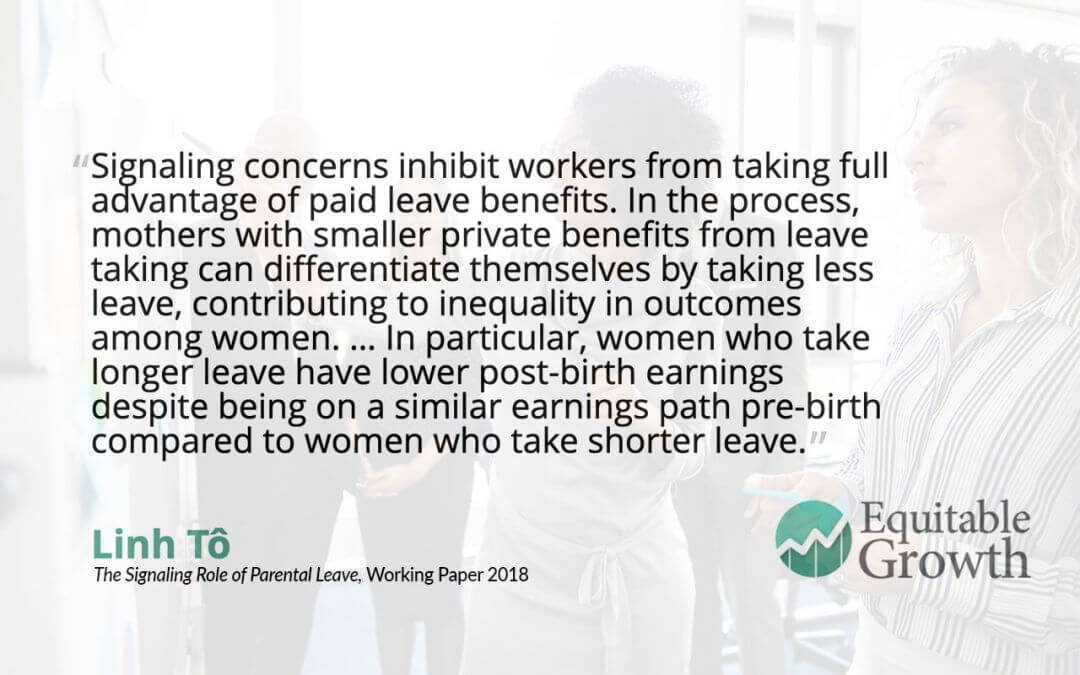 Equitable Growth is building a network of experts across disciplines and at various stages in their career who can exchange ideas and ensure that research on inequality and broadly shared growth is relevant, accessible, and informative to both the policymaking process and future research agendas. Explore the ways you can connect with our network or take advantage of the support we offer here.