Expert Focus: Scholars researching how Native Hawaiian and Pacific Islander communities navigate the U.S. economy, labor market, and society

Equitable Growth is committed to building a community of scholars working to understand how inequality affects broadly shared growth and stability. To that end, we have created the monthly series, "Expert Focus." This series highlights scholars in the Equitable Growth network and beyond who are at the frontier of social science research. We encourage you to learn more about both the researchers featured below and our broader network of experts.
There are more than 1.6 million Native Hawaiians and Pacific Islanders currently living in the United States, and approximately 370,000 people in the predominantly Pacific Islander-populated U.S. territories and freely associated states in the Pacific region. As demonstrated in the Map of Colonial Impact published by Empowering Pacific Islander Communities—an organization that engages NHPI communities in culture-centered advocacy, leadership development, and research—the economic realities of these communities is shaped by the many diverse and complicated relationships between the U.S. government and ancestral NHPI lands.
The U.S. Census Bureau and other federal agencies, as well as some state and local agencies and universities, now collect disaggregated data on 21 distinct Native Hawaiian and Pacific Islander ethnic groups related to median income, employment rate, and educational attainment, among other socioeconomic indicators. Collecting and using such administrative data is vital for researchers to examine the experiences of NHPI populations and for policymakers to develop and target policies that address the economic challenges that NHPI communities face. Many of these hurdles stem from intentional policy choices made over the years and carefully constructed political institutions that uphold structural racism and pervasive discrimination in the United States.
May is AANHPI Heritage Month in the United States. This month's installment of Expert Focus highlights community leaders and scholars across disciplines doing research on NHPI populations and their experiences in the United States. This includes work on COVID-19's disproportionate impact on NHPI communities, community-based economic development, Indigenous history, and using Indigenous knowledge to combat climate change and guide sustainable development efforts.
Such research demands insights from across the social sciences, health, history, law, and interdisciplinary fields, such as environmental studies and ethnic and gender studies. And this research must be grounded in Indigenous rights, histories, and knowledge to guide the creation of inclusive and equitable policies for these communities.
This interdisciplinary research will be even more telling if paired with an increase in the diversity of scholars from NHPI backgrounds studying these topics. As Randy Akee, an associate professor in the Department of Public Policy and American Indian Studies at the University of California, Los Angeles and an Equitable Growth grantee, recently wrote:
One of the many pitfalls of not having diversity among researchers is that certain areas of research, outcomes, and evaluation tend to be forgotten—many of which could inform future research and policy decisions. … These areas of unexplored research opportunities are often only known to the communities in which they are being put into practice, which means that without researchers from those communities, they will probably remain unknown."
Hōkūlani Aikau
University of Victoria, British Columbia
Hōkūlani Aikau is a professor of Indigenous governance at the University of Victoria, British Columbia. Her research focuses on contemporary Native Hawaiian identity and politics, Indigenous resurgence and climate change in the Pacific, U.S. race relations, and the restoration of Indigenous food systems, specifically Native Hawaiian kalo (taro) cultivation. She has written extensively on the experience of Native Hawaiian and other Indigenous peoples, incorporating theories and themes from Indigenous feminist theory, gender studies, and religion.
Aikau's forthcoming book, Indigenous Resurgence in an Age of Reconciliation, co-authored with Heidi Kiiwetinepinesiik Stark and Aimée Craft, will examine the central concerns and challenges facing Indigenous nations in their resurgence efforts and seeks to center the work, knowledge, and strategies for resurgence of these communities. She is also the co-editor of the 2019 book, Detours: A Decolonial Guide to Hawai'i, a guide for decolonization in which Hawaiian artists, activists, and scholars direct tourists to places and experiences that highlight the complex and fraught history that Native Hawaiians have with colonialism, military occupation, food insecurity, high costs of living, and climate change.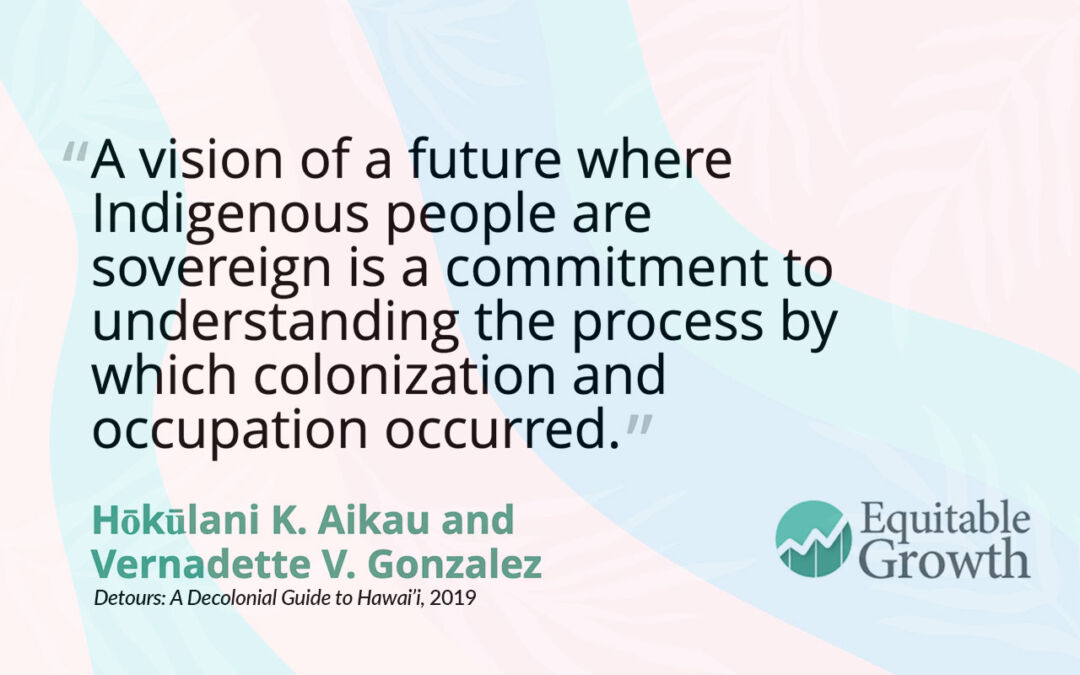 Sefa Aina
Pomona College
Sefa Aina is the associate dean of students and director of Draper Center for Community Partnerships at Pomona College, as well as the director of the Asian American Resource Center. He is an accomplished activist and educator in the Asian American and Pacific Islander community. He is also a board member of Empowering Pacific Islander Communities and a founding member of the National Pacific Islander Education Network, an organization that works to help Pacific Islander students pursue their educational goals, including through mentorship and networking.
Aina has spent much of his career supporting and cultivating opportunities for nontraditional, marginalized, and first-generation college students, including establishing a leadership pipeline for Pacific Islander students to access internship and fellowship opportunities in Washington, D.C., California, and Hawaii. From 2010 to 2014, he served as vice chair of then-President Barack Obama's Advisory Commission on Asian Americans and Pacific Islanders, advising the administration on ways to improve quality of life for Asian American, Native Hawaiian, and Pacific Islander groups through federal initiatives and likewise to boost the involvement of these communities in these programs.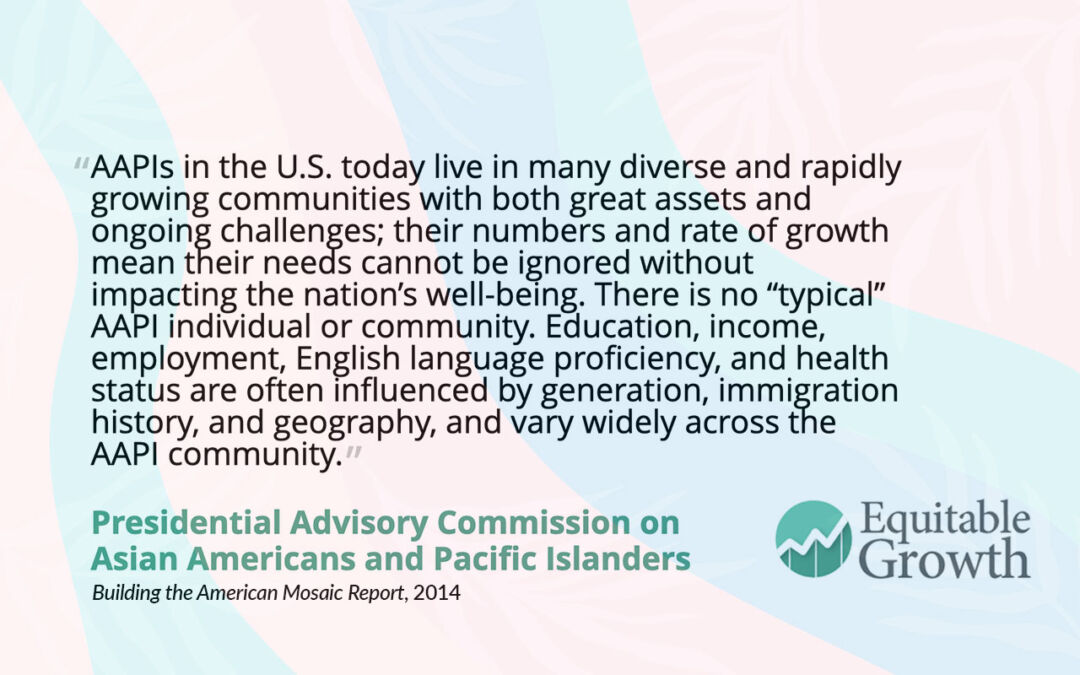 Kamanamaikalani Beamer
University of Hawaii at Mānoa
Kamanamaikalani "Kamana" Beamer is a professor at the Center for Hawaiian Studies at the University of Hawaii at Mānoa and the Dana Naone Hall chair in Hawaiian studies, literature, and the environment. His research centers on Indigenous agency and Hawaiian economic development, as well as governance, land tenure, and resource management in Hawaii. Beamer is a founder of Aloha Kuamoʻo ʻĀina, a community based non-profit focused on social justice and ecological peace for Hawaiʻi. As co-founder of ʻĀina Aloha Economic Futures, a grassroots organization, he worked to develop a vision for Hawaii's economic recovery and future grounded in a core set of values and in bringing community together.
Beamer is an ongoing collaborator on the Circular Economy study, mixing this modern economic approach with the Indigenous principles of "aloha 'āina"—respect, reverence, and justice—to build sustainable, efficient systems. Reflections on this work will be published this summer in Ecology and Society, in an article titled "Island and Indigenous systems of circularity: How Hawai'i can inform the development of Universal Circular Economy Policy Goals."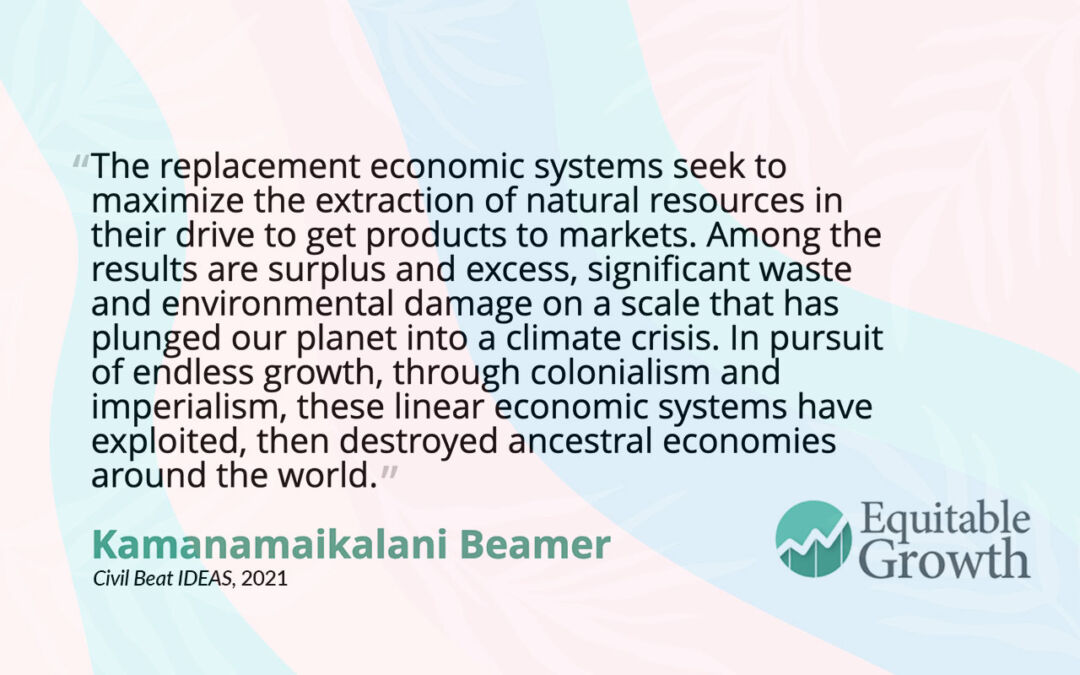 David Aiona Chang
University of Minnesota
David Aiona Chang is a professor of history at the University of Minnesota. His research specialties are race and nationalism, Indigenous and Native Hawaiian peoples and history, U.S. colonialism, and borders and migration in Hawaii and North America. In his most recent book, The World and All the Things Upon It: Native Hawaiian Geographies of Exploration, Chang studies the ways that Native Hawaiians explored the outside world after European colonizers landed on the islands' shores in the late 18th century.
His current research projects include an examination of the relationship between Native Hawaiians and Indigenous communities in Canada and how colonialism complicated the fur trade they established, as well as an anthology of writings on the meaning of indigeneity in various countries written by historians from North America, Latin America, Asia, Africa, and Oceania. Chang's work examines Indigenous people's role as active agents of global exploration and migration, and highlights the importance of understanding both Indigenous people and the world more broadly from Indigenous perspectives.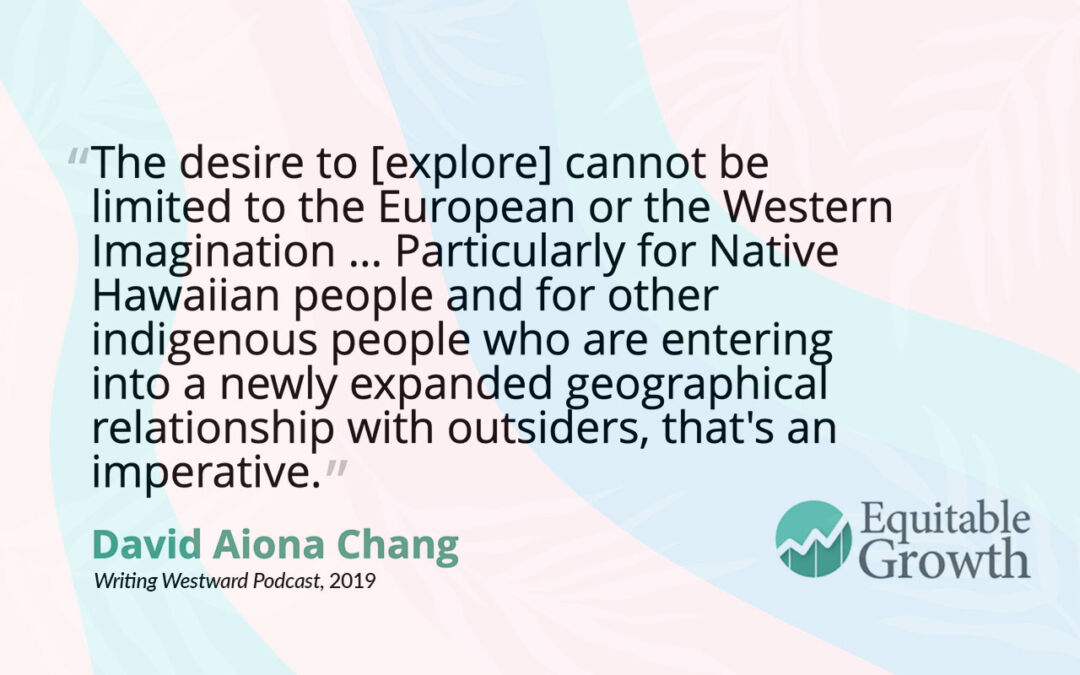 Richard Calvin Chang
University of California, Los Angeles
Richard Calvin Chang is a Native Hawaiian attorney and the data analytics director and co-founding member of the Native Hawaiian and Pacific Islander Data Policy Lab at the University of California, Los Angeles. In 2021, Chang was appointed to the U.S. Census Bureau's National Advisory Committee on Racial, Ethnic and Other Populations, which considers issues that impact hard-to-reach populations in the United States. His current work focuses on raising awareness of COVID-19's disproportionate impact on NHPI populations and ensuring the community is accurately represented. He previously worked in nonprofits focused on supporting NHPI communities, including serving as the president (and currently on the Board of Directors) of the Pacific Islander Health Partnership, which educates, trains, and builds the capacity of Indigenous NHPI communities to improve health outcomes, reduce health disparities, and boost access to high-quality healthcare.
Chang also helped found the nonprofit Empowering Pacific Islander Communities, where he co-authored and led the development of the first demographic profiles of Native Hawaiians and Pacific Islanders in the United States, providing an in-depth look at the social, economic, and political challenges and opportunities of these groups to better inform policy and advocacy. Much of his work focuses on data disaggregation for subgroups of Asian American and Native Hawaiian and Pacific Islander populations, acknowledging that these different groups fare differently across the U.S. economy, labor market, and society.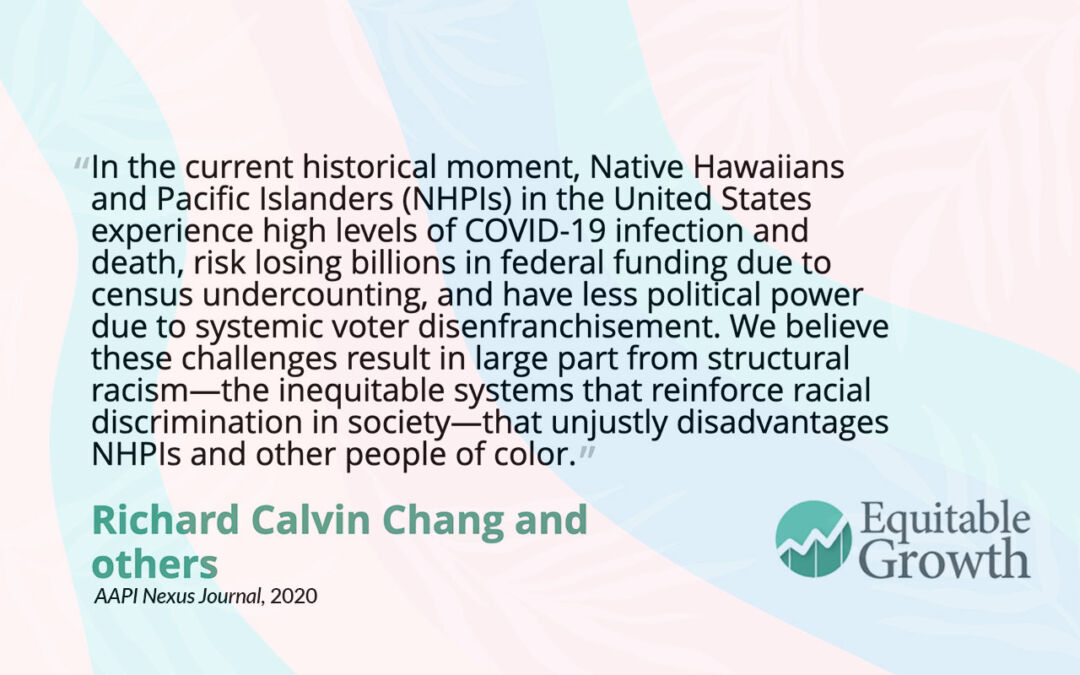 Michelle Ka'uhane
Hawaii Community Foundation
Michelle Ka'uhane is the senior vice president of Community Grants and Initiatives at the Hawaii Community Foundation, an organization dedicated to investing in and strengthening Hawaii's communities. In this role, she leads the organization's grant-making process via its CHANGE framework, through which nonprofits doing work in six main areas—Community and economy, Health and wellness, Arts and culture, Natural environment, Government and civics, and Education—received approximately $7 million in funding in 2021 alone. She previously served as president and chief executive officer of the Council for Native Hawaiian Advancement, where she focused on deploying capital in underserved Native Hawaiian communities across Hawaii.
Throughout her career, Ka'uhane has worked to support vulnerable communities in Hawaii and improve economic outcomes among Native Hawaiians. She is currently a commissioner for President Biden's Advisory Commission on Asian Americans, Native Hawaiians, and Pacific Islanders, a U.S. Department of Health and Human Services committee that advises the Biden-Harris administration on issues of equity, justice, and anti-discrimination for AANHPI communities. She also serves on the Community Advisory Council at the Federal Reserve of San Francisco to offer perspectives on the economic and financial-service needs of low- and moderate-income populations in Hawaii.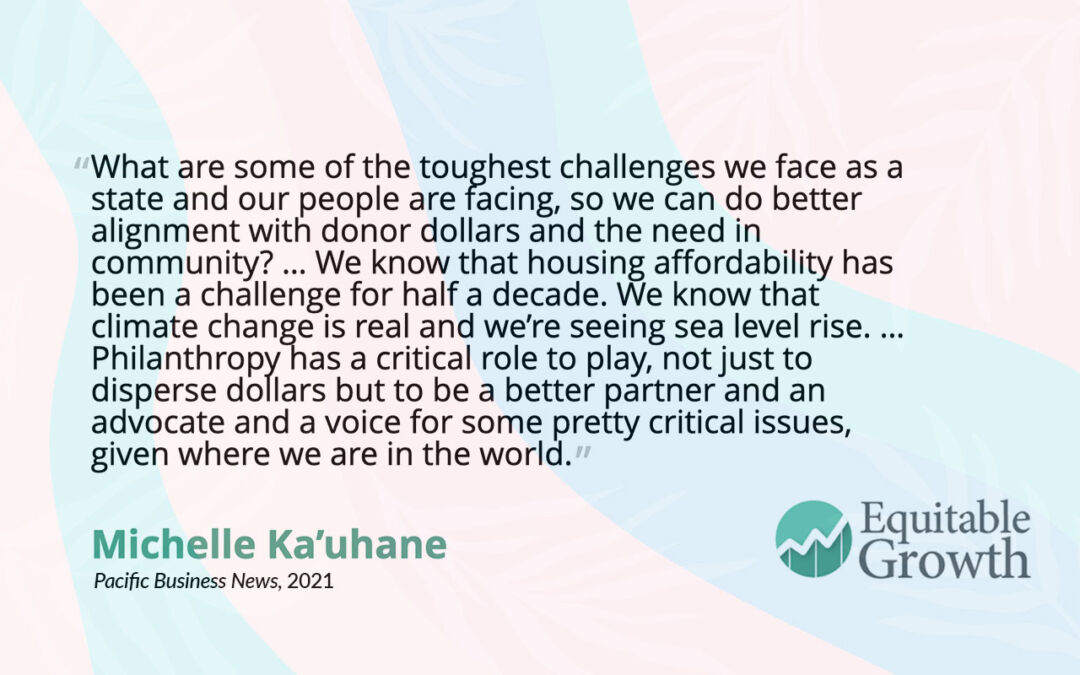 Equitable Growth is building a network of experts across disciplines and at various stages in their career who can exchange ideas and ensure that research on inequality and broadly shared growth is relevant, accessible, and informative to both the policymaking process and future research agendas. Explore the ways you can connect with our network or take advantage of the support we offer here.