Equitable Growth Presents: Opportunities and challenges of real-time economic measurement

The coronavirus recession led to a crop of economics working papers trying to understand the effects of the pandemic in real time. This research responded to a pressing policy need: Policymakers were prepared to spend hundreds of billions of dollars to staunch the losses of the pandemic, with relatively little knowledge of how to effectively target the money. Work by economists looked at poverty during the pandemic, how people were using stimulus checks, the impacts of enhanced Unemployment Insurance, and much more.
The incredibly short turnaround time of much of this research was unprecedented for the profession. The severity of the COVID-19 crisis, the availability of administrative data sources, and new statistical tools combined to produce an enormous amount of nearly real-time data on the economic health of U.S. families.
This event convened experts on the analysis and application of real-time data to discuss what we learned over the past 18 months. Though future crises may not cause the precipitous economic gyrations that the coronavirus did, the lessons economists are learning now may help us respond more effectively to future recessions, guiding policymakers' response to the next recession by using empirical results from the current one.
Speakers
Austin Clemens, Director of Economic Measurement Policy, Washington Center for Equitable Growth
Erica Groshen, Senior Economics Advisor, Cornell University
Jeehoon Han, Assistant Professor, Zhejiang University
Dana Peterson, Chief Economist, The Conference Board
Please direct questions related to event content to Director of Economic Measurement Policy, Austin Clemens.
Please direct questions related to event logistics and technology to Conferences & Events Manager, Natalie Intondi.
Watch video of the event:
---
Download the slide presentation from this event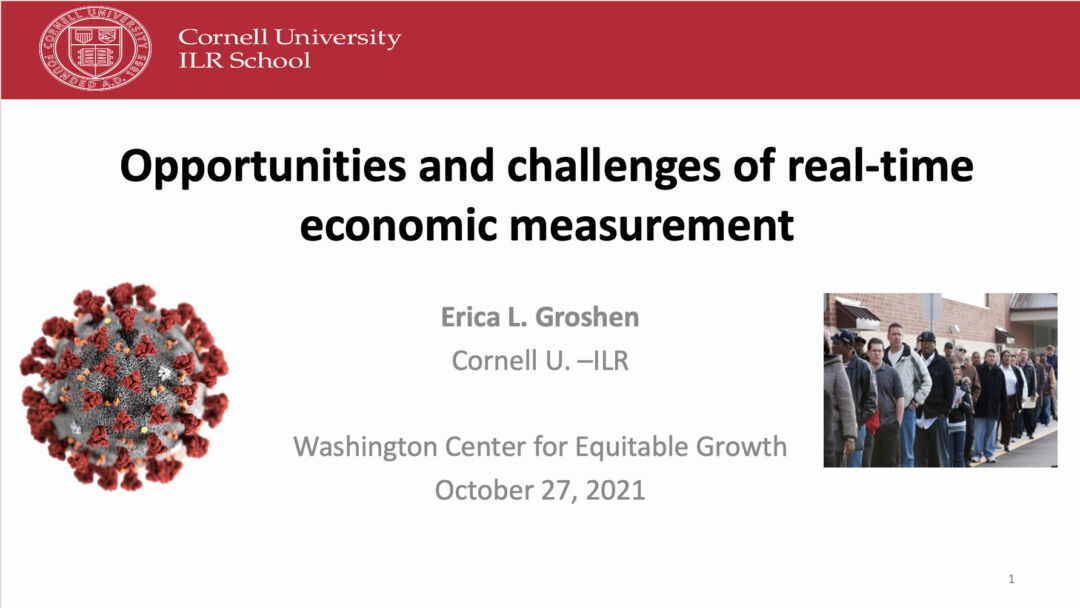 ---
Connect with us!
Explore the Equitable Growth network of experts around the country and get answers to today's most pressing questions!
Get in Touch