Weekend reading: The value of research guiding policy and decision-making edition
This is a post we publish each Friday with links to articles that touch on economic inequality and growth. The first section is a round-up of what Equitable Growth published this week and the second is relevant and interesting articles we're highlighting from elsewhere. We won't be the first to share these articles, but we hope by taking a look back at the whole week, we can put them in context.
Equitable Growth round-up
As President Joe Biden unveils his second major legislative proposal, this time focusing on infrastructure and jobs, it will almost certainly be accompanied by fears of inflation and too-high government debt. But these concerns are overblown, writes Shaun Harrison. The latest economic research in fact reveals that the United States has a substantial capacity to make public investments that will power a strong, stable, and broad-based U.S. economic recovery and support long-term growth. Plus, Harrison continues, the government can take advantage of the current low-interest-rate environment to embrace federal deficits. Harrison then summarizes a range of recent research on the role of fiscal policy in spurring economic growth and the implications of low interest rates.
Equitable Growth, since its founding, has promoted the use of research in policy and decision-making, building a bridge between academics and policymakers to ensure lawmakers have the tools they need to enact evidence-backed policies. That's why, David Mitchell explains, we are heartened to see so many of the scholars with whom we've worked over the years entering into roles in the Biden-Harris administration—highlighting the value of research and evidence in the policymaking process. Mitchell runs through a list of those appointees and their areas of expertise, as well as their new roles and responsibilities in the executive branch. Equitable Growth congratulates these and other new hires across the administration and looks forward to continuing to work with them to promote economic policies that will ensure strong, stable economic growth across the United States.
The U.S. Census Bureau's Household Pulse Survey provides incredibly valuable data on how the coronavirus recession affects U.S. households, asking workers about their health, employment status, and spending patterns. The results of this survey can guide policymaking around future coronavirus relief and stimulus legislation, as it provides an in-depth look at how families along the income distribution are faring and their access to income-support programs such as Unemployment Insurance and the Supplemental Nutrition Assistance Program. Carmen Sanchez Cumming and Raksha Kopparam put together a series of graphics that detail the data and its implications. They show that low-income families and families of color are more exposed not only to the pandemic and the economic shocks that followed it, but also to structural, longstanding disparities in the U.S. labor market. They urge policymakers to focus on addressing these challenges, without regard to austerity or the national debt, in order to stabilize the U.S. economy and boost growth for all—especially the most vulnerable and hardest hit since the onset of the coronavirus pandemic.
Each month, Equitable Growth highlights a group of scholars within and beyond our network who are at the frontier of social science research. As March is Women's History Month, this installment of Expert Focus looked at researchers studying women's impact and role in the U.S. labor market, as well as forces that inhibit their participation. This March also marked 1 year since many coronavirus lockdowns were enacted across the United States, which triggered what has now been dubbed the "shecession" due to the outsized impact of the downturn on women workers. Christian Edlagan, Maria Monroe, and I showcase the work of several scholars at varying points of their careers whose work has been pivotal and will continue to be so as policymakers navigate the recovery from the coronavirus recession and women work to recoup many of the labor market gains that were lost over the past year.
The U.S. Bureau of Labor Statistics released data today on the state of the labor market during the month of March, finding, among other things, that 916,000 jobs were added and the unemployment rate dropped to 6 percent. Kate Bahn and Carmen Sanchez Cumming put together five graphics on the major trends in the data. They also wrote a column on the data release, which explains that while the numbers are encouraging and a sign of positive growth in the U.S. economy, they also reveal that racial disparities continue to plague the recovery and long-term unemployment remains a serious challenge.
Links from around the web
March 24 marked Equal Pay Day, or the date into 2021 that U.S. women have to work, from the start of 2020, to make the same salary that men did in 2020 alone. In other words, full-time, year-round employed women earn 82 cents for every dollar that full-time, year-round employed men earn. Axios' Ivana Saric reports that it will take women in North American around 61.5 years to reach economic parity with men, according to the World Economic Forum. The same report finds that women in South Asia may have to wait as long as 195.4 years, while women in Western Europe will reach parity in 52.1 years. the coronavirus pandemic only worsened gender disparities, Saric continues, with women in the United States and elsewhere exiting the labor force at higher rates than men.
Perhaps some of that gap can be attributed to the lack of a paid parental leave guarantee and penalties that working parents experience in the United States. Most of those U.S. workers who receive paid parental leave—about one-fifth of the workforce—are generally employed full time by big companies, while the majority of those who do not fit those descriptions, and even some who do, are left to fend for themselves if and when they decide to become parents. Claire Suddath explains for Bloomberg readers why all new parents should have access to this vital support, not only those who are "lucky" to get it from an employer. The Families First Coronavirus Response Act passed in March 2020 did include some temporary paid leave for parents whose children's schools or day care had closed due to the pandemic, but this did not cover new parents. Suddath urges Congress and the Biden administration to address this emergency with a permanent fix. A paid leave policy would not only benefit the U.S. economy by allowing parents to be more productive workers, but also improve other important markers of a healthy society, from infant and maternal health to gender equality in parenting.
The coronavirus health and economic crises largely cemented the influence and power of billionaires in the United States—particularly tech billionaires, whose companies, from Amazon.com Inc. to Facebook Inc., have experienced skyrocketing profits since the pandemic began, further widening the gap between the richest and the rest of U.S. society. Recode's Theodore Schleifer dives into why we can't stop talking about these billionaires and how their rising wealth demonstrates how unequal the pandemic and its effects are today. Schleifer details how these uber rich Americans have been able to capitalize on the pandemic to grow their wealth and how their philanthropic giving has changed in the past year. He also looks at how this growing wealth translates—or maybe not so much—into political power and the implications this has on inequality in the United States, as well as public opinion and policy solutions to address these gaps.
Friday figure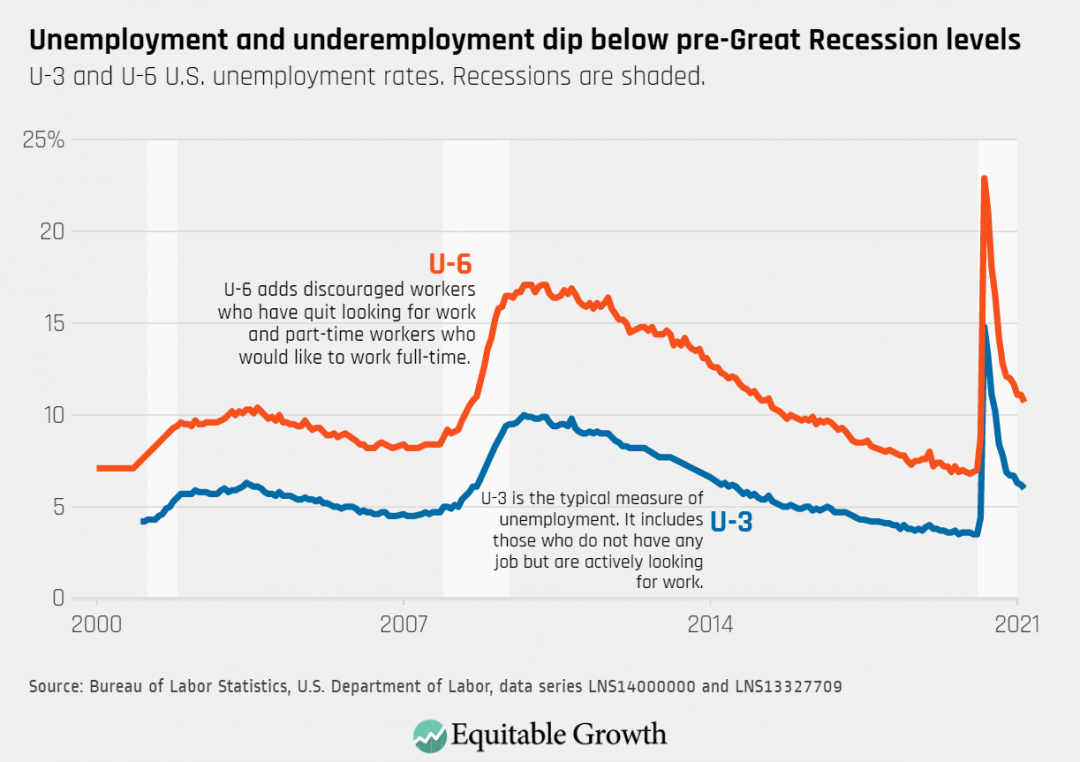 Figure is from Equitable Growth's "Equitable Growth's Jobs Day Graphs: March 2021 Report Edition," by Kate Bahn and Carmen Sanchez Cumming.