The latest Jobs Day report is encouraging yet the number of U.S. workers jobless for 27 weeks or more keeps climbing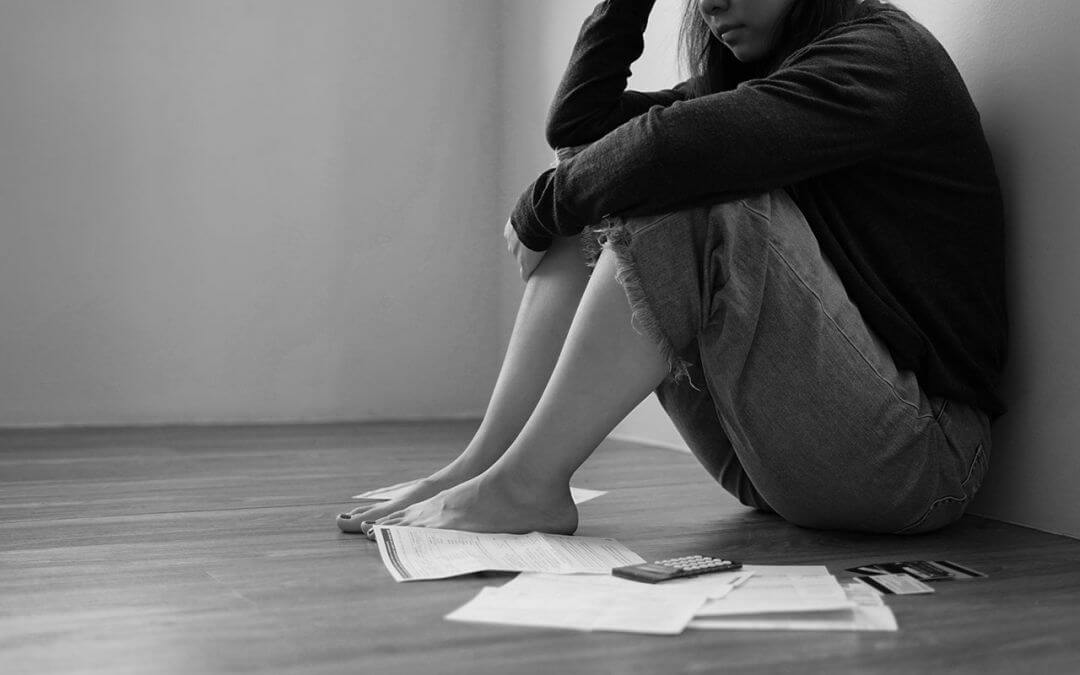 According to the latest Employment Situation Summary by the U.S. Bureau of Labor Statistics, the U.S. economy added 916,000 jobs in March, the biggest month-to-month jump since August of last year. Other measures on the health of the U.S. labor market also point to a recovering economy as the public health crisis begins to abate and Congress proactively enacted continued economic relief.
The latest Jobs Day report shows that share of U.S. workers in their prime working years at ages 25 to 54 who currently have a job —also known as the prime-age employment-to-population ratio—climbed from 76.5 percent in February to 76.8 percent in March, and the national unemployment rate fell from 6.2 percent to 6.0 percent. The Jobs report also shows that last month's gains were not as strong for all groups of workers.
The jobless rate for Asian American workers was the only one to increase last month, climbing from 5.1 percent in February to 6 percent in March. The unemployment rate for Black workers fell from 9.9 percent in February to 9.6 percent in March, but it remained higher than its January level of 9.2 percent and it continues to be the highest among the major racial and ethnic groups. For Latinx workers, the jobless rate stands at 7.9 percent and for White workers at 5.4 percent. (See Figure 1.)
Figure 1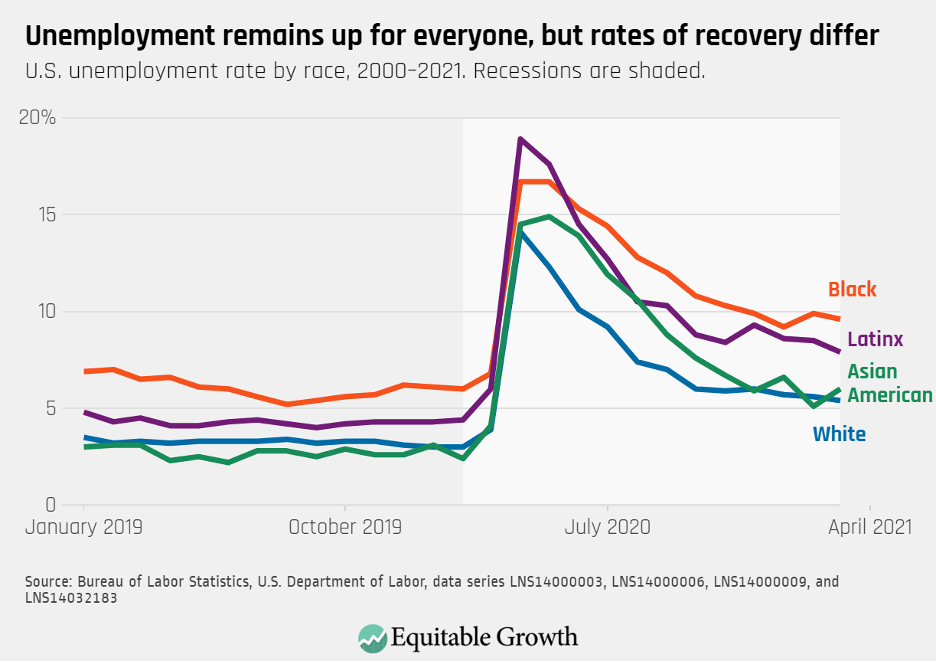 In addition to these uneven gains, the latest Jobs Day report points to another warning sign in the U.S. labor market. Even as the overall jobless rate has declined consistently since reaching a post-Great Depression high of 14.8 percent in April of last year, an increasing number of workers are experiencing long-term unemployment.
In March, the share of jobless workers reporting being out of work for 27 weeks or more reached 43.4 percent, a 1.9 percentage point increase from the previous month and a massive 26.9 percentage point increase with respect to March 2020. In total, 4.2 million workers have been jobless for more than 6 months, the largest number since August 2013. (See Figure 2.)
Figure 2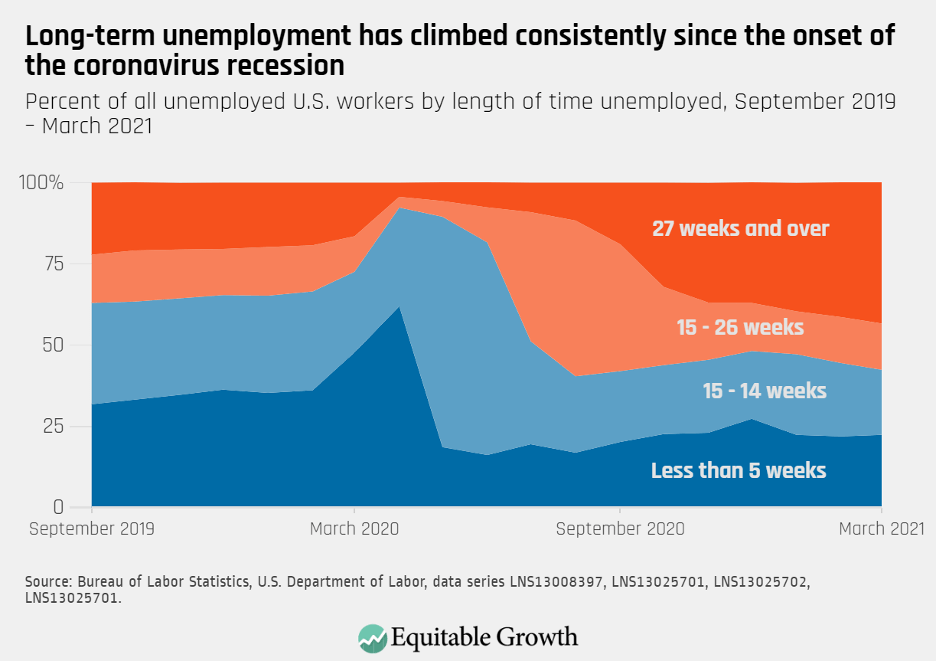 Long spells of unemployment not only hurt workers' present earnings but also have economic, social and health effects that can ripple for decades. Research shows that being jobless for long stretches of time is associated with poorer physical and mental health outcomes, leads to a decline in workers' chances of finding another job, and lower earnings even after re-employment.
In addition, higher unemployment rates for Black and Latinx workers can mean that the prevalence of long-term unemployment can entrench existing racial inequities in the U.S. labor market. Research from the Great Recession of 2007–2009 shows that Black and Latinx workers were overrepresented among those unemployed for 6 months or more between 2008 and 2011.
What is driving these negative effects? Research shows that unemployment itself reduces workers' likelihood of finding another job, with those who are unemployed for longer periods of time experiencing lower job-finding rates and earnings than otherwise similar workers. One possible explanation behind this phenomenon is that joblessness carries stigma that makes it more difficult for workers to be hired, since employers are harsher when evaluating candidates who involuntary lost their jobs due to no fault of their own when the economy contracts in a recession.
Another theory is that long spells of unemployment can erode workers' job-market skills or so-called "human capital." Yet, this framework is limited because, among other methodological issues with this research, losses of human capital specific to an employer or industry occur at the point of job loss and are not likely increase significantly over-time to the degree that would explain the magnitude of the downside effects of long-term unemployment. Research also shows that employers vary posted skill requirements and credentials needed for job vacancies based on how tight the labor market is and, in a tight labor market, employers have stronger incentives to invest in worker-training themselves, to the benefit of both the business and the worker.
Whatever the case, long-term unemployment not only harms the workers who experience it but also affects the entire U.S. economy. It leads to a lack of income for critical consumers who would otherwise foster economic growth by maintaining aggregate demand for goods and services and there is evidence that it suppresses wage growth for both already disadvantaged workers and the overall workforce. Pervasive long-term joblessness also carries negative social consequences by driving worse mental and physical health outcomes.
Furthermore, prejudices against the unemployed are often used as a rhetorical mechanism to underinvest in the Unemployment Insurance system and cut the dollar amount of benefits available for workers, exacerbating these negative consequences. And research shows that high levels of long-term unemployment are persistent and can last well after a recession is over because employers tend to hire workers who have experienced long spells of joblessness last.
All of these research findings point to the need for policymakers to be proactive in sustaining lost income during the current recession and into the eventual economic recovery and to help workers get back to quality employment that puts to use their best skills and talents within or outside of their previous job positions.