Weekend Reading "The State of the Union's Inequality" Edition
This is a weekly post we publish on Fridays with links to articles that touch on economic inequality and growth. The first section is a round-up of what Equitable Growth published this week and the second is the work we're highlighting from elsewhere. We won't be the first to share these articles, but we hope by taking a look back at the whole week, we can put them in context.
Equitable Growth round-up
Grantees Nathan Jensen and Calvin Thrall released a new working paper on transparency among companies participating in state economic development programs. Using the example of the Texas Enterprise Fund, Jensen and Thrall look at companies' likelihood of challenging formal requests for public information to see whether they have renegotiated the terms of the contracts to reduce job-creation obligations. The co-authors found that companies are more likely to challenge these information requests if they have avoided a penalty for non-compliance by engaging in non-public renegotiations.
Alix Gould-Werth reviewed the key takeaways from grantees Daniel Schneider and Kristen Harknett's new research on the links between the quality of schedules for retail workers and their psychological distress, happiness, and sleep quality. Gould-Werth highlights results that indicate only 39 percent of workers at 80 large retail firms have regular schedules. In addition, a worker who does not experience shift cancellation has a 45 percent chance of experiencing distress, however workers whose shifts are cancelled see the predicted probability jumps to 65 percent.
Prior to President Trump's State of the Union speech, Equitable Growth released seven graphs that address economic outcomes and trends. The graphs show that while the U.S. economy has been growing in the aggregate, the benefits of this growth have largely been concentrated at the top of the income ladder and have led to growing inequality.
The U.S. House of Representatives Committee on Education and the Workforce proposed a hearing to discuss the economic benefits of a $15 minimum wage on workers and small businesses. Kate Bahn consolidated research surrounding the minimum wage discussion that indicates an increase in the federal minimum wage will boost workers' well-being while avoiding detrimental effects on small businesses.
In his State of the Union address, President Trump touted large-scale economic growth over the first two years of his administration, yet his comments only reflected on growth in GDP. Austin Clemens explains that using the GDP growth rate is an inaccurate measure of growth because it no longer corresponds with income gains experienced by families on different rungs of the income ladder—as it did before the 1980s. Research using the Distributional National Income dataset created by Thomas Piketty, Emmanuel Saez, and Gabriel Zucman shows that low-income households experience little to no income gains compared to GDP growth.
Brad DeLong compiles his most recent worthy reads on equitable growth both from Equitable Growth and outside press and academics.
Links from around the web
Equitable Growth Grantees Daniel Schneider and Kristen Harknett reveal that while the economy is recovering, the age of marriage in the United States is rising and births are at a historic low. Past trends show that at times of economic growth, health statistics improve; however, we now see that life-expectancy for low-income individuals is on the decline. Schneider and Harknett studied the employment problems of service workers and found that in addition to low pay and limited fringe benefits, workers experience unstable schedules that lead to less sleep and an increased sense of distress. This can have adverse effects on health and can prevent individuals from getting married and having children. [hill]
Vox's Dylan Scott sat down with Equitable Growth's Research Advisory Board member Jacob Hacker to discuss the proposed Medicare for America program as a possible universal healthcare bill that would cover all uninsured individuals and those covered by Obamacare. Under this proposed plan, participants would pay a premium but there would be caps on out-of-pocket payments based on income. Scott and Hacker discuss some of the potential benefits and challenges of such a program and ways that government could mitigate these challenges. [vox]
The Washington Post reports that while 800,000 federal civil servants are expected to receive back pay after the 35-day partial government shutdown halted their income, government contractors, who are often the lowest paid workers in the federal government economy, do not hold the same guarantees. Many of these workers were forced to cash in sick days, file for unemployment insurance, borrow from friends and family, and/or dip into rainy-day savings—leaving them in debt that will take months to repay. Legislation has been introduced in the Senate to repay contractors up to $965 per week and restore sick days used during the shutdown, but until such legislation is passed, contract workers will keep struggling to recover. [wapo]
The Economist's Idrees Kahloon dove into the biography of Senator Elizabeth Warren, who has been a strong advocate for the elimination of inequality in the United States through redistribution—in the form of increased welfare spending and by preventing laws that favor income gains for the rich and not the poor. Kahloon spoke with Equitable Growth's Elizabeth Jacobs on Warren's focus on middle-class financial stability and how poorly regulated financial markets led to predatory lending to vulnerable households. [economist]
The San Francisco Chronicle highlights a new decision by the Second District Court of Appeal in Los Angeles that says workers "on-call" are entitled to pay no matter whether they've called in to work. For retail workers, who are oftentimes phoned by their employer two hours prior to a shift to indicate whether they need to come in to work, the court ruled that their employers must pay their workers for those two hours. [sf chronicle]
Friday Figure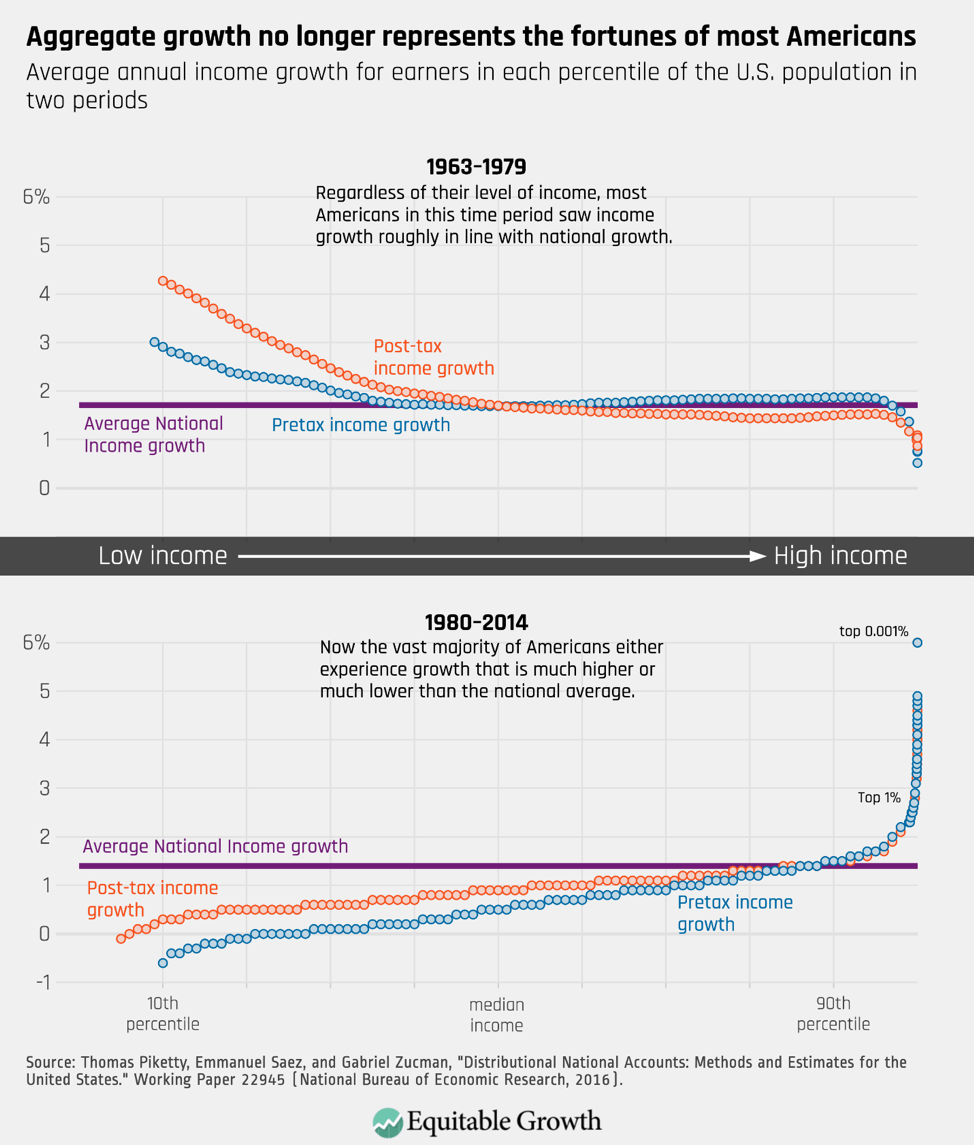 Figure is from Equtiable Growth's, "State of the Union speech highlights the need for more precise data on U.S. economic growth."