Weekend reading: "Recession Ready?" edition
This is a post we publish each Friday with links to articles that touch on economic inequality and growth. The first section is a round-up of what Equitable Growth published this week and the second is relevant and interesting articles we're highlighting from elsewhere. We won't be the first to share these articles, but we hope by taking a look back at the whole week, we can put them in context.
Equitable Growth round-up
It's well-established that there are significant income-based enrollment disparities in center-based childcare and early education in the United States. High costs and limited availability have long been understood to be fundamental reasons for this phenomenon. Cesar Perez describes new research by University of Wisconsin researchers showing that there is a third important cause of this disparity: unstable work schedules for low-income workers. Nonstandard schedules, including early morning, evening, overnight, and weekend hours, constrain the ability of workers to make arrangements for center-based childcare and education, and low-income workers are considerably more likely to have to contend with such schedules.
Take a look at Brad DeLong's most recent worthy reads for this week, in which he provides his thoughts on content from Equitable Growth and elsewhere.
Links from around the web
The value of paid family leave goes well beyond a family's bottom line, writes Benjamin Ryan in The Nation. He describes research showing the significant health benefits that families experience when they have the opportunity to take advantage of paid leave following the birth or adoption of a child. [nation]
With the appearance this week of the dreaded inverted yield curve in the U.S. bond market, which usually signals a recession somewhere down the road, Ryan Cooper in The Week reminds us that high economic inequality is likely making us more vulnerable to a downturn. Among other reasons, he notes that the wealthy spend a smaller fraction of their income. High inequality also means less business investment and, once families are hit by a recession, excessive borrowing. He also points out that a significant effect of the Tax Cuts and Jobs Act of 2017 was to "dump a giant pile of money on rich people with tax cuts, further exacerbating U.S. income inequality…" [theweek]
Speaking of inequality, in an age of persistently high economic inequality, writes The Atlantic's Derek Thompson, work in high-cost metropolitan areas "catering to the whims of the wealthy—grooming them, stretching them, feeding them, driving them" is one of the fastest-growing industries. He notes that Equitable Growth Research Advisory Board member David Autor calls this "wealth work," and he adds, "Perhaps the ultimate price of wealth work, for all of the opportunities for the low-skilled, is not only the threat of exploitation, but broader alienation." [atlantic]
Research shows that adding a significant number of women to senior corporate leadership improves company performance. But Laura Forman at The Wall Street Journal writes that merely adding a token woman or two to a board of directors or to corporate management is not helpful. Firms with inadequate female representation in upper and middle management need to accelerate hiring plans to get the kind of critical mass that can improve revenues and profits. [wsj]
Carmen Heredia Rodriguez at Kaiser Health News describes the lack of serious competition for medication to treat snakebites. The poisonous competitive environment is due, at least in part, to the difficulty of gaining U.S. Food and Drug Administration approval for biosimilars. The prices charged for the two main current products, which are biologics, can only be described as painful. The two manufacturers feel no need to seriously compete on price. Until one or more biosimilars that match these drugs are approved by the FDA, the two current manufacturers will feel free to charge, essentially, whatever price they want. [npr]
Friday Figure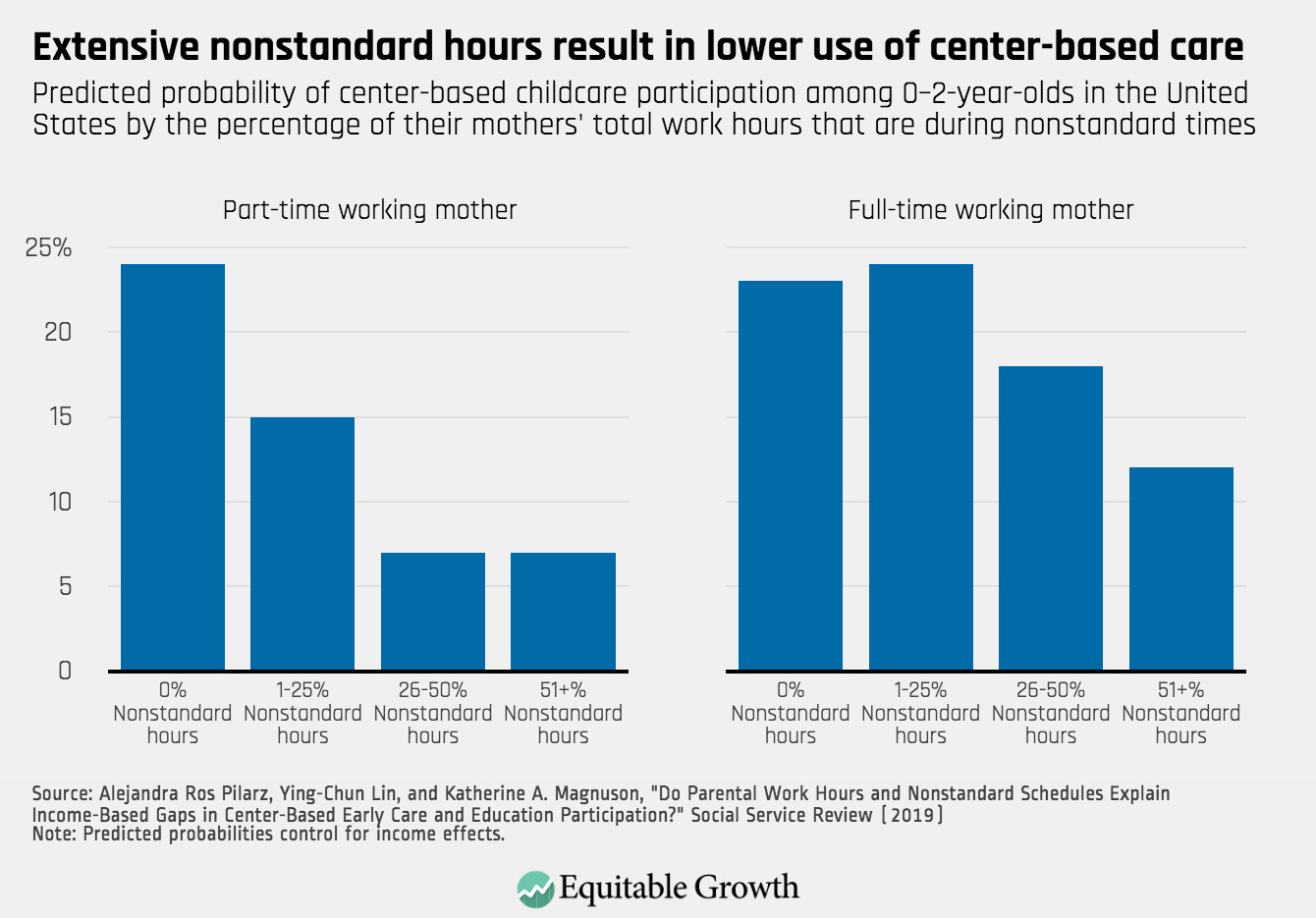 Figure is from Equitable Growth's "Extensive nonstandard work hours among U.S. low-income mothers hinder their kids' enrollment in center-based childcare," by Cesar Perez.