Weekend reading: Congress must pass additional coronavirus aid now edition
This is a post we publish each Friday with links to articles that touch on economic inequality and growth. The first section is a round-up of what Equitable Growth published this week and the second is relevant and interesting articles we're highlighting from elsewhere. We won't be the first to share these articles, but we hope by taking a look back at the whole week, we can put them in context.
Equitable Growth round-up
With more than 4.3 million confirmed cases of the novel coronavirus and more than 150,000 deaths from COVID-19, the disease spread by the virus, it's clear the pandemic is moving very quickly throughout the United States. Policymakers must also move fast to get much-needed aid passed and distributed to those in need. Heather Boushey testified in front of the Joint Economic Committee this week to make the case for urgent action to address the Trump administration's failures to contain the coronavirus and put the United States on a path to stable and equitable economic recovery. She also reviews how the past 50 years of policy choices created underlying fragilities and inequalities that put our economy in a more vulnerable position going into this recession, and how these trends are manifesting during the pandemic and downturn. Her testimony also lays out several key actions policymakers can take to bolster economic confidence and rein in immediate economic uncertainty.
Claudia Sahm echoes the call for swift action from Congress to help U.S. families facing an income crisis on top of a public health crisis. Not only must policymakers extend the enhanced Unemployment Insurance benefits that have been keeping many families afloat over the past 4 months, Sahm continues, but they also should pass another round of direct payments for individuals and families, send funds to state and local governments, target small business loans to those companies hardest hit by the pandemic, boost support for public health efforts to contain the virus, and enact policies that will help families in need, such as paid child care and rent and mortgage forgiveness programs. Urgent action is needed, Sahm concludes, in order to ensure workers can return to work safely, small businesses will survive, children will have teachers, and families can keep food on the table and a roof overhead.
Not only is action required quickly, but the systems for delivering this economic relief also need attention. Amanda Fischer and Alix Gould-Werth use an apt plumbing analogy to show why investment is needed in the delivery systems of four different economic relief programs to ensure that aid successfully reaches those who need it most during the coronavirus recession. Fischer and Gould-Werth run through the various issues that have come up with relief targeted to small and large businesses, Unemployment Insurance systems, direct payments for individuals, and paid leave programs. They also propose several ways to fix the "broken plumbing" of each of these areas to improve efficiency and make sure that those who are hardest hit during these unprecedented times are able to access the aid designed to help them get through it.
Housing and homeownership are essential for wealth building and wealth equalizing in the United States. But a recent increase in house values—nearly 60 percent between the end of 2012 and the end of 2019, according to Federal Reserve Board estimates—did not end up equalizing wealth as would be expected. In fact, these gains were disproportionately received by higher-income and White families, reinforcing increasing inequality in other types of wealth, write John Sabelhaus and Austin Clemens. The two authors explore recent trends in homeownership across income, race, and generation cohorts, and find growing inequality, largely attributable to the failure of lower-income households and households of color to switch from renting to owning a home over generational lifecycles. As policymakers consider actions to address the coronavirus pandemic and recession, Sabelhaus and Clemens conclude, these findings show that any response must ensure that the economic recovery is equitable for all homeowners in the United States, not just the richest Americans.
Check out Brad DeLong's latest Worthy Reads column, where he looks at recent must-read content from Equitable Growth and around the web.
Links from around the web
Dion Rabouin of Axios writes that the fight over what to include in the next coronavirus stimulus package probably isn't going to end anytime soon—and that is bad news for the economy, the stock market, and American families. The bill was supposed to be put to a vote this week, but a deal remains elusive, as disagreement on what to include and how much to spend prevails. Rabouin breaks down the most important points into a brief summary of the debate on Capitol Hill, why it matters, and the main data points—including that more than 32 million Americans are currently receiving unemployment benefits and that the expanded Unemployment Insurance benefits increased incomes by $842 billion in May (on an annual basis). Equitable Growth's Claudia Sahm is also quoted, explaining that a stimulus in the range of $4 trillion is closer to what's needed than the current $1 trillion package proposed in the Senate.
The $1 trillion plan put forth in the recently unviled Health, Economic Assitance, Liability protection, and Schools, or HEALS Act, would scale back weekly unemployment benefits for U.S. workers by an average of 44 percent. Under the proposed legislation, the weekly $600 boost in unemployment benefits that were included in the Coronavirus Aid, Relief, and Economic Security, or CARES, Act in March would be reduced to $200. Business Insider's Joseph Zeballos-Roig covers a recent analysis by the Century Foundation, which shows how much this change would affect these enhanced benefits in each state. Many of the states currently experiencing a surge in coronavirus cases could see the largest reduction in benefits. Oklahoma, for one, would see an almost 60 percent cut in weekly benefit amounts. The expanded benefits have been shown to have helped many lower-income households stay afloat despite job losses, Zeballos-Roig writes, and have not been a deterrent for people to go back to work if they can do so safely.
As Congress continues to debate the next coronavirus relief package, policymakers must think big and consider the long-term needs of the country. Another stop-gap, temporary measure is not going to be enough to ensure a full, equitable, and fair recovery, writes Vox's Matthew Yglesias. He summarizes recent advice from economists to policymakers on what's needed in the next coronavirus legislation and how much they should spend on it. He reviews the debate over Unemployment Insurance expansion and how it relates to the "output gap"—the gap between how much the nonpartisan Congressional Budget Office thinks the U.S. economy could produce, given the available supply of workers, and what it will actually produce.
Friday figure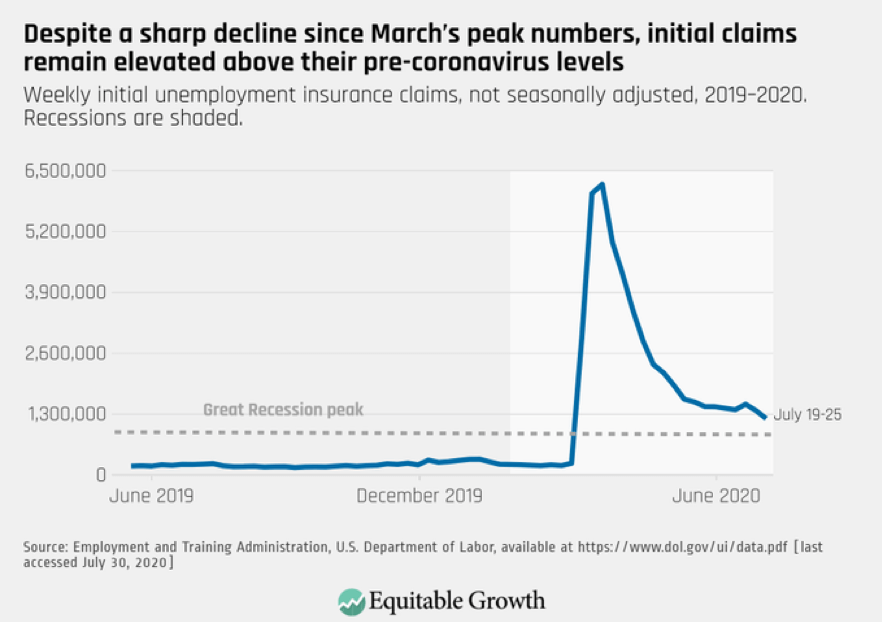 Figure is from Equitable Growth's Twitter thread on this week's release of unemployment benefits claims.