Weekend reading: Combatting anticompetitive conduct in the United States edition
This is a post we publish each Friday with links to articles that touch on economic inequality and growth. The first section is a round-up of what Equitable Growth published this week and the second is relevant and interesting articles we're highlighting from elsewhere. We won't be the first to share these articles, but we hope by taking a look back at the whole week, we can put them in context.
Equitable Growth round-up
The next administration and the incoming 117th Congress being sworn in early next year provide important opportunities to address the U.S. antitrust laws and ways in which we can restore competition across the U.S. economy. Market power is now at the point of being untenable in many U.S. industries and areas, disrupting the operation of free and fair markets, harming consumers and workers, and hindering the success of small businesses and innovators. In a new report for Equitable Growth, Michael Kades and six co-authors—Bill Baer, Jonathan B. Baker, Fiona M. Scott Morton, Nancy L. Rose, Carl Shapiro, and Tim Wu—lay out a robust antitrust plan, explaining in detail how Congress and the executive branch can institute a procompetitive agenda. Summarizing the current state of antitrust enforcement and its flaws, the report's co-authors provide three key areas where the next administration can make fundamental changes to the status quo that will have an important effect on market power in the United States: passing new antitrust legislation and allocating more resources to antitrust enforcement at the Federal Trade Commission and the U.S. Department of Justice's Antitrust Division; revitalizing enforcement and focusing on strengthening deterrence; and committing to a "whole government" approach to competition policy, which acknowledges that several executive branch agencies—not only the antitrust enforcement agencies—impact competition in the United States. Enacting these policy recommendations will not only address rampant market concentration, but will also work to alleviate the harmful effects of inequality and structural racism in the United States.
One specific area of the U.S. economy that would benefit greatly from added competition is the pharmaceutical industry. Aaron S. Kesselheim uses the example of remdesivir—the antiviral drug that the U.S. Food and Drug Administration recently approved as a hospital treatment for COVID-19, the disease caused by the new coronavirus—to show how current policy surrounding the ownership and costs of prescription drugs leads to market concentration, reduces innovation in drug development, and raises prices for consumers. Kesselheim summarizes the brief history of remdesivir's development, as well as the intellectual property laws that govern the development of pharmaceuticals in general. He suggests several policies, which he divides into the stages of drug development, approval, and production, that would reduce prices for consumers and ensure a robust, competitive pharmaceutical market. The recommendations he makes would not only ensure that remdesivir and other COVID-19 treatments are made widely available and affordable for all those who need them, but also are applicable to a broad range of drugs.
Brad DeLong's latest Worthy Reads column covers recent must-read content from Equitable Growth and around the web. This week, DeLong brings our attention to Equitable Growth's Vision 2020 series of policy ideas for the next administration to combat inequality, including the chapter on strengthening competition policy, among others.
Links from around the web
Racism harms the whole U.S. economy, not just those who are its immediate targets. According to new research, writes Lisa D. Cook in The New York Times, while discrimination unquestionably hurts its intended victims the most, it also has an impact on everyone else—even those who do not see themselves as traditional victims. Across the economy, discrimination reduces the wealth and income of millions of workers, who are paid less and have less access to educational opportunities than their peers and who frequently are given jobs beneath their skill levels. This brings down the wages and wealth of others who are not the target of discriminatory policies, and reduces aggregate economic output. Cook summarizes her own research on the drag effect that hate-related violence has on long-term U.S. economic growth and innovation, as well as other research, explaining the outcomes that could have been if racism and discrimination were not as widespread as they are. She then offers some possible solutions that would address rampant discrimination and racism, and improve the standard of living of those who suffer the most from these societal ills, which would work to improve the lives and livelihoods of all U.S. workers and their families.
Unemployment Insurance claims rose last week for the first time in more than a month, reports Anneken Tappe for CNN, reinforcing that the coronavirus pandemic and recession are far from over. Around 742,000 Americans filed for first-time unemployment benefits on a seasonally adjusted basis, more than three times more compared to the same time period last year, and approximately 320,000 workers applied for Pandemic Unemployment Assistance, a temporary program designed to support those who are not eligible for traditional UI benefits during the coronavirus recession. Workers are exhausting their states' UI benefits, and when the temporary benefits expire at the end of this year, Tappe writes, experts worry that economic suffering could get a lot worse in the coming weeks and months—especially considering the dangerous increase in coronavirus infections.
One way to curb rising coronavirus case numbers may be closing some of the businesses that contribute to outbreaks, such as bars, restaurants, and gyms—rather than doing what New York City recently did and closing schools. But one reason we haven't seen this course of action in the United States, as opposed to other similar countries in Europe that are trying to curb new waves of infection, is the lack of help from the federal government, writes Anna North on Vox. What is behind these decisions guiding the government's coronavirus response? Money, North answers. No stimulus package seems likely to pass through Congress in the near future, which leaves many business owners wary of closing down again, as many did in the spring when the Coronavirus Aid, Relief, and Economic Security, or CARES, Act provided some aid to those in need. Policymakers are wary of the economic effect that shutting down these sectors without financial supports in place would have on the economy—and are very aware that shutting down schools doesn't have the same immediate economic impact. But forcing working parents to juggle care responsibilities and their jobs will hamper the future economic recovery, North explains, and the government's prioritization of businesses over schools is causing needless pain across the economy.
Friday figure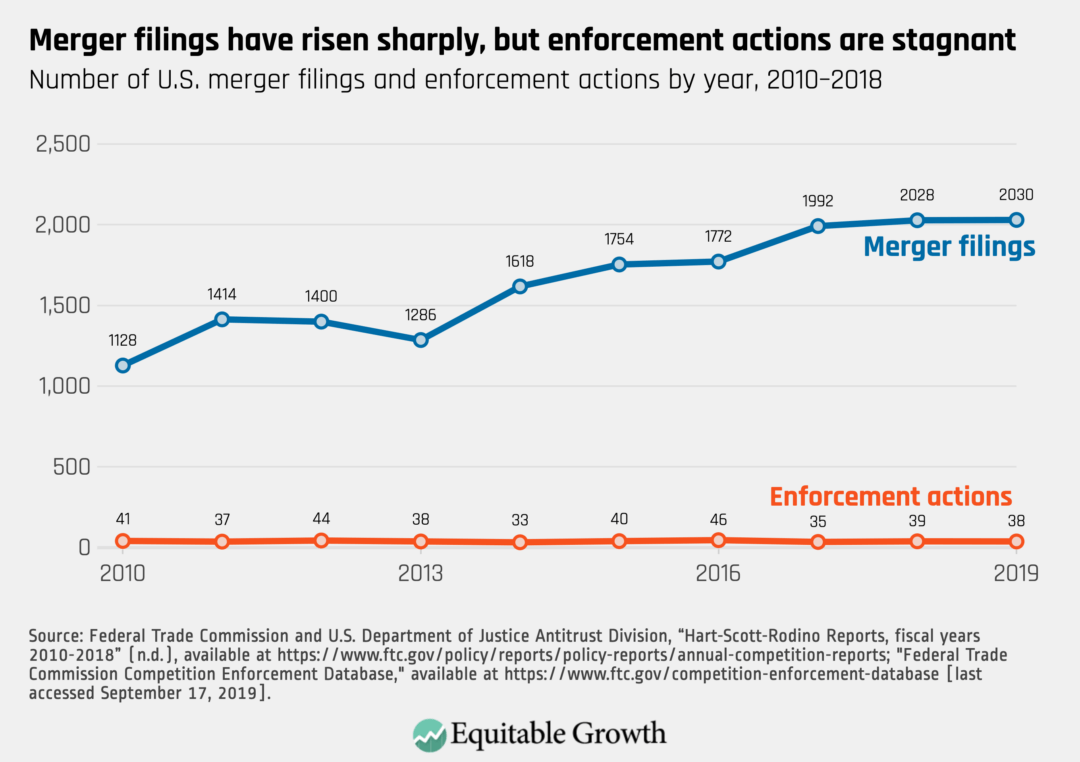 Figure is from Equitable Growth's "Restoring competition in the United States: A vision for antitrust enforcement for the next administration and Congress," by Bill Baer, Jonathan B. Baker, Michael Kades, Fiona M. Scott Morton, Nancy L. Rose, Carl Shapiro, and Tim Wu.