Policymakers can still use American Rescue Plan funds to bolster the U.S. child care system and ensure it has a strong future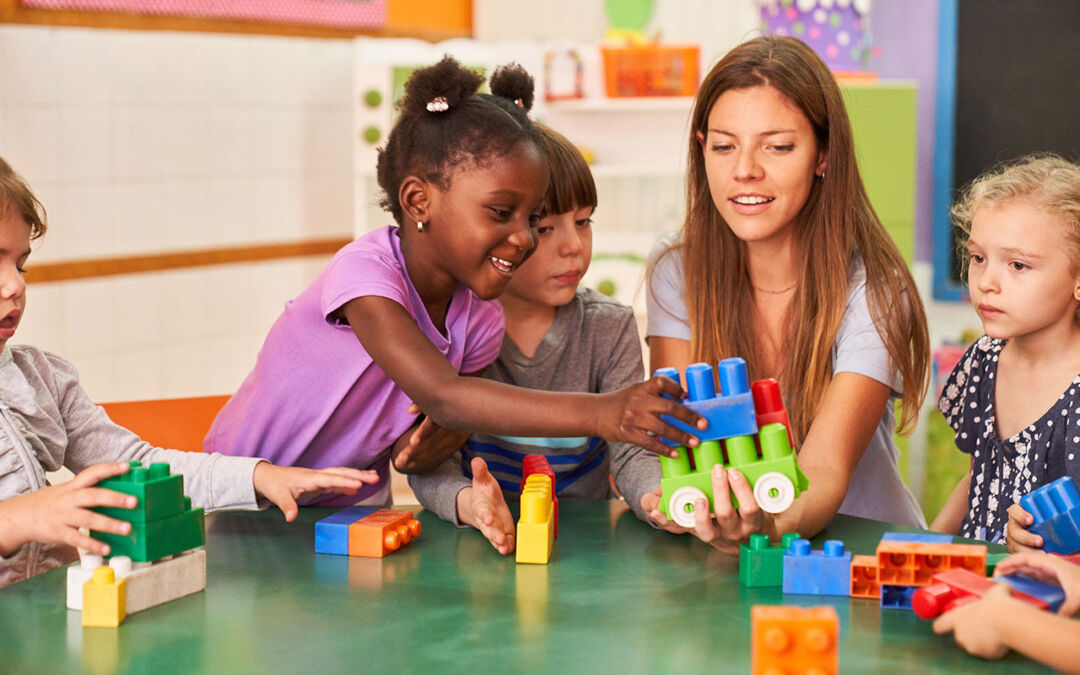 In January, the 118th Congress will draw to a close following a productive session that saw legislative action on pandemic relief, infrastructure investments, manufacturing and research incentives, and critical investments in climate, health, and tax policy as part of the Inflation Reduction Act. All of these achievements will contribute in various ways to broad-based U.S. economic growth in the future.
Yet despite this impressive string of legislative accomplishments, this congressional session is set to close without progress on much-needed investments in the child care industry and the broader care economy of the United States—both of which remain diminished following the COVID-19 recession.
Policymakers who wish to build a more stable, equitable, and affordable child care system, however, still have tools at their disposal to do so. The American Rescue Plan Act of 2021 included tens of billions of dollars in funding to help stabilize the child care industry, and unspent flexible funds from other components of the law—including the Coronavirus State and Local Fiscal Recovery Funds program—could allow policymakers to direct even more aid to the struggling sector.
Such aid cannot replace robust, committed public investments in child care—which research suggests would lower costs for most families, increase parental employment, and improve compensation for the child care workforce, all of which would ultimately lead to short- and long-term economic growth. But by using the American Rescue Plan's resources to their fullest—before they expire—policymakers can construct a stable foundation on which future child care investments can someday stand.
The American Rescue Plan's dedicated child care funds provide states with flexibility to address their child care needs
In response to the lingering fallout from the COVID-19 pandemic, the U.S. Congress passed the American Rescue Plan in March 2021. Building upon smaller packages bolstering the child care industry that were included in the CARES Act and the Consolidated Appropriations Act of 2021, the American Rescue Plan provided a long-awaited and much-needed infusion of resources: $39 billion to stabilize the industry and implement new programs that reduce families' costs, support care workers' wages, and expand the supply of care in communities across the country.
This funding, designed to be flexible, can be spent in numerous ways. With their ARP Implementation Tracker, Child Care Aware of America—a nonprofit organization for many child care resource and referral agencies—provides a detailed accounting of how states and territories alike have allocated and distributed these funds, including:
The examples above hardly scratch the surface of the various ways in which states and territories have used the American Rescue Plan's dedicated child care dollars. And there is early evidence that the law achieved its desired effects: An analysis by Julie Kashen and Rasheed Malik for the Century Foundation, for example, finds that millions of child care slots may have been saved thanks to the American Rescue Plan's stabilization grants that prevented child care providers from shutting their doors.
Yet all of these various initiatives also have one thing in common: They will soon end. The law requires states and territories to liquidate the American Rescue Plan's child care funding by September 2024 at the latest.
Remaining American Rescue Plan funds can further support states' child care systems
Fortunately, other American Rescue Plan programs provide state and local policymakers with additional resources, flexibility, and time to support their child care industries. The law includes both targeted and flexible payment programs to assist states and localities in responding to the COVID-19 pandemic and recession. One of the more flexible programs is the Coronavirus State and Local Fiscal Recovery Funds program, which provides $350 billion to state, local, and Tribal governments to, among other purposes, assist workers, households, small businesses, and nonprofits that have been negatively impacted by the pandemic.
While most of that money has already been distributed and allocated, 30 states recently received the second half of their recovery funds—nearly $40 billion in total. Metro cities, counties, and qualifying local governments also received the second half of their payments at the same time. The remaining states and all territories received their full funding previously in a single payment. States received either half or full payments depending on their unemployment rate relative to pre-pandemic periods. (See Figure 1.)
Figure 1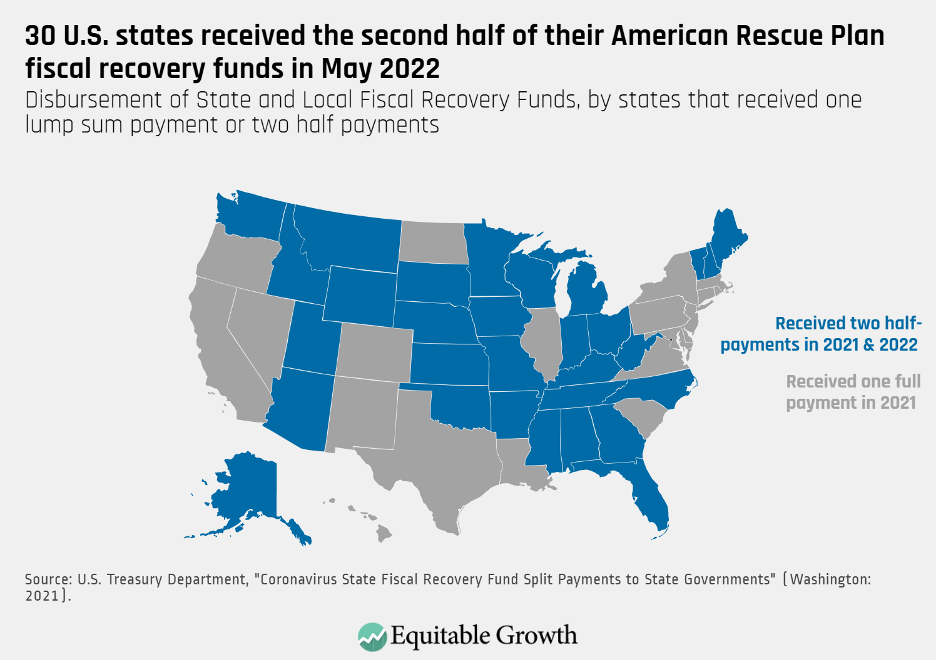 Somestates and localities have fully allocated these funds in their budgets already, but others are still deciding how best to utilize them. While not specifically for child care, the final rule regulating these funds allows them to be used for specific payments and programs that complement those included in the American Rescue Plan's child care provisions. And unlike the law's child care-specific funds, the Coronavirus State and Local Fiscal Recovery Funds are available until December 31, 2026.
As such, these funds can be used to enhance and expand the American Rescue Plan's child care aid as it expires over the next 2 years. According to the U.S. Department of the Treasury, the fiscal recovery funds can be used for child care support in a few different ways: ensuring "premium pay" for child care staff—up to an additional $13 per hour—similar to policies implemented in Kansas, Washington, DC, Utah, and elsewhere; providing loans or grants to repair child care facilities or help providers reopen or start a new facility; establishing technical assistance or programmatic support for smaller, home-based providers that need access to the subsidy system, expanding the supply and quality of care in the process; and offering expanded child care options for parents looking for work.
Since these funds arrive and expire later than the child care-specific funding, state and local policymakers can identify where need still exists in their child care markets and are afforded more breathing room for the child care sector to recover before the funds run out. For an industry still struggling to recover from the COVID-19 recession, these resources can meaningfully improve child care's ongoing supply crisis in the short run and help protect the industry from a future economic downturn or recession.
The American Rescue Plan can still support child care today while building evidence for tomorrow's investment
In many ways, the American Rescue Plan has served as an important test run for future public investments in child care. While not as sweeping or robust as President Joe Biden's Build Back Better framework, this money has nevertheless allowed states and localities to pilot many of the components in the broader reform plan, developing some of the baseline infrastructure necessary for these kinds of public investment and a roadmap for the child care sector moving forward.
The flexibility of the American Rescue Plan's aid also provides important policy variation for researchers and academics to evaluate programs and compare outcomes, building useful evidence that Congress can take into account when tackling additional reform in the future.
While this test run has been important, it is also imperfect. States may be hesitant to use this one-time infusion of cash to expand child care slots or raise workers' wages only to have to roll them back once the funds expire. After all, the American Rescue Plan was not intended to replace robust and permanent public investment in the U.S. child care system.
The aid certainly has helped some state and local policymakers avoid, or at least delay, an even greater child care crisis, but it is not a long-term solution. Expanding and extending the policies in the American Rescue Plan will ultimately be necessary for creating the equitable, accessible, and affordable child care system needed to generate broad-based and sustainable economic growth in the United States.
Until then, policymakers must use all the tools at their disposal, including the American Rescue Plan, to help ensure a functioning child care system in the United States for providers, workers, and families.