Expert Focus: Bridging the gap between policymakers and academics at our biennial policy conference

Equitable Growth is committed to building a community of scholars working to understand how inequality affects broadly shared growth and stability. To that end, we have created the monthly series, "Expert Focus." This series highlights scholars in the Equitable Growth network and beyond who are at the frontier of social science research. We encourage you to learn more about both the researchers featured below and our broader network of experts.
Since our founding, Equitable Growth has sought to serve as a bridge between academia and the policymaking community in order to advance evidence-backed policy ideas that foster strong, stable, and broad-based economic growth. Part of our work in this area is reflected in our biennial policy conference, which brings together policymakers, academics, advocates, and thought leaders across issue areas and disciplines to discuss and share the best research-backed ideas for ensuring equitable growth across the U.S. economy.
On September 20 and 21, Equitable Growth is excited to host "Equitable Growth 2021: Evidence for a Stronger Economic Future," a virtual event centered on using this unique moment in government to enact long-overdue structural changes. Not only has the coronavirus pandemic and ensuing recession exposed deep economic and societal fragilities in the United States—including along racial and gender lines—but policymakers also have a remarkable opportunity to address these longstanding challenges and create an economy that works for all Americans. As speakers continue to be confirmed for this year's event, including U.S. Secretary of Labor Marty Walsh and U.S. Rep. Hakeem Jeffries (D-NY), we take a look at the incredible contributions and expertise of participants from past conferences. This month's installment of Expert Focus highlights speakers from the 2019 policy conference, "Vision 2020: Evidence for a Stronger Economy," all of whom have vast experience in the policy, academic, and nonprofit sectors.
Byron Auguste
Opportunity@Work
Byron Auguste is the CEO and co-founder of Opportunity@Work, a nonprofit social enterprise that seeks to expand access to career opportunities so all Americans can work, learn, and earn to their full potential. In 2020, he co-authored a working paper that explores the extent to which workers who are skilled through alternative routes, or STARs, can help fill the skills gap—and how STARs are often left out of the high-wage workforce due to the increasing weight placed on (often unnecessary) higher education credentials, exacerbating wage inequality and reducing upward mobility. Auguste was previously deputy assistant to the president for economic policy and deputy director of the National Economic Council during the Obama administration, where he focused on job creation, labor markets, investments, and infrastructure, among other areas. He recently joined Equitable Growth's Steering Committee to advise on the academic grants program and strengthen connections within its scholarly community as a leading voice on U.S. economic inequality and labor market outcomes. Learn more about Auguste's work and his take on structural racism in the economy from his panel, split into two parts, at Equitable Growth's 2019 policy conference.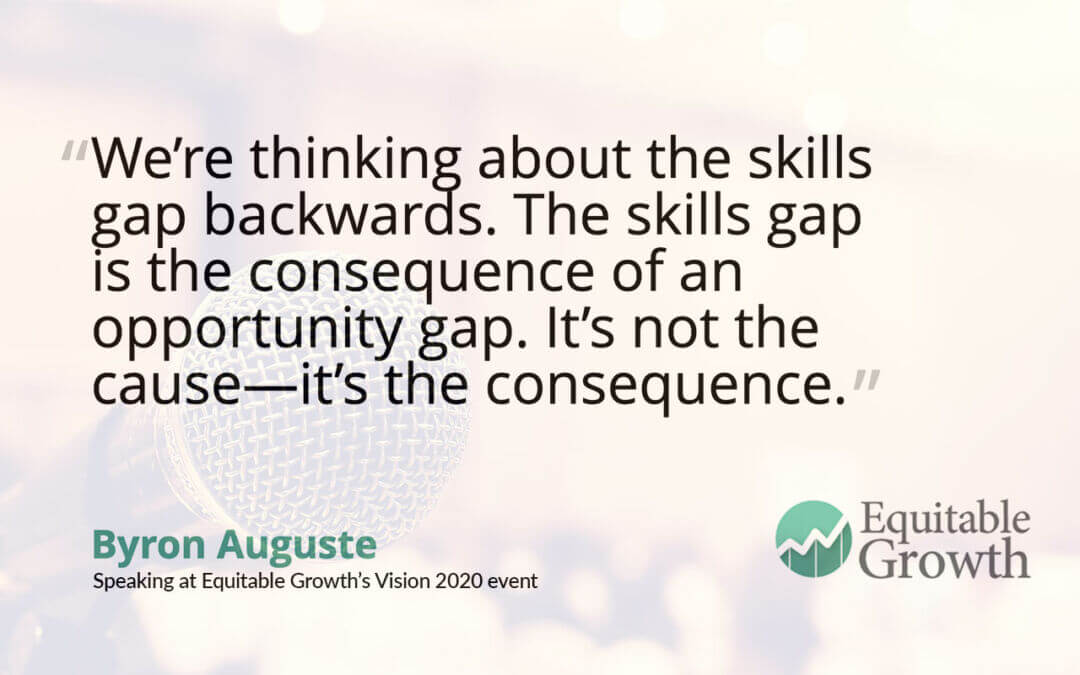 Arindrajit Dube
University of Massachusetts Amherst
Arindrajit Dube is a professor of economics at the University of Massachusetts Amherst. He is also a research associate at the National Bureau of Economic Research and a research fellow at the Institute for the Study of Labor. His work focuses on labor and health economics, public finance, and political economy, including research on competition and wage-setting in the U.S. labor market, monopsony, the impact of unions, fairness concerns in the workplace, and the role of unemployment insurance. He received an Equitable Growth grant in 2018 and has been a contributing author on several Equitable Growth projects, many of which focus on studying the effects of the minimum wage. Dube is currently a member of Equitable Growth's Research Advisory Board, which provides critical support to the organization's grantmaking and academic engagement. Learn more about Dube's work and his take on monopsony power in the labor market via this fireside chat at Equitable Growth's 2019 conference and his subsequent Vision 2020 essay.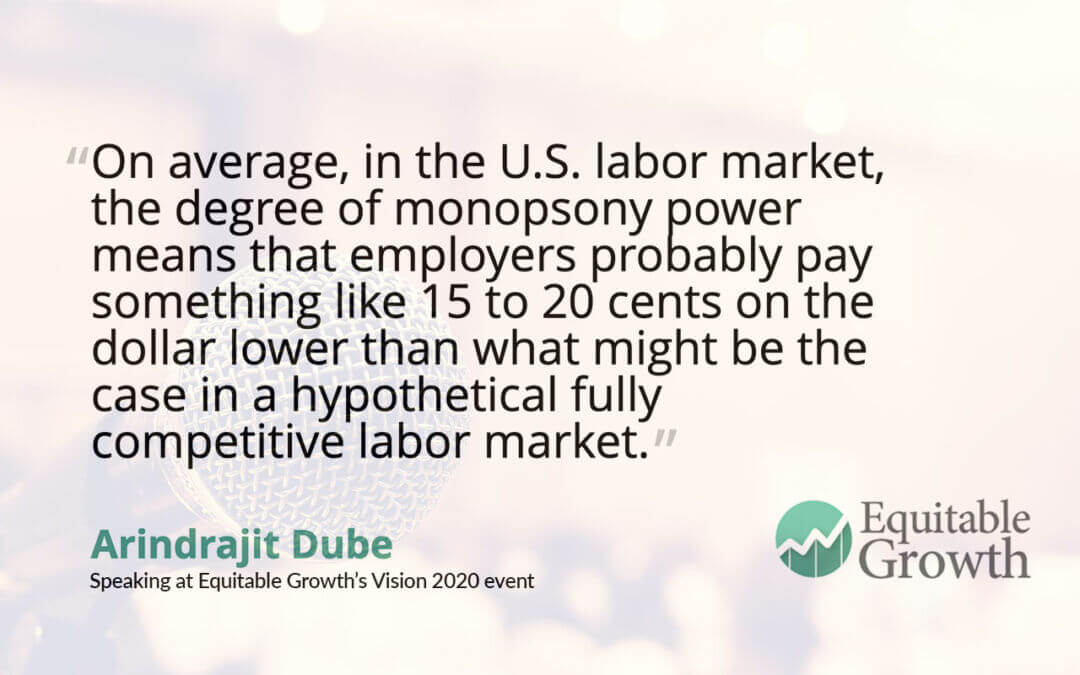 Karen Dynan
Harvard University
Karen Dynan is a professor of the practice of economics at Harvard University. She has previously held roles in the federal government and at nonprofits, having served as assistant secretary for economic policy and chief economist at the U.S. Department of the Treasury during the Obama administration, as vice president and co-director of the economic studies program at the Brookings Institution, and in senior roles at the Federal Reserve Board. Dynan's research centers on macroeconomic and fiscal policy, consumer behavior, and household finances, and her focus on consumption and savings patterns shaped her approach to economic analysis and policymaking in the aftermath of the Great Recession of 2007–2009. Her breadth of experience across sectors is an asset to Equitable Growth's Steering Committee, where Dynan not only supports the next generation of scholars but also guides the organization's efforts to study economic inequality and to ensure strong and stable growth through informed policy choices. Learn more about Dynan's work and her perspective on the effects of inequality on macroeconomics from Equitable Growth's 2019 conference, broken into two parts.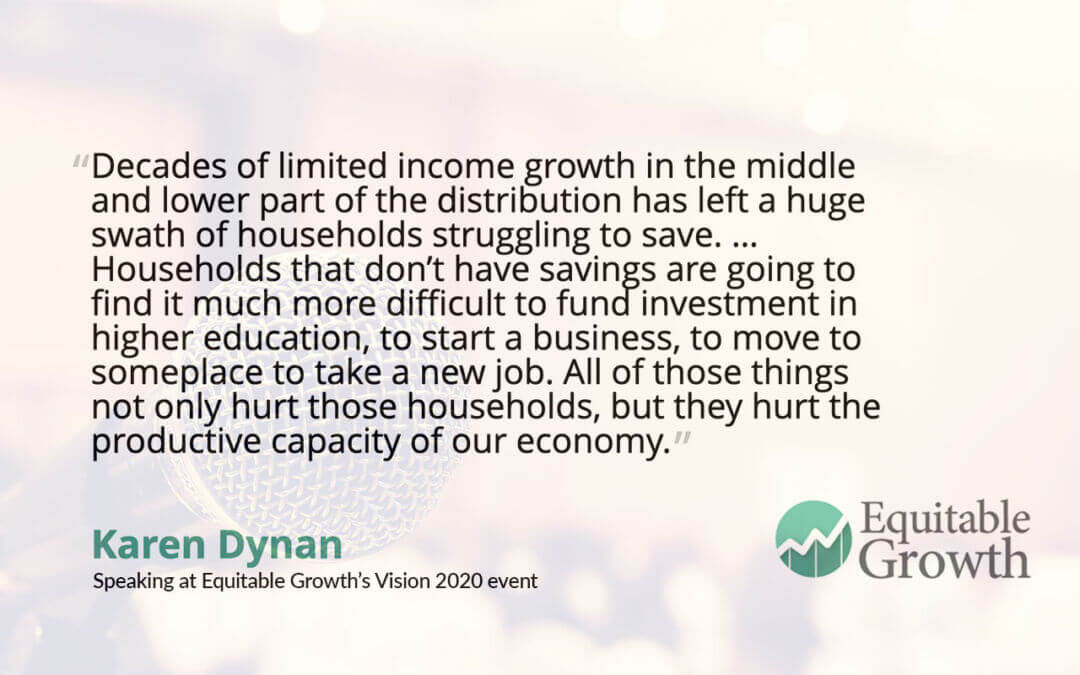 Bradley Hardy
Georgetown University
Bradley Hardy is an associate professor in the McCourt School of Public Policy at Georgetown University. He is also a nonresident senior fellow in economic studies at the Brookings Institution and a research fellow with the Center for Household Financial Stability at the Federal Reserve Bank of St. Louis, as well as an elected member of the National Academy of Social Insurance. Hardy's research interests lie in labor economics, income volatility trends, and racial economic inequality, among other areas. He received an Equitable Growth grant in 2017 to study the long-term effects of racial segregation on human capital and upward mobility in the United States, and co-authored a chapter for Equitable Growth's Vision 2020 series of essays on race and the lack of U.S. intergenerational mobility. Hardy also recently discussed his work on anti-poverty policy, socioeconomic outcomes, and neighborhood economic development within the United States at an Equitable Growth virtual event on addressing regional inequalities. Learn more about Hardy's work on race, intergenerational mobility, and the need for structural change in the United States from his panel at Equitable Growth's 2019 policy conference, split into two parts.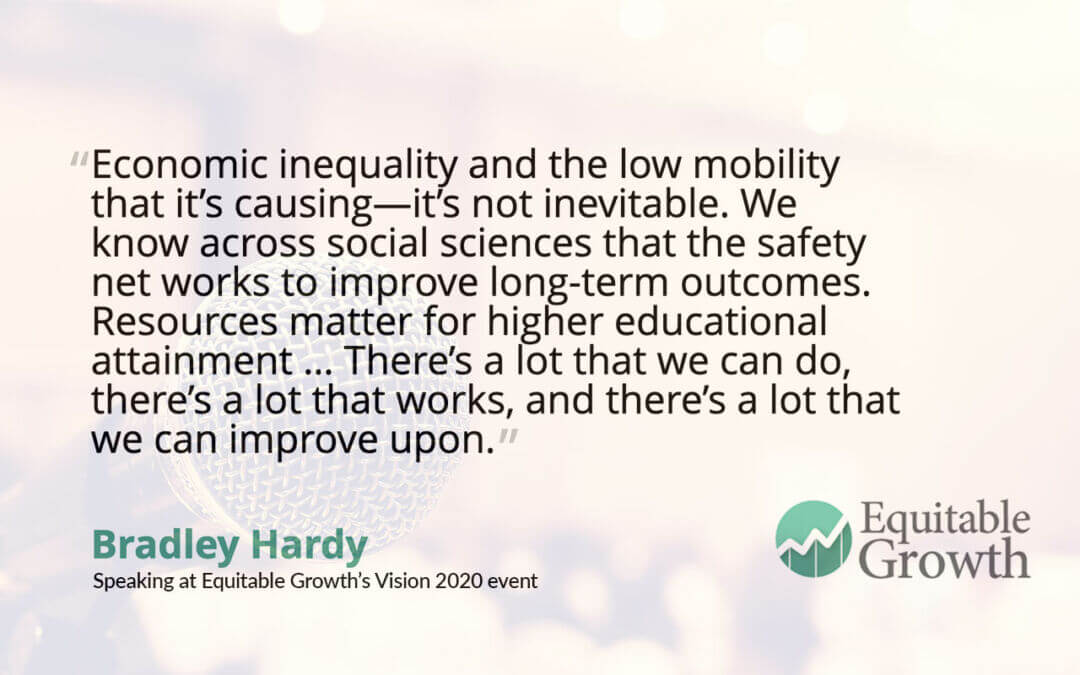 Cecilia Muñoz
New America
Cecilia Muñoz is a senior advisor at New America, an organization dedicated to confronting the challenges caused by rapid technological and social change and seizing the opportunities those changes create. She is also a senior fellow at Results for America, a nonprofit that works to advance the use of data and evidence in policymaking. Previously, she served on President Barack Obama's senior staff as the first Latinx director of the Domestic Policy Council and director of Intergovernmental Affairs. Prior to her time in the executive branch, Muñoz spent 20 years at the National Council of La Raza (now UNIDOS US), the largest Hispanic policy and advocacy organization in the United States. Muñoz has written about the importance of diversity and the challenges many women and people of color face in fields historically dominated by men and White people, as well as the importance of recognizing the economic contributions of immigrants in the United States. Learn more about Muñoz's experience working with questions around technology and the future of work, as well as the structural changes necessary to ensure the U.S. economy works for all workers, from her panel at Equitable Growth's 2019 policy conference, divided into two parts.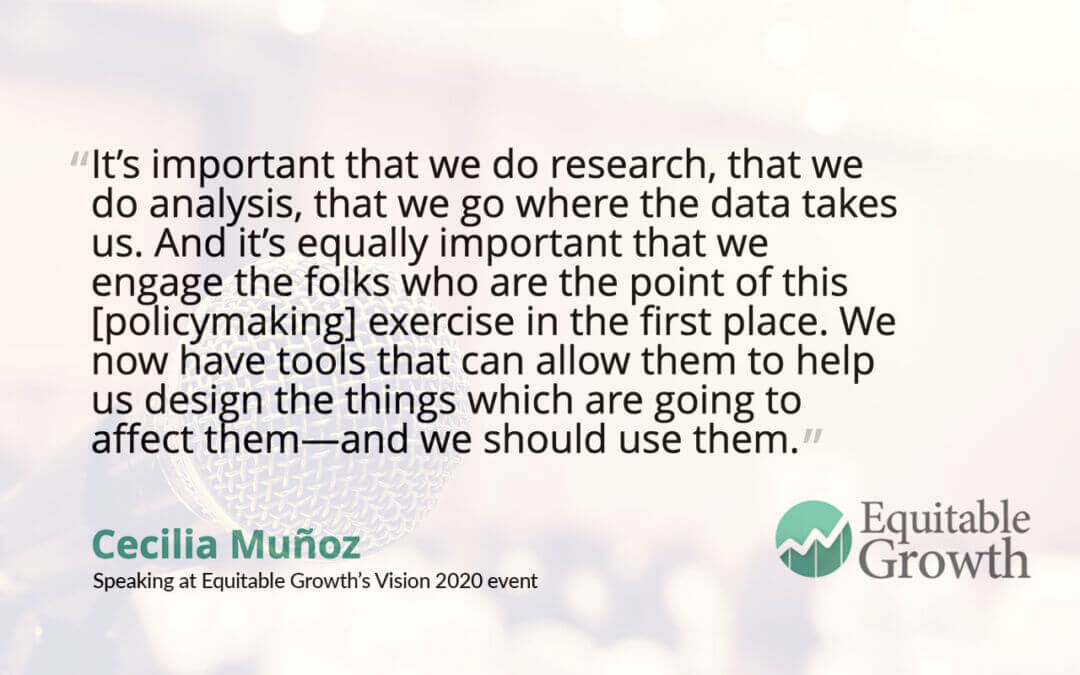 Interested in learning more about our biennial policy conference?
For information about "Equitable Growth 2021: Evidence for a Stronger Economic Future," click here. To register to attend the event on September 20 and 21, click here.
To watch more sessions and highlights from Equitable Growth's "Vision 2020: Evidence for a Stronger Economy," click here.
Equitable Growth is building a network of experts across disciplines and at various stages in their career who can exchange ideas and ensure that research on inequality and broadly shared growth is relevant, accessible, and informative to both the policymaking process and future research agendas. Explore the ways you can connect with our network or take advantage of the support we offer here.