Climate policy has potential to spur economic growth and ensure a competitive U.S. economy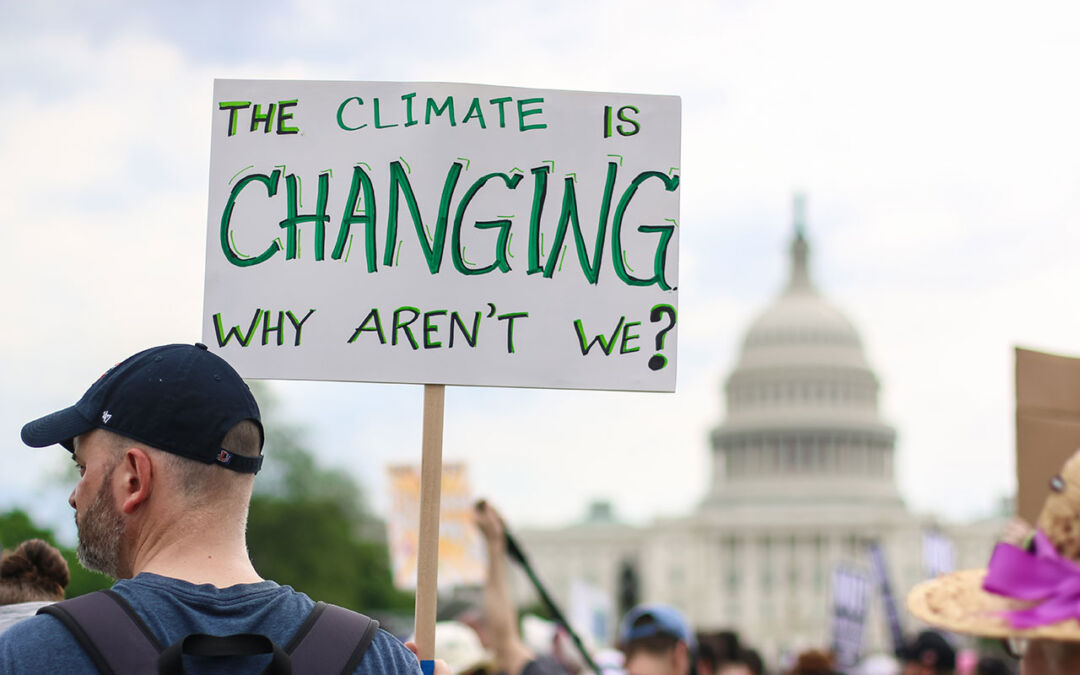 Addressing climate change is a crucial—and sizeable—economic task. Ensuring equity in every dimension of climate mitigation and adaptation is critical to redressing ongoing harms and environmental injustices. Tracking the implementation of signature climate legislation such as the Inflation Reduction Act and the Infrastructure Investment and Jobs Act, both of which include federal investments to bolster the U.S. clean energy economy, and studying how these laws affect local communities and industries differently is one essential way to ensure equitable outcomes.
U.S. climate policy must also ensure that green infrastructure and jobs are "just," in that they support front-line communities both historically and currently exposed to the negative consequences of an inequitable system, as well as those workers transitioning from employment in extractive industries who are especially vulnerable to economic risk in the transition. Many of the incentives in the two aforementioned laws will serve to create hundreds of thousands of new green jobs in the U.S. economy—as many as 912,000 per year over the next decade, according to some estimates. A recent study also shows that these jobs tend to be higher-paying than fossil-fuel jobs and tend to be plentiful in communities with fossil fuel extraction industries, two encouraging findings.
Similarly, we need more research and data to better understand the impacts of climate change on labor outcomes, such as employment, job quality, and workplace hazards, as well as on mortality, health, and well-being—and we need more and better data that looks at all of these outcomes across racial and ethnic groups, industries, and geographic regions. This multidisciplinary work can inform policy responses and debates across the environmental, energy, and climate justice movements, as well as within the economics and industrial policy fields.
Climate policy also has the potential to spur economic growth and ensure the U.S. economy remains competitive and resilient. That is why Equitable Growth is committed to fostering more research in this important area that will continue to dramatically shape the U.S. economy and labor market, as well as worker and family well-being, in the coming years and decades. Climate economics is a burgeoning area of interest for Equitable Growth, which has and will continue to fund research on the various economic impacts of climate change and also recently brought on a visiting scholar, environmental economist R. Jisung Park of the University of Pennsylvania, to help expand our work in this space.
As part of the effort to push this research and policy agenda forward, Equitable Growth organized and hosted a panel session on the economic impacts of climate change at the Allied Social Science Associations' annual conference in early January. The session looked at the existing literature and areas for future research on variation in exposure to climate risk by geographic region, demographic group, and industrial sector, among others, as well as climate change's potential role in exacerbating economic inequality or hampering economic growth. It also reviewed climate policy options that account for or can address inequality.
The panel was moderated by Park and featured presentations and discussion from Jonathan Colmer at the University of Virginia and the Environmental Inequality Lab (an Equitable Growth grantee), Gregory Casey of Williams College (also an Equitable Growth grantee), Tamma Carleton of the University of California, Santa Barbara and the Climate Impact Lab, and Catherine Hausman at the University of Michigan. Each panelist presented their research on a specific aspect of climate economics:
UVA's Colmer discussed the work of the Environmental Inequality Lab and his research on how administrative microdata can reveal the impacts of climate change on economic opportunity and environmental justice—especially beyond the place and demographic cells most widely studied to date. Because researchers are constrained by what they can measure and the data that are available, Colmer's team is working with the U.S. Census Bureau to develop a new microdata infrastructure that looks at individual-level climate effects, rather than place-based effects. As such, they are able to provide new evidence and preliminary findings on the distributional effects of hurricanes in the United States in co-authored research that was funded in part by Equitable Growth. They are also working to estimate the impact that the transition to a clean energy economy will have, not just on census-defined places, but also on individuals within those fine-grained geographic measures.
Williams College's Casey presented his working paper, co-authored with Arizona State University's Stephie Fried and Williams College's Matthew Gibson and funded in part by Equitable Growth, which examines macroeconomic impacts of climate change on economic inequality and growth. Specifically, the co-authors looked at how climate change affects consumption and investment productivity differently, with a focus on sectors most exposed to climate change, and why it's important for future research to differentiate between the two. The framework they develop in the paper allows for this differentiation, which, in turn, allows for more accurate predictions of future economic damages from climate change. This is not just abstract: Much of the climate adaptation that theory predicts will be crucial to future economic growth requires investments produced by the construction sector, which is among the most exposed to climate-related productivity losses.
UCSB's Carleton discussed her research on accurately measuring inequalities and damages that result from climate change, at both the global and local levels. Her presentation touched upon her work at the Climate Impact Lab, which seeks to collect local-level data on climate harms, particularly mortality, that can inform and properly target adaptation and mitigation policies. She also discussed how these local data are being applied in California, which has seen a rise in equity-focused climate change adaptation policy and the development of a Climate Vulnerability Metric to show which areas of the state are more at risk of experiencing climate damages. Carleton also discussed how local-level data can improve estimates of the social cost of carbon, or the monetary costs of emitting one ton of carbon dioxide into the atmosphere.
University of Michigan's Hausman presented her research on market structure and equity considerations for climate change mitigation and adaptation efforts. She discussed some of the existing market failures that exacerbate inequality and injustice, and then reviewed some questions that future researchers can take up in the area of climate policy and environmental economics, such as how energy market failures interact with preexisting sources of injustice and inequality, how racial injustice manifests in the climate space, and how to incorporate harms felt by local communities into both research and policy. Her research points to cascading effects of climate change into markets with equity concerns, a theme that came up repeatedly in this session.
The presentations were followed by a question-and-answer discussion with the audience. Notably, the panelists discussed the limited opportunities for input from nongovernmental researchers in federal climate policy design and implementation—exacerbated by the challenge of working with existing public data amid important privacy restrictions. They also touched upon the importance of economists collaborating outside of the traditional economics space, such as with engineers, experts in racial inequality, and Indigenous scholars, when studying environmental economics and industrial policy.
The panel provided Equitable Growth an opportunity to elevate the need for an equitable response to the climate crisis—one which centers the distributional impacts of mitigation and adaptation policies, especially on groups already vulnerable to climate harms or already facing environmental injustice. We look forward to continuing to engage on this issue both in our grantmaking and academic conference engagement, as well as with policymakers seeking to address climate change and transition to a green economy.
Equitable Growth staff, grantee network, Steering Committee, and Research Advisory Board and their research were well-represented throughout ASSAs, and were featured in more than 80 different sessions (check out our daily round-ups here, here, and here).