Weekend reading: The what to incorporate in future federal coronavirus stimulus bills edition
This is a post we publish each Friday with links to articles that touch on economic inequality and growth. The first section is a round-up of what Equitable Growth published this week and the second is relevant and interesting articles we're highlighting from elsewhere. We won't be the first to share these articles, but we hope by taking a look back at the whole week, we can put them in context.
Equitable Growth round-up
As policymakers consider what to include in future legislation to address the coronavirus public health and economic crises, they should consider including a green stimulus package to accelerate the clean energy transition. Climate change is a looming crisis that we must address—and it is linked to the coronavirus, as air pollution from dirty energy infrastructure enhances the fatality rate of COVID-19, the disease spread by the new coronavirus. Leah Stokes and Matto Mildenberger examine how the $2.2 trillion Coronavirus Aid, Relief, and Economic Security, or CARES, Act could have included provisions to protect our health by reducing our reliance on fossil fuels—and how instead, it is bailing out the failing dirty energy sector. They review how the CARES Act has been misapplied to the fossil fuel industry, and then turn to how future legislation could avoid this mistake and target clean energy in order to both fight the coronavirus recession and address climate change.
Late last week, the U.S. Bureau of Labor Statistics released data on hiring, firing, and other labor market flows from the Job Openings and Labor Turnover Survey, better known as JOLTS, for the month of March 2020. Kate Bahn and Carmen Sanchez Cumming put together several graphics using the data, which showed, among other things, that the quits rate dropped sharply as workers' confidence about job prospects declined.
No better time than Memorial Day Weekend to catch up on some of Brad DeLong's latest worthy reads from Equitable Growth and around the internet.
Links from around the web
Before policymakers enact the next federal stimulus package to fight the effects of the coronavirus recession, they must ensure relief is allocated in a way that alleviates, rather than exacerbates, inequality in the United States. Policymakers can do so by studying how funding would impact various demographic groups. Previous coronavirus legislation, such as the CARES Act, would have benefitted from such an analysis, write Pamela Shifman and Salamishah Tillet for The New York Times. And examples abound around the world—and even in states and localities within the United States—of budgets and initiatives that are prepared using racial- and gender-equity assessments. The coronavirus public health and economic crises are impacting different communities disproportionately, and as such, Shifman and Tillet argue, the next relief package should take these factors and disparities into consideration.
State and local governments are facing a funding catastrophe, as their spending on much-needed services skyrockets and their sources of revenue wither amid the coronavirus recession. These nonfederal government entities provide and pay for the bulk of government services that citizens receive, writes Ted C. Fishman in The Atlantic, so this funding shortage could have devastating consequences. Not only could the loss of these vital services—including healthcare, education, and public safety—harm communities' health and well-being during the pandemic and reduce quality of life in the months after. It could also lead to lower levels of trust in government and democracy, and higher levels of political extremism. State and local governments, many of which have balanced-budget requirements, are on the brink of a disaster, and federal aid to states to weather this storm is more essential now than ever before—but as the coronavirus recession endures, Fishman explains, even that may not be enough to keep state and local governments above water.
As all 50 states begin to reopen to varying degrees, a look at the employment situation in Georgia nearly one month after easing lockdown restrictions shows that jobs haven't come flooding back as a result. Politico's Megan Cassella looks at the state's Unemployment Insurance claims, which have remained elevated despite relaxed social distancing regulations. The data illustrate that reopening doesn't automatically mean a booming economy if consumers are still wary of leaving their homes, and highlight the importance of federally mandated expanded and enhanced Unemployment Insurance. The reality check for decisionmakers is that until the public feels safe going outside, it's unlikely that the U.S. economy and labor market will go back to normal—even if state and local governments allow businesses to reopen and employers start to bring staff back on payroll.
Friday figure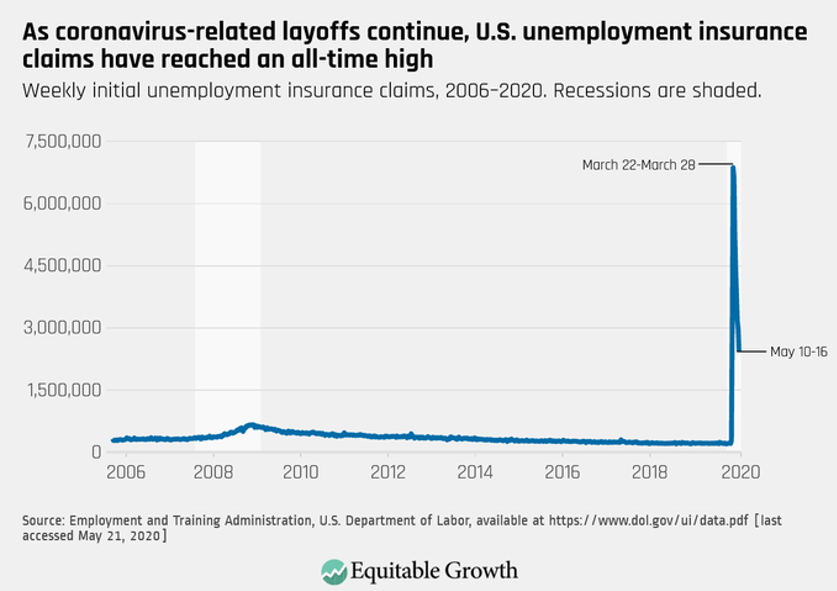 Figure is from Equitable Growth's Twitter feed after this week's release of Unemployment Insurance claims data.