Weekend reading: Supporting Americans through the coronavirus pandemic and recession edition
This is a post we publish each Friday with links to articles that touch on economic inequality and growth. The first section is a round-up of what Equitable Growth published this week and the second is relevant and interesting articles we're highlighting from elsewhere. We won't be the first to share these articles, but we hope by taking a look back at the whole week, we can put them in context.
Equitable Growth round-up
A new analysis shows that state paid leave programs in Rhode Island and California provided much-needed support to workers affected by COVID-19 as Congress debated enacting an emergency federal paid leave program earlier this year. (The study looks at these two states because they release timely data on paid leave claims.) Sam Abbott looks at the research, which found that workers in these states were able to access benefits sooner and for a wider variety of reasons than in jurisdictions without paid leave programs. The federal paid leave program eventually enacted by Congress in the Families First Coronavirus Response Act is temporary and carves out large swaths of the labor force from coverage, making state and local programs—or a permanent expanded federal program—ever more essential for many workers. Abbott concludes with some suggested areas for further research that would more concretely show how government could provide this important safety net for all Americans both during and beyond the coronavirus crisis.
As the coronavirus health crisis and recession linger, another much-needed support for American workers must be extended, argues Alix Gould-Werth in an op-ed for Bridge Michigan. Congress should pass additional legislation continuing to provide the $600 weekly Unemployment Insurance add-on—currently set to expire at the end of July—until the health crisis subsides enough to ensure a safe return to work. Research shows not only that lower-income workers need this assistance to pay the bills while the economy remains in a downturn, but also that they tend to spend rather than save the benefit dollars they receive. Gould-Werth explains the virtuous cycle that these added benefits can have on local economies, channeling money to businesses, which then employ more workers, who, in turn, have more income to spend, stabilizing the labor market and stimulating the economy. And, while the most recent jobs day report showed a slight decrease in overall unemployment rates, Gould-Werth writes, this by no means indicates that workers don't need this extra aid anymore. Instead, a thoughtful plan to phase out benefits as the crises diminish would ensure workers and the economy remain protected.
Congress can also support American workers by canceling all student loan debt—permanently. While lawmakers temporarily suspended payments on most federally owned student loans, the loan forgiveness law they passed in March will expire at the end of September. Darrick Hamilton and Naomi Zewde explain why Congress should enact a permanent student loan forbearance program for all loans and the effect such action would have on closing the racial wealth divide in the United States. Hamilton and Zewde also walk through previous presidential administrations' attempts to lower student loan debt and the failures of each program to make inroads in reducing the crushing burden many young adults carry upon graduating.
Continuing Equitable Growth's monthly Expert Focus series, which highlights scholars in our network and beyond doing important social science research, Christian Edlagan and Maria Monroe look at leading Black scholars studying U.S. economic inequality and growth. This group of researchers is looking at the roles of history, power, and institutions in shaping economic behavior and trends, and has influenced Equitable Growth's understanding of the roots of racial inequities facing Black Americans, as well as how to address these inequities.
Yesterday, Equitable Growth hosted a webinar to explore bold policies that can ensure a broad-based economic recovery despite systemic inequalities in the United States, its economy, and society—particularly for Black and Latinx families. The two-panel webinar featured leading voices studying how current finance, banking, and labor laws and institutions exacerbate economic and racial inequality, and what we can do to address these issues going forward. David Mitchell explains some of the guiding principles of the webinar and connects them to the current coronavirus pandemic and economic crisis.
Head over to Brad DeLong's latest Worthy Reads for his takes on must-read content from Equitable Growth and around the web.
Links from around the web
Savings rates are on the rise amid the coronavirus recession, but unless benefits provided through government emergency-response programs are extended, Americans will soon need to tap into this extra money, reports Ben Steverman for Bloomberg. An unprecedented one-third of disposable income was put away over the past few months, thanks in part to the government-provided lifelines, but when these programs are withdrawn, households that have not yet recovered from the recession will almost certainly face financial hardship. Steverman shows why and how both low- and middle-income families would suffer without extended support.
American workers need a raise, writes The New York Times editorial board. Not only have wage levels lagged desperately far behind, but workers also lack power in the labor market to demand working conditions and benefits that should be guaranteed. Income inequality is rising to unsustainable levels, and government is more beholden to special interests and the wealthy than the public they are supposed to be representing. The unapologetic pursuit of profits by large companies and corporations, large tax cuts for corporations, failed supply-side policies, and union membership declines have all led to a focus on shareholders and executives rather than American workers. But, as the coronavirus causes severe economic harm, the newspaper's board concludes that now is the time to demand more from government so that future job prospects for many in the United States are not dim, but instead fairly compensate workers and ensure broad prosperity for all.
In interviews with 34 quantitative macroeconomists about the coronavirus recession and recovery, FiveThirtyEight's Neil Paine and Amelia Thomson-DeVeaux delve into what economists fear about the current situation and predict for the months and years to come. In the most recent surveys, the majority of economists said they expect an uneven recovery, with a sharp decline followed by a partial rebound and then slow, mixed growth. Because the recovery depends in part on the public health situation and in part on the government-provided benefits that many workers are relying on, the economy may face a bumpy road ahead. The economists surveyed also expressed skepticism that Gross Domestic Product may return to late 2019 levels before the first half of 2022, mostly due to a feared "second wave" of COVID-19 infections as well as an expected continuation of depressed consumer spending—particularly if needed government benefits are allowed to expire.
In this moment of widespread, global protests of racial injustice and police brutality, as well as increased support for the Black Lives Matter movement across demographic and political groups in the United States, lawmakers must consider enacting a reparations program for Black Americans. Over the past 100 years, there have been many instances of uprisings against White violence and anti-Black racism, but this time is different, Nikole Hannah-Jones writes in The New York Times Magazine. Thanks to the confluence of horrific police brutality captured on video, a pandemic that starkly highlights racial divides in this country, and years of organizing for racial equality and justice, multiracial and multigenerational groups are finally united under this cause. Hannah-Jones details the history of the racial wealth divide in the United States starting with slavery, how it has held back Black Americans, and why a reparations program is the only way for true justice and equality in the United States to be achieved.
Friday figure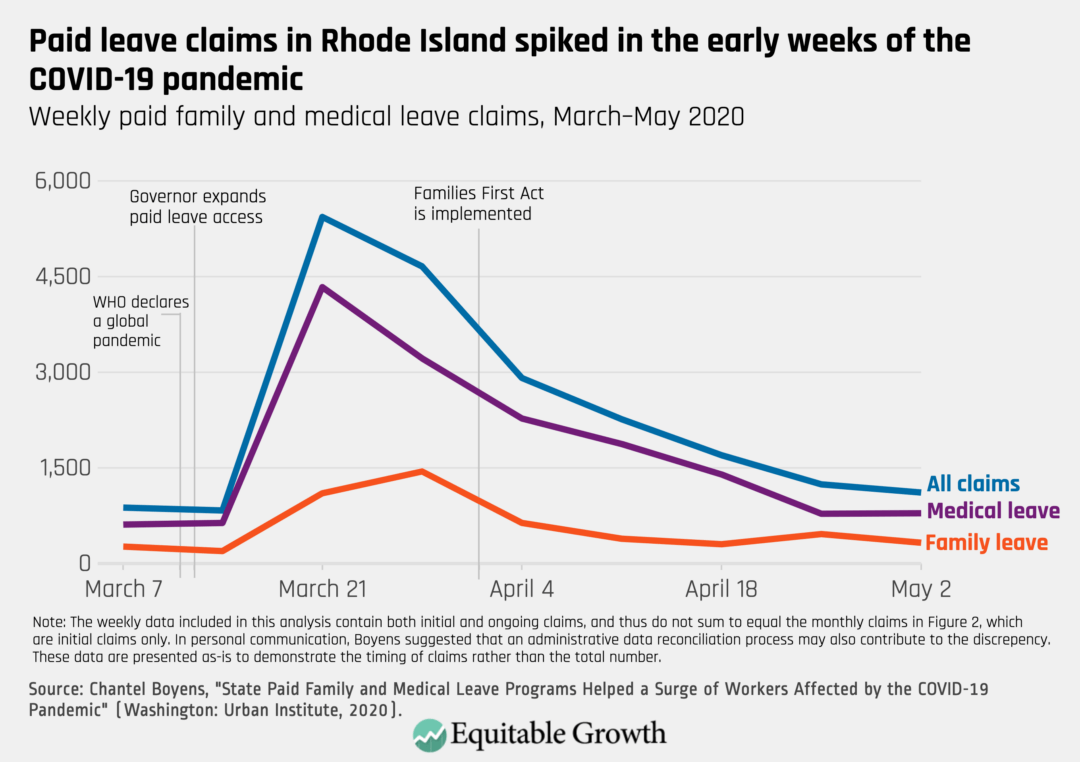 Figure is from Equitable Growth's "New analysis shows state paid leave programs cushioned the blow of COVID-19, sparking important new questions" by Sam Abbott.