Weekend reading: Fixing government's coronavirus and structural failures edition
This is a post we publish each Friday with links to articles that touch on economic inequality and growth. The first section is a round-up of what Equitable Growth published this week and the second is relevant and interesting articles we're highlighting from elsewhere. We won't be the first to share these articles, but we hope by taking a look back at the whole week, we can put them in context.
Equitable Growth round-up
In order to have a U.S. economy in which growth is strong, stable, and broadly shared, it is imperative to have institutions that are capable of ensuring that the rules are fair and fairly enforced. U.S. public institutions have failed Black Americans, writes Heather Boushey in a post on Medium, and if they fail Black Americans, they fail us all. African Americans have long not been able to, and still cannot, trust the government to act on their behalf. And this extends beyond the current administration to the overall governing ideology of this country, "where institutions of governance too often serve only those with economic or political power, who are able to subvert the process of governing to disproportionately benefit themselves," Boushey continues. The coronavirus pandemic and resulting recession expose the many structural weaknesses in our economy, society, and political system. A robust federal government that incorporates the needs of all Americans into its policy agenda is the best answer to these shortcomings—so long as trust in public institutions can be restored.
The failure of government to support and protect all of its citizens equally is on clear display as new cases of coronavirus surge across the United States, especially in communities of color, and as millions of American workers remain unemployed due to the recession caused by the pandemic. One solution may be a modern-day Works Progress Administration. Delaney Crampton explains why bringing back this Great Depression-era jobs program in the form of an extensive nationwide network of contact tracers could help to both rein in the coronavirus and provide millions of adults with badly needed jobs that can be done from the comfort and safety of their homes. While some track-and-trace programs have been implemented sporadically on the state level, a national program is needed in order to fund and coordinate such a large-scale effort to effectively identify and isolate those who have been exposed to the coronavirus. Plus, Crampton adds, the contact tracers would be trained in new skills that may help these workers enter different (and essential) fields such as nursing or home healthcare during the post-pandemic recovery.
There is a great opportunity for lawmakers to include green stimulus investments in the next coronavirus recession relief package now under discussion in Congress, write Parrish Bergquist, Matto Mildenberger, and Leah Stokes. The spreading coronavirus pandemic and climate change are not unrelated, as recent studies show those who are exposed to dirty air pollution from fossil fuels are much more likely to die from COVID-19—and, adding to government's failures listed above, this tends to more heavily affect populations of color in the United States. Thus far, Congress has not yet promoted green stimulus in its coronavirus-related spending, but a new survey done by Bergquist, Mildenberger, and Stokes looks at the effect on popular support of including clean energy investments in spending packages. Though the public does not favor a green stimulus at the expense of broad economic relief, the co-authors find that investments in wind and solar and in clean transportation push up popular support for stimulus spending by 8.5 percentage points and 6.1 percentage points, respectively.
Every month, the U.S. Bureau of Labor Statistics releases data on hiring, firing, and other labor market flows from the Job Openings and Labor Turnover Survey, better known as JOLTS. This week, the data for May 2020 shows that workers are less confident about the labor market and therefore are quitting their jobs less. The data also reveal that there were still nearly four unemployed workers for every one job opening in May, increasing the bargaining power of employers. Kate Bahn and Carmen Sanchez Cumming put together four graphs analyzing these and other results from the data release.
Check out this week's Worthy Reads from Brad DeLong to get his takes on must-read recent content from Equitable Growth and around the web.
Links from around the web
Though we have known for a while that people of color are disproportionately affected by the coronavirus, an in-depth New York Times interactive using data from the Centers for Disease Control and Prevention reveals that these disparities ring true across the country, from urban to suburban to rural areas, and across all age groups.Richard A. Oppel Jr., Robert Gebeloff, K.K. Rebecca Lai, Will Wright, and Mitch Smith take a deep dive into the data, which was obtained only after the Times filed a Freedom of Information Act request with the CDC for its release. The authors interview several families and individuals affected by the coronavirus across the United States and highlight, in stark graphics, the racial divides in infections and COVID-19 deaths between White Americans and their Black, Latinx, and Native American peers.
There is a looming crisis in housing across the United States as evictions are likely to rise dramatically this summer while unemployment remains high and eviction moratoriums are lifted, writes Renae Merle for The Washington Post. The one-time $1,200 coronavirus stimulus payment is a distant memory for most people, and the extra $600 weekly Unemployment Insurance benefits provided through the CARES Act, which have kept many households afloat as they weather the economic crisis, are also set to expire at the end of this month. The backlog of eviction cases is making its way through the court system, putting around 20 percent of the 110 million Americans who live in rental units at risk of eviction by the end of September. And, as with most other aspects of the coronavirus crisis and recession, Merle continues, Black and Latinx renters are expected to be the hardest hit.
Since the onset of the coronavirus pandemic, many workers have felt mistreated and underpaid by their employers, not protected enough from the virus, and tossed aside if they fall ill and have to miss work to recover. Those in so-called essential positions, from warehouse workers to food delivery drivers to grocery store clerks have walked out and participated in strikes in protest of these poor working conditions. Steven Greenhouse of DISSENT Magazine asks what we're all thinking: Will COVID-19 spur a wave of unionization? Though Greenhouse admits that his instincts answered "no," he also concedes that he underestimated the depths of the anger and frustration felt by many workers. While corporations continue to fight union organizing efforts as strongly as they did before the onset of the pandemic, workers have, in the past few years, shown an increasing tendency to be open to joining an union—and this, along with other factors, brightens the outlook for unionization in the United States.
Working parents are pulling out their hair trying to figure out how to go back to work when the U.S. economy reopens if schools are not open full-time. But, EJ Dickson argues in Rolling Stone, it's really working mothers who are struggling the most. After all, it tends to be mothers who shoulder the majority of the childcare burden in households, not fathers. It typically is mothers who give up their jobs or take pay and hours cuts when household care responsibilities increase, not fathers. Women were already struggling to "have it all" before the pandemic began—and now, Dickson writes, that struggle is exacerbated: A recent report from the United Nations warns that the economic downturn may "roll back" many of the advances that feminism has made in recent decades, as women are disproportionately laid off or forced to leave their jobs to care for and provide schooling for their children. Parenting sits at the intersection of class, gender, and income—three areas that have been talked about profusely since the onset of the crisis—so why are so many of the solutions offered by states for reopening schools insufficient for working parents?
Friday figure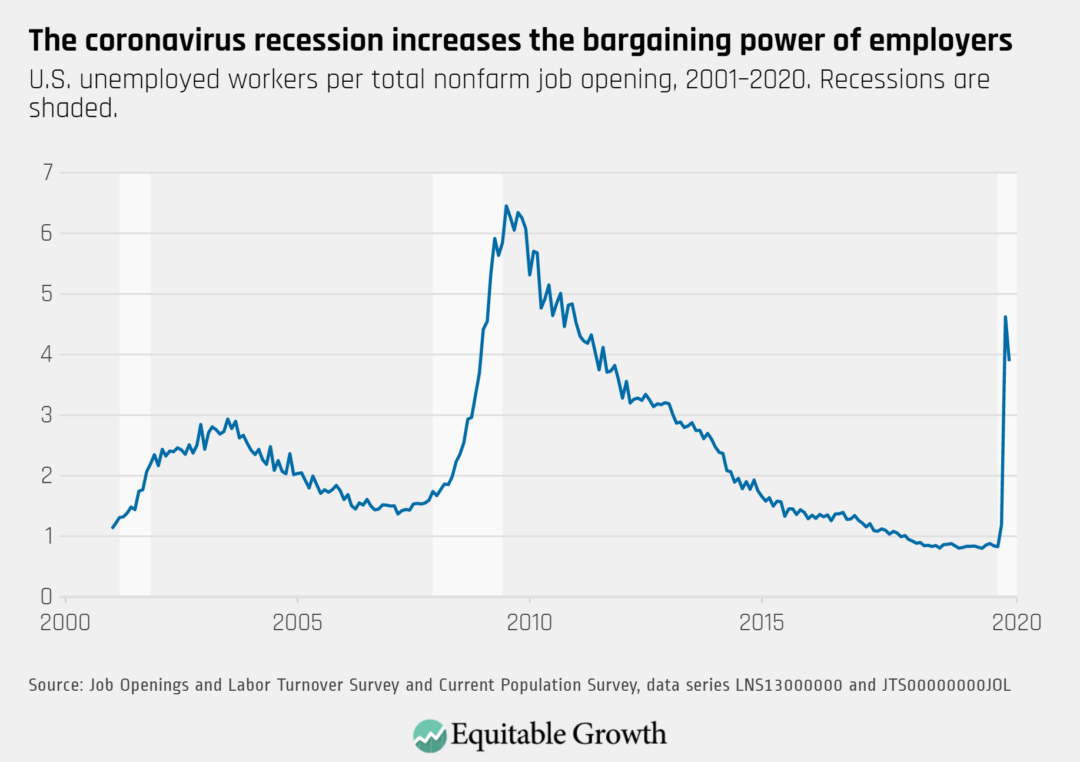 Figure is from Equitable Growth's "JOLTS Day Graphs: May 2020 Report Edition" by Kate Bahn and Carmen Sanchez Cumming.