Americans want green spending in federal coronavirus recession relief packages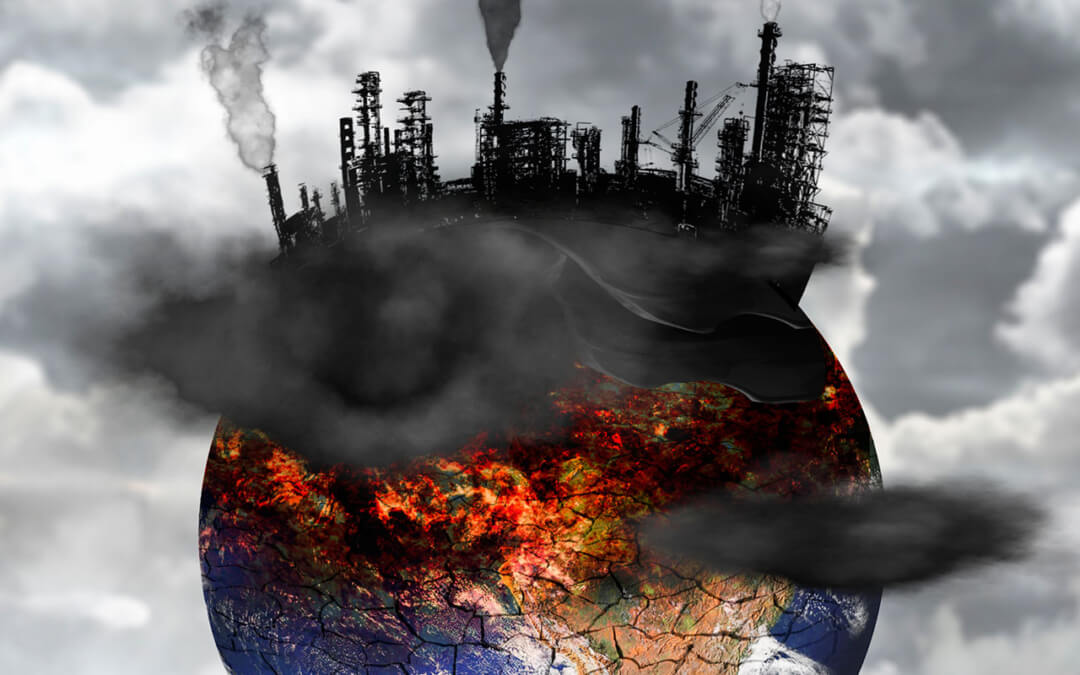 Coronavirus recession relief packages now under discussion on Capitol Hill present an opportunity to power an economic rebound and address climate change at the same time. This approach would save American lives. Air pollution from dirty energy infrastructure makes people much more likely to die from COVID-19, the disease caused by the novel coronavirus. And those dying in the United States are more likely to be people of color, in part because dirty fossil fuel infrastructure is overwhelmingly placed in communities of color.
Some states, countries, and even the European Union have incorporated green stimulus into their coronavirus relief plans—providing linked solutions for these linked crises. Overall, though, only 4 percent of global stimulus policies target emission reductions.
Congress has similarly lagged in promoting green stimulus. For the next round of coronavirus recession relief, some groups propose investing in clean energy programs—such as home retrofits, rooftop solar, and electric buses, all of which could boost the U.S. economy and reduce the pollution that drives climate change and heightens vulnerability to the coronavirus and COVID-19. As our research shows, this policy approach increases popular support for stimulus spending.
Estimating public support for green stimulus
Whether Congress incorporates green programs into coronavirus relief spending depends, in part, on public support. To investigate public opinion on green stimulus as part of any new relief packages, we launched a nationally representative survey of slightly more than 1,000 people between May 15, 2020 and May 20, 2020. Our survey was fielded online by Qualtrics, a platform that hosts surveys and recruits respondents for researchers. We use quota samples for age, gender, and race to ensure a nationally representative sample. Respondents were weighted to account for remaining demographic imbalances using iterative proportional fitting, also known as raking.
In our survey, some people read about coronavirus relief packages that included climate spending or climate-related standards and regulations. Others saw packages that did not include these policies. Social scientists call this type of experiment a conjoint design—it's a way to measure people's preferences when facing complex policy choices. When we analyze our conjoint experiment, we can measure whether each individual component of a policy bundle increases or decreases public support for the overall package.
The public supports green stimulus but not at the expense of broad economic relief
Our experimental results show that including green infrastructure spending increases support for a coronavirus relief package. Support for wind and solar investments and for clean transportation investments is particularly strong. Including these measures increases support by 8.5 percentage points and 6.1 percentage points, respectively. Notably, including electricity transmission investments does not cause a change in support for the package. We visualize these shifts, broken down by Democrats (blue), Republicans (red), and Independents (purple) in Figure 1.
Figure 1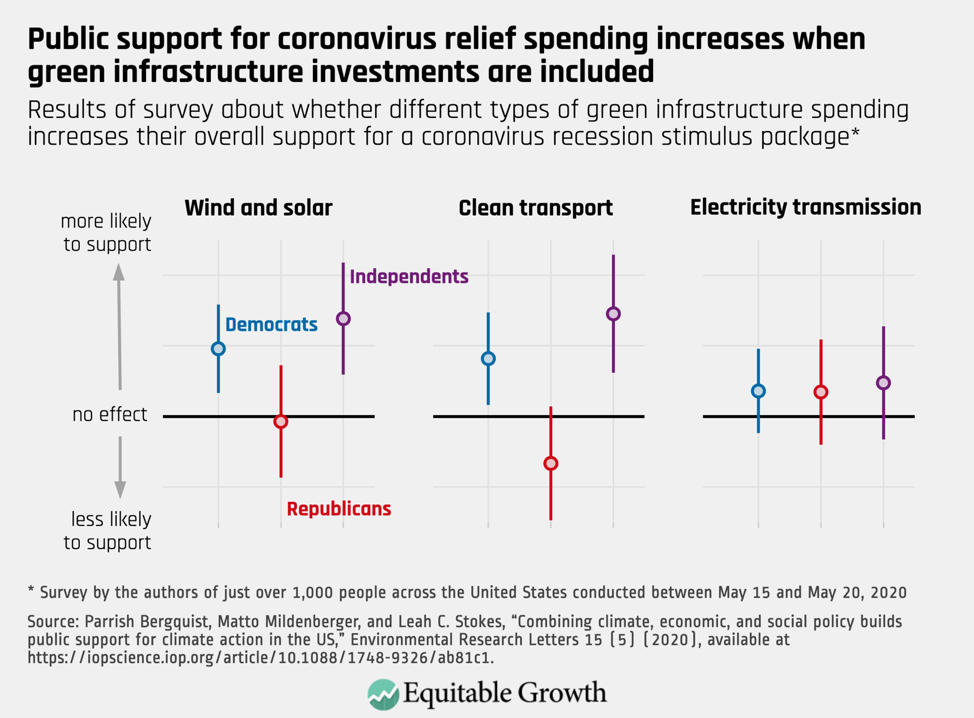 As Figure 1 makes clear, green investments increase support among a broad range of constituencies. This suggests that climate action can and should be included in the next coronavirus recession relief package.
In addition to the experiment, we asked Americans directly whether they think Congress should address coronavirus recession relief funding and climate change together. Despite their revealed support for incorporating green stimulus into any response—as indicated in our experimental results—58 percent of respondents said they think Congress should focus on coronavirus relief spending alone.
This suggests that Americans may view linked solutions as a trade-off that requires sacrifices on one dimension in order to achieve gains on the other. Given the high unemployment rate, which is compounding existing economic inequality, Americans do not support climate programs at the expense of sweeping aid for all Americans.
That said, there need not be a trade-off. As a recent economic analysis from the Sierra Club suggests, a sustained investment in climate action could yield 90 million new jobs over the course of the current decade. There is so much work to do to address the climate crisis. If the federal government focuses on tackling this challenge, it can power economic recovery at the same time.
Americans support this approach. They want Congress to lead the way with green stimulus that will promote broader adoption of clean energy and create good jobs. Congress should seize a politically opportune and popular win-win solution—promoting more equitable economic recovery and addressing climate change simultaneously.
—Parrish Bergquist is a postdoctoral researcher at the Yale Program on Climate Change Communication and an incoming assistant professor of public policy at Georgetown University. Matto Mildenberger is an assistant professor of political science at the University of California, Santa Barbara and the author of Carbon Captured (The MIT Press, 2020). Leah C. Stokes is an assistant professor of political science at the University of California, Santa Barbara and the author of Short Circuiting Policy (Oxford University Press, 2020).