Weekend reading: Executive orders to ensure a strong economic recovery edition
This is a post we publish each Friday with links to articles that touch on economic inequality and growth. The first section is a round-up of what Equitable Growth published this week and the second is relevant and interesting articles we're highlighting from elsewhere. We won't be the first to share these articles, but we hope by taking a look back at the whole week, we can put them in context.
Equitable Growth round-up
As President Joe Biden considers ways that he can improve the economy using executive authority, Equitable Growth released an Executive Action Agenda, a series of factsheets on economic policy proposals that can fight inequality and a ensure strong, broad-based economic recovery and sustained economic growth. David Mitchell summarizes each of the five factsheets released over the past few weeks and how they would advance widespread economic growth. We have written about the ideas in the factsheets before but repurpose the proposals in this series to provide specific steps the administration can take and list experts in each area with whom policymakers can consult for guidance.
Here are the five topics already covered, with more to come:
In addition to executive orders on the economy, President Biden is pushing for Congress to pass his $1.9 trillion American Rescue Plan. New data on personal incomes from the Great Recession of 2007–2009 and its sluggish recovery demonstrate that spending too little is a far more dangerous prospect than spending too much, writes Austin Clemens. He says Congress risks repeating the errors of the past, which, in the decade following the previous recession, led to a slow and uneven recovery and left millions of U.S. workers and their families struggling. Clemens unpacks the new data series produced by the U.S. Bureau of Economic Analysis, explaining why these data—which are broken out to show how people across the income distribution fared, rather than an aggregate growth number—provide a key look at why the recovery from the Great Recession was so anemic. These new data make clearer the necessity of a big stimulus bill, as well as the utility of distributional datasets, Clemens concludes, urging policymakers to learn their lessons and act accordingly.
Part of the American Rescue Plan is extended Unemployment Insurance benefits that run through August 2021. Equitable Growth research shows that automatic triggers for relief programs are better for economic recovery than arbitrary expiration dates, but there's no doubt that unemployment benefits are an important support for struggling families. It's also well-established that Black and Latinx workers are less likely to access these benefits than their White peers, which can have a major impact on the stabilizing effects of UI benefits on the broader U.S. economy, writes Alix Gould-Werth. New research shows that some demographic groups' consumption and spending in their local economies is more sensitive to fluctuations in income: A $1 change in income means a 7-cent change in spending for White workers, a 15-cent change in spending for Latinx workers, and a 22-cent change in spending for Black workers. This means that when Black and Latinx workers lose income as a result of losing their jobs, they curtail their consumption more significantly, which leads to further unemployment. But it also means that when these workers gain income from UI benefits, they spend significantly more of it, boosting their local economies. This research, Gould-Werth concludes, highlights why extending Unemployment Insurance is a vital part of propelling the broader U.S. economy toward recovery—and why policymakers must also act to address the racial disparities in UI benefit receipt.
One year into the coronavirus recession, unemployment rates are still well-below what they were in February 2020. Kate Bahn and Carmen Sanchez Cumming analyze the latest data released from the U.S. Bureau of Labor Statistics on employment and the U.S. labor market in February. And check out their charticle presenting five key charts on the new unemployment data.
Links from around the web
The way the federal government and many economists and analysts currently measure economic health is not working, write Jhumpa Bhattacharya and Andrea Flynn in The Nation. Looking at aggregate Gross Domestic Product growth or how high the stock market is doesn't accurately reflect the lived experience of most Americans, especially during the coronavirus recession, in which the rich have gotten richer and low- and middle-income families are struggling. Instead, Bhattacharya and Flynn explain, we should focus on improving the lives of the most marginalized in our society—without fearing the cost of doing so—because this will improve everyone's standards of living. Insufficient action and aid from the government at this point would only serve to reinforce and exacerbate the stark racial and gender divides that predated this pandemic-induced recession but have only worsened over the past year. "The health of our economy is only as good as the economic health of the American people—all of them," the co-authors conclude. Measuring the economy in new ways that showcase the lived experience of all people, and especially the most vulnerable, would guide policy in a way that ensures broad-based solutions and a strong recovery.
It is well-documented that the coronavirus pandemic and recession are disproportionately affecting people of color in the United States, but a lack of disaggregated data is preventing policymakers from targeting aid to both the communities that need it and the programs that would be most efficient in providing it. Yahoo!'s Brian Cheung reports on the importance of breaking out data by race and ethnicity to ensure disparities are addressed in relief efforts. Disaggregating data on access to the COVID relief programs passed by Congress in 2020, for instance, would show how different demographic groups utilized the aid and where bottlenecks occurred, which would allow policymakers to be more deliberate as they craft, debate, and pass the American Rescue Plan. Gathering these data, Cheung explains, is a vital part of ensuring equity in government programs and combatting broader economic inequality in wealth and income in the United States.
The coronavirus pandemic and recession has pushed millions of workers from the U.S. workforce, disproportionately affecting women and workers of color, so many of whom have lost the labor market gains they made in recent decades. A new survey from Indeed shows that the pandemic also widened the gender divide in requests for raises and promotions, with men being 8.6 percent and women 12.1 percent less comfortable asking for more money or a better job title from their employers. Indeed's AnnElizabeth Konkel reviews the survey's findings and its implications for gender parity in the U.S. labor force. The survey also finds that women are now more comfortable asking for flexible work schedules and conditions amid the pandemic, probably as a result of increased responsibilities at home, which fall heavily on women's shoulders. Konkel explains that if employers become less accommodating after the pandemic eases, this could push even more women out of the labor force, further widening gender divides in the U.S. workforce.
Friday figure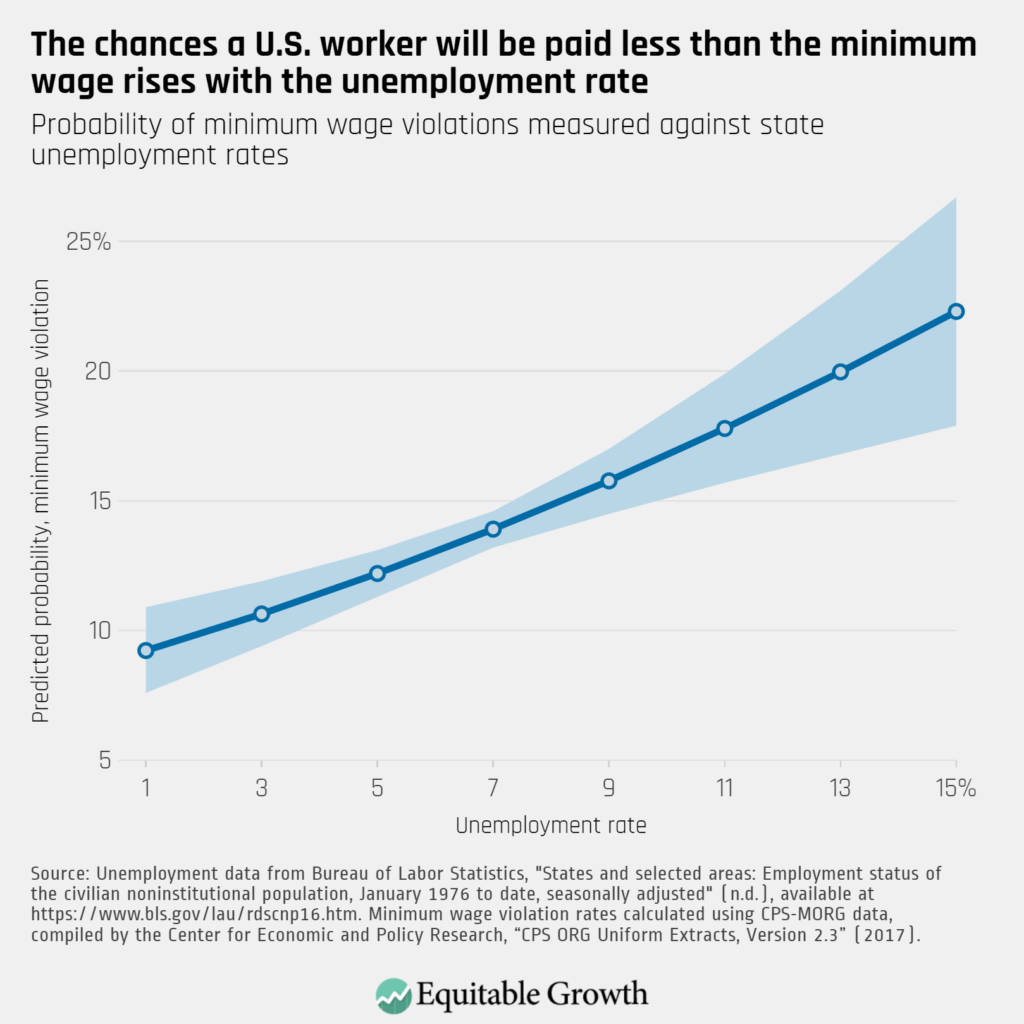 Figure is from Equitable Growth's Executive Action Agenda factsheet "Executive action to combat wage theft against U.S. workers."