Weekend reading: Equitable Growth 2021 Grantee Conference week edition
This is a post we publish each Friday with links to articles that touch on economic inequality and growth. The first section is a round-up of what Equitable Growth published this week and the second is relevant and interesting articles we're highlighting from elsewhere. We won't be the first to share these articles, but we hope by taking a look back at the whole week, we can put them in context.
Equitable Growth round-up
Earlier this week, Equitable Growth hosted our third biennial grantee conference, Equitable Growth 2021: People and Research Advancing Economic Evidence. Held virtually this year for the first time, we gathered scholars and policymakers together over four afternoons to showcase cutting-edge research from our network of grantees, covering economic inequality and its effect on growth and stability. With various types of programming—from fireside chats to keynote addresses to training and mentorship workshops—attendees had the opportunity to learn about up-and-coming research from peers, give and receive advice and feedback on their work, and engage with leaders in the policymaking arena. For more information about the sessions, speakers, and participants, click here.
Every month, the U.S. Bureau of Labor Statistics releases data on hiring, firing, and other labor market flows from the Job Openings and Labor Turnover Survey, better known as JOLTS. Earlier this week, the BLS released the latest data for October 2020. Kate Bahn and Carmen Sanchez Cumming put together four graphics to highlight trends in the data.
Check out Brad DeLong's latest Worthy Reads column, where he provides summaries and analysis of must-read content from Equitable Growth and across the internet.
Links from around the web
Proponents of regulating Big Tech have a big reason to celebrate this week: More than 40 states, as well as the Federal Trade Commission, filed bipartisan antitrust lawsuits against Facebook.com Inc., alleging that the social media giant illegally crushed competition by buying up its emerging rivals, namely Instagram and WhatsApp, that could have eventually challenged Facebook's online dominance. The New York Times' Cecilia Kang and Mike Isaac report on the lawsuits, which call for breaking up these three platforms into separate entities instead of all falling under Facebook's broad umbrella. They also argue for new restrictions on Facebook regarding future deals and purchases—some of the most severe penalties that regulators can demand, write Kang and Isaac. While Facebook has responded to the lawsuits saying it will fight back against the allegations, these cases signal a long legal battle ahead with potentially huge implications for social media platforms and Big Tech regulators alike.
As we enter a new phase of the coronavirus pandemic and recession, with many of the emergency relief programs Congress passed earlier this year set to expire later this month, there's never been a better time for policymakers to consider cancelling student loan debt. Not only does the evidence indicate this would help struggling Americans and their families stay afloat during the worst economic downturn since the Great Depression; it also would address the vast racial wealth divide in the United States. A recent podcast from WAMU radio showcases the debate surrounding student loan forgiveness, featuring Naomi Zewde, who co-wrote (with Darrick Hamilton) a chapter on this topic for our Vision 2020 series of essays. WAMU also put together a series of articles alongside the podcast covering the idea to guide readers and listeners through the ins and outs of the idea.
Friday figure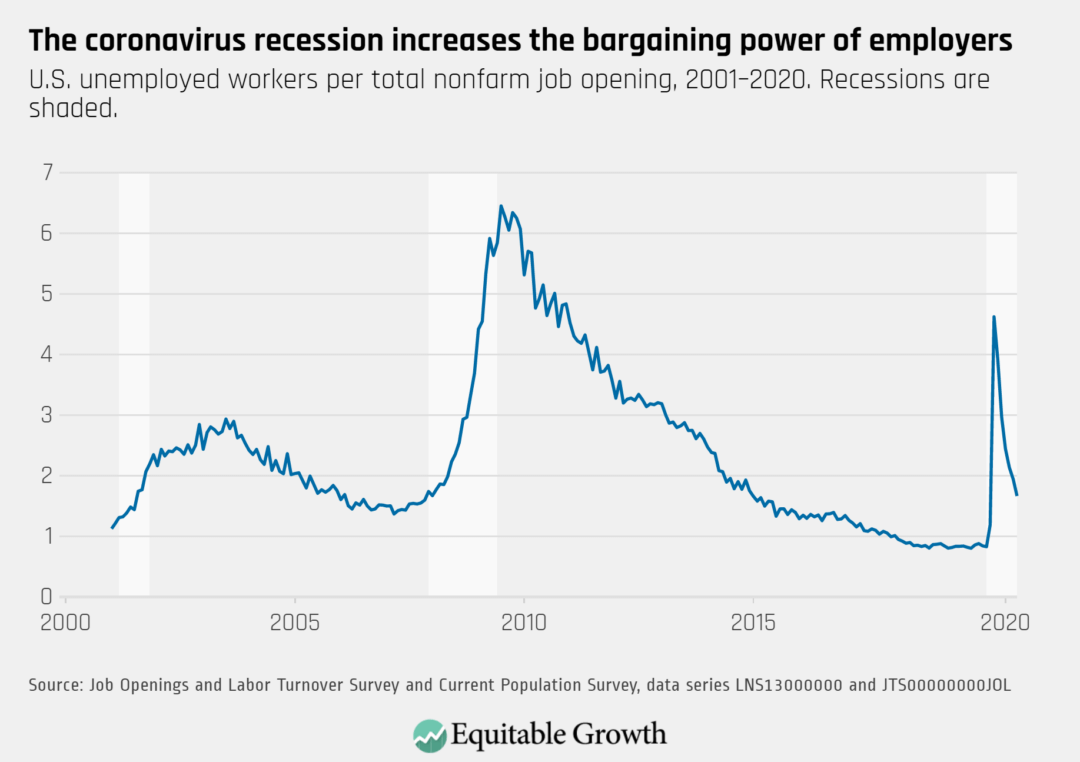 Figure is from Equitable Growth's "JOLTS Day Graphs: October 2020 Edition" by Kate Bahn and Carmen Sanchez Cumming.