Weekend reading: Announcing Equitable Growth's new president and CEO edition
This is a post we publish each Friday with links to articles that touch on economic inequality and growth. The first section is a round-up of what Equitable Growth published this week and the second is relevant and interesting articles we're highlighting from elsewhere. We won't be the first to share these articles, but we hope by taking a look back at the whole week, we can put them in context.
Equitable Growth round-up
In long-awaited and very exciting news, Equitable Growth this week announced that Michelle Holder will be our next president and CEO. Holder is currently an assistant professor of economics at John Jay College, City University of New York, whose research focuses on the Black community and women of color in the U.S. labor market. Named one of 19 Black economists to watch by Fortune magazine in June 2020, Holder has authored two books, including African American Men and the Labor Market during the Great Recession in 2017 and most recently, Afro-Latinos in the U.S. Economy, published in May 2021. Earlier this month, Holder testified before the U.S. Congress Joint Economic Committee for a hearing titled "The Gender Wage Gap: Breaking Through Stalled Progress," and she was a featured speaker at the Black Women's Economic Liberation Summit. Holder will officially start as Equitable Growth's president and CEO in September.
A new working paper examines the role of slavery in U.S. economic growth and development in the two decades prior to the Civil War. In a column summarizing the research, Kathryn Zickuhr writes that this study provides the first in-depth estimate of the contributions of enslaved Americans to economic growth, not only in the South but for the national economy as well. Zickhur details the study's methodology, which creates more direct measures of enslaved workers' output than have previously been used in order to accurately account for their contributions to economic growth. She then discusses the researchers' findings: Enslaved workers were responsible for roughly one-fifth of the growth in commodity output per capita in the United States between 1839 and 1859 despite only making up 12 percent of the population in 1859. Zickhur concludes with the implications and importance of these findings, not only to better understand the role of slavery in U.S. economic history but also to contribute to discussions of reparations for the descendants of enslaved Americans and for reckoning with the legacy of the institution of slavery today.
Unemployment Insurance is a vital lifeline for many U.S. workers who have lost their jobs through no fault of their own, particularly amid the coronavirus recession, which saw mass layoffs and widespread business closures. Yet many governors now faced with labor shortages are cutting off federal pandemic emergency unemployment benefits due to unproven claims about UI benefits hampering the recovery. The UI system has long been plagued with serious issues, writes Alix Gould-Werth, but rather than abruptly ending this important worker support program, policymakers should focus on fixing it. A new report co-authored by UI policy experts offers a road map to strengthening and stabilizing Unemployment Insurance in the United States, Gould-Werth explains. The report offers ideas for developing a nationally uniform UI program with benefit levels and durations that are responsive to economic conditions and that is accessible to all members of the modern workforce who lose their jobs through no fault of their own. It also proposes a blueprint to fix the financing issues that underlie many of the problems with the UI system. These solutions would go a long way toward bolstering a program that millions of workers rely on and would help bolster the macroeconomy by maintaining demand for goods and services, keeping businesses afloat.
The U.S. economy is increasingly characterized by dominant firms controlling digital platforms, writes Steven C. Salop in a contribution to Equitable Growth's Competitive Edge blog series covering antitrust enforcement and competition issues. Salop discusses the legislation currently before Congress that would rein in mergers and acquisitions that tamp down competition for these monopolies and restore competition and innovation to the digital marketplace. He explains why current U.S. antitrust law makes it hard to for the antitrust enforcement agencies to successfully prevent these types of acquisitions. Salop then details why the threat of underdeterrence is more concerning than overdeterrence and why the law should mandate a strong anticompetitive presumption for acquisitions of nascent or potential competitors by dominant firms. He concludes with an explanation of how the bills before Congress would address these issues.
Geographic inequality between regions of the United States has soared over the past four decades, with a handful of metropolitan areas becoming some of the richest economic regions in world history while large swaths of the country remain trapped in economic decline. This rising interregional inequality has long been seen as an issue for local and state policymakers alone. Recently, however, there has been increasing interest in federal-level policy responses to reduce inequality between regions. Many of the ideas that have been proposed to deal with this growing inequality are place-based policies that target specific cities or neighborhoods for federal investment or subsidies. But an upcoming Equitable Growth virtual event will discuss why place-conscious policies would be more effective because they deliver support to all communities simultaneously, making them agile in the face of future changes to economic geography. Place-conscious policies also remove politically fraught questions about which areas qualify for aid and can enable the necessary structural changes to the U.S. economy that will meaningfully and sustainably address the issue of inequality in the United States. Learn more about next week's event here.
Links from around the web
The coronavirus pandemic disrupted every part of the U.S. economy, writes Heather Long in The Washington Post, and in such a way that it's practically impossible for us to go back to the way things were in February 2020. While there's still major uncertainty about what changes will be temporary or permanent, several of the shifts are likely to stick around, from online grocery ordering and delivery to working from home and telecommuting for a sizeable part of the workforce. There are also new dynamics to consider around soaring home prices and inflation, Long continues, as well as enhanced worker power to demand higher pay, better working conditions, and more flexibility and opportunity from employers. It's hard to predict how all these trends will play out both in the short term and long term, Long explains, discussing each with experts and those working in the industries affected. But one thing is pretty certain, she concludes: "the economy coming out of the pandemic is going to look much different than it did before."
Speaking of more flexibility, companies are now beginning to question the age-old idea that working in person boosts innovation because of spontaneous collaborations that occur when workers share a physical space. The pandemic has changed how many employers view telework and working remotely and has led employees to find new, better ways to work together, Claire Cain Miller writes in The New York Times' The Upshot blog. As vaccination rates increase and the pandemic winds down, many companies that implemented work-from-home policies are now reversing these policies in the name of innovation, but the people who study this issue find no evidence that in-person environments are essential for creativity and collaboration, Cain Miller explains. In fact, she continues, there is even some evidence that this can hurt innovation by leading to burnout, long hours, and lack of diversity and representation among the workforce.
Next month, millions of families in the United States will begin receiving monthly checks of up to $300 per child as President Joe Biden's child tax credit expansion goes into effect. Vox's Dylan Matthews explains why this could be one of the most important days in U.S. history for anti-poverty policy, as this benefit is expected to cut child poverty by 40 percent in the United States. Yet despite its expected impact, it is currently a temporary expansion enacted to help working families amid the coronavirus recession and set to end in January. The Biden administration and some policymakers in Congress want to make this expansion permanent, which would also effectively make this program the most important anti-poverty measure in decades, writes Matthews. He details how the program could be improved and why policymakers should make it permanent—and why they must act quickly and efficiently.
June 19 became a new federal holiday this year to commemorate Juneteenth—the day in 1865, more than 2 years after the Emancipation Proclamation was signed by President Abraham Lincoln, when a group of enslaved workers in Galveston, Texas found out they were free Americans. This year, Daina Ramey Berry writes in The Atlantic, we should take a deeper look at the history of Black self-liberation in the United States to understand what emancipation really means and how far the country still has to go. Berry dives into the long history of what freedom and liberty means and how it was achieved. She looks at how Juneteenth has been celebrated and the meaning behind the holiday. And she details the constant and continuing struggle Black people in the United States have fought and are fighting to secure their freedom and rights.
Friday figure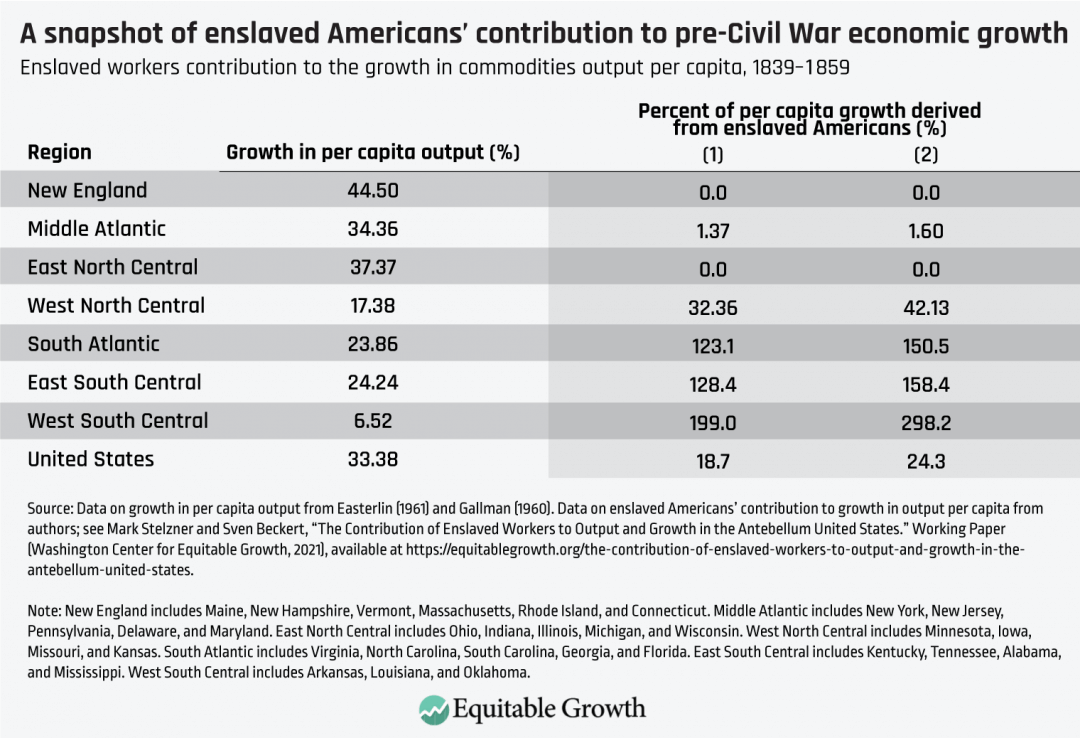 Figure is from Equitable Growth's "New research shows slavery's central role in U.S. economic growth leading up to the Civil War," by Kathryn Zickuhr.