Sustained U.S. economic recovery depends on major equitable economic investments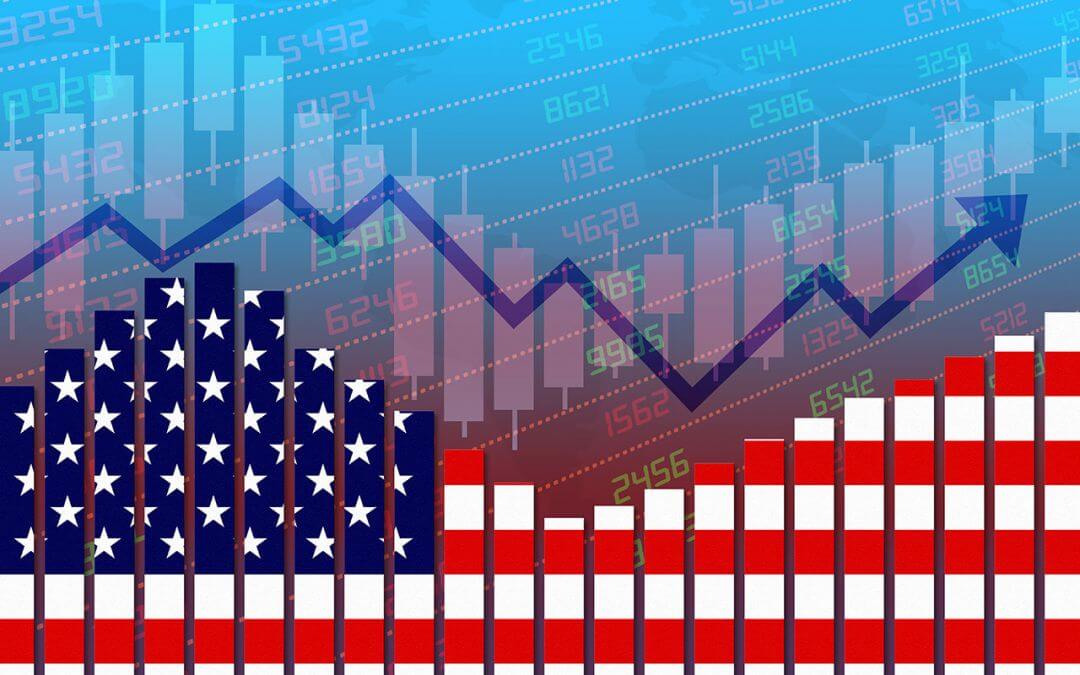 When President Joe Biden made the case before a joint session of Congress in the spring for two new economic investment packages—a $2 trillion American Jobs Plan and a $1.8 trillion American Families Plan—the question in the minds of policymakers and the American public alike was whether this new round of investment spending would result in sustained equitable economic growth.
After all, Congress over the past year had already approved $5.3 trillion in economic relief amid the swift and steep coronavirus recession. These funds came in successive COVID-19 legislative relief packages. They included:
$8.3 billion in emergency funding, titled the Coronavirus Preparedness and Response Supplemental Appropriations Act (2020)
$192 billion for the Families First Coronavirus Response Act (2020)
$2.2 trillion for the Coronavirus Aid, Relief and Economic Security, or CARES, Act (2020)
$483 billion for the Paycheck Protection Program and Health Care Enhancement Act (2020)
$869 billion in pandemic-related spending as part of the end of 2020 consolidated appropriations bill (2020)
$1.9 trillion for the American Rescue Plan (2021)
Even with all of these aid packages, though, the U.S. labor market is far from fully recovered. What's more, the rapid rollout of COVID-19 vaccines in the United States has been matched by quickly evolving new and more infectious strains of the novel coronavirus here and around the world. Businesses small, medium, and large are still grappling with how their customers are going to respond as the pandemic continues. And the ongoing coronavirus recession continues to lay bare the deep economic inequalities that stand in the way of a robust, equitable economic recovery that is more stable and sustainable than the halfhearted recovery that followed the Great Recession.
President Biden's two new economic stimulus proposals will be measured by their effectiveness in addressing these immediate and long-term conditions facing the nation. One broad way to establish this benchmark is simply to look at the growth in Gross Domestic Product over the past year and projections for the rest of 2021. (See Figure 1.)
Figure 1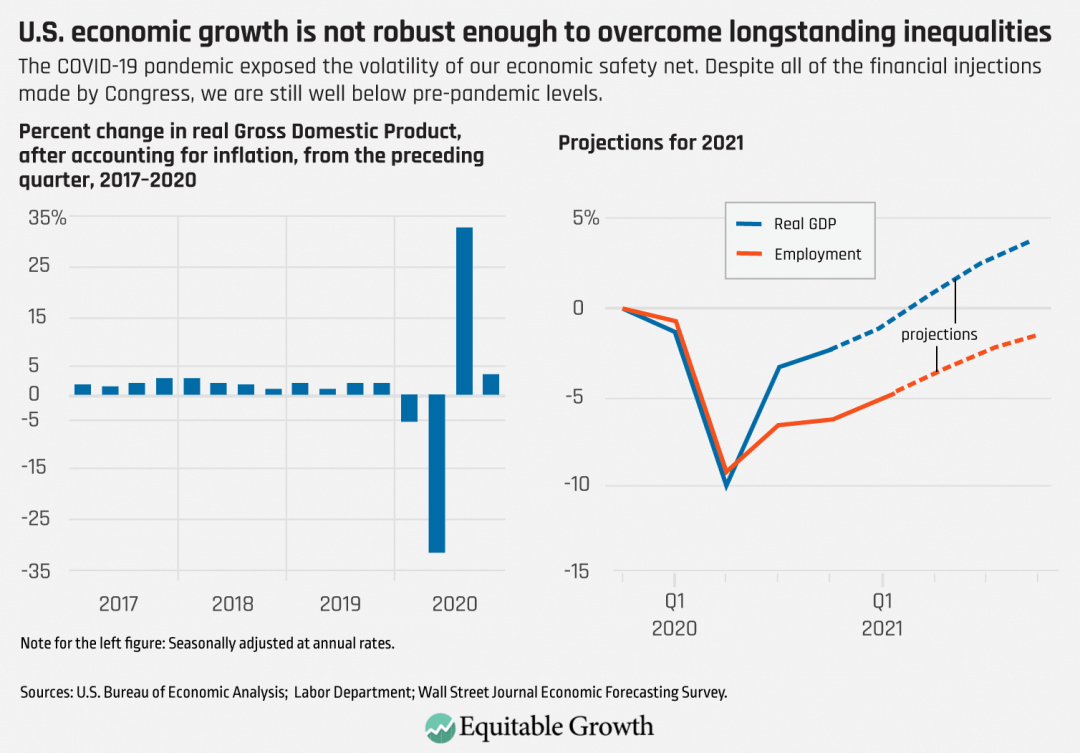 Growth in aggregate GDP, however, fails to disaggregate that growth by income and wealth, race and ethnicity, and other measures. Those measurements should help guide policymakers who want to ensure the economic recovery from the coronavirus recession is more equitable than the recovery from the Great Recession a decade ago. That's why the details of the previous COVID-19 relief packages passed by Congress become so important.
So, let's break out those details. Specifically, let's look at three major relief initiatives: Unemployment Insurance, the Paycheck Protection Program, and direct aid to key sectors of the U.S. economy. Whether these investment programs were effective in 2020 and into 2021, and whether the continuation of these kinds of investments under the Biden administration this year and beyond keeps the U.S. economy on the path toward more equitable economic growth, may well determine just how sustained U.S. economic growth will be over the course of the next decade.
The coronavirus aid and relief programs in 2020 and 2021
When the pandemic first hit the United States, Congress provided an unprecedented amount of federal support. The financial infusion consisted of $856 billion in direct aid, $764 billion toward Unemployment Insurance, and $968 billion for the Small Business Paycheck Protection Program, though the PPP funding was delivered in two tranches, limiting its initial effectiveness. The total of this aid amounted to roughly 18 percent of annual consumer spending and, as noted in a previous study, ended too soon, while the virus was still raging and before a recovery could take hold. The boost to the U.S. economy lasted until July 2020 and as Congress adjourned for it summer recess, the United States began to again feel the suppressed pain of the coronavirus recession.
This made it clear that more aid should be administered, leading to former President Donald Trump's signing of the December 2020 Pandemic Relief Bill. This bill provided $900 billion in federal support. Key components of this bill included the 11-week continuation of the UI benefits program, with the previous amount of $600 extra per week in emergency benefits that was in the CARES Act amended to $300 per week , as well as another round of direct payments to U.S. workers and their families.
The Centers for Disease Control and Prevention also extended eviction moratoriums to June 30, 2021. This direct relief was truly helpful as many U.S. workers and their families were being forced to choose between buying food, paying utilities and rent, and celebrating the holiday season with their families. The Paycheck Protection Program was also reopened to continue supporting small businesses as they struggled to keep the doors open and pay employees, including $310 billion in new funding.
In addition, direct aid to specific sectors of the U.S. economy, such as $61 billion to the aviation industry and $28.6 billion to restaurants, was a hallmark of the 2020 and 2021 coronavirus relief packages, but their successes were hit and miss. Analysis of the Paycheck Protection Program demonstrated that economic relief was not distributed equitably to small businesses. President Biden's American Rescue Plan fixed some of those problems by ensuring the next round of PPP funding was more equitably distributed. That plan also included more extended UI benefits, more PPP loans, and the expanded Child Tax Credit.
The Organisation for Economic Co-operation and Development, however, predicts that a full U.S. economic recovery won't happen until the third quarter of 2021, with significant drags remaining in terms of global economic growth well into next year. That's where President Biden's American Jobs Plan and American Families Plan come into the picture for policymakers.
The American Jobs Plan and American Families Plan
Will President Biden's American Jobs Plan and American Families Plan lay the foundation for more sustained and equitable economic growth? These two economic investment packages are each large and complex. Examining several key elements within them, however, provides a window into their anticipated effectiveness. By taking a look back at what worked in the prior coronavirus relief packages, we can see specific evidence emerge as to what may be the best solution regarding new and long-term investments.
Let's first examine the Unemployment Insurance program. Extended Unemployment Insurance and additional pandemic-related unemployment benefits for gig workers certainly are having their intended macroeconomic impact, boosting consumer spending and keeping workers engaged in looking for the best jobs as employment options return, as is now happening across various sectors of the economy. President Biden's American Families Plan makes provisions for continued UI support as we near the September 5, 2021 expiration date. Should this plan get enacted by Congress more or less as proposed, one key addition should be a reformed UI program that looks to enact so-called automatic stabilizers, which proactively prepare the U.S. economy for the inevitable next recession.
Another key element of the American Rescue Plan was the expanded Child Tax Credit, which will start to be distributed monthly to families beginning in July, yet this is not envisioned as a permanent program in the Biden administration's latest two plans. Congress should consider making these tax credits to families permanent, which would go a long way toward making the CTC program more effective at lowering the U.S. poverty rate and ensuring new generations of U.S. workers are more productive.
Other key programs in the American Jobs Plan include the Neighborhood Homes Tax Credit, the Community Revitalization Fund, and the Unlocking Possibilities Program. Efforts to disaggregate data by income, race, and ethnicity will also be important to understand the composition of the recovery and inform future policymaking efforts. These are just select examples of programs in President Biden's two 2021 economic development plans that bear watching for their expected efficacy in creating a more equitable and sustained economic recovery this year and into 2022.
Conclusion
The coronavirus recession exposed several ways in which policymakers can invest in meaningful and sustained equitable economic growth. Even after the current pandemic subsides, the United States as a nation is not at all immune to pandemics or other possible future financial catastrophes. The one immediate lesson learned after spending $5.3 trillion in coronavirus aid and relief over the past year is that Congress can act quickly and in a bipartisan fashion when a crisis strikes. Now, policymakers in Congress need to consider the medium- and long-term investments in President Biden's new economic plans with equal vigor. Policymakers should above all pay attention to how those investments foster broad-based and sustained economic growth well into the 2020s.