LGBTQ+ Black Pride: More than a celebration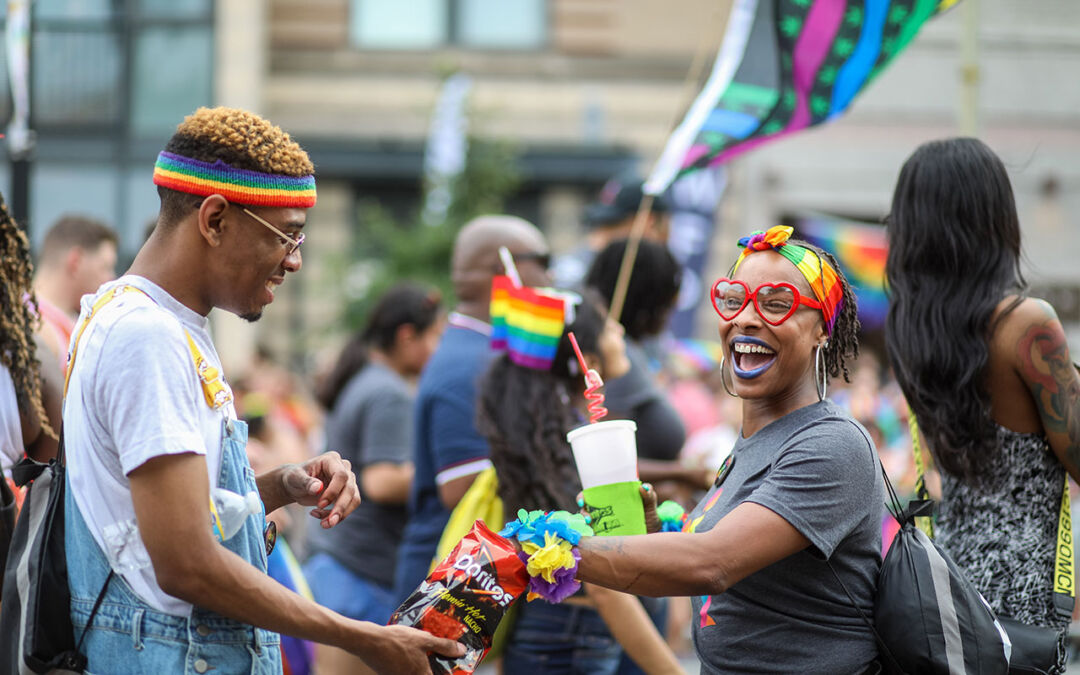 This column is the fifth in our series of pieces by guest authors examining systemic racial, ethnic, and gender inequities in the U.S. economy and in access to government social infrastructure and income support programs—inequities that hinder the full growth potential of our economy and the well-being of our society.
LGBTQ+ Pride Month is observed every June to commemorate the Stonewall Riots and celebrate lesbian, gay, bisexual, transgender, and queer pride. The Stonewall riots, also known as the Stonewall uprising, were a series of spontaneous protests by members of the LGBTQ+ community in response to a police raid that began in the early morning hours of June 28, 1969, at the Stonewall Inn in the Greenwich Village neighborhood of New York City. In order to commemorate the anniversary, the first LGBTQ+ parade in the world took place June 30, 1970, in New York City. But what is too often left unsaid in this retelling of the origins of Pride Month are that many of the Stonewall Rioters were Black and Latinx.

The formation of Black LGBTQ+ Pride, or what is also known as Black Pride, helps call attention to this history while also providing a safe space in the present to celebrate those with the dual identities of being part of the African diaspora and being LGBTQ+. The first formal celebration of Black Pride was held on May 24, 1991 in Washington, D.C, and helped organize HIV/AIDS prevention and care information to a community that was decimated by the AIDS pandemic. DC Black Pride helped to catalyze the Black Pride movement, with more than 50 Black Pride celebrations occurring worldwide today, including last month's DC Black Pride.

Black Pride also is an opportunity to call attention to three important and interrelated areas of equity: economic equity, social equity, and health equity. With recent data demonstrating, for example, that 31 percent of Black LGBT households and 24 percent of Hispanic LGBT households reported earning less than $25,000 annually, compared to 24 percent of Black non-LGBT households and 15 percent of Hispanic non-LGBT households, the need to highlight systemic racial disparities in the boarder LGBTQ+ community could not be more urgent.
Economic inequality based on race, as well as economic inequality based on sexuality, are both well-documented. There is a breadth of research literature, for example, demonstrating the centuries-long wealth gap between Black Americans and White Americans, the enduring impacts of occupational segregation and discrimination, the disproportionate U.S. labor market outcomes on Black Americans during recessions, and a host of other racially inequitable economic outcomes.
Likewise, economic hardships faced by the LGBTQ+ community are well-documented. Surveys consistently show LGBTQ+ individuals are less likely to own a home and more likely to face more likely to face housing insecurity than non LGBTQ+ individuals. LGBTQ+ individuals are also more likely to face discrimination from financial institutions and report food insecurity.
Black LGBTQ+ individuals experience compounding race and gender-identity problems alongside particular economic barriers, and thus are more likely to experience poverty compared to both White LGBTQ+ individuals and non-Black LGBTQ+ individuals. More specifically, a 2020 survey from the Center for American Progress finds that 53 percent of Black LGBTQ individuals reported a household income of less than $40,000 a year compared to 41 percent of White LGBTQ respondents. The survey also finds that 69 percent of Black LGBTQ individuals reported discrimination negatively affecting their financial well-being to some degree, while 50 percent of White LGBTQ respondents reported the same. Similarly, 36 percent of Black LGBTQ individuals also reported receiving assistance from the Supplemental Nutrition Assistance Program in the past year compared to 20 percent of White LGBTQ respondents.
Nonetheless, this is just the tip of the iceberg. While federal agencies are beginning to disaggregate economic data by sexuality, improved data infrastructure can help continue to shed light on the impacts of economic inequities faced by the Black LGBTQ+ community. And yet, these economic inequities do not exist in isolation. Rather, they intersect with other aspects of equity and cannot be disentangled, especially health equity and social equity.
Black Pride exists as one means of addressing these inequities. From a social equity standpoint, Black Pride serve as a platform for advocacy and activism, addressing issues such as racism, homophobia, transphobia, and discrimination within and outside of the LGBTQ+ community. Black Prides are much more than just parades, parties and recreational activities—although these also matter—they also provide opportunities for education and awareness-raising, including workshops and panel discussions on topics related to the Black LGBTQ+ community.
Black Pride organizers and attendees join with other members of the African diaspora to deal with the intersection of issues that impact all parts of the Black community such as community policing, homeliness, anti-poverty, the Black Lives Matters movement, gun violence, eliminating food deserts, disaster relief, access to healthcare, vocational education, justice reform, transportation, public school education and public safety issues. With surveys indicating high incidences of police violence and intimate partner violence, it is paramount to address these social issues.
Regarding health equity, all Black Prides offer health screenings and information on a variety of health issues. Black LGBTQ+ individual face unique health issues due the intersecting forms discrimination and stigma that they experience based on their race, sexual orientation, and gender identity. Some of the key health issues that affect Black LGBTQ+ are HIV/AIDS, with Black gay and bisexual men account for the highest rates of new HIV diagnoses in the United States.
Moreover, Black LGBTQ+ individuals experience higher rates of mental health issues as depression, anxiety, and suicidality due to the stress of navigating multiple forms of discrimination and marginalization. Black LGBTQ+ individuals also are more likely to have limited access to quality healthcare and have poorer health outcomes, facing face significant barriers to accessing healthcare due to a lack of culturally competent healthcare providers, discrimination among other providers, and economic disparities that limit access to quality healthcare.
Black Pride leaders and community activists press healthcare providers to recognize and address the unique health issues face by Black LGBTQ+ individuals to provide culturally responsive care that meets their specific needs. Additionally, increased data collection and funding for research and healthcare initiatives that focus on Black LGBTQ+ health is necessary to address the health disparities that exist in this population.
At the Center for Black Equity, of which I am President/CEO, we aim to promote a multinational LGBTQ+ network dedicated to improving health and wellness opportunities, economic empowerment, and equal rights while promoting individual and collective work, responsibility, and self-determination. By calling attention today to three foundational pillars of equity—economic, social, and health—we can uphold the rich legacy of the first Black Pride event in 1991 and continue to build a more equitable society.
—Earl Fowlkes is the President/CEO of the Center for Black Equity (formerly the International Federation of the Black Prides). He served in leadership of DC Black Pride for 15 years.