Beauty products for women of color and femme-identifying people of color perpetuate U.S. health and other socioeconomic inequalities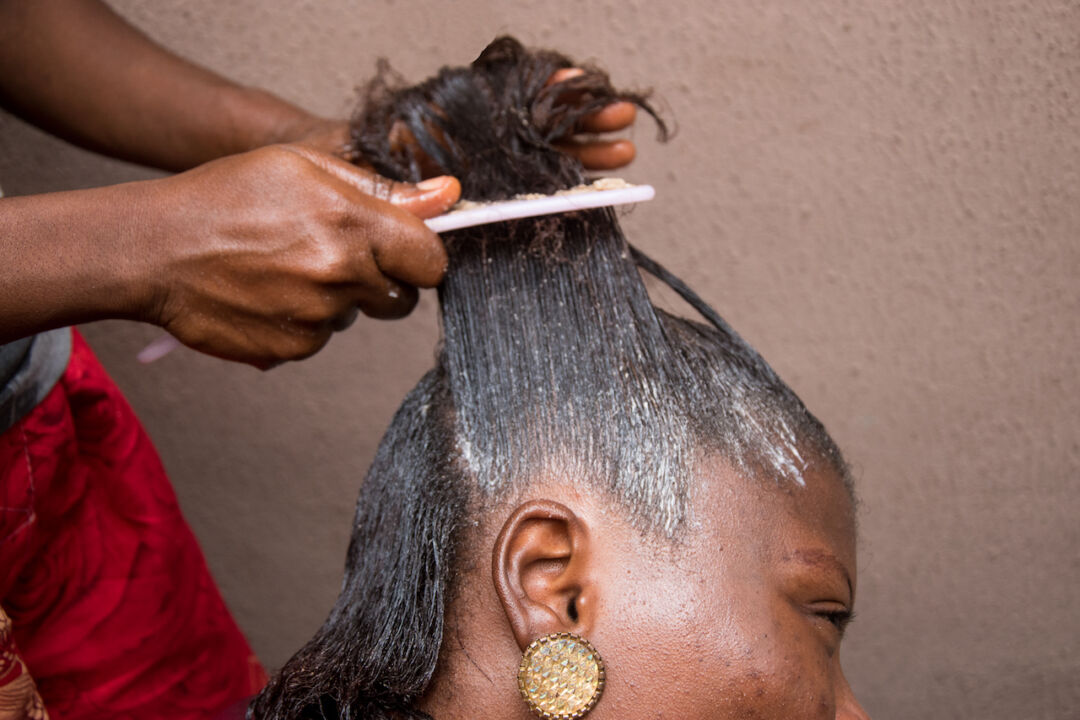 This column is the second in a series by guest authors examining systemic racial, ethnic, and gender inequities in the U.S. economy and in access to government social infrastructure and income support programs—inequities that hinder the full growth potential of our economy and the well-being of our society.
The use of personal care beauty products that contain harmful chemicals impacts the quality of life and life expectancy of women of color and femme-identifying people of color across the United States. The perpetuation of Eurocentric standards of beauty also encourages many of these same individuals to purchase expensive products to lighten their skin and straighten their hair.
These beauty products and cultural expectations that contribute to their use perpetuate health and other socioeconomic inequalities in ways that are emblematic of enduring racial, ethnic, and gender discrimination in the U.S. economy. Yet new data-driven evidence of these broader health and socioeconomic harms for women of color and femme-identifying people of color who use these types of personal care beauty products is sparking new research and new policymaking.
What's more, these initial policy steps to end traditional Eurocentric beauty standards in U.S. workplaces, alongside increasing demand for natural hair and skin products, may well lead to safer beauty care for women of color and femme-identifying people of color. But before detailing these recent developments, let me first share some important context about the role of dangerous beauty products in these communities.
For us in the Black community, relaxers—products designed to "straighten" curly hair—are a way of chemically straightening hair by breaking down our hair's protein bonds. A lot of people may choose to relax their hair for different reasons. For some, it's simply to have a different style. Others say it is easier to handle and work with.
But many in the Black community think it changes how others view them. Straight hair has been celebrated in movies, television, art, and other forms of media that reflect life and culture. As a result, some women straighten their hair because of this influence and ideal that has been perpetuated. In a recent study from the Columbia University Mailman School of Public Health and in close partnership with WE ACT for Environmental Justice, almost half of survey participants who identified as women of color or femme-identifying folks believed that others perceive straight hair as more beautiful, wealthy, and professional.
For me, when I scan the streets for a beauty store that I hope will carry my favorite brand of conditioner to make my kinky 4c hair healthy, I often find a couple of shea-butter-based conditioners from popular brands that don't really create products for Black hair—a product that promises a glossy finish but looks and smells like pea soup. Now, I've always had a tough relationship with my hair. As a child who was tender-headed because of a sensitive scalp, I hated getting my hair done.
While I identify today as nonbinary, I have the experience (and honor) of being socialized as a Black girl. I have so many memories of leaning over the sink, feeling water splash all over my face as I felt the relief of the burning relaxer subside. I got relaxers up until college but also have had braids, twists, and perms—hairstyles containing ingredients and chemicals that can be risky to human health. And in 2014, I transitioned my hair to going natural, deciding to participate in what the Black community calls "the big chop."
Having spent copious amounts of time in Black hair salons, I looked through many large books of hairstyles that expanded my mind around the possibilities of Black hair. I have also witnessed my mother and other women in my family go through all of the hair changes and styles that have defined the time of Black women—the Bundt, jheri curl, blowouts, and micro braids, all of which also use ingredients and chemicals that are not well-regulated for safety.
As recently as the 1990s, women of color mostly had no clue about the harmful health impacts of relaxers, conditioners, and other personal care beauty products. Today, however, there is so much more information available about the dangers of these beauty care products. Most recently, researchers from the U.S. National Institutes of Health find that women who use chemical hair straighteners and relaxers may have a higher risk of uterine cancer. This new research is worrying because Black women already are at higher risk for pregnancy-related deaths and heart failures throughout the United States. Additional health dangers for Black women linked to harmful beauty products are uterine fibroid tumors and hormone disruption.
These health dangers intersect with the harmful consequences of climate change and existing environmental degradation in many communities of color, leaving women of color facing elevated health disadvantages that are already multiplied by historical health discrimination. Communities of color overall have been disenfranchised, divested, and deprived of critical financial and natural resources due to systemic racial and wealth-based oppression. Many of these communities also have been harmed by environmental hazards that create a cumulative impact on health. All of these factors create a cumulative impact on health that leave women of color with a lower life expectancy.
Then, there are the broader socioeconomic consequences of Eurocentric standards of beauty in the workplace. Former First Lady Michelle Obama, for example, did not feel she could present her natural hair until she had left the White House due to her work as part of the Obama administration. And she is by no means alone in this belief—not least because workers of color still experience pervasive income inequality and job precariousness. In 2020, for example, Hispanic women earned 57 cents on the dollar, compared to cisgender White men, with Black women earning 64 cents, and Asian American and Pacific Islander women earning on a spectrum of 52 cents to 95 cents on the dollar, depending on ethnicity.
As the director of environmental health and education at WE ACT for Environmental Justice, I now spend much of my time collaborating with my colleagues to advocate for the improvement of health outcomes for women of color, specifically as relates to beauty justice, which focuses on safer access to beauty products. In our work, we often find that there are many health issues that can be linked to specific chemicals or products, but changing the behavior of using products is another task.
The cosmetics companies that market their products to women of color and femme-identifying people of color use colorism and Eurocentric white-washing standards to fuel consumerism from their biggest customers. This is an effort to perpetuate and manipulate harmful social standards that will get these groups to buy more personal care beauty products. Black women spend almost $54 million a year on haircare, which is culturally important and necessary for their communities. Latina/o/x communities are also one of the fastest-growing consumers of haircare and other personal care products.
European standards of beauty have penetrated all racial groups and encouraged skin whitening and hair straightening, which poses long-term health problems and worsens health disparities, such as higher rates of breast cancer alongside the other cancer dangers detailed above. By creating looks that are aligned toward these standards, we change the way women, girls, and femme-identifying people of color at large see themselves.
In 2020, WE ACT for Environmental Justice, in collaboration with environmental health scientists Ami Zota and Lariah Edwards at Columbia University's Mailman School of Public Health, completed a Harlem-focused study of 296 women of color and femme-identifying people of color. When asked about perceptions of straight hair and light skin, 52 percent of participants believed that light skin makes them more beautiful, and 50 percent of participants believed that straight hair makes women look more professional.
In addressing the continuing influence of colorism and Eurocentric standards in these communities, many organizations have taken to creating campaigns that focus on natural hair. Although not exempt from greenwashing, natural hair products and practices offer a healthier alternative to the use of relaxers, chemical straighteners, and other harmful products. In a recent report completed by Grand View Research, the natural hair market is expected to increase by almost 5 percent by 2027 across the gender binary.
Policy is likewise focusing on these issues now. One case in point is the introduction of the CROWN Act, which seeks to prevent hair discrimination specifically for those who do not fit Eurocentric standards.
The message here is clear: The quality of life and the health of women of color and femme-identifying people of color is not for sale. Policies that support holistic and enriching hair and personal care beauty products is the only way to protect these groups of people, who have historically been marginalized in the economy and society.
—Beaumont Morton is the director of environmental health and education at WE ACT for Environmental Justice.