Expert Focus: Researchers advancing our understanding of U.S. child care policy and how to improve the early care and education system

Equitable Growth is committed to building a community of scholars working to understand how inequality affects broadly shared growth and stability. To that end, we have created the series "Expert Focus." This series highlights scholars in the Equitable Growth network and beyond who are at the frontier of social science research. We encourage you to learn more about both the researchers featured below and our broader network of experts. If you are looking for support to investigate the U.S. child care policy and the early care and education system, please see our funding opportunities and stay tuned for our next Request for Proposals in November 2022.
Child care and early education underpins the U.S. labor force and the overall economy. Yet broad investment in U.S. social infrastructure, including in child care, is often overlooked as a contributor to creating a strong, stable, equitable, and prosperous labor force and economy. When the COVID-19 pandemic hit, many early care and education providers closed their doors and schooling became virtual, forcing millions of workers—many of them women and mothers—to stretch themselves thin balancing child care and work or even to leave the workforce entirely.
Child care workers also are severely underpaid and have one of the highest turnover rates in the U.S. labor market, leading to unstable and inadequate care environments for many children and a dearth of quality, affordable providers for many others. Despite these challenges—all of which were exposed and worsened by the pandemic—policymakers have, year after year, failed to make the necessary public investments in early care and education and its workforce.
There is a broad base of evidence showing the importance of these investments and how they more than pay for themselves by boosting economic growth in both the short and long term. U.S. child care policy remains inadequate for how vital this industry is to the functioning of the overall economy. Research shows that the U.S. child care sector remains woefully unprepared to navigate future economic downturns and is on the brink of a potential crisis.
This month's Expert Focus highlights scholars whose research will help inform U.S. early education and child care policy. The body of work put out by these and other early childhood experts shows that policy interventions will not only offer much-needed support to the child care workforce, but also strengthen family economic security and well-being, improve children's future economic and health outcomes, and boost the broader U.S. economy.
Lea Austin
Center for the Study of Child Care Employment
Lea J.E. Austin is the executive director of the Center for the Study of Child Care Employment at the University of California, Berkeley, where she leads the center's work to ensure the well-being of U.S. early educators. She is an expert on the U.S. early care and education system and its workforce, and has extensive research experience in the areas of compensation, preparation, working conditions, and racial equity in the child care sector. Recently, she has explored the effects of the COVID-19 pandemic on the child care sector and early care workforce, finding that preexisting disparities and challenges in the industry were deeply exacerbated by the economic and public health crises.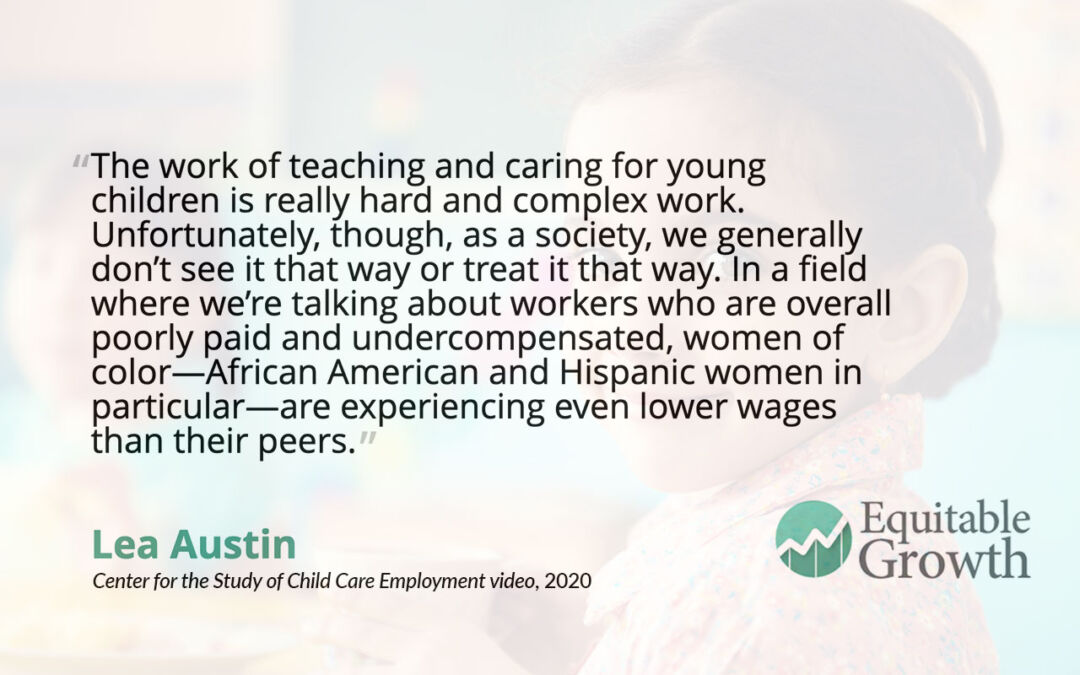 Jessica Brown
University of South Carolina
Jessica H. Brown is an assistant professor of economics at the University of South Carolina's Darla Moore School of Business. Her primary research interests are in public and labor economics and the economics of the child care market. Her recent co-authored research looks into the impact of increased public investment in early childhood education, finding, for instance, that subsidizing families' child care payments would increase mothers' employment by 6 percentage points and full-time employment by around 10 percentage points, with most increases occurring among low-income families. Another recent paper, co-authored with Chris Herbst of Arizona State University, examines the effects of macroeconomic cycles on the child care industry, finding that child care employment requires more time than other low-wage industries to recover from downturns. Her investigations into how the child care market responds to early care and education policy change have helped inform policymakers and advocates in crafting policy solutions that promote the stability of the entire early care and education market.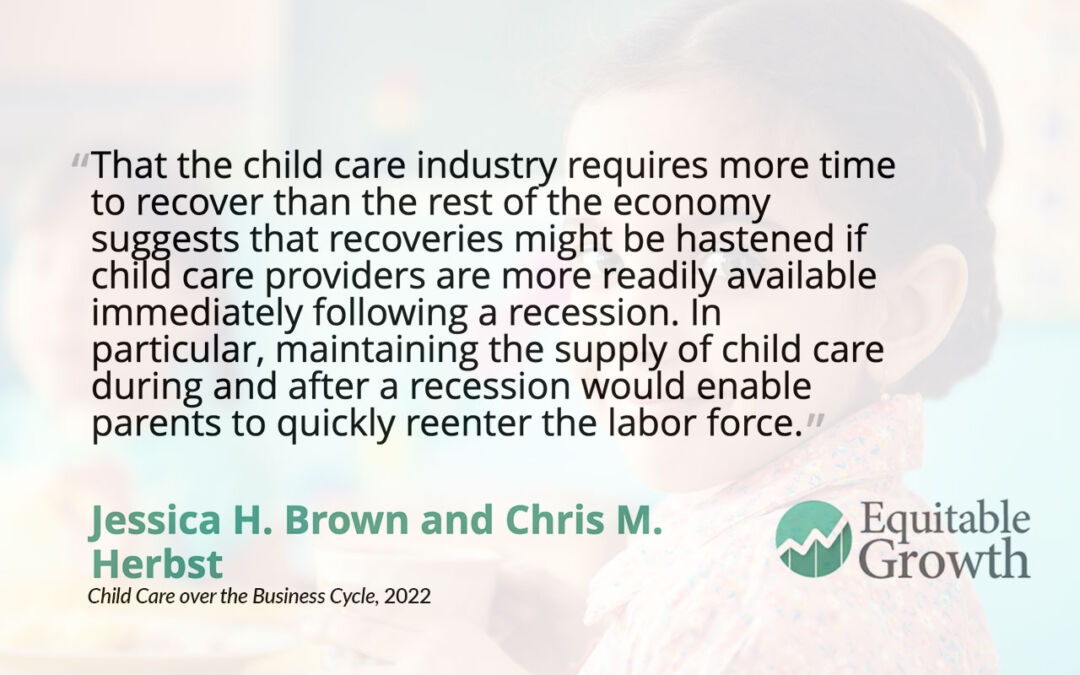 William Gormley
Georgetown University
William T. Gormley is university professor and professor of government and public policy at Georgetown University, as well as the co-director of the university's Center for Research on Children in the United States. For nearly two decades, Gormley has worked to shape early childhood education and child care policy. His extensive work on the Tulsa preschool project—which began in 2001 to track the effects of Oklahoma's universal pre-Kindergarten program—has been covered by many popular media outlets and academic journals. He also has recently written on universal pre-K and how to make it work in the U.S. context, analyzing President Joe Biden's calls on Congress in 2021 to pass a nationwide public preschool program.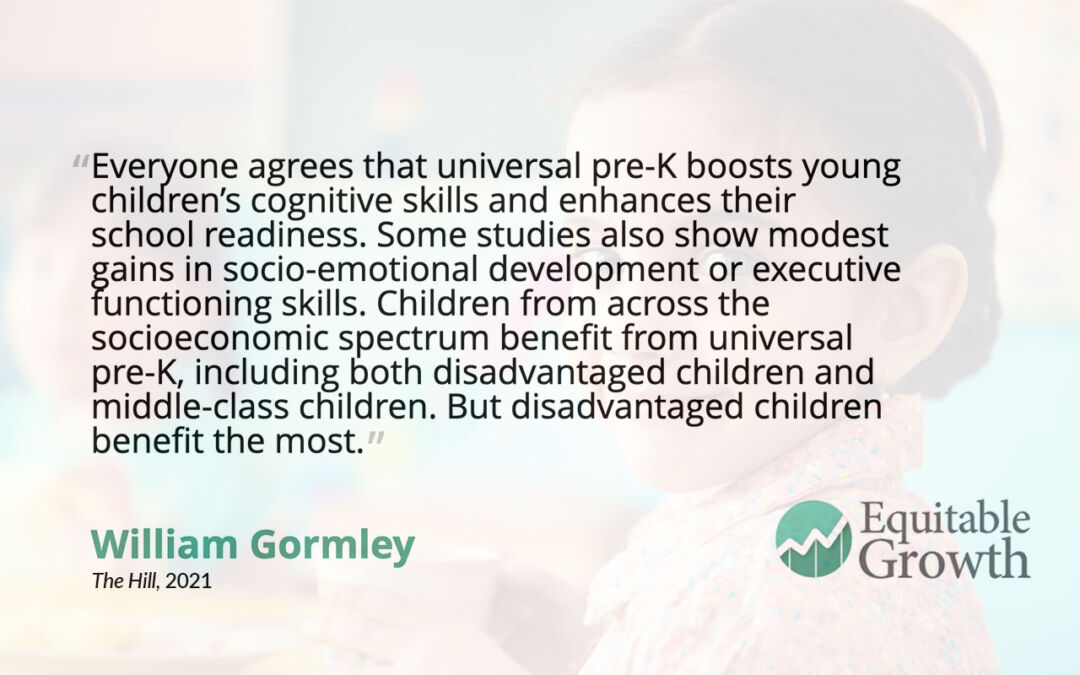 Julia Henly
University of Chicago
Julia R. Henly is a professor in the Crown Family School of Social Work, Policy, and Practice at the University of Chicago, where she also serves as deputy dean for research and faculty development. Her research interests lie in the economic and caregiving strategies of low-income families and the design, implementation, and effectiveness of employment and child care policy and programs. Her ongoing projects include investigations into how COVID-19 impacted center- and home-based child care programs, equity in child care subsidy access and the effects of recent subsidy policy changes on program participation, child care decision-making of low-income families who use child care subsidies and families seeking care in Latino communities, and the effects of work schedule precarity and workplace flexibility on worker and family well-being. In 2021, Henly was awarded an Equitable Growth grant with David Alexander of Illinois Action for Children to further her work on child care subsidies and the home-based child care sector, particularly amid the COVID-19 pandemic.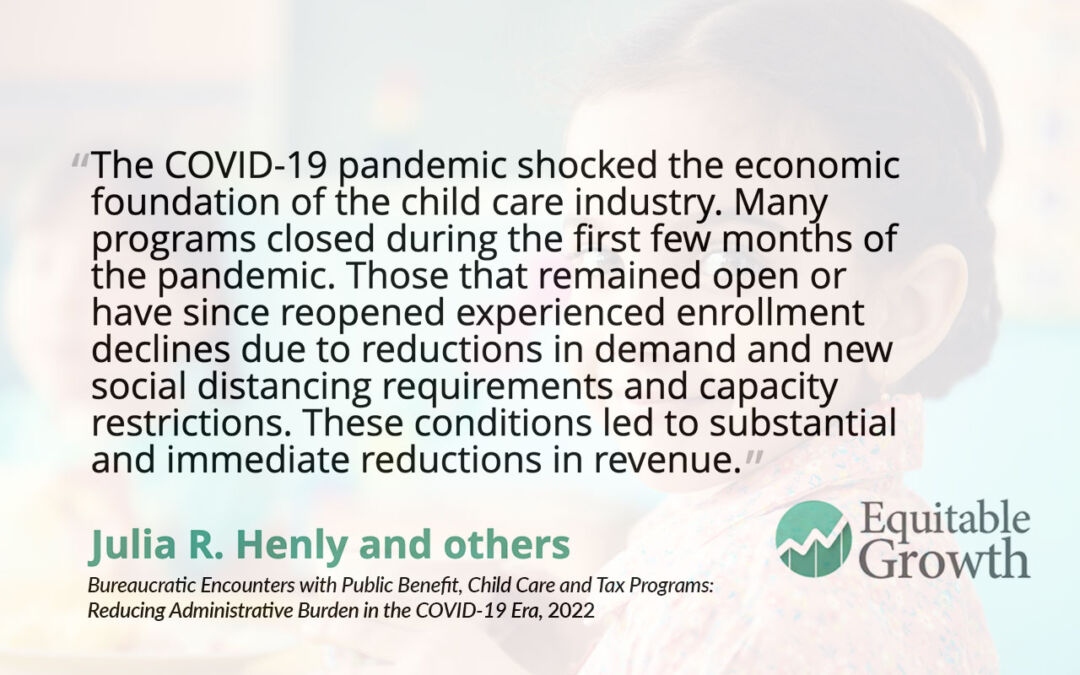 Taryn Morrissey
American University
Taryn Morrissey is a professor in the Department of Public Administration and Policy at American University. In the spring and summer of 2022, she was on leave from her faculty position to work at the Office of Child Care at the U.S. Department of Health and Human Services. Her research focuses on public policies for children and families, including early care and education, nutrition and income assistance, and paid family leave, as well as family economic instability. Recent co-authored research includes a paper that looks into the connection between parent economic stability and the stability of children's child care subsidy receipt, as well as another paper on access to early care and education in rural communities. In 2020, Morrissey contributed a chapter to Vision 2020: Evidence for a stronger economy, a compilation of 21 essays to shape the policy debate published by Equitable Growth. Her essay examined the need for affordable, high-quality, and universal early care and education in the United States.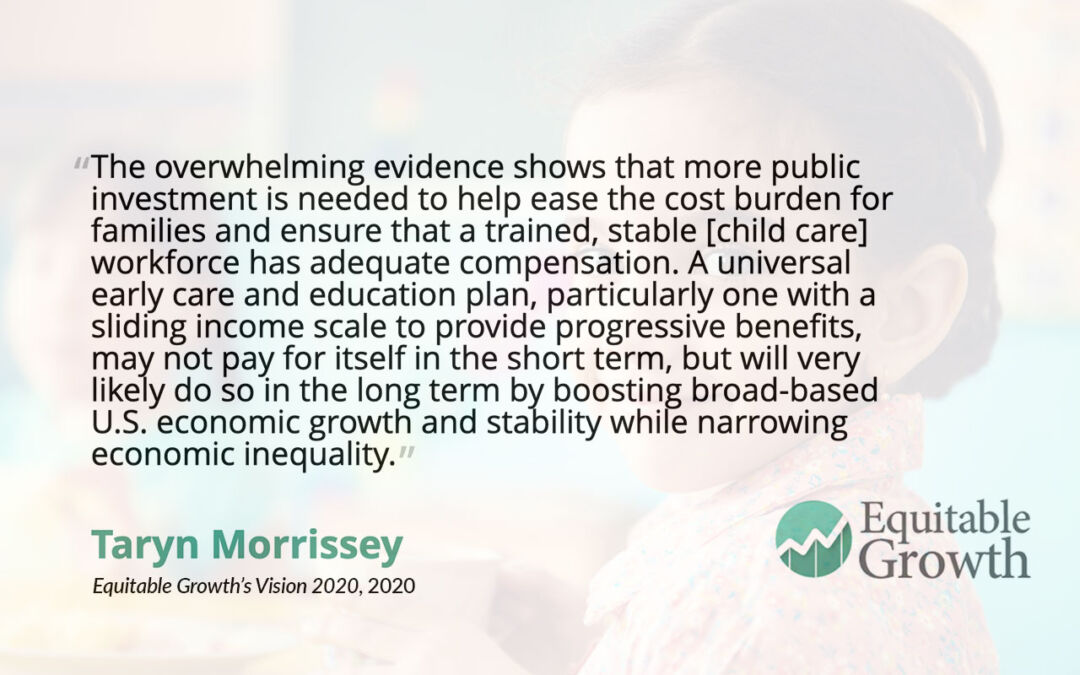 Corey Shdaimah
University of Maryland, Baltimore
Corey Shdaimah is the Daniel Thursz Distinguished Professor of Social Justice at the University of Maryland School of Social Work. Her research focuses on the policy implications of child care, dependency court, and street-based sex work. Recent media appearances focus on the U.S. child care sector, including the failure to support families and providers who bear care responsibilities. In 2021, she received an Equitable Growth grant, alongside Bweikia Steen of George Mason University and Elizabeth Palley of Adelphi University, to study the various challenges facing informal, home-based child care providers in the United States—a relatively unstudied group. She is also the co-author, with Palley, of In Our Hands: The Struggle for U.S. Child Care Policy (NYU Press, 2017), a book that explores why there hasn't been much policy action to improve the U.S. child care industry.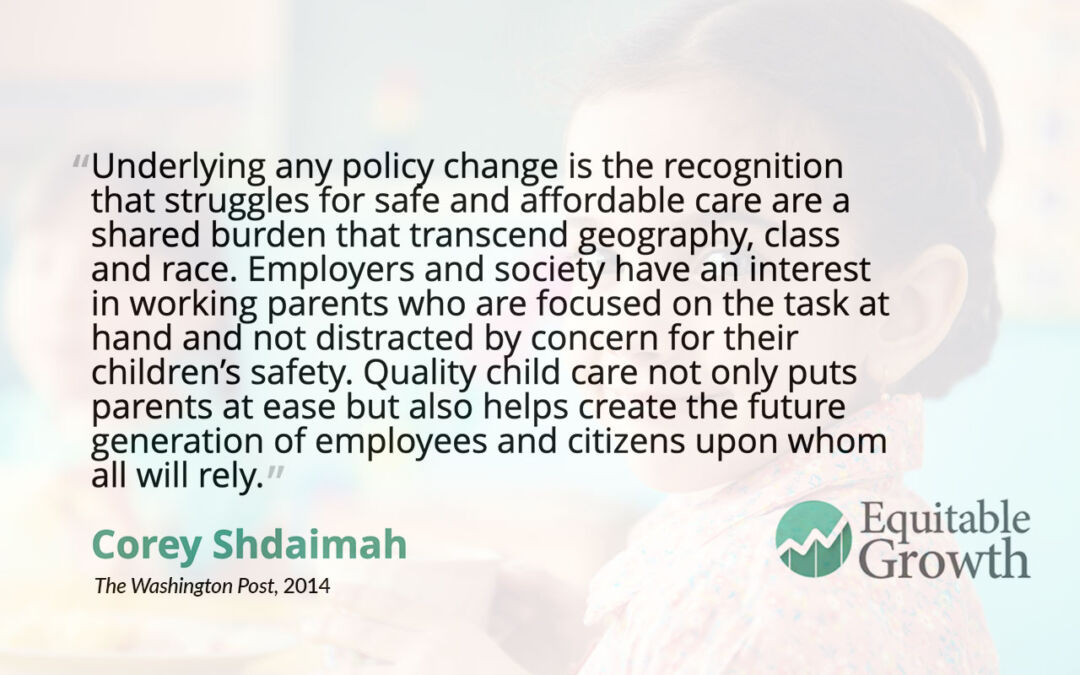 Equitable Growth is building a network of experts across disciplines and at various stages in their career who can exchange ideas and ensure that research on inequality and broadly shared growth is relevant, accessible, and informative to both the policymaking process and future research agendas. Explore the ways you can connect with our network or take advantage of the support we offer here.