Expert Focus: Latino leaders in economics and a call for more data and research about Latinos and Hispanics

Equitable Growth is committed to building a community of scholars working to understand how inequality affects broadly shared growth and stability. To that end, we have created the monthly series, "Expert Focus." This series highlights scholars in the Equitable Growth network and beyond who are at the frontier of social science research. We encourage you to learn more about both the researchers featured below and our broader network of experts.
In honor of Hispanic Heritage Month, this installment of Expert Focus highlights Latino leaders in economics, the need for more, and more accurate, data about Hispanics and Latinos, and research that applies the intersectionality of race, ethnicity, and gender from among Equitable Growth's academic community and beyond.
Many Latino leaders call for more accurate and representative research about Latinos. More and better data will enhance researchers' ability to compare and/or distinguish Latinos from other groups of diverse backgrounds in the United States, as well as understand differences within the Latino community. Similarly, scholars insist on adding more context to the use of different terms, such as Hispanic or Latino. Some note the invention of Latino and Hispanic terms, as well as the ethnoracial politics and the generational differences within the group in terms of how to self-identify. Other terms used by those in this group are Latinxs and Afro-Latinos.
In economics, one way Latino leaders have drawn Latinos and individuals from underrepresented backgrounds to the profession is through their participation in mentorship programs. Below, we highlight Latino leaders working at the American Economic Association and the American Society for Hispanic Economists, which originated alongside—and often collaborates with—the National Economic Association focused on Black economists. This year, Equitable Growth participated as a first-time host organization for the AEA Summer Training Program for experiential learning participants and the AEA Summer Economics Fellows Program to support efforts to diversify the profession.
Francisca Antman
The University of Colorado Boulder
Francisca Antman is an associate professor of economics at the University of Colorado Boulder. Her research focuses on Latinos, international migration, human capital investments, and the allocation of resources within households and families. Building from development and labor economics, her recent projects examine the impact of school desegregation on the educational progress of Hispanic Americans, the construction of racial and ethnic identity and related patterns of assimilation, the effects of immigration policies on undocumented immigrants, and the effects of migration on the elderly generation left behind in Mexico. For 6 years, Antman served on the American Economic Association Committee on the Status of Minority Groups in the Economics Profession. Currently, she is serving as the co-director of the committee's mentoring program, a flagship AEA program to attract and retain underrepresented groups in the field of economics. The program focuses on providing mentorship to early career economists and facilitating networks between scholars at all stages as a tool to advance diversity, equity, and inclusion in the economics profession.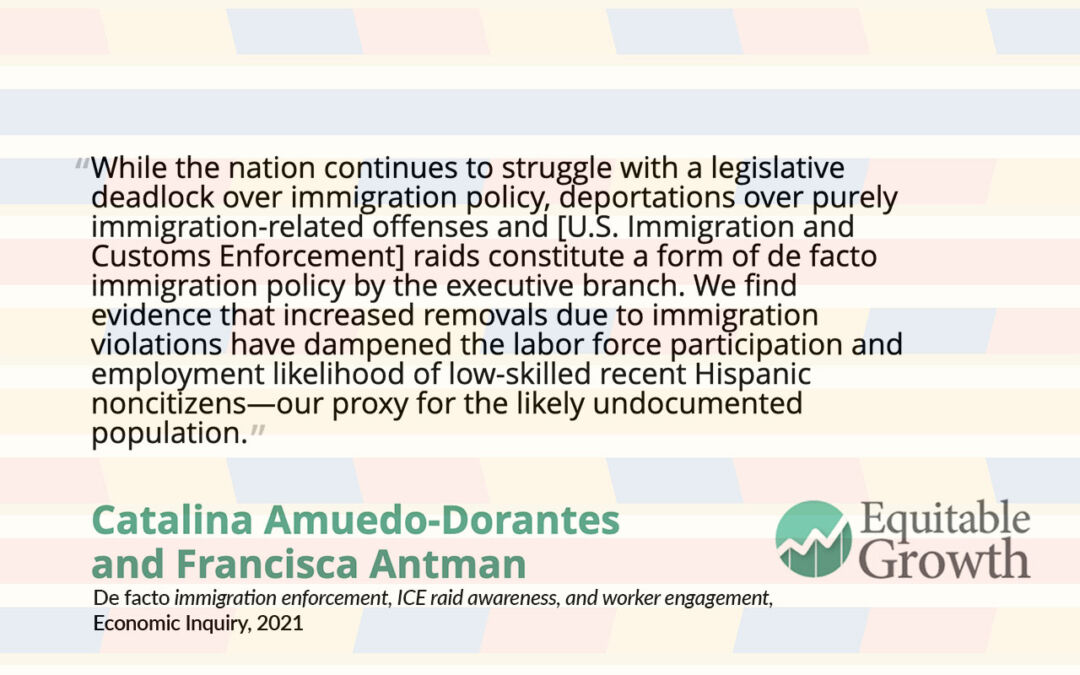 Mónica García-Pérez
St. Cloud University
Mónica García-Pérez is a professor of economics at St. Cloud University. Her research concentrates on immigration, health economics, and labor economics. García-Pérez also is a co-author of an Equitable Growth working paper looking at credit scores and incarceration. A speaker at Equitable Growth's Vision 2020 event, García-Pérez is also an active leader in various professional societies in economics. As past president of the American Society of Hispanic Economists, she wrote a solidarity statement in response to 2020's historic events of discrimination, violence, and murder impacting underrepresented groups and individuals in the United States. In 2021, she served as faculty to support students interested in economics as a member of the AEA Summer Program and a fellow of the 2021 Reinventing Our Communities Cohort Program organized by the Federal Reserve Bank of Philadelphia.
Mark Hugo López
Pew Research Center
Mark Hugo López is an economist and the director of race and ethnicity research at Pew Research Center. He is a major voice in Hispanic/Latino data research, having led the center's Hispanic and Global Migration and Demography research agendas for more than a decade. Drawing from his expertise on global migration and demography, Hispanic trends, and race and ethnicity, López has authored reports and short pieces on the changing demographics of Latinos and Hispanics in the United States, including how this group is impacted by the coronavirus pandemic. At Pew Research Center, three focal areas of his work involve the Hispanic electorate, Hispanic identity, and immigration. López understands the importance of having more data on Latinos to understand the nuances and trends among them through the disaggregation of data and oversampling of Latinos in federal surveys, public opinion polls, and academic research. Similar to other scholars in this installment of Expert Focus, López's research analyzes public opinion data around the nuanced intra-Hispanic or intra-Latino perspective of the varied uses of terms, such as Latinx. Prior to joining Pew Research, López was a research assistant professor at the University of Maryland's School of Public Policy and research director of the Center for Information and Research on Civic Learning and Engagement. López was a seminar speaker for the AEA Summer Program this year and serves as a mentor to the next generation of students in economics.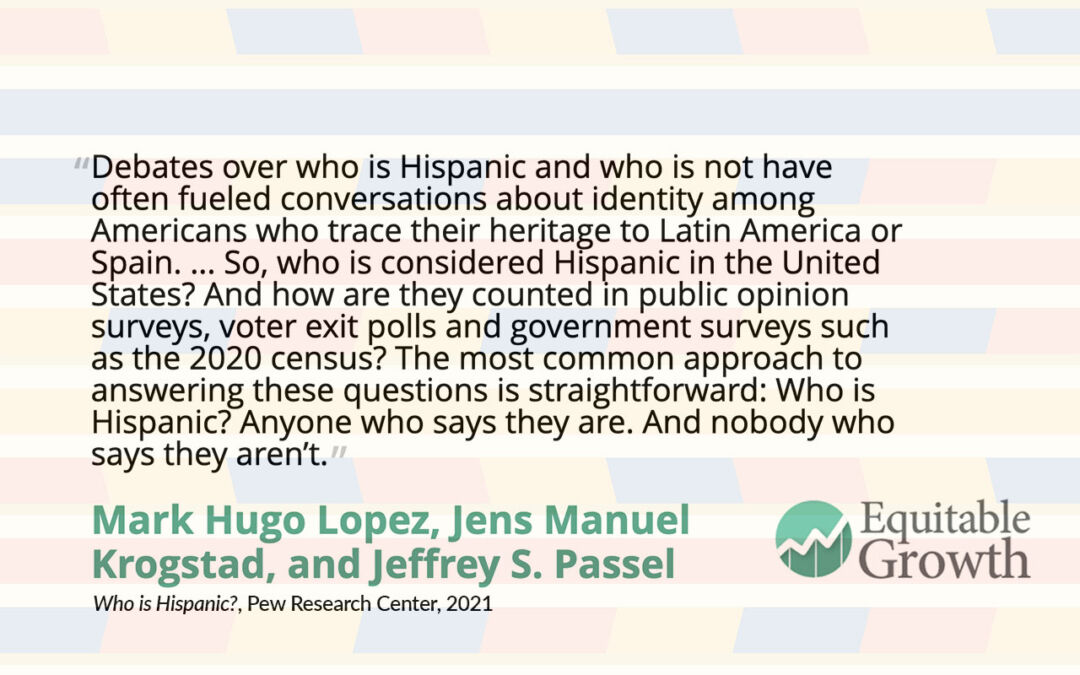 G. Cristina Mora
University of California, Berkeley
G. Cristina Mora is an associate professor of sociology and Chicano/Latino studies (by courtesy) and the co-director of the Institute of Governmental Studies at the University of California, Berkeley. Mora's work highlights the need for and the important value of qualitative research for understanding the context of a specific race and ethnic group, as well as the need for the integration of this type of research into a larger debate about the disaggregation of data and oversampling, given the current racial makeup of the United States. In 2020, Mora oversaw the largest survey on the economic and health impacts of the coronavirus and COVID-19, the disease caused by the virus, in California. The results shed light on the ethnoracial politics that exist within the Latino and Hispanic community and across generations. Along with Equitable Growth staff and others in academia and nonprofit sectors, Mora was part of the UNIDOSUS advisory board that published a 2021 report on closing the Latina wealth gap. The report documents the factors leading to persistent income and wealth gaps for Latinas.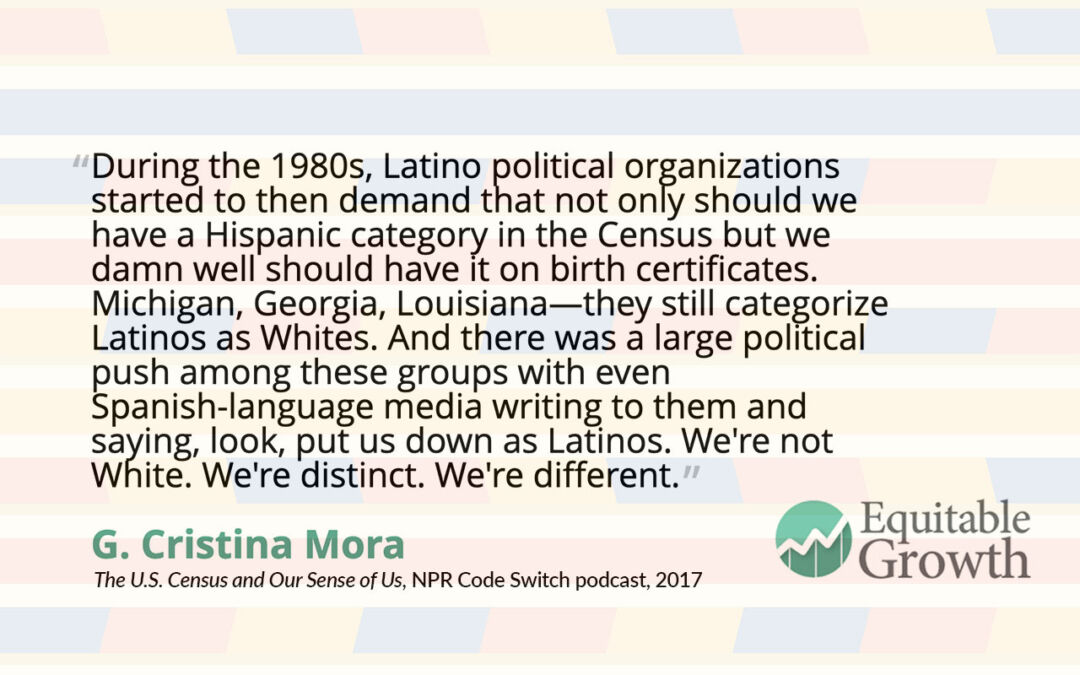 Eileen V. Segarra Alméstica
The University of Puerto Rico, Río Piedras campus
Eileen V. Segarra Alméstica is a professor of economics at the University of Puerto Rico, Río Piedras campus and faculty at the Center for New Economy, an economic policy think tank. Her work is centered on gender, race, and employment from a labor economics perspective. After Hurricane Maria in 2017, Segarra Alméstica published research about the vulnerabilities in Puerto Rico given different sociodemographic contexts among residents—low-income, those with disabilities, children and adolescents, elderly groups, those facing inadequate housing or transportation, the unemployed, and residents of different immigrant status. In 2021, she was part of a Women's History Month panel organized by Puerto Rico's Economists Association on the state of affairs for Puerto Rican women's workers. Currently, Segarra Alméstica is part of the "Observatorio de la Educación Pública en Puerto Rico" (English presentation), an affiliate of the "Centro de Estudios Multidisciplinarios de Gobierno y Asuntos Públicos," or CEMGAP, at the University of Puerto Rico, Río Piedras campus.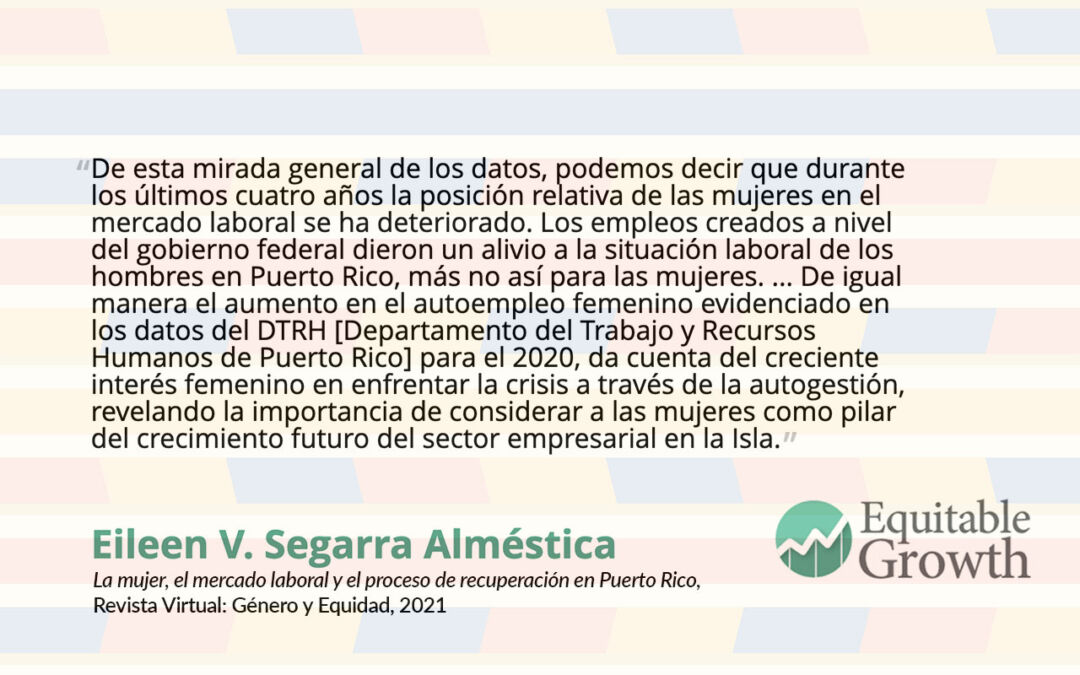 Equitable Growth is building a network of experts across disciplines and at various stages in their career who can exchange ideas and ensure that research on inequality and broadly shared growth is relevant, accessible, and informative to both the policymaking process and future research agendas. Explore the ways you can connect with our network or take advantage of the support we offer here.