Weekend reading: "work scheduling and mobility" edition
This is a weekly post we publish on Fridays with links to articles that touch on economic inequality and growth. The first section is a round-up of what Equitable Growth published this week and the second is the work we're highlighting from elsewhere. We won't be the first to share these articles, but we hope by taking a look back at the whole week, we can put them in context.
Equitable Growth round-up
Equitable Growth's Bridget Ansel and Heather Boushey co-authored a piece on "Modernizing U.S. work scheduling standards for 21st century families," examining needs and mitigating solutions around fair scheduling laws.
Brad DeLong rounded up his top six exemplary pieces from Equitable Growth  .
Michael Kades released a piece on the Supreme Court's decision in State of Ohio v. American Express. He argues that the decision undermines competition and will become a contributing factor in rising economic inequality.
Austin Clemens released a blog on an Equitable Growth-funded report by the Urban Institute. The blog argues the need for an investment in more data surrounding place-based economics to allow for further analysis of the effects on mobility and economic inequality.
Greg Leiserson and Heather Boushey's piece on how the Tax Cuts and Jobs Act of 2017 worsens inequality was featured in The American Prospect. They argue that tax changes and cuts to support government programs to address the federal budget deficit will lead to further economic inequality for Americans and their families.
Links from around the web
Manufacturers are automating their assembly lines, but it still takes skilled workers to build these robots. Ben Casselman looks at how this could be the next job boom as more companies provide job training and apprenticeships as the economy reaches full employment.  (NYT)
Are U.S. government policies consistent with the values that Americans and our politicians claim to embrace to help working-class families? Emily Badger and Claire Cain Miller discuss how the politicization of families have churned out policies that end up hurting American families.  (NYT)
Minimum wage is on the rise in Massachusetts. Republican Governor Charlie Baker signed bill requiring the state to raise the minimum wage to $15 an hour by 2023. Morgan Gstalter additionally notes that the bill requires the state to require paid leave for workers and to institute an annual sales tax holiday. (The Hill)
Could a universal basic income streamline benefits systems, remove rules that discourage people from working, and help reduce crime and bad health? Brian Bergstein examines a basic-income test in Manitoba, Canada during the 1970s and how Canada's government is putting it to the test again.  (technologyreview)
Bidding wars for workers are becoming a common theme in the Midwest and Northeast of the United States as the unemployment rate continues to shrink. Danielle Paquette discusses how states and localities are beginning to pay workers thousands of dollars to lure them into areas that are finding it hard to seek out employees (WashingtonPost)
Friday figure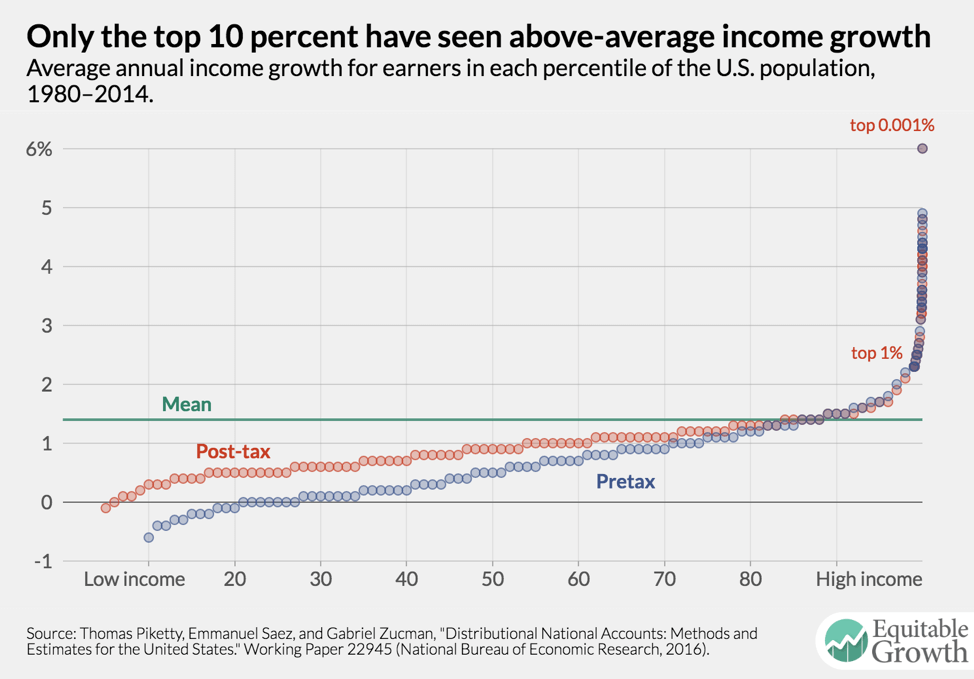 Figure is from "Equitable Growth's: Policymakers can't tackle inequitable growth if it isn't measured"