Weekend reading: Why stable schedules matter edition
This is a post we publish each Friday with links to articles that touch on economic inequality and growth. The first section is a round-up of what Equitable Growth published this week and the second is relevant and interesting articles we're highlighting from elsewhere. We won't be the first to share these articles, but we hope by taking a look back at the whole week, we can put them in context.
Equitable Growth round-up
Long before the coronavirus pandemic reached the United States, policymakers were discussing schedule quality and stability for service-sector workers. In fact, nine cities and states have passed fair workweek laws to improve schedule predictability in the service sector, inspired by a large body of work showing positive outcomes for both individual workers, company bottom-lines, and the broader economy. A new study, published in the Proceedings of the National Academy of Sciences, dives into this topic, looking at the effects of a stable scheduling law passed in Seattle in 2017. Alix Gould-Werth, Raksha Kopparam, and I detail the research findings and contextualize them in the existing literature on schedule quality. The new study, we write, finds that the Seattle Secure Scheduling Ordinance reduced the prevalence among service-sector workers of schedule instability or unpredictability—defined as having less than 2 weeks' notice of an upcoming work schedule, not being compensated for last-minute schedule changes, and working on-call or clopening shifts. It also finds notable improvements in worker well-being outside of work, including material hardship, stress levels, and sleep quality. The study is a fascinating addition to the existing research and suggests that policymakers should heed the evidence on the myriad benefits of ensuring workers have access to predictable, stable, and good-quality schedules.
This week, the U.S. Bureau of Labor Statistics released August 2021 data on hiring, firing, and other labor market flows from the Job Openings and Labor Turnover Survey, better known as JOLTS. This report doesn't get as much attention as the monthly Employment Situation Report, but it contains useful information about the state of the U.S. labor market. Kathryn Zickuhr and Carmen Sanchez Cumming put together five graphics highlighting key findings in the data, including that the quits rate rose to almost 3 percent as nearly 4.3 million workers left their jobs. This signals higher worker confidence about the state of the U.S. labor market.
Every month, Equitable Growth staff highlights the work of scholars on the forefront of social science research in a series called "Expert Focus."This month, Aixa Alemán-Díaz, Christian Edlagan, and Maria Monroe feature the work of Latino leaders in economics and the social sciences. They touch upon the need for more, and more accurate, data about the Hispanic and Latino populations in the United States, as well as research at the intersection of race, ethnicity, and gender. They also discuss the important mentorship and training programs—such as the American Economic Association and the American Society for Hispanic Economists—that are working to attract and retain individuals from underrepresented backgrounds to the field of economics.
ICYMI: Equitable Growth has officially ratified a collective bargaining agreement with the Nonprofit Professional Employees Union, IFPTE Local 70. It was ratified on August 14 and includes improvements in pay equity, paid time off, and retirement contributions, among other things.
Brad DeLong highlights some must-read content from Equitable Growth and around the web in his latest Worthy Reads column.
Links from around the web
Last Friday's jobs report numbers were much lower than expected—194,000 jobs were added, when many analysts predicted more like 500,000 would be—but The New York Times' Neil Irwin explains why it may not be as bad as it looks. He dives into the data, writing that the numbers still show a steady expansion that is "more rapid than other recent recoveries" and that things are being held back by supply chain blockages and the delta variant of the coronavirus. This, combined with revisions for July and August numbers, suggest that the economy is entering fall in a stronger place than it seemed. Irwin analyzes various aspects of the employment report to detail why we shouldn't get overly concerned about the lackluster numbers—yet.
A new poll reveals that almost 20 percent of U.S. households—and almost a third of those making less than $50,000 per year—lost their entire savings during the coronavirus pandemic. Bloomberg's Simone Silvan shares the survey results, which also show that Black and Latino households were harder hit than other racial groups. Many of the respondents to the poll reported dipping into or using up their savings to cover child care expenses and health care costs. Silvan spoke with activists, who urged Congress to take quick and generous action to ensure this trend doesn't continue and that U.S. families do not fall into poverty amid the ongoing pandemic and economic recovery.
As policymakers debate President Joe Biden's Build Back Better agenda, and whether and how to include child care in the package, The 19th's Chabeli Carrazana examines what child care looks like when it actually works for families. Carrazana looks into the nonprofit Chambliss Center for Children in Chattanooga, Tennessee, which has been incredibly successful, even in the face of the coronavirus pandemic, in continuing to provide day care to a growing number of children. The centers have also expanded to provide 24-hour care to help low-income parents with nontraditional schedules and have a sliding-scale cost system in which parents pay varying care fees depending on their incomes. Carrazana suggests that Chambliss could be a model for how to implement local child care programs across the United States, with its unique system of contracting out the financial and business side of each center and subsidizing costs, so caregivers are free to focus entirely on providing the best care for children. But, she cautions, without additional aid from Congress, even these highly successful child care centers face years of financial hardship and staffing challenges as a result of the pandemic.
Friday figure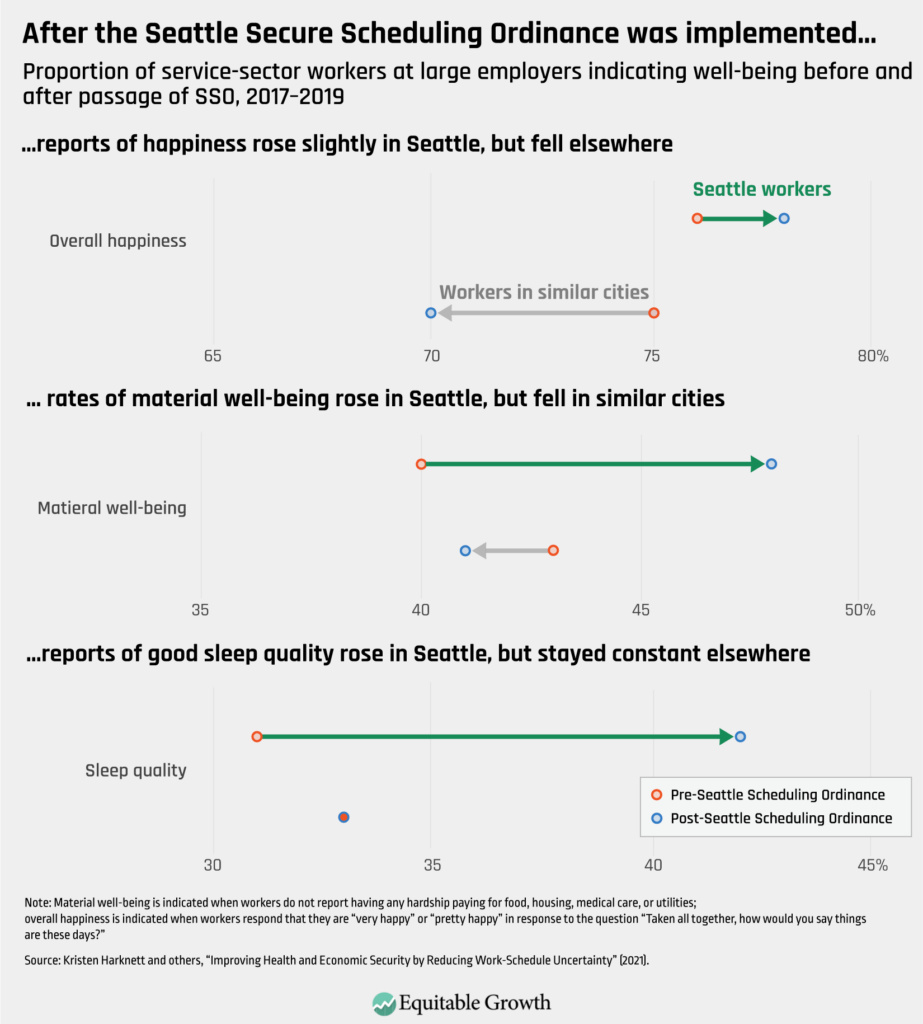 Figure is from "New study in the Proceedings of the National Academy of Sciences shows schedule stability supports U.S. workers and the broader economy," by Alix Gould-Werth, Emilie Openchowski, and Raksha Kopparam.