Weekend reading: Race and police use of force in the United States edition
This is a post we publish each Friday with links to articles that touch on economic inequality and growth. The first section is a round-up of what Equitable Growth published this week and the second is relevant and interesting articles we're highlighting from elsewhere. We won't be the first to share these articles, but we hope by taking a look back at the whole week, we can put them in context.
Equitable Growth round-up
The United States has a long history of disproportionately high rates of violence and mistreatment by police against Black communities. But the role of race in police use of force can be difficult to document, explains guest columnist CarlyWill Sloan at Claremont Graduate University, due in part to the assumptions researchers must make about unobserved interactions between officers and civilians. In a recent working paper, Sloan and co-author Mark Hoekstra at Texas A&M University design a natural experiment to measure the effect of race on police interactions with civilians. They examine 911 calls in two cities where neither dispatchers nor police officers have any discretion about which officer is dispatched to respond to a call, meaning officers are randomly assigned to respond. They also observe all police-civilian interactions, even those that do not end in use of force or use of a gun by police. The co-authors find that Black officers use less force than White officers in Black communities, and that White officers are five times more likely to fire their weapons than their Black counterparts when responding to calls in predominantly Black neighborhoods. Sloan writes that the only reasonable interpretation of these findings are that race matters in a systemic way with regard to use of force by police in the United States.
This Sunday is Father's Day, a day to celebrate and remember the relationships we have with fathers, grandfathers, father figures, and others who helped raise us. But in the United States, the only developed economy without a nationwide paid leave program, many new fathers and mothers are not offered paid time off after the birth or adoption of a child. There are many studies showing the benefits of offering paid parental leave to workers, and President Joe Biden has made paid leave a cornerstone of his proposed American Families Plan, an investment package that will boost spending on worker supports and care infrastructure in the United States. Many countries around the world have successful paid family leave programs and are now shifting their focus to the role of dads in caretaking and childrearing. Many studies in recent years highlight the benefits to fathers, mothers, and children alike—as well as the economy—of paid paternity leave guarantees. Equitable Growth looks at several of these studies and urges policymakers implement a national paid family leave program that includes specific paternity leave options.
Each month, Equitable Growth highlights a group of scholars working at the frontier of social science research in a particular area in a series called Expert Focus. This month, Aixa Alemán-Díaz, Christian Edlagan, and Maria Monroe showcase the work of speakers from this week's Equitable Growth and Groundwork Collaborative co-hosted event, titled "Data Infrastructure for the 21st Century: A Focus on Racial Equity." The researchers, all of whom are interested in racial equity and data disaggregation, call for a focus on racial and gender equity and the use of categories such as race, gender, and ethnicity, along with other social and demographic factors, to be central goals in disaggregating data to provide a better picture of how our economy is doing. Considering the importance of data in addressing both research and policy needs, the areas these scholars are working in, as well as the discussion they had virtually earlier this week, is ever more essential.
Last week, the Labor and Employment Relations Association, or LERA, held its 73rd annual conference, focused on workers, worker power, and the workplace in a time of division and disruption. The virtual event highlighted research from representatives across labor, management, government, advocacy, and academia, offering Equitable Growth an opportunity to deepen and broaden our network of scholars and raise awareness about our work. Equitable Growth organized four sessions for attendees, featuring speakers both well-established and at early stages of their careers, across disciplines and demographic groups, tied together by the goal of creating an equitable economy that works for all U.S. workers. Equitable Growth staff, grantees, and members of our broader academic community were also featured in a number of different plenaries, panels, and paper sessions. Read more about Equitable Growth's participation and experience at this year's LERA conference.
Links from around the web
This Saturday, June 19 is Juneteenth, a holiday that marks the day in 1865 that a group of enslaved people in Galveston, Texas learned—more than 2 years after President Abraham Lincoln had signed the Emancipation Proclamation—that they were free from slavery. Vox's Fabiola Cineas details the significance of the holiday and its increasing recognition in the United States as we approach its 156th anniversary. (On Wednesday, Congress passed a bill proclaiming Juneteenth a national holiday, and today President Biden signed it into law.) Cineas runs through the devastating history of Juneteenth, including the years that preceded it and the backlash that followed it through the Reconstruction era and well into the 20th century, as well as the many ways that communities have commemorated the day over the years. As the United States continues to reckon with its racist and violent history against enslaved people and their descendants, this holiday is an ever more important reminder of the legacy of structural racism that continues to permeate U.S. institutions, society, and the economy.
In the wake of labor shortages amid the ongoing pandemic, particularly in low-wage industries and occupations, workers now have some leverage over employers to demand higher wages or better working conditions. Some employers have responded by increasing their minimum starting wages to appeal to more applicants to their establishments. The Washington Post's Eli Rosenberg looks at 12 such businesses that raised their minimum wage to $15 per hour either earlier this year or last year to determine the role that pay plays in attracting workers. Rosenberg interviews the employers to detail the impact that offering higher wages or more flexibility can have on business outcomes and on lower-wage workers in industries from restaurants to grocery stores to retail. A few business owners mentioned having to either increase prices for consumers or reduce seasonal staffing or hours to pay for the higher labor costs. Many said their decisions to increase wages did not necessarily arise from a sense of responsibility to do the right thing by their employees, and rather were purely from a business perspective: They had open positions and no strong candidates to fill them. But in making these changes, they were able to improve the lives and financial security of their employees and make their work environments less hostile after a difficult year—and many businesses even reported increases in profits.
This week, the U.S. Senate confirmed Lina Khan to the Federal Trade Commission with a bipartisan vote. Khan, who will serve as chair of the FTC, is a vocal critic of Big Tech's expanding power and an antitrust law expert. Recode's Rebecca Heilweil explains what this confirmation signals: "under President Biden, the FTC is likely to become more critical and aggressive in regulating the digital markets that have been created by the tech giants." Heilweil also writes that her bipartisan approval to the FTC indicates growing consensus among both political parties that Big Tech companies have gotten too powerful and too anticompetitive in recent years, and a shift in approach and policy around regulating digital companies and online markets may be on the way.
Friday figure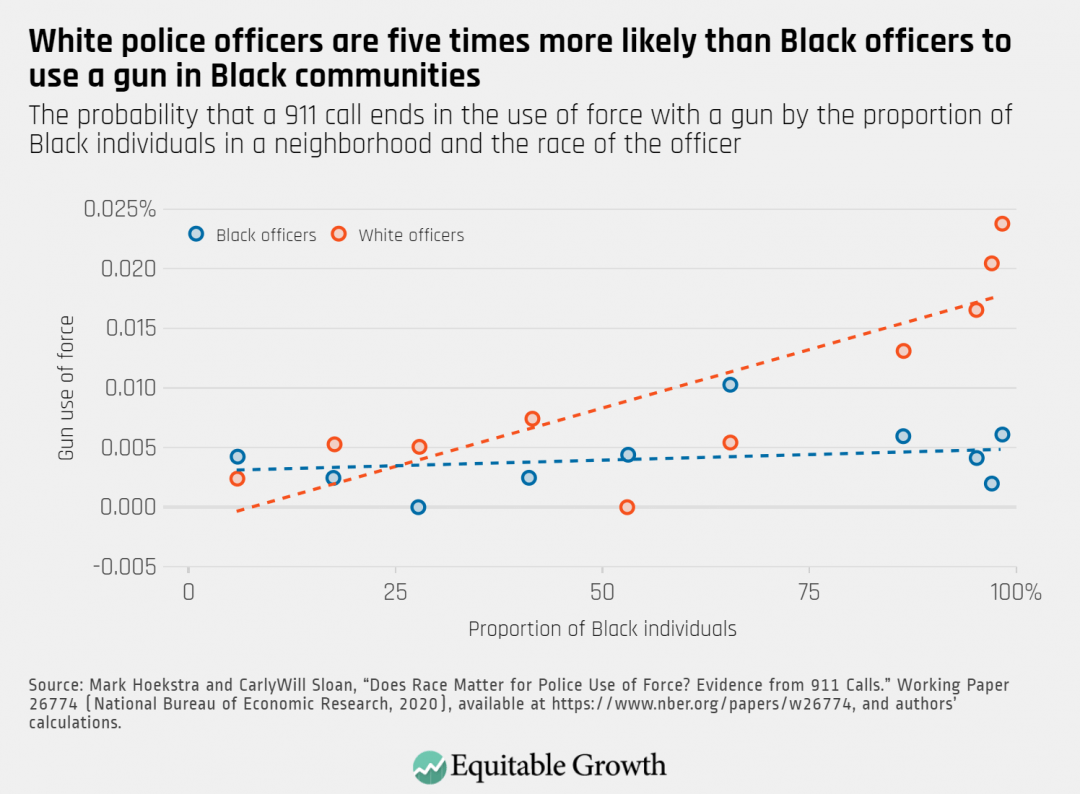 Figure is from Equitable Growth's "Race and the use of force by police matters to build a more equitable U.S. society and economy," by CarlyWill Sloan.