Weekend Reading "Mothers Know Best" Edition
This is a weekly post we publish on Fridays with links to articles that touch on economic inequality and growth. The first section is a round-up of what Equitable Growth published this week and the second is the work we're highlighting from elsewhere. We won't be the first to share these articles, but we hope by taking a look back at the whole week, we can put them in context.
Equitable Growth round-up
Alix Gould-Werth highlighted new research that gave insights on how staff at U.S. corporate headquarters could support managers in trying to provide their workers with predictable schedules. The researchers created an experiment designed to improve the predictability of retail workers' schedules by posting schedules at the beginning of each month, yet they found that these changes showed no effects to scheduling stability. The reason: firms are valued based on short-term returns to shareholders and managers are incentivized to cut costs and staffing regardless of the negative impacts these actions may have on employees, employers, or the overall economy. Their findings suggest that a shift in firm operations that serve the larger economic good rather than just their shareholders would instigate a reshaping of firm-level decision-making that could eventually improve job quality and schedule stability.
In a new Competitive Edge blog post, Fiona Scott Morton, Jonathan Baker, Nancy Rose and Steven Salop reviewed the principles and history of vertical merger enforcement in the United States. They believe that the lack of vertical merger enforcement over the past 40 years needs to be remedied and recommended that the Antitrust Division of the Department of Justice and the Federal Trade Commission follow their recommended principles and presumptions to merger enforcement. These guidelines would allow the agencies to investigate vertical mergers that look to be anti-competitive.
The U.S. Bureau of Labor Statistics earlier this week released the newest data from the Job Openings and Labor Turnover Survey covering the month of March. Kate Bahn and Will McGrew put together four graphs utilizing JOLTS data.
Kate Bahn explains that while the "skills gap" has become almost conventional wisdom as an explanation for lagging wages, there is no empirical evidence to back up its theoretical foundation. Education and training are critical to boosting human capital, but there is plenty of evidence that the "skills gap" is largely a myth as an explanation for the wage problem. If the current small increase in wage growth in the United States is to be sustained, structural changes will be needed to support a higher minimum wage and improve and protect collective bargaining.
Brad DeLong compiles his most recent worthy reads on equitable growth both from Equitable Growth and outside press and academics.
Links from around the web
Leslie Albrecht of MarketWatch reviewed the launch of a new study that looks at how cash payments to low-income mothers affect childhood well-being. The researchers, which includes Equitable Growth 2014 Grantee Greg Duncan of the University of California, Irvine, recruited mothers below the federal poverty threshold to receive monthly cash payments for their baby's first three years. The researchers believe that the money will support mothers' ability to afford necessary goods and services for their infants and help alleviate some financial burdens. They aim to study the causal effects of these cash payments on financial behavior, parenting practices, and children's cognitive development. [marketwatch]
Thousands of drivers for Uber Inc. on Wednesday protested the company's driver-compensation practices ahead of its IPO release. They demanded better working conditions, increased pay transparency, health and disability insurance, and a seat on the Board of Directors in order to advocate for drivers' rights. This demonstration highlighted the difference in working conditions between designated employees versus contract workers, who include rideshare drivers who do not qualify for benefits and conditions guaranteed to traditional employees. [vox]
Indeed's Martha Gimbel and Equitable Growth alumni Nick Bunker found that part-time workers earn less per hour than full-time workers within the same occupation, and that the part-time penalty harms women the most because they make up a large portion of part-time workers. Mothers tend to seek out jobs where the part-time penalty is minimal, such as nursing or medical assistants, in order to avoid the penalty and maintain a flexible schedule. [indeed]
A recent op-ed by Facebook Inc. co-founder Chris Hughes in The New York Times explains how Facebook's tactic of taking down competitors allowed the firm to acquire internet dominance over a short span of time. Hughes argued that the Federal Trade Commission's lax antitrust enforcement allowed Facebook to buy Instagram and WhatsApp, two social media apps that turned Facebook into the premier photo-networking and real-time messaging platform. He noted that as a monopoly, Facebook has been able to take out competitors such as Vine and Snapchat by either blocking those platforms in Facebook's interface or simply copying their model and integrating it within Facebook's existing model. [nyt]
Harry Holzer at Georgetown University discussed how the 2017 Tax Cuts and Jobs Act claimed that corporate tax cuts would trickle down to employees in the form of pay raises, yet corporations instead mostly used the tax savings to increase stock buy-backs and give employees small, one-time bonuses. He offers an alternative option of adjusting the new tax law to give employees significant wage gains but maintain the overall size of the corporate tax cut. [wapo]
Friday Figure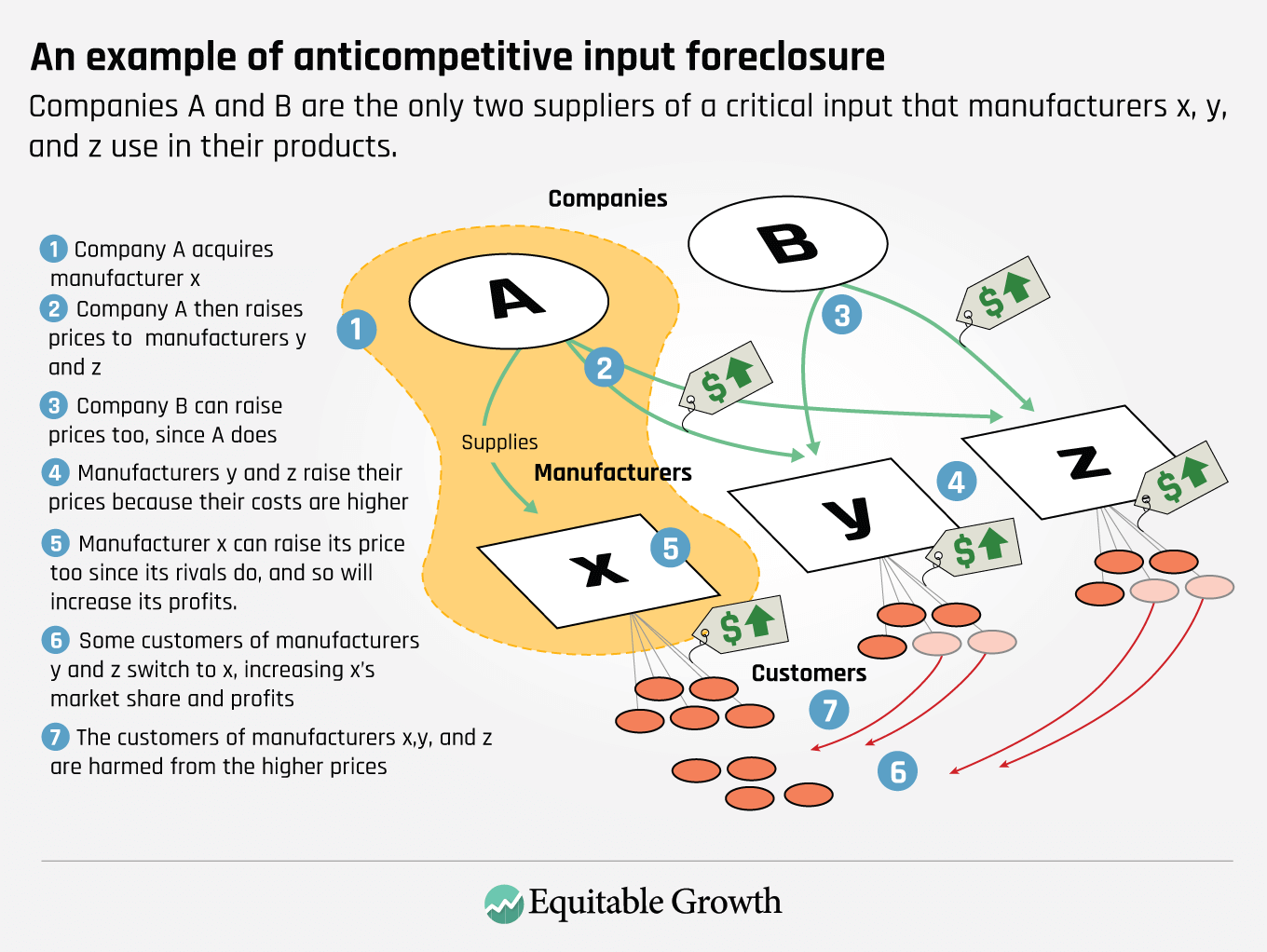 Figure is from Equitable Growth's "Competitive Edge: Principles and presumptions for U.S. vertical merger enforcement policy" by Jonathan B. Baker, Nancy L. Rose, Steven C. Salop, and Fiona Scott Morton.