Weekend reading: "fair workweek" edition
This is a weekly post we publish on Fridays with links to articles that touch on economic inequality and growth. The first section is a round-up of what Equitable Growth published this week and the second is the work we're highlighting from elsewhere. We won't be the first to share these articles, but we hope by taking a look back at the whole week, we can put them in context.
Equitable Growth round-up
In the latest addition to Equitable Growth's Competitive Edge blog series, Georgetown law professor and Davis Polk partner Howard Shelanski and Equitable Growth's Michael Kades examine Judge and Supreme Court nominee Brett Kavanaugh's record on antitrust cases.
In advance of the Federal Open Market Committee's meeting this week, Brad Delong correctly predicted, "The Federal Reserve is set to raise interest rates again for probably all the wrong reasons."
In the newest entry in Equitable Growth's Working Paper Series, Columbia University economist and Equitable Growth grantee Suresh Naidu and his co-authors propose methods for judging the effects of mergers on labor markets and other tools for addressing monopsony power.
On Wednesday, Equitable Growth's Executive Director and Chief Economist, Heather Boushey, testified before the Joint Economic Committee. Her testimony focused on the need for measurements of economic growth to include information on the distribution of that growth, which the Measuring Real Income Growth Act of 2018, recently introduced by Senators Chuck Schumer (D-NY) and Martin Heinrich (D-NM), would do.
September 27 was Equal Pay Day for Native American women. Rochester Institute of Technology economist Jeffrey Burnette writes about how research focusing on Native Americans or that even includes them as a stand-alone category is comparatively scarce due to data limitations, with important implications for understanding economic conditions for these Americans.
Check out Brad Delong's latest worthy reads from Equitable Growth and around the web.
Delaney Crampton explains the role of broadband internet access in the "homework gap"—the divide between students who are able to support their schoolwork at home with high-speed internet access versus those who are not—and its implications for economic outcomes.
Links from around the web
A number of cities and states around the United States are beginning to implement "fair-workweek" laws, which require employers to post schedules up to two weeks in advance, eliminate "clopenings," and pay workers for when they are on-call. The legislation in Seattle, New York City, Oregon, and other places, is based on research funded in part by Equitable Growth, including by sociologists Danny Schneider and Kristen Harknett of the University of California, Berkeley and the University of Pennsylvania, respectively, as well as by Joan C. Williams of the Hastings College of the Law, Susan Lambert of the University of Chicago, and Saravanan Kesavan of the University of North Carolina, Kenan-Flagler Business School. [wsj]
Analysis of a New York City program that expanded the Earned Income Tax Credit to workers without children found that it lifted the incomes of low-wage workers, increased employment, and that the effects were largest for the most vulnerable demographic groups, including those who had been incarcerated previously. [nyt]
Adriana Kugler, a Full Professor at the McCourt School of Public Policy at Georgetown University and an Equitable Growth grantee, surveys the research into whether conditional cash transfer programs achieve their goals of alleviating poverty and helping recipients improve their chances of getting out of poverty. [econofact]
Rising inequality has consequences beyond just the economic, explains Keith Payne, a social psychologist at the University of North Carolina. In wealthy developed countries with high inequality, higher rates of crime, incarceration, school dropouts, and worse health outcomes are more closely linked to inequality than to poverty rates. [vox]
In the lead-up to the 2020 Census, the U.S. Census Bureau has been without permanent leadership since July 2017. The confirmation hearing for Steven Dillingham, who was nominated by President Donald Trump in July, has been scheduled for next Tuesday, October 3. The decennial census is a key source of data for many researchers, and the insertion of a question about citizenship status to the 2020 Census has raised concerns about whether it will fully and accurately be able to survey all residents of the United States. [npr]
Friday figure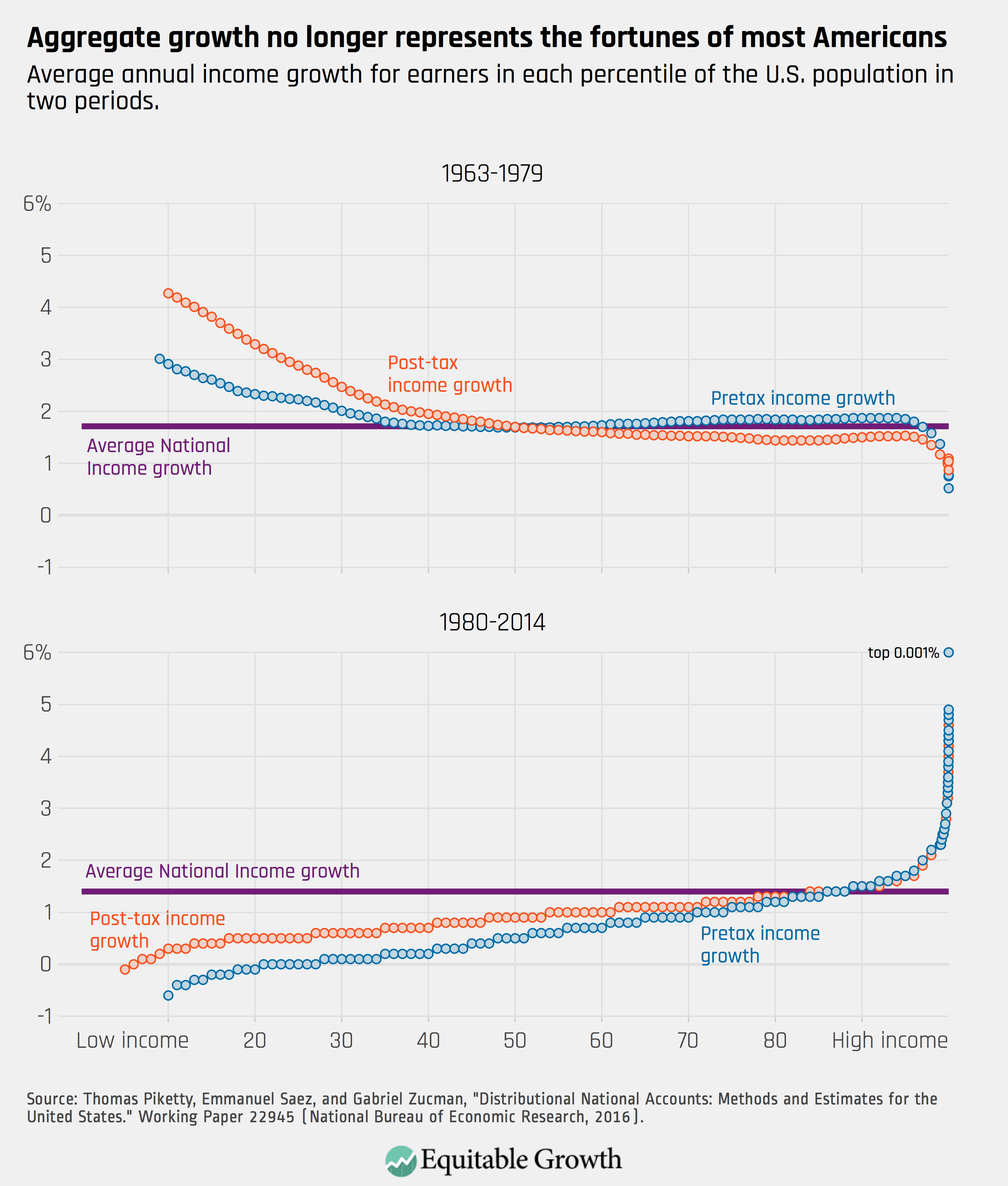 Figure is from "Testimony by Heather Boushey before the Joint Economic Committee"