Weekend reading: "2019 Economic Agenda" edition
This is a weekly post we publish on Fridays with links to articles that touch on economic inequality and growth. The first section is a round-up of what Equitable Growth published this week and the second is the work we're highlighting from elsewhere. We won't be the first to share these articles, but we hope by taking a look back at the whole week, we can put them in context.
Equitable Growth round-up
Several Equitable Growth staffed traveled to the Allied Social Science Association's annual conference to learn about new research on economic issues across a broad spectrum. Liz Hipple compiled a round up of key research papers presented each day of the conference with a different set of papers informing many of the issues on which Equitable Growth works.
Brad DeLong rounds up his latest worthy reads on equitable growth from both inside and outside Equitable Growth.
Kate Bahn and Austin Clemens this week published their monthly analysis of the Job Openings and Labor Turnover Survey data released by the U.S. Bureau of Labor Statistics. The JOLTS data reflects a strengthened labor market characterized by elevated quit rates, fewer unemployed workers per job vacancy, and fewer hires per job opening.
Equitable Growth's executive director and chief economist, Heather Boushey, was quoted in Claire Cain Miller and Jim Tankersley's piece on California Governor Gavin Newsom's proposal to give families six months of paid leave after the birth of a child and raises questions on how the proposal would be paid for. Boushey raises the point that "because we refuse to acknowledge that people have families and care issues, we're falling behind our economic competitors."
Links from around the web
Emily Badger and Quoctrung Bui examine whether low-skilled workers should still be flocking to cities. The duo examines the flight of low-skill jobs out of cities such as Detroit and Oakland despite workers moving into these cities for decades with the promise of abundant jobs paying decent wages. (nyt)
Newly elected Representative Alexandria Ocasio-Cortez (D-NY) floated the idea of taxing income over $10 million at a 70 percent tax rate. Jeff Stein finds that over the course of a decade, the government could raise $720 billion from nearly 16,000 Americans who earn over that threshold. (washingtonpost)
Jeff Spross argues why he believes California Governor Gavin Newsom's new family leave plan could become a model for the rest of the country. Spross points out that Newsome's proposal could force other states to reexamine their own policies and spark new dialogue among companies and the federal government about how to move forward on an issue that has large bipartisan support. (theweek)
Raising the minimum wage is already gaining traction as a policy priority for the 116th Congress but what are the broader consequences of doing so? Jonathan Meer examines the long-term impact of raising the minimum wage as the U.S. economy responds to the change. (econofact)
The U.S. economic recovery is nearly 10 years old, but a downturn at some point is inevitable. When that might happen is the question that Matt O'Brien attempts to tackle. He discusses what policies and decisions were taking place just before the Great Recession and how little has changed to avoid the same mistakes. (washingtonpost)
Friday Figure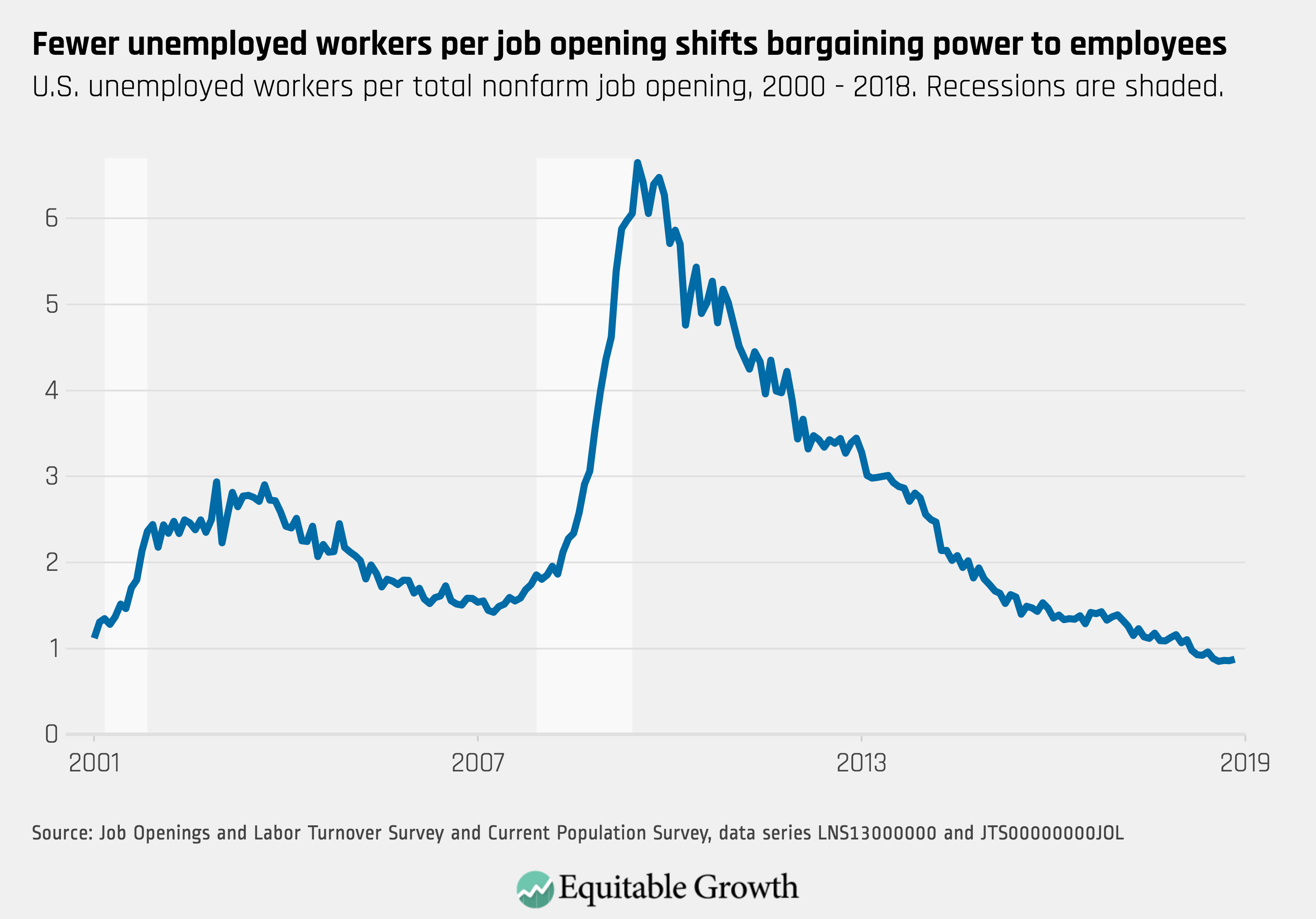 Figure is from "Equitable Growth's JOLTS Day Graphs: November 2018 Report Edition"