Unbound: How Inequality Constricts Our Economy and What We Can Do About It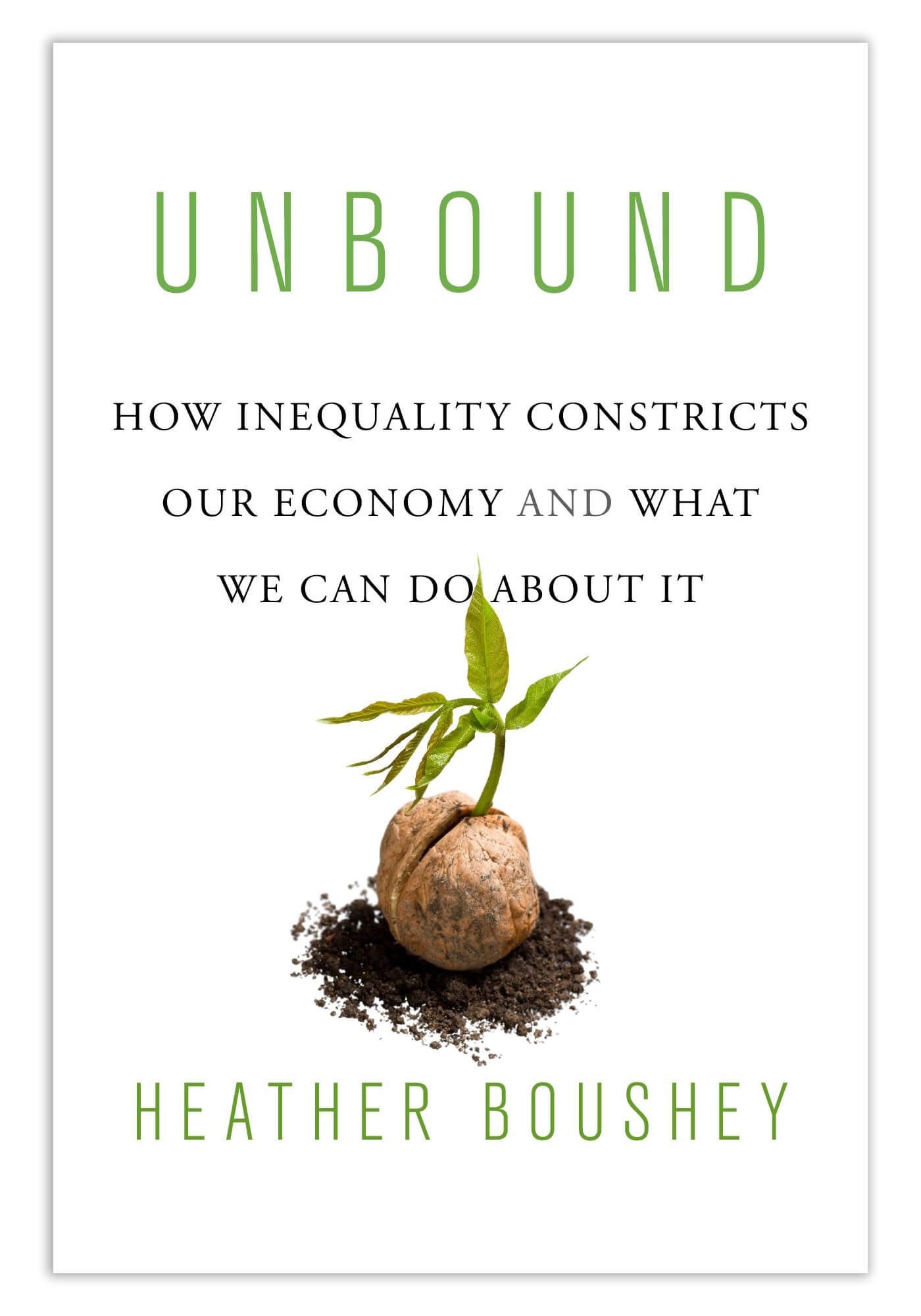 Do Americans really have to choose between equality and prosperity? Many economists argue that reducing economic inequality would require such heavy-handed interference with market forces that it would stifle economic growth. In Unbound: How Inequality Constricts Our Economy and What We Can Do about It, Washington Center for Equitable Growth President and CEO Heather Boushey insists nothing could be further from the truth. Presenting cutting-edge economics with journalistic verve, she shows how today's inequality has become a drag on growth and an impediment to free market efficiency.
Unbound exposes deep problems in the U.S. economy, but its conclusions are optimistic. Boushey argues that policymakers can preserve the best of our economic and political traditions, and improve on them, by pursing policies that reduce inequality and boost growth. The most critical steps are those that limit inequality's ability to constrict our economy and tackle the ways that the concentration of economic resources translate into political and social power. The solutions start with addressing the subversions, which creates the opportunity to remove obstructions and limit distortions in the broader economy. Unbound explores several tools that policymakers can adopt to rebalance our economy.

---
Resources

Testimony
Testimony by Heather Boushey before the Joint Economic Committee, Washington Center for Equitable Growth, October 16, 2019
Hearing
Hearing: Measuring Economic Inequality in the United States (video), Joint Economic Committee, October 16, 2019
Column
The political influence and preferences of the U.S. economic elite, Washington Center for Equitable Growth, October 7, 2019
Column
Public investment is crucial to strengthening U.S. economic growth and tackling inequality, Washington Center for Equitable Growth, September 23, 2019
Column
Equitable Growth event highlights Boushey's new book Unbound about how inequality obstructs, subverts, and distorts economic growth, Washington Center for Equitable Growth, September 20, 2019
Testimony
Testimony by Heather Boushey before the House Budget Committee, Washington Center for Equitable Growth, September 19, 2019
Brochure
Framing Summary and Policy Prescriptions, Washington Center for Equitable Growth, September 18, 2019
Column
Low interest rates can dampen competition and hurt productivity growth, Washington Center for Equitable Growth, September 16, 2019
---
Media Mentions

Review
The Distressing Growth Of Wealth Inequality Of Boomers, Forbes, October 16, 2019
Column
Publish Distributional, Not Just Aggregate, Growth Data, Politico, September 20, 2019
---
Events

Event
Programs with a Purpose Featuring Heather Boushey, Leadership Greater Washington, January 9, 2020
Event
An evening with Heather Boushey on how inequality constricts our economy, UCL Institute for Innovation and Public Purpose, November 7, 2019
Event
Panel: Capitalism and Its Discontents, Boston Book Festival 2019, October 19, 2019
Event
Unbound: How Inequality Constricts Our Economy and What We Can Do about It, Institute for Research on Labor and Employment, September 25, 2019
Event
Unbound: How Inequality Constricts Our Economy and What We Can Do About It (Invitation only), Washington Center for Equitable Growth, September 18, 2019