Jobs report: Coronavirus recession hits workers in low-wage service industries who need access to the social safety net and effective labor protection enforcement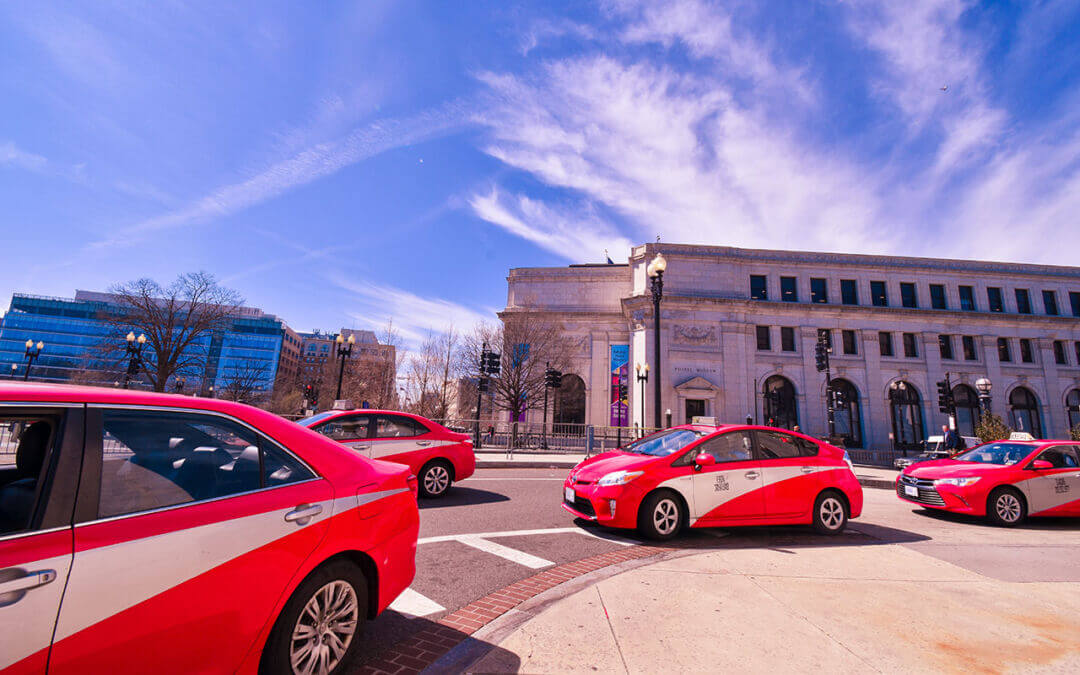 The U.S. Bureau of Labor Statistics just released its Employment Situation Summary for the month of January, showing that the labor market's path toward a recovery lost steam over the past few months. In December, the U.S. economy shed 227,000 jobs, breaking a seven-month streak of net job gains. In January, less than 50,000 jobs were added, making December and January the worst months for employment since April, when more than 20 million workers lost their jobs.
At 9.2 percent, the unemployment rate for Black workers fell 0.7 percentage points between mid-December and mid-January, but continues to stand above the jobless rate of any other major racial or ethnic group. The unemployment rate for Asian American workers was the one to increase between December and January, jumping from 5.9 percent to 6.6 percent. The jobless rate for Latinx workers stands at 8.6 percent and for White workers at 5.7 percent. (See Figure 1.)
Figure 1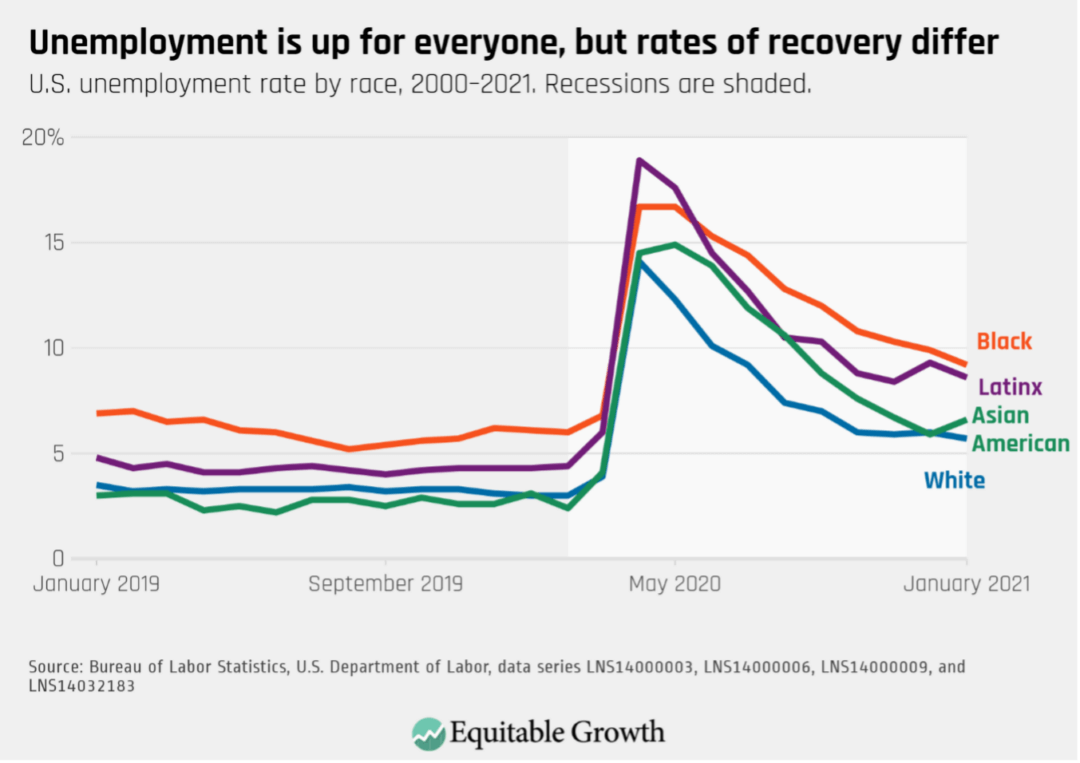 The Jobs report also sheds light on workers' experience by race, gender, and ethnicity. For workers 20-years-old and over, Latina's and Black women's employment shrunk the most between January of 2020 and January of 2021, and Latina workers experienced a massive 22 percent drop in employment between January and April of last year. After almost a quarter of a million Latino workers lost their jobs between November and December, last month they won back 116,000 jobs. (See Figure 2.)
Figure 2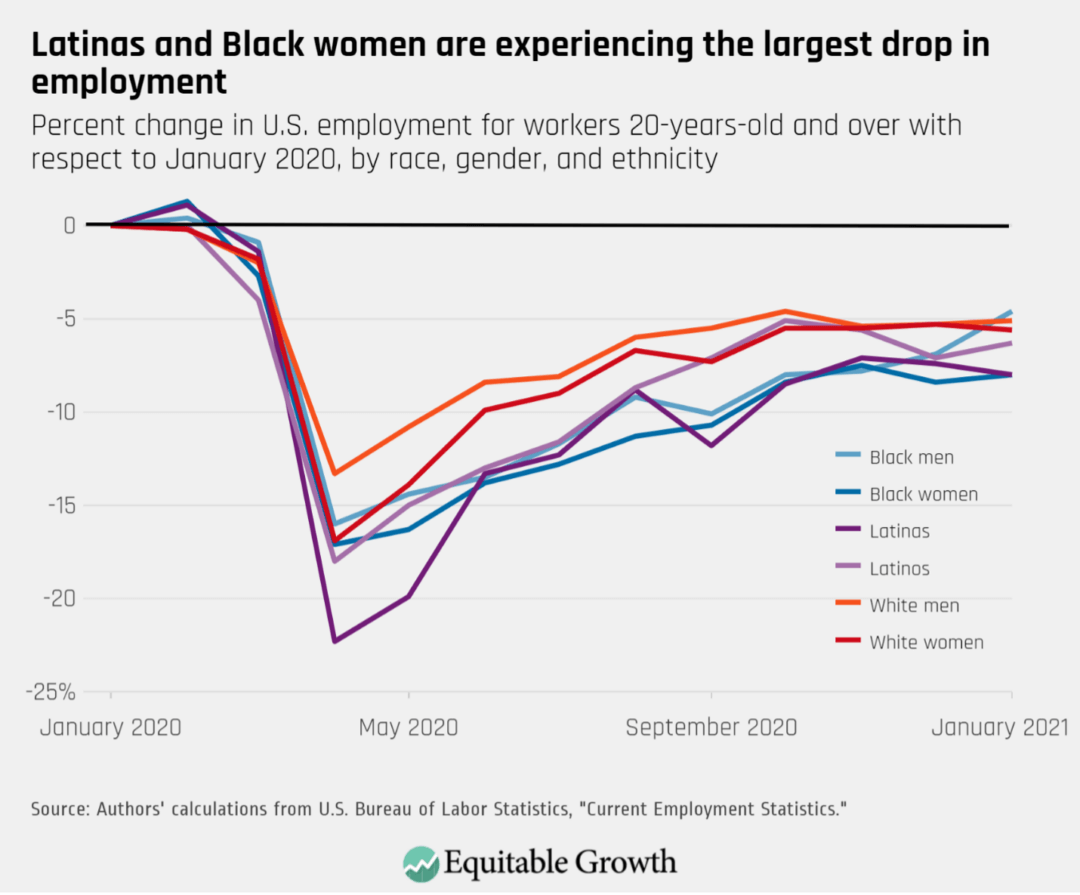 The leisure and hospitality industry lost almost half a million jobs in December and the sector continued to shrink last month, losing 60,000 jobs in January. Employment in the sector is down 23 percent relative to its January 2020 levels. Within leisure and hospitality, the arts, entertainment, and recreation subsector experienced an even deeper 32 percent decline in employment. Amid the continuing coronavirus recession, workers in low-wage service-providing jobs are experiencing especially tough economic outcomes, raising questions about the labor market dynamics that have put these workers in a particularly fragile position to withstand this shock. (See Figure 3.)
Figure 3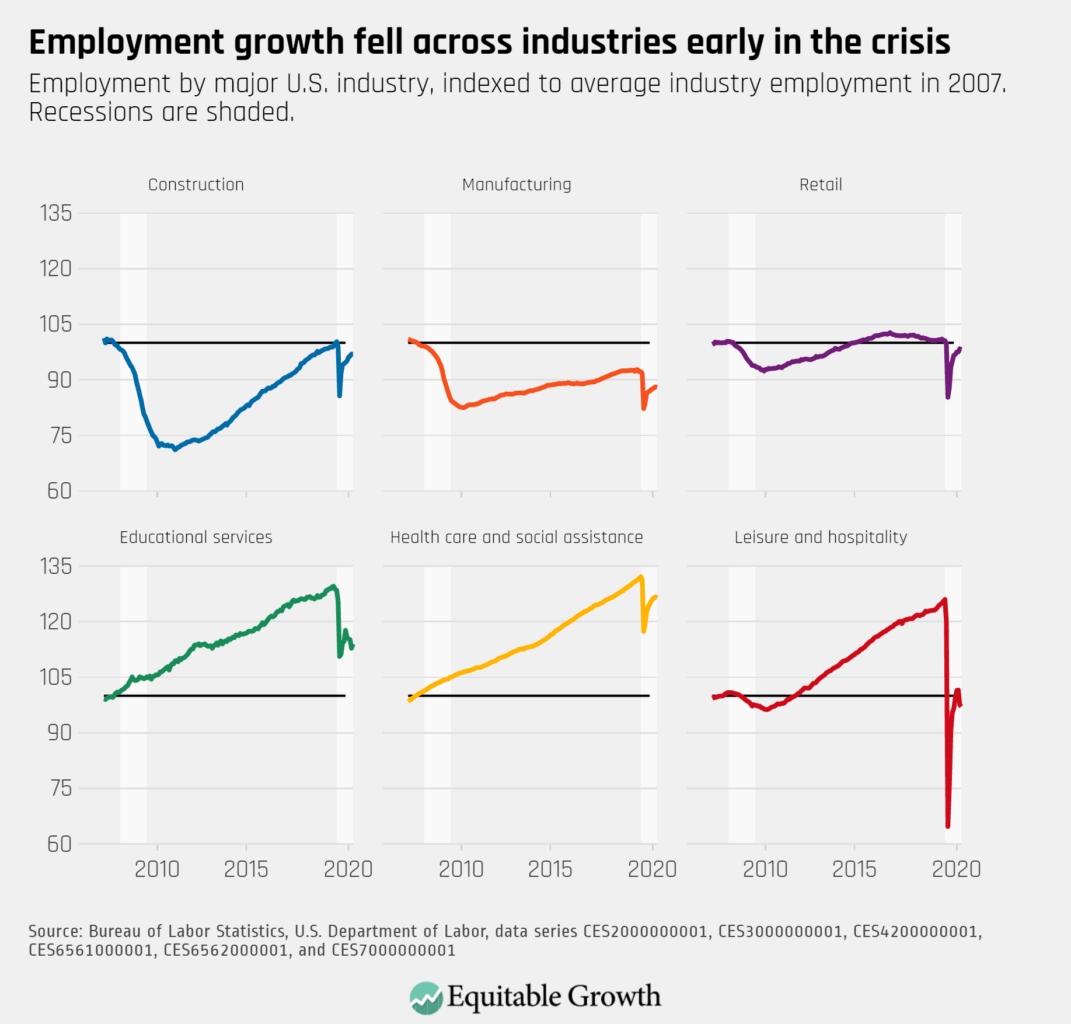 In addition to being more likely to experience unemployment, income losses, and be at greater risk of getting sick, the prevalence of tipped work in low-wage service industries exposes workers to a two-tiered system where employers are required to pay a federal tipped minimum wage of only $2.13 per hour. The Fair Labor Standards Act establishes that if a workers' tips and wages do not add up to at least $7.25 per hour—the federal wage floor—their employers must cover the difference. In practice, however, it is common for tipped workers to earn less than the minimum wage as well as to not get paid overtime for additional hours of work.
A 2010–2012 study by the U.S. Department of Labor investigating almost 9,000 restaurants found that almost 84 percent participated in at least one type of wage and hour violation. And, alarmingly, research on the Great Recession of 2007–2009 found that wage violations became more prevalent as unemployment increased, with the probability of experiencing wage theft being highest for non-U.S. citizens, Latinx workers, Black workers, and women workers.
Both as a result of labor law violations and because many tipped occupations are among the lowest paid in the United States, tipped workers—among them bartenders, hair stylists, taxi drivers, and food servers—are twice as likely as their non-tipped counterparts to experience poverty. In addition, because women and workers of color are overrepresented in many of the occupations with the largest number of workers earning wages at or below the federal minimum, tipped work also entrenches pay disparities.
Occupational and industrial sorting by race, gender, and ethnicity explains an important chunk of the disparate effects the coronavirus recession has had on different groups. For instance, workers holding jobs that require in-person interactions face a higher risk of unemployment. Yet, research also finds that job segregation does not tell the full story. Case in point, a recent study finds that even when accounting for factors such as industry and occupation effects, age, geographic region, and education, women workers and workers of color were more likely than White men to lose their jobs, with Black and Latina women facing the greatest risk of becoming unemployed as the coronavirus recession hammered the U.S. labor market between March and April.
In addition, disparities in job displacement are neither a new development nor a phenomenon that only occurs during downturns. Research found that at least since the early 1980s, Black workers have been more likely than their White counterparts to involuntarily lose their jobs—a disparity that has increased since the 1990s.
Almost a year since the onset of the coronavirus recession, the U.S. economy is down almost 10 million jobs with respect to February 2020. As the crisis continues to exacerbate and shed light on long-standing inequities in the U.S. labor market, policymakers should ensure that workers in precarious industries, particularly workers from historically marginalized groups who have been sorted into low-wage occupations, can access the social safety net. This includes tipped workers being assured access to Unemployment Insurance benefits, ramping up labor law enforcement efforts to prevent wage theft, and making sure that minimum earnings requirements do not keep benefits from some of the workers who need them the most.