Equitable Growth joins NewDEAL Leaders to discuss child care in the post-pandemic U.S. economy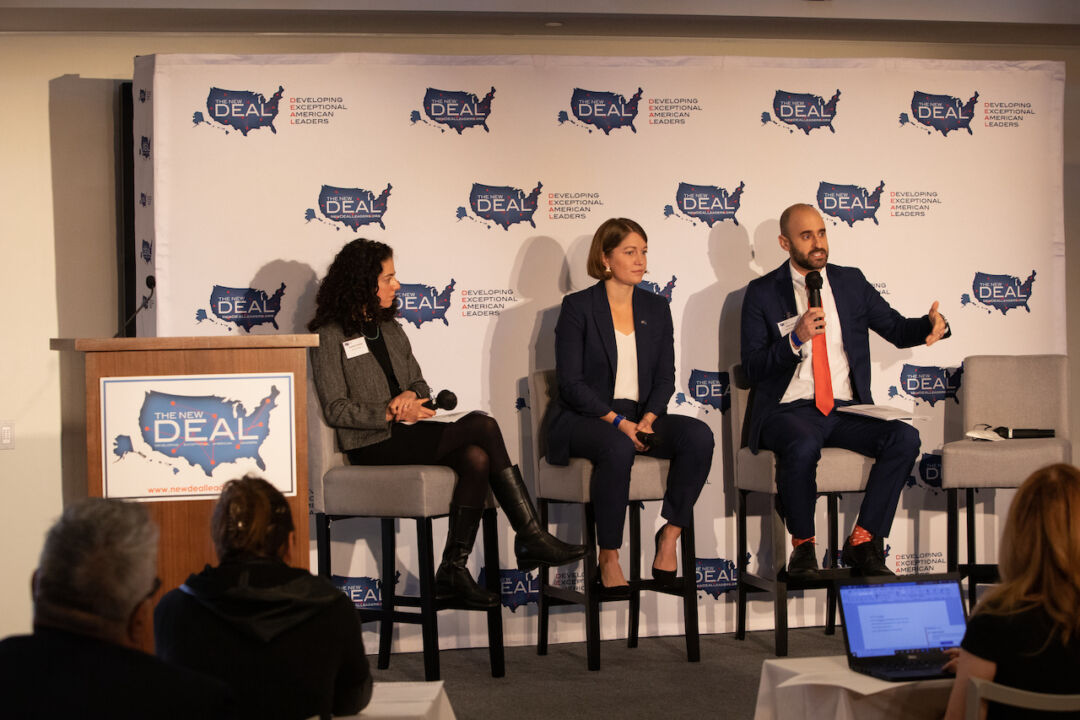 As the U.S. Congress finalizes its negotiations around the Build Back Better Act, policymakers at the federal, state, and local levels of government continue working to rebuild their respective economies in the wake of the coronavirus recession. Against this backdrop, the NewDEAL Leaders, a network of pro-growth elected progressives from state and local jurisdictions, met for their annual conference in Washington, DC, to discuss policy solutions on a range of issues, from student debt to housing to mental healthcare and more.
Equitable Growth's Sam Abbott joined Vermont's Lt. Gov. Molly Gray at the conference for a conversation moderated by Zero to Three's Amanda Szekely on child care and early education in the post-pandemic economy. During this panel, Abbott discussed the major economic ramifications of the current child care system in the United States, as outlined in Equitable Growth's recent report "The Child Care Economy."
Below, we share some of the highlights from the session, which took place on November 18.
Supporting children in safe, nurturing environments during early childhood is vital for healthy development
Kicking off the panel, Szekely discussed why high-quality early care and education is so important for healthy child development. During the first several years of early childhood, the brain is developing more rapidly than at any other time in life. This neurological development—the creation and fine-tuning of the networks and connections in the brain—plays a large role in a child's cognitive development and their risk of developing future mental health disorders.
High-quality early care and education provide socialization and learning opportunities that are critically important in the early childhood years. When children are cared for in a supportive, nurturing environment—either by family members or professionals—there are physical changes in their brain development associated with positive long-term outcomes. High-quality caregiving can even mitigate harmful developmental outcomes associated with poverty and high-stress environments, suggesting an important role for early care and education in addressing inequality and promoting intergenerational economic mobility.
Public investment in child care can grow the economy and stabilize the child care market
Abbott reinforced the link between high-quality care for children during this important developmental period and sustainable, broad-based economic growth. In the short term, policies that make child care more accessible and affordable to families can help break down barriers to employment for parents who wish to work—leading to a larger and more diverse labor pool, higher household incomes, greater consumer spending, and a bigger tax base to fund pro-growth government programs.
In the long term, children who participate in high-quality early education report better school readiness and employment outcomes, higher incomes as adults, and reduced contact with the criminal and juvenile justice systems. All of these beneficial outcomes contribute to future U.S. economic growth.
Additionally, an infusion of public support has the potential to stabilize the child care market so that it is always available for families when they need it. Research on previous economic recessions highlights the fragility of the child care market in moments of economic downturns. Even small changes in enrollment, due to parents no longer needing or being able to afford care, can cause a damaging ripple through the child care industry, leading to layoffs and center closures.
This harmful dynamic creates new child care challenges for parents when they try to return to work. Sufficient and sustained public investment in child care can help avoid these supply-side challenges and ensure that child care can continue to act as a vital work support for families, regardless of changes in the overall economy.
Child care reform will support the well-being and economic security of families and workers alike
Lt. Gov. Gray shared some takeaways from her Recover Stronger tour—a series of meetings with residents, experts, and business leaders across Vermont about their priorities in the aftermath of the coronavirus recession—including child care reforms, which would benefit families and workers alike.
For parents across the country, child care is often too expensive and too hard to find. Lt. Gov. Gray shared data showing that, on average, child care costs families in Vermont more than $20,000 a year. Yet despite the high prices many families pay, the child care workforce still earns near-poverty wages, with national median pay in 2020 at just $12.24 per hour, or $25,460 per year.
Vermont recently passed child care legislation that could help on both fronts, The state caps child care payments at 10 percent of a family's income or less, based on the family's relation to the federal poverty line. And it provides scholarships and loan forgiveness to child care workers to help caregivers enter and remain in their chosen field.
At the national level, the Build Back Better Act is poised to deliver similar relief. The legislation, if enacted into law, would cap child care payments for most families at an even more affordable 7 percent maximum of household income and would provide more resources and incentives to raise child care worker pay and recruit new care providers in the process.
The mayors, county councilmembers, and state congressmembers who attended the NewDEAL conference last month are all tasked with both distributing funds from the American Rescue Plan, which was enacted earlier this year, and implementing the historic child care reforms contained in the Build Back Better Act, should it pass.
The implications for children's development, the economy, and the well-being of workers and families are significant, and Equitable Growth is committed to providing policymakers with the best available evidence to support these efforts. That's why, in 2022, Equitable Growth is interested in funding academic research projects that can inform this critical policy conversation. Child care researchers interested in applying for funding support or learning more about Equitable Growth's other funding priorities are encouraged to review the 2022 Request for Proposals for more information.