Filling critical gaps in child care research to support effective and equitable reforms to help U.S. families and workers alike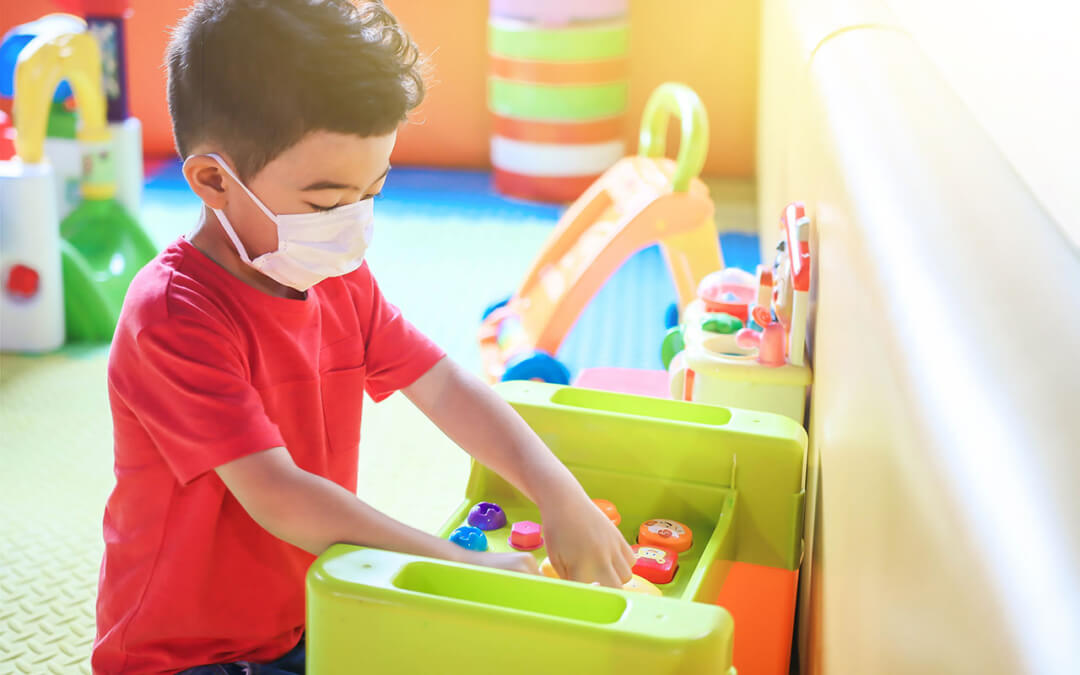 Overview
The child care industry in the United States is facing a crisis on two fronts. In the short term, the coronavirus pandemic and the recession it caused leaves child care providers struggling to stay afloat and families embattled in work-life conflicts with no clear end in sight. Yet structural problems with the nation's child care industry existed long before the novel coronavirus came to our shores.
The coronavirus recession is shining a light on ongoing challenges within the child care industry and the patchwork of public policies designed to help families access care—an economic crisis decades in the making. Child care has long been too expensive, hard to access, and low quality.
Advocates, experts, and even presidential candidates across the political spectrum have proposed long-term reforms to U.S. child care policy. Frequent components of these reforms—including increased subsidies to families, training and support for the workforce, and investments in communities' supply of child care centers and providers—are likely to make meaningful differences in families' experiences with the child care system.
Even the most comprehensive plans, however, would benefit from additional academic research. New data-driven scholarship would ensure that any reforms are appropriately targeted, structured, and culturally attuned for the families that use this care.
There is a rich body of literature on child care in the United States, but several policy-relevant research gaps persist that could have implications for proposed reforms to the child care system. To begin filling these gaps, this past September, the Washington Center for Equitable Growth convened a roundtable of researchers who study child care and related topics. The purpose of this roundtable was to discuss where such holes in the literature might exist and promising strategies for future studies.
This column summarizes these conversations and points toward potential opportunities for scholars interested in engaging in policy-relevant child care research. Equitable Growth is committed to supporting this research. (See inset.)
Equitable Growth supports new, policy-relevant child care research
The experience of the coronavirus recession refocused policymakers' attention on child care. As the Biden administration and the incoming 117th Congress work to address the economic recovery and the structural inequalities exposed by the public health crisis, child care policy must be top-of-mind in 2021 and beyond. High-quality, policy-relevant research can help policymakers craft child care reforms that are more accessible, more affordable, and more equitable than the current system.

The Washington Center for Equitable Growth is committed to supporting researchers engaged in this work. That's why, in 2021, Equitable Growth is interested in funding academic research projects that can inform this critical policy conversation. Child care researchers interested in applying for funding support—or learning more about Equitable Growth's other funding priorities—are encouraged to review the 2021 Request for Proposals for more information.
Research gap 1
Research on the child care experiences of children of color, low-income children, older children, and their families
The roundtable began with a conversation about the children and families that use child care, and how our understanding of families' behaviors may be limited by existing research. Many child care reform options, such as expanded subsidies or local investments in the child care infrastructure, are built on assumptions about the type of care families want and need, as well as the appropriateness of available care types. If these assumptions are incorrect or cannot be generalized beyond a specific subpopulation or care type, then they limit the impact of any policy change.
Scholars have information on the types of care that families use now, but these family decisions are constrained by the system that is currently available. This makes it difficult for researchers to determine how a significantly altered child care landscape would satisfy or fail to meet families' needs. For certain subgroups and populations, there is a deep lack of high-level understanding of current child care use.
The roundtable participants noted that questions of child care "preferences" are a difficult concept. These preferences are often fluid with family circumstances and the available child care landscape. The primary challenges with this type of research are limitations in available data sources—a point repeated throughout the roundtable discussion.
These limitations arise in longitudinal data sources that may not capture the necessary nuance of families' child care experience or contain insufficient samples of specific subpopulations, including racial and ethnic groups, immigrants, and refugees, to conduct statistically rigorous analyses. Data on the supply of child care providers are often insufficient as well, compounded by difficulties identifying and classifying home-based child care providers. Without such data, even understanding the menu of options available to families in different communities and subpopulations is difficult.
For researchers interested in studying child care users, there is space for research on the type of child care that families want and need, disaggregated by family demographic characteristics, labor force status of parents/guardians (including occupational characteristics and work schedules), family income, and local economic factors. Research should be highly targeted to these groups, which include underrepresented racial minorities, immigrant communities, refugee communities, and territorial communities.
Research gap 2
The experiences and impacts of providing care through home-based providers
Following the discussion on child care users, the roundtable shifted focus to provider types, particularly home-based providers. While most children are currently cared for in a home setting, much of the attention among researchers and policymakers has been directed toward larger child care centers. In the absence of additional information, policymakers may choose to invest public dollars primarily in center-based care, even if home-based or informal care settings can better meet the needs of families. Home-based care, rather than center-based care, is a vital component of the child care industry and would benefit from additional attention from researchers and policy experts.
In this roundtable conversation, the participating scholars focused on how the notion of "quality"—how it is defined, measured, and valued—can be obscured in home-based settings. Many formal definitions of quality may be too narrowly focused on child development and cannot account for the unique features of care offered in a home setting.
Because benchmarks for quality are tied to the subsidies families can use to offset the cost of care, applying quality measures better-suited for center-based care to the home environment could have the unintended consequence of preventing families from accessing care that best meets their needs. Policymakers and researchers should focus on these questions of quality in home-based settings. And they must be explicit in their definitions and responsive to the strengths of each provider type.
For researchers interested in studying child care providers, more research on home-based care that drills into the differences between care types would contribute to the policy conversation. Specific attention should be paid to unlicensed providers—including those legally unlicensed or operating in an "underground" market—and to the practices, needs, and viable support options for informal providers, including families, friends, and neighbors. Within these provider types and subpopulations, questions remain about how quality can be accurately measured and supported in these settings, particularly in comparison to center-based care. This research could help policymakers better support providers in qualifying for subsidies and other funding opportunities.
Research gap 3
Improving job quality and support for the professional and the family, friends, and neighbors, or FFN, workforce and the impact of that support on the quality of care
The roundtable concluded with a discussion of the child care workforce. Research suggests that the characteristics of the child care workforce are associated with the quality of care children receive. Yet the relationship between the quality of care and the experience of the workforce is not always clear. Understanding the workforce that provides care—their methods, experiences, needs, and preferences—is critical to understanding how to adequately support and pay workers so that care quality improves without sacrificing affordability.
In addition to the professional workforce, more information is needed on the experiences and needs of nonprofessional or quasi-professional caregivers such as grandparents and neighbors. While often uncompensated, these caregivers are an important part of the child care workforce and could benefit from public support, including financial assistance, training, curriculum development, and more. Yet limited information on who these providers are, what supports they require, and what supports are effective limit the reach and effectiveness of policy interventions.
In discussing these topics, the participating scholars pointed to the siloed nature of child care research as one factor limiting the understanding of the child care workforce. The roundtable participants pushed future scholars to undertake research and partnerships that examine the intersections of children, families, providers, and the workforce in tandem. The workforce has a significant impact on the children and families they encounter and should be front and center in any evaluation of program quality or families' experiences and outcomes.
For researchers interested in studying the child care workforce, there are several policy variants they could explore, including regional increases to the minimum wage or local requirements that workers have college degrees. Of course, these policy variations cannot be examined in a vacuum and should be explored across types of care. For example, self-employed home-based providers are exempt from minimum wage laws, but policymakers have an interest in knowing if such laws have any spillover effect on these self-employed workers' wages, hours worked, or number of enrolled children.
For the family, friends, and neighbors, or FFN, workforce, policymakers simply need more information. More research is needed on the types of care this workforce is providing, the methods for effectively supporting FFN caregivers, and the effects of providing this care on caregivers. Previous research on this population calls for further work that can illuminate FFN caregiving practices by race/ethnicity, parental work status, family structure, and subsidy access. Since so many families rely on families, friends, and neighbors to get the child care they need, these caregivers warrant attention from researchers and policymakers on par with their professional counterparts.
Opportunities and suggestions for future research
In comments that wove throughout the roundtable discussions, the participating scholars had several ideas and recommendations for researchers studying these topics.
Engage families, providers, and caregivers in the research process
Community-based participatory research, a more common practice in the fields of public health and social work, can connect researchers with actors in the child care sphere who may be obscured by traditional methods of data collection. Engaging and empowering all parties involved in the child care industry will help researchers develop a more holistic understanding of how child care policy is impacting the families and providers entrenched in the system.
Take advantage of mixed-methods research to overcome data limitations
Multidisciplinary research teams and mixed-method research designs may shed light on certain subpopulations currently masked by available data sources. Supplementing quantitative analyses with qualitative methods can help researchers in the field engage with parents, workers, and FFN caregivers on a more intensive level, capturing the nuance of their needs and experience in the current child care system.
Think outside the box to identify novel data sources
Researchers at the roundtable encouraged creativity in finding data sources that can shed light on the child care industry. One participant, Christ Herbst of Arizona State University, shared his experience using data from the websites Yelp and Google Trends to learn more about families' child care preferences. These data sources could supplement the "alphabet soup" of federal surveys and administrative datasets, and fill in information that's often obscured in these traditional sources.
Approach child care research with a wide-angle lens
For researchers interested in studying child care, the overarching advice from scholars at the roundtable was to approach the industry from a broad perspective. This involves analytical frameworks that account for the industry's myriad of interdependent components influencing child and adult experiences. In addition to the traditional factors used to assess child care (cost, quality, and accessibility), researchers should also consider concepts of job quality and child care's role as a work support for families.
Conclusion
The Washington Center for Equitable Growth is committed to supporting researchers engaged in this work. That's why, in 2021, Equitable Growth is interested in funding academic research projects that can inform this critical policy conversation. Child care researchers interested in applying for funding support—or learning more about Equitable Growth's other funding priorities—are encouraged to review the 2021 Request for Proposals for more information.